Create a FREE Team, Club or League Website
LeagueLineup provides the easiest and fastest way to build a web site for your sports organization and it's absolutely FREE. You can get a site for your
Team
,
Club
,
League
,
Tournament
or any other organization and you can have your site up and running
in minutes
.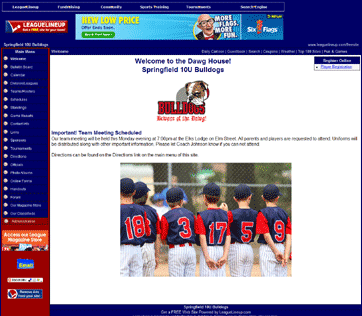 Why does your Team/League Need a Web Site?
Creating a web site for your organization has many benefits including:
Improve communication

with your players, parents, coaches, officials and fans. They'll now be able to find their schedules, directions, photos, your latest news and other information online.

Simplify signups

by allowing your members to register online securely. You'll have immediately access to their registration data.

Reduce costs

by moving mailings and other forms of organization material and communication online.
Why choose LeagueLineup.com?
Since 1998 we've been the leading provider of web sites to youth and amateur sports organizations. Over 200,000 organization with over 3,000,000 teams have taken advantage of our services.
Easy to use

with no technical expertise required. You can have your site up and running in minutes.

Great features

include statistics, schedules, rosters, directions, photo albums, calendars, message board and much more.

Increase revenue

by taking advantage of our creative fundraising programs. You'll be able to use new methods to raise funds for your organization including online fundraisers such as a free magazine and custom apparel stores.
It's extremely easy to setup your site. Just click on the button below, complete a one page registration form and your site will be created IMMEDIATELY!