Custom Fan Shop
---
EVERY LeagueLineup site comes with a FREE Custom Fan Shop
A store will be automatically created when you create your LeagueLineup site. You'll immediately begin receiving 5% of every sale. Upgrade to Pro or Elite to receive 10% and 15% respectively.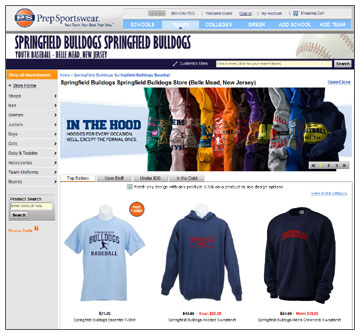 How does this benefit your organization?
It's FREE and it's easy to setup!
There's no cost to open or maintain your store and your store is automatically created when you create a site on LeagueLineup


No inventory to manage
Each product is made to order right here at Prep Sportswear and sent directly to the customer. You won't get stuck with a garage full of items waiting to be sold.


Receive UP TO 15% Commission on EVERY sale
Upgrade your site to LeagueLineup Pro or LeagueLineup Elite to receive higher commisssions.


Free sites receive 5%
Pro sites receive 10%
Elite sites receive 15%



Products people want
Your fans and members can choose from more than 1,200 unique items to customize and personalize.


How do I collect our commissions?
Your commission will be transferrable to a Paypal account once you've earned at least $10.00 in commissions.
You can also use your commissions to upgrade to Pro or Elite and pay for other LeagueLineup services