LeagueLineup Elite
---
Raise money using your LeagueLineup.com web site!
Upgrade your site to LeagueLineup Elite you place banner ads for your local sponsors on your site and keep
100%
of the revenue from those ads.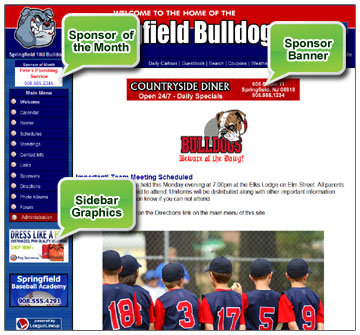 How does it work?
Set the price and the # of banners to sell
Sell banner ads to your local sponsors
Upload your sponsor's banner to your site
Keep 100% of the revenue
How does this benefit your organization?
Unlimited Fundraising Potential
Because you set the price, the number of ads to sell and keep 100% of the revenue there is no limit to the amount of money you can raise.


Promotes Local Businesses
More exposure for your sponsor's sponsorship dollar.


Year-round Exposure
Your web site provides 24 hour exposure, 365 days a year. Similar to a "Home Run Fence Sign" or an advertisement in a program book but with the additional benefit of providing an entire year of advertising and not just at game time.


Sponsor Banners
Each time a page load a banner will be randomly selected to appear on that page. You can display these ads at the top and/or bottom of your site.


Sponsor of the Month
You'll get access to the "Sponsor of the Month" feature allowing you to highlight one sponsor each month. Their name, logo and/or phone number will appear on each page of your site. Feel free to sell this valuable advertising to your sponsors and keep 100% of the proceeds.


Sidebar Graphics
You can upload ad graphics for your sponsors and add them below the main menu of your site. Note: LeagueLIneup does not create the Sidebar graphics


Web Site Links
Banners can link to your sponsor's web site or email address.


Where do you get banner ads?
There are a number of ways to generate banner ads for your sponsors.
Have your sponsor provide them
Generate a standard banner using the Sponsors admin page of your site
Create a banner using any number of graphic software packages such as Photoshop, Adobe Illustrator, MS Paint, etc.
Use online image creators