LeagueLineup Pro/Elite
100% Fundraiser - YOU keep all the proceeds!
Turn your LeagueLineup site into a source of new revenue by promoting your local sponsors on your site.
Sell just ONE ad banner to a sponsor and it could cover the entire cost of the upgrade!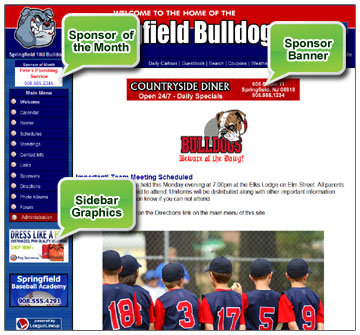 Provide ad space on your LeagueLineup web site to your local sponsors. You upload your sponsor's ads to your site and keep 100% of the proceeds.
You decide the price of the ads, how many to sell and where to place them on your site. Create advertising packages for your sponsors with options for ad placements on various parts of your site.
Again, YOUR ORGANIZATION keeps 100% of the proceeds!
LeagueLineup Elite Benefits!
Elite includes all features of
LeagueLineup Pro
PLUS...
Sponsor Banners

-- Display your sponsor's ad banners at the top and/or bottom of each page of your site.


Upload your own banner or
Use our "Auto-Banner" feature to display your sponsor's name, address, phone and web site in a banner automatically.




Sponsor of the Month

- Feature a sponsor graphic above the main menu of your site for an entire month.



Sidebar Graphics

-- Add sponsor graphics under the main menu on EVERY page of your web site.



Even More Diskspace

-- You'll get a total of 500MB available for file uploads
If your sponsor doesn't have an ad banner you can create them yourself with any number of available graphic software packages and simply upload to your site using the Sponsors admin page.
Be Creative in Marketing to Sponsors!
Selling ad space on your web site can cover the cost of the site upgrade.
Combine online sponsorships with your current advertising packages.
Create packages for different combinations of online ads (Sponsor Banner, Sidebar Graphics and Sponsor of the Month)
Sell your entire ad space to ONE sponsor (or a few sponsors) to cover the cost of upgrading your site