By Sean Ceglinsky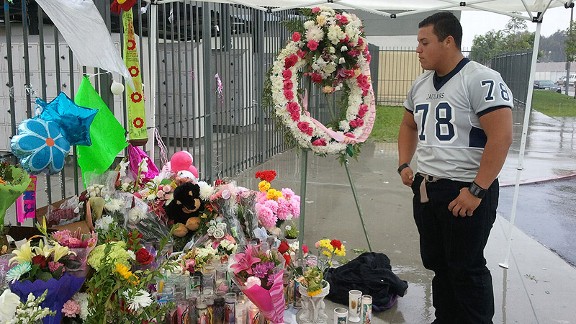 Courtesy of Jackie Satti
South East junior football player Jorge Garcia intervened during a fatal stabbing on campus last week and helped subdue the accused attacker.
SOUTH GATE -- Football instincts took over.
One second, Jorge Garcia was sitting with a group of friends during lunch at South East High, having a good time, seemingly without a care in the world. Moments later, the high school junior was in the midst of a battle for his very life.
During an on-campus altercation last Friday, Garcia did his best but couldn't prevent fellow South East student Abraham Lopez, 18, from fatally stabbing Cindi Santana, 17, Lopez's one-time girlfriend and also a South East student. Santana died later that night at a local hospital during surgery from the injuries sustained during the attack.
By most accounts, Garcia, a lineman for the Jaguars, without heisitation went into gridiron mode at the time of the incident. In his mind, he said, his own safety was an afterthought.
Garcia said he tackled Lopez, blindsiding the accused attacker in an effort to prevent further harm to Santana. Garcia, himself, suffered stab wounds during the skirmish and was treated a nearby hospital to receive stitches and close his wound. Days after the fatal tragedy, Garcia continues his road to recovery. He is being hailed as a hero at South East.
"I was with my boys, goofing around like always, then I heard a scared crying noise from a girl,'' the 16-year old Garcia recounted. "I didn't wait around, I jumped in and sacked [Lopez]. I wanted to get him away. My adrenaline was pumping, like it does in football. Thinking about it now, I think my background on the field helped me out.
"After everything happened, I knew I was cut pretty bad. But it didn't hurt. People were telling me I was lucky to be alive. I'm not going to lie, I was calm. I'm not sure why I felt that way. My mom was worried, but she's a mom. My dad told me I did a good thing."
Garcia said he did not personally know Lopez or Santana.
"I never saw them at school," Garcia said. "Still, I was put in that position for a reason. A lot of people would have froze if they saw something like that going on. I didn't. It could have been anyone, I would have helped out. I'd do it again too.''
As the incident unfolded, the dire, echoing scream for help caught his attention first. The commotion taking place nearby was undeniable. Garcia did not have time to think. He merely reacted.
But by the time Garcia subdued Lopez, the damage was done. Santana was rushed to St. Francis Medical Center in Lynwood. With family and friends by her side throughout, she fought to survive, but was pronounced dead at 7:45 p.m.
Garcia was taken to the hospital as well. He first went to St. Francis in an ambulance and later to Kaiser Permanente in Downey for further observation. Garcia received 12 stitches on his right shoulder, six underneath the skin to repair a damaged muscle and another six on the surface to close the gaping gash.
Not overly concerned about his own well being, Garcia said his thoughts were with Santana during his trying time. He says others have always come first in his mind, and he worries about himself second. That mentality best explains why Garcia came to the aid of a peer in desperate need, no questions asked.
Christina Ordonez, the Dean of School at South East, along with a campus police officer also were injured during the incident. However, both are reportedly recovering well, according to school officials.
"When I heard that Jorge was the student in trying to help out and defend his classmates, I was not surprised,'' South East coach Derwin Henderson said. "That's the type of person he is. He'll take up for anyone, any time. He is good representative of this team, this school and this community. Jorge Garcia is a role model. A hero. We're proud to call him one of our own."
Henderson said he visited Garcia in the hospital during the afternoon, hours after the attack.
"We talked for 20 minutes. He was in good spirits, all things considered," Henderson said. "He was telling me about how he tackled [Lopez], just like he does against our opponents on game day. It was an emotional day for him, for all us here at South East.''
Garcia is living proof there is more to life than football. That's not to say the sport isn't an extremely important part of his life. In fact, after his hospitalization, Garcia was right back on the sidelines for that night's game against Garfield.
He arrived midway through the third quarter, bandages and all covering his injured and swollen shoulder. The timing could not have been better. Clinging to a three-point lead, Garcia provided the Jaguars with a much-needed emotional boost as he rooted on his teammates.
The end result: A 31-28 South East victory in an Eastern League opener as the team improved to 5-0.
"Jorge is a kid with a lot of character,'' said Roger Satti, the South East coach last season and current director of operations for the Jaguars. "Our football players are taught to be the leaders. They represent the program. On the first day of school, Jorge was with the rest of his teammates, out in front of campus wearing jerseys and helping the incoming ninth graders find their way to class. He's held in high regard around here. You can see why with his actions.
"I talked to Jorge after the incident happened. He told me that he had to help out, he had to try and take care of [Santana] any way he could. Others might have run away from the conflict. Not Jorge though. He stepped up, just like he has done on the football field for us. If there were more student-athletes like Jorge Garcia, the world would be a better place. His selfless act was something that only a hero would do, there is no denying that fact. I can't praise him enough.''
The timetable for Garcia's return as a backup on the offensive line for South East is uncertain. Doctors said he could be back Oct. 21 against Huntington Park.
It it were up to him, Garcia would already have put on his No. 78 uniform over his pads. Odds are, the 5-foot-10, 250-plus pounder would like to be in the lineup for the host Jaguars (5-0, 1-0) during Friday's league game against Roosevelt (3-2, 1-0).
"My shoulder feels better, I'm ready,'' Garcia said. "I know I have to be careful, everyone keeps telling me that. Thing is, I miss being on the football field with my teammates. They're my brothers, my family. I was at practice this week. I was bored, but still out there, trying to be involved. I can't wait to get back under the Friday night lights.
"In some ways, the stabbing thing hasn't hit me yet. It's weird. I woke up that day and everything was normal. I got dressed, went to school and started thinking about our game that night. Then, everything changed. The only thing I've been thinking about since is how that poor girl started her day the same way as me and she never got to go home. It's sad.
"The way things went down has made a big impact on my life. You never think something like that is going to happen to you. You never think you'll be in that kind of situation. People have called me a hero, and all that stuff, for what I did. I don't think about myself that way. I never have and never will. I just did what I felt was right at the time.''
Two separate funds have been established to help with burial and other costs for the family of Cindi Santana, one of which is an online contribution site on Facebook. Donations can also be mailed to the South Gate Police Officers' Association: C/O Cindi Santana, 8620 California Ave., South Gate, CA 90280. The contact number is (323) 573-2632 or (562) 254-0411.
On Monday, Lopez was charged with 10 criminal counts, according to the Los Angeles County district attorney's office. He appeared in a Downey courtroom Tuesday and had his arraignment continued until Oct. 25. The felony charges include one count each of murder and false imprisonment by violence and three counts each of assault with a deadly weapon. Lopez faces a maximum sentence of life in prison with the possibility of parole, if convicted, and is being held on $1.2 million bail.
In retrospect, Lopez possibly could have caused much more havoc on the South East campus last week. Garcia was not going to let that happen though.
"I've known Jorge for a while now,'' said Noel Bautista, the school's athletic director. "He is the type of young man that's willing to go the extra mile for people, it doesn't matter if he knows them or not. You don't see that very often these days. He's a real-life hero.''
Garcia's actions certainly speak to those sentiments.
Source: ESPNLosAngeles.com