TYNESIDE SIGN ADET SC DEFENDER CONSTANZA
July 8, 2009
Tyneside have completed the signing of versatile Las Vegas defender David Constanza from ADET SC of the U.M.C.A.F Soccer League.
The 26-year-old, who can play either centrally or on the outsides, agreed to transfer terms with the club's managers on Tuesday and will bolster an already top-ranked defense.
Constanza said: "Tyneside is a great club with a proven history of success, high quality players and a competitive drive."
"I just want to assure the Tyneside members and fans that I will give everything for this club and I hope we can enjoy winning some trophies together next season."
"I have had a good taste of the competition in the Las Vegas Major Soccer League during my time with ADET SC, playing in the Inter-Liga Tournament, and the better level of competition is something I am looking forward to experiencing again with Tyneside."
Constanza, who helped lead ADET SC against Tyneside in the 2007-08 Inter-Liga campaign, added: "I am also looking forward to playing in the Major Soccer League, which for me, is the best league in Las Vegas."
The Las Vegas native, who joined ADET in 2006 and has made over 100 appearances for the U.M.C.A.F. club, has twice qualified for the Silver Mug Invitational Tournament and reached the semi-final stage of the Nevada State Cup Tournament last year. This season ADET SC were just upset 3:1 by Latin United in the championship final of the U.M.C.A.F. after going the entire season undefeated.
Manager Phillip Detmer said his new recruit would bring some great qualities to his Tyneside team. "He is strong technically with a positive winner's attitude and I have no doubt his arrival will strengthen our team. David Constanza will be a huge asset to Tyneside," he said.
"David is a solid performer with good experience of competitive soccer and was also a regular with the Las Vegas Strikers soccer team."
David comes to Tyneside straight from the LV youth soccer system where he played for Las Colonia Jr.'s and Alliance Soccer Club. Born and raised in Las Vegas, he attended Mojave HS his freshman and sophomore years before transferring to Desert Pines for his junior and senior years. His honors have included Team MVP and selection to the High School All-Star Team. A natural athlete with fitness to burn, David will be called upon to keep a clean sheet in the back.
Tyneside were also able to work out a season long loan deal with Ricky Abrego. The skillful UNLV striker joined Tyneside in May and participated in four league matches, scoring 3 times and 1 assist. Abrego also helped United reach the semi-finals of the Cinco de Mayo Tournament at Ed Fountain Soccer Park. Abrego is ineligible to compete with UNLV next season and has decided to stick with Tyneside for the season along with UNLV's Fabrizio Ricci, who returned to Tyneside's lineup after spending the last two seasons with the Rebels.
Abrego missed the beginning of his freshman season due to an injury, but made 11 appearances with two starts for UNLV. Last season Ricky made 17 appearances for UNLV with three starts for the Rebels. The Las Vegas native was a two-time Sunrise and Southeast MVP, and twice earned first team all-southern Nevada, first team Sunrise Region, and first team Southeast honors. He was a three-year starter for the Silverado HS SkyHawks and helped the team to a state championship in 2004, qualifying for the regional playoffs every season he played. Silverado also won two regional championships.
Tyneside United 2009 Spring Season In Review
June 13, 2009

Overall Record 2009 Spring Season: 27W - 5L - 7D; GF: 121, GA: 37
LV Major Soccer League Record: 13W - 1L - 3D; GF: 64, GA: 17
Overall Tournament Record: 12W - 1L - 2D
Overall Exhibitions Record: 2W - 3L - 2D
Shut-Outs: 15 games; Scoreless: 4 games



FIELD PLAYER STATS:

Overall Points Leader: Emmanuel Ayim = 34 pts.

Goal Scoring Leaders:
1) Emmanuel Ayim = 20 goals
2) Geoff Barto = 16 goals
3) Reggie Bolden = 15 goals
4) Ben Stott = 12 goals
5) Jeff Canarelli = 11 goals

LVMSL Goal Scoring Leaders:
1) Emmanuel Ayim = 12 goals
2) Geoff Barto = 12 goals
3) Reggie Bolden = 10 goals

Assists Leaders:
1) Emmanuel Ayim = 14 assists
2) Jeff Canarelli = 12 assists
3) Lance Esther = 7 assists
4) Javier Hernandez = 5 assists
5) 4 Players w/ 3 assists: Reggie Bolden, Brian Rogers, Danny Welsh, Ben Stott

Most Games Played:
1) Ben Stott = 31 games
2) Jeff Canarelli = 31 games
3) Danny Welsh = 29 games
4) Phillip Detmer = 29 games
5) Steve Lazarus = 29 games

GOALKEEPER STATS:

Most Wins: Dean Snyder = 12 wins
Most Minutes Played: Dean Snyder = 1,025 mins.
Most Games Played: Dean Snyder = 15
Most Shutouts: Tim Velasquez / Dean Snyder = 5 shutouts
Best Goals Against Average: Tim Velasquez = 0.75

Dean Snyder: 100SA - 87SV - 13GA
Tim Velasquez: 66SA - 57SV - 9GA
Tyneside United 2008 Season In Review
         We begin at the end of December 2007, when Tyneside United made the decision to join the Las Vegas Major Soccer League for the first time in its club history.  The team had been playing in the Las Vegas Premier Soccer League since it was founded in 2001.  The level of competition in the LVPSL had been steadily getting worse and worse each season and the management staff finally decided it was time for a change.  The Las Vegas Major Soccer League is the oldest and most prestigious league in Southern Nevada.  It was first established in 1963 under the supervision of the Nevada State Soccer Association.
     Right away, the team knew that this league would offer the best competition in town.  Tyneside's first match was against Real Madrid and the two teams battled to a 1-1 draw on 12/30/07.  Tyneside's next game was an Inter-Liga match versus U.M.C.A.F. league champions Latin United.  Tyneside fought its way back from a two goal difference to tie the game 3-3.
     After struggling to get a win in its first two matches, Tyneside pulled it together and  went on to post a 9-1-5 (W-L-D) record during the Spring Season.  Tyneside finished the LVMSL season in 2nd place, behind Caesar's Palace FC.  Caesar's Palace, Tyneside United, Real Madrid, and Dep. Citala all advanced to the league playoffs.  In the first semi-final match, Caesar's Palace and Dep. Citala drew 2-2 and in the second semi-final, Tyneside United and Real Madrid also drew 2-2.  Since Caesar's and Tyneside were the higher seeds, both teams advanced setting up a great finally.  Tyneside claimed the league cup with a 4-1 victory.  Geoff Barto struck four times, two in the first half and two second half goals to finish the route at McCarran Marketplace Park and helped secure Tyneside its first LVMSL Championship Title.
     The second half of the season proved to be even more difficult as the team was no longer unknown and were now placed in the hot seat to defend its title.  Two former LVPremier Soccer League teams joined the LVMSL in July 2008.  Stella Clavisque FC and Sin City United decided they wanted a bigger challenge and try their luck in the LVMSL.  Stella Clavisque had the best result as they posted a 13-1-2 (W-L-T) record during the Fall Season and did a fantastic job as newcomers.  Sin City however struggled to get positive results all season.
     Tyneside United again finished the season in 2nd place with a 12-3-2 (W-L-T) record during the Fall.  The team struggled a bit during August and again in October.  During those months, the team lost its footing on 1st place during the regular season.  However, Tyneside did its job again and qualified for the post season setting up a semi-final match between Tyneside United and Mexico DF.  Mexico DF had a great Fall Season as they demolished most of their competition all year long.  Mexico DF posted the best offense and was one of the top teams defensively as well.  It was probably the toughest team that Tyneside could have faced during the semi final round.
     Tyneside came out strong and dominated most of the match.  Geoff Barto found the net in the 23rd minute with a header from inside the box that was redirected from Lance Esther's cross. Barto scored a second goal five minutes later with a left-footed shot from inside the eighteen yard area that went past the keeper and inside the far post.  However, Mexico DF were not done yet.  They managed to fight back and shortened the goal difference by one goal in the 84th minute and then nearly leveled the scoreline in the 86th minute, when Mexico DF were awarded a penalty-kick.  Mexico DF, however, missed their golden chance to tie the game and send it into overtime when Suardo missed his shot wide left.
     Tyneside United would again face Caesar's Palace in the championship final as Caesar's downed new boy's Stella Clavisque 3-2.  Tyneside United and Caesar's were even in overall results going into the final.  Both teams had seen victories and defeats to each other (Overall: 2-Wins, 2-Losses, 1-Tie) and both teams were familiar with each other's abilities.  It seemed like it would be another clasico match up.
     A go ahead goal by Angelo Soro and a pair of second half goals by Javier Hernandez and Ben Stott gave Tyneside United a dramatic win over bitter rivals Caesars Palace FC in a tense LVMSL Championship Title encounter at the McCarran Marketplace Park on December 14, 2008, bringing an end to another successful soccer campaign and Tyneside's 8th Nevada soccer league title.
2008 OVERALL RECORD (W-L-T): 49-12-14; GF: 216, GA: 67
2008 SPRING RECORD (W-L-T): 21-8-8; GF: 117, GA: 40
2008 FALL RECORD (W-L-T): 28-4-6; GF: 99, GA: 27
Leading Goal Scorers:
1. Geoff Barto - 30
2. Ben Stott - 28
3. Jeff Canarelli - 27
4. Lance Esther - 22
5. Javier Hernandez - 14  
Leading Assists:
1. Jeff Canarelli - 20
2. Ben Stott - 13
3. Esad Morina - 11
4. Lance Esther - 9
5. Javier Hernandez - 7  
Most Games Played:
Kristian Paananen - 62  
2008 Spring LVMSL Goalkeeper of the Season:
Dean Snyder - 0.62 GAA
2008 Fall LVMSL Goalkeeper of the Season:
Tim Velasquez - 0.65 GAA  
2008 Tyneside Shutout Competition:
32 Shut-Outs
2008 Competition Shutout Tyneside:
6 Shut-Outs
2008 TOURNAMENTS:
Arizona Copper Cup Tournament (Jan. 19-21): Record 3-1-1
vs. Alamogordo (NM) 3:0 W
vs. Flickas FC (AZ) 1:0 W
vs. Diamonds FC (AZ) 1:1 T
vs. Flickas FC (AZ) 1:0 W - Semi-Final
vs. Big Ballers (AZ) 2:3 L - Final
Silver Mug Invitational Tournament (Feb. 9-10): Record 3-2-0
vs. Tucson United (AZ) 2:0 W
vs. Stella Clavisque (NV) 2:0 W
vs. Stanislaus United (CA) 3:2 W
vs. Colorado Sporting (CO) 1:3 L
vs. LA Blues (CA) 1:2 L
Governor's Cup Tournament (Mar. 1-2): Record 3-1-0
vs. Latinos FC (NV) 1:0 W
vs. Puebla FC (NV) 4:0 W
vs. Cruz Azul (NV) 4:0 W
vs. Caesars Palace (NV) 0:1 L - Semi-Final
USASA Region IV National Cup Tournament (May 16-17): Record 1-2-0
vs. Hot Spurs (CA) 1:0 L
vs. Inferno (AZ) 2:1 W
vs. Santa Clara Sporting (CA) 0:3 L
Santa Barbara Fiesta Cup Tournament (Aug. 2-3): Record 2-1-1
vs. Fram Scandia (CA) 0:0 T
vs. Real FC (CA) 3:1 W
vs. Durango FC (CA) 2:1 W - Semi-Final
vs. Arroyo '92 (CA) 0:2 L - Final
Copa Independencia (Sep. 20-21): Record 5-1-0
vs. Riverplate (NV) 1:0 W
vs. SCCCU (CA) 5:1 W
vs. Dep. Citala (NV) 1:0 W
vs. Real Ilobasco (NV) 1:0 W
vs. Stella Clavisque (NV) 3:0 W - Semi-Final
vs. Latin United (NV) 1-1 (PKs) L - Final
Nevada State Soccer Association State Cup (Nov. 15-23): Record 6-0-1
vs. Tangancicuaro (NV) 5:3 W
vs. Cosmos SC (NV) 1:0 W
vs. San Sira (NV) 1:0 W
vs. Tierra Caliente (NV) 2:1 W
vs. Playa Azul (RNO) 0:0 T
vs. Stella Clavisque (NV) 1:0 W
vs. Adet SC (NV) 4:0 - 3rd Place Match  
2008 EXHIBITION MATCHES:
4/1/2008 vs. Latin United (NV) 4:2 W
4/19/2008 vs. Mt. SAC College (CA) 1:1 T
7/5/2008 vs. Nevada ODP Team (NV) 3:1 W
7/31/2008 vs. Nellis Air Force Base (NV) 6:2 W
STELLA STRIKER EMMA AYIM SET FOR TYNESIDE MOVE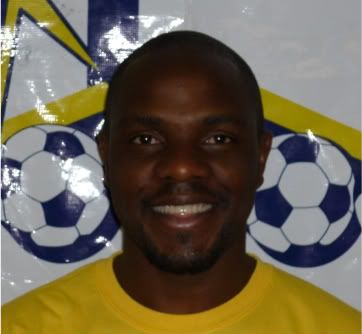 By: Phillip Detmer, TynesideUnited.com
DECEMBER 26 2008 (LAS VEGAS, NV)
-– Stella Clavisque FC striker Emmanuel Ayim is set to complete his move to Tyneside United next week after the player and management reached a deal on Christmas Eve.
Jeff Canarelli has hailed Emmanuel as a "key signing" in Tyneside United's quest for a Las Vegas Major Soccer League title hat-trick.
Emmanuel finally completed a deal to join from Stella Clavisque FC a week before the January start-up of the LVMSL spring season, bringing an end to Tyneside's only transfer recruitments for the upcoming year.
"This is a key signing," the United coach told www.tynesideunited.com. "Emma is one of the best and most exciting strikers in Las Vegas. His size and ability will give the team a different dimension and I am sure he will be very successful at our club."
Emmanuel, who played a large part in Stella's successful 3rd place run in the LVMSL during their first campaign in the league, agreed to a free transfer. "I look forward to playing my part in helping this club win more honor's in the years to come."
Emmanuel, who had stints playing with the San Diego Gauchos (USL-II) and San Diego Flash (USL-I) and was part of the 1998 US Under 20 National Team, is looking forward to a new phase in his playing career.
"Tyneside is known locally for playing technical and skillful football, and has a young but experienced squad."
"I'm really excited about this next stage, hopefully playing my part in helping the club to new successes."
Emmanuel has repeatedly been linked to Tyneside in recent weeks and despite other targets such as Kevin Rogge (Centennial HS) and Salvador Bernal (Clark HS) being mentioned, Emmanuel was the man Canarelli kept returning to.
At 29, Emmanuel is slightly older than most of United's recent major signings but Canarelli feels his size and soccer skills – which the Tyneside coach first experienced when Stella Clavisque faced Tyneside in the semi-finals of the Copa Independencia.
Canarelli believes Emmanuel has the quality to score goals himself and create chances for others. His arrival adds welcome reinforcement to Tyneside's already potent strikeforce following the departure of Dave Isleib for Utah and Fabrizio Ricci for the UNLV Rebel soccer program.
Tyneside United Headed For USASA Region IV National Cup Tournament
LAS VEGAS, NV (March 28 2008)
-- The National Cup Competition is the oldest and most prestigious soccer tournament in the United States for any person who is a member of a team playing in a league of four or more teams affiliated with the United States Soccer Federation and the United States Amateur Soccer Association.
The competition began in 1914 for the Men's Open Cup. In 1923, the Men's Amateur Cup was added, In 1980 the Women's Amateur and Over 30 Cups were begun.
Each year, some 600 teams across the United States participate in the National Cup Competition. 600 Teams! Of these, only 8 teams will become a National Champion in one of 8 divisions.
USASA's Region IV will hold its Regional National Cups Tournament in Scottsdale, Arizona on May 15 through May 18, 2008.
The USASA National Cups Committee has also announced the date for the 2008 National Cup Tournament as well.
The National Cups will be held on August 7 through 10, at the Starfire Sports Complex in Seattle, WA.
Tyneside United submitted their application this week for participation in the 2008 event. Tyneside are quite familiar with this prestigious competition and were participants in 2002, 2003, 2004, and 2007. The club were winners of the tournament in 2002 and earned a qualification to the National Finals in Oakford, PA, becoming the first amateur men's club from Nevada to represent the region. In 2003, Tyneside again made it to the championship final of the Region IV tournament, but lost out to the Chico Rooks 3-2.
Tyneside United hope to repeat some of that success this year and they have the squad to do it. The team is deep both offensively and defensively. Tyneside are scoring an average of two goals per game in all competitions and registered one of the longest running unbeaten streaks this season in club history.
Tyneside will begin preparation for the tournament next month by stepping up the intensity of their trainings. Mandatory practices will likely start April 10th for the team members.
NEW KITS TO BE UNVEILED IN OCTOBER
September 21, 2005
Tyneside United are delighted to announce the clubs release of their new kits, which will debut on the pitch near the end of October. The jersey's will feature new Black and White colors for the team. Eurosport was unable to provide the team with the Silver and Black colors.
United's perferred kit manufacturer, adidas, have produced a black shirt incorporating two solid white stripes along the under-arm. The shorts and socks are white with a black trim. The Simpson Strong-Tie sponsorship logo will appear across the front of the jersey.
The latest in adidas technology has been used in this shirt. It is constructed from ClimaLite fabric for moisture control and comfort. The ClimaLite adidas Avantis V-neck jersey with raglan sleeves, detail piping and embroidered logo. 100% polyester. Imported.
FORD COUNTRY PARTNER WITH TYNESIDE UNITED
August 19, 2011
The Tyneside United Soccer Club announced today a 1-year sponsorship agreement with Ford Country. The agreement, of which the terms were not disclosed, brings Ford Country front and center with one of Southern Nevada's most successful amateur men's soccer teams.
As the official sponsor of Tyneside United, the Ford Country logo will be displayed prominently on the team's official jerseys, as well as on the TynesideUnited.com website. "We are absolutely thrilled to have such an outstanding company like Ford Country as our main sponsor," said Tyneside United manager, Phillip Detmer. "We believe that this is going to be a tremendous partnership, and we look forward to having the Ford Country insignia worn proudly by our players on their jerseys. To now be affiliated with one of the strongest dealerships in Southern Nevada, only makes the Tyneside United brand that much better."
The partnership was equally well received by the staff at Ford Country. Jose Torres, BDC Manager for Ford Country, was key in making the sponsorship agreement possible. Ford Country is the latest culmination of over 80 years of Ford Motor Company experience by the Ackerman family. The owner, Gary Ackerman, is a third generation Ford dealer that has lived in Las Vegas since 1955 and dreamed of building his own version of what a Ford store should be since he was a boy. Ford Country believes in supporting the community.
Tyneside United will unveil their new official jerseys with the Ford Country logo displayed in the upcoming week. Tyneside's next game is scheduled for Sunday, August 21st at 10:00 AM versus Caesars Palace FC.
For all the latest Tyneside news and information, visit www.tynesideunited.com or on Facebook.