Tyneside to Face New Highrollers FC on December 4th
November 28, 2011 (LAS VEGAS, NV) -- The Tyneside United Soccer Club will be playing an exhibition match versus the Highrollers FC at 1:00 PM on Sunday, December 4, 2011, at Valley High School (2839 S. Burnham Avenue, Las Vegas, NV2839 S. Burnham Avenue, Las Vegas, NV).

Highrollers FC will be a new semi-professional soccer team looking to launch next season in the new North American Soccer League (NASL), which consists of teams like the Atlanta Silverbacks, and Carolina Railhawks. The owners of the Highrollers FC are based in Los Angeles, CA and are looking to bring the team to Las Vegas in 2012. Their roster will mostly include players from Los Angeles, CA and former Major Soccer League players. But they are also scouting for some local talent to be included in their inaugural season.

Flyers will be distributed this week by Highrollers FC to promote the match which will kick-off at 1:00 PM. Admission will only be $1.00 for the special event. Highrollers FC are also scheduled to play an all-star team from the Las Vegas Valley Soccer League at 4:00 PM on Saturday, December 3, 2011 at McCarran Marketplace Sports Park.

FORD COUNTRY PARTNER WITH TYNESIDE UNITED
August 19, 2011
The Tyneside United Soccer Club announced today a 1-year sponsorship agreement with Ford Country. The agreement, of which the terms were not disclosed, brings Ford Country front and center with one of Southern Nevada's most successful amateur men's soccer teams.
As the official sponsor of Tyneside United, the Ford Country logo will be displayed prominently on the team's official jerseys, as well as on the TynesideUnited.com website. "We are absolutely thrilled to have such an outstanding company like Ford Country as our main sponsor," said Tyneside United manager, Phillip Detmer. "We believe that this is going to be a tremendous partnership, and we look forward to having the Ford Country insignia worn proudly by our players on their jerseys. To now be affiliated with one of the strongest dealerships in Southern Nevada, only makes the Tyneside United brand that much better."
The partnership was equally well received by the staff at Ford Country. Jose Torres, BDC Manager for Ford Country, was key in making the sponsorship agreement possible. Ford Country is the latest culmination of over 80 years of Ford Motor Company experience by the Ackerman family. The owner, Gary Ackerman, is a third generation Ford dealer that has lived in Las Vegas since 1955 and dreamed of building his own version of what a Ford store should be since he was a boy. Ford Country believes in supporting the community.
Tyneside United will unveil their new official jerseys with the Ford Country logo displayed in the upcoming week. Tyneside's next game is scheduled for Sunday, August 21st at 10:00 AM versus Caesars Palace FC.
For all the latest Tyneside news and information, visit www.tynesideunited.com or on Facebook.
Un partido con mucha emoción
Por Lito Carbajal, El Tiempo Libre Newspaper
October 24 2008 (Las Vegas, NV) --
Se podría pensar que exageramos cuando decimos que los 90 minutos del encuentro entre ADET y Tyneside United fueron de los más entretenidos que hemos visto en los últimos tiempos.
Los antecedentes de ambas escuadras hacían suponer que la cita del domingo a las 10 de la mañana era una a la cual no podíamos faltar, y así lo fue.
Uno de los equipos estandartes de la liga UMCAF es sin temor a equivocarnos el ADET.
Pasan las temporadas, los torneos y los años, y los comandados por Carlín Constanza se mantienen firmes, algunas veces perdiendo, otras veces ganando, pero siempre caracterizados por las ganas con que hacen las cosas.
En cada encuentro dejan hasta la última gota de sudor, demostrando que estudiando al rival y planteando técnicas de marca escalonada junto con salidas de contra golpe, se puede lastimar al rival y esto fue lo que hicieron y todo le salió al pie de la letra para el ADET.
Muy pocas veces hemos visto al Tyneside abrir tanto la cancha tratando de encontrar un espacio libre, que el ADET no les regaló.
Esta derrota por la mínima diferencia a favor de los comandados por David Arias al actual campeón de LVMSL, Tyneside United SC, abre expectativas e incógnitas sobre quienes estarán en el tope de la tabla de posiciones en esta Inter-Ligas al jugarse la cuarta jornada del Torneo de Invierno Las Vegas 2008.
No por caer vencido, el equipo blanco desmerece lo hecho a lo largo de todo el encuentro.
Como los grandes monarcas de la historia, y aun cuando el resultado les fue esquivo, en ningún momento apeló al golpe o al juego desleal.
Si bien se podían ver algunas caras de frustración al final del partido, lo del Tyneside fue una derrota más que digna, sus integrantes supieron caer de cara al sol y las botas puestas.
Al final, nada pudo impedir que los muchachos de la escuadra Cuzcatleca, muy bien comandados en la cancha por Carlos Constanza y por Lesman Matute - que ingresó en la segunda parte -, escribieran una pagina más en su largo historial futbolístico.
Hablando de cómo se fueron planteando las cosas, debemos recalcar que el encuentro fue muy cerrado desde el silbatazo inicial. La lucha encarnizada en la mitad de la cancha fue la constante de ambas escuadras, sabiendo que el control de centro del campo seria fundamental para aspirar a los tres puntos.
El ADET lo entendió, y ejecutó perfectamente el plan de como derrotar al Tyneside United: Cubriendo siempre la retaguardia con doble línea de cuatro y contragolpeando de forma relampagueante, sin descuidar ni un solo segundo su defensa.
En otras palabras, el marcador de un gol a cero a favor de estos últimos fue un justo resultado, un premio al esfuerzo sin medida para un equipo que parece haber encontrado su identidad, en el momento preciso.
Otro encuentro que acaparó los titulares del Domingo fue la dramática victoria del equipo Don Bosco, 3 x 2 ante La representación Guatemalteca Tikal.
Ambos equipos, desde un principio se enfrascaron en un ir y venir por todos los rincones de la cancha; la entrega fue total y sin escatimar esfuerzos.
Sin embargo, Tikal y Don Bosco, amanecieron con la pólvora mojada, ya que en la primera mitad el marcador permaneció en blanco.
Los segundos 45 minutos fueron otra cosa, haciendo olvidar lo que sucedió en la primera mitad. Tempranito y sin dejar pensar a su rival, Don Bosco se fue arriba 1 x 0; Tikal respondió y remontó un 2-1 que lo tenía abajo, transformándolo en un 2-2.
Mucho tuvo que trabajar el Don Bosco para llevarse a casa un merecido triunfo de tres goles a dos.
Los demás resultados

fueron:
Stella Clavisque 5-1 sobre Alianza.
Por el mismo marcador y jugando un juego muy vistoso, La Barca se impuso a El Salvador.
México DF goleó 5 a 1 a Chapines, mientras que Cruz Azul y Deportivo Citala vencieron 6 x 2 al Ameca y a Mitad del Mundo respectivamente.
Uno que al parecer se puso las pilas fue el Sin City United, en un partido que no dejó mayores dudas, el equipo benjamín de La Mayor Soccer League doblegó 4-0 al Atonal.
Quién goleó y lució un juego fino y (Por momentos) muy efectivo, gracias al despliegue de sus hombres y a el quiebre anímico de su rival fue el Caesars Palace FC, que parece que ahora sí está volviendo a los caminos de donde nunca debió salir; en esta oportunidad no tuvo misericordia del UVA y lo arrasó por 9 a 0.
Arranca el Torneo Copa de Nevada 2008
Por Josimar CÓRDOBA
NOVEMBER 15 2008 (LAS VEGAS NV)
-- La Nevada State Soccer Association llevará a cabo el torneo "2008 Nevada State Cup Soccer Championship" con el fin de coronar a un legítimo y absoluto campeón de fútbol en el estado de Nevada. Dicho evento tendrá lugar durante dos fines de semana consecutivos en las canchas del Kellog's Soccer Complex que se encuentran en la intersección de las calles Washington y Buffalo.
En el torneo se contará con 18 equipos, de los cuales 16 son de la Zona del Sur provenientes de Las Vegas y 2 de la Zona Norte que vienen de Reno. El torneo dará comienzo el sábado 15 de noviembre desde las 5 de la tarde y continuará el domingo 16 a las 11 de la mañana. La liguilla iniciará el sábado 22 desde las 5 de la tarde y continuará el domingo 23 de noviembre a las 9 de la mañana.
En el primer fin de semana, los 16 equipos de la Zona Sur serán divididos en 4 grupos de 4 participantes cada uno. Al terminar esta primera eliminatoria, los ganadores de cada grupo, más los dos mejores segundos lugares llegaran a la siguiente ronda, en total 6 equipos. Para el siguiente fin de semana, los dos equipos de la Zona Norte completarán las otras dos plazas, completando de esta manera los 8 equipos que también serán divididos en 2 grupos de cada uno. Los ganadores de cada grupo se disputarán el tan codiciado trofeo "2008 Nevada State Soccer Champion".
Los segundos lugares de cada sector jugarán el partido por el 3er Lugar. En caso de empate se llegarán a definir las series desde el punto penal.
Los cuatro equipos que hasta ahora serán cabeza de serie son Latin United, Cosmos SC, Caesars Palace FC y Tyneside United SC.
Tyneside United ya es grande entre los grandes
Por Josimar CÓRDOBA, El Mundo Newspaper
DECEMBER 20 2008 (LAS VEGAS, NV)
-- El título de campeón de Las Vegas Major Soccer League, "Madre de todas las ligas", se disputó entre dos de los mejores equipos de nuestro valle, hoy por hoy, entre el Tyneside United y el siempre protagonista, Caesar´s Palace. El trofeo quedó en manos del Tyneside luego de vencer y golear a su rival con marcador de 3 goles por 0 y así levantar la mano y gritar a los cielos que el Tyneside ya dejó de ser solo otro equipo más.
Todo comenzó en las canchas de la McCarran, que están ubicadas entre las avenidas Russell e Eastern el pasado domingo 14 de diciembre. Los medios deportivos más importantes de Las Vegas se dieron cita para estar presentes en este magno evento ya que este partido era digno de no desatenderse.
La fiesta comenzó desde temprano con el partido donde se disputaría el trofeo del tercer lugar de la liga entre el Stella Clavisque y el México DF. Ambos equipos ya tienen historia entre sí, ya que su rivalidad comenzó desde el Torneo Independencia 2008 donde el Stella venció en penales al DF y levantar el trofeo por el tercer lugar.
En esta ocasión, el DF tenía la sed de venganza y dieron un partidazo de principio a fin. El tiempo reglamentario terminó y ambos equipos estaban empatados a 3 goles por bando y no quedaba otro recurso más que recurrir a esos benditos penales donde los nervios pueden traicionar hasta al mejor jugador. El Stella volvió a vencer en penales al DF y una vez más levantó el trofeo ante la mirada atónita de los mexiquenses.
Ya en el evento principal, todos los ingredientes estaban listos para que esta fuera la final más gloriosa en los registros de la liga con cerca de cinco décadas de existencia. El Caesar´s Palace llegaba con un confianza envidiable, mientras el Tyneside buscaba confirmar que ya es un equipo grande entre los grandes.
El arbitro central, Cedric Adams, comenzó el partido y las emociones también, ya que desde los primeros minutos ambos equipos se fueron al frente a buscar al invitado de honor, el gol.
El Caesar´s tomó el control del medio campo y por momentos encerró al Tyneside que se vio agobiado por los constantes centros peligrosos. Pero el tiempo paso y Tyneside tomaba confianza y al minuto 28 el Caesar´s cometió una falta en las afueras del área. El Tyneside lo cobró y el camisa numero 20, Ángelo Soro, abrió el marcador al encontrarse sin marcaje cerca del punto penal y poner arriba al conjunto americano 1-0.
Desde ese momento el Tyneside se adueñó del balón y de las opciones mas claras de peligro. El segundo gol cayó a los 10 minutos del segundo tiempo tras un rechace erróneo del arquero rival y el 14, Denny Dumbler, solo empujó el balón. Caesar´s intento de todo para acortar el marcador pero llegaban con poca idea al frente aunque estuvieron cerca de abrir el candado en 3 ocasiones, pero el arquero Tim Velázquez siempre estuvo atento. El Tyneside no se olvidó de ir al frente y buscó el tercer gol que matara las esperanzas azules y lo consiguió al 34 cuando el numero 10, Jeff Cawarelli, cobró un tiro libre y la barrera desvió el balón y dejar sin posibilidades de que su portero alcanzara el esférico.
Terminó el juego y los festejos no se hicieron esperar. Con esto al Tyneside se le podría llamar el equipo revelación del 2008 gracias a que en estos últimos 4 meses consiguió el subcampeonato de la Copa Independencia, el tercer lugar del campeonato estatal y ahora el título de LVMSL.
El presidente de la liga, Everardo Mendoza, entregó reconocimientos a los equipos Sin City United, La Barca, Citala, Don Bosco y al México DF por la gran temporada que dieron, también se le dio su reconocimiento al goleador del torneo Carlos Sagaste del Don Bosco y al mejor portero del torneo, Tim Velazquez del Tyneside. Se otorgaron reconocimientos a diferentes medios de comunicación locales por su apoyo a la liga y al dirigente del fútbol de Nevada, Graham Biles.
La LVMSL comenzará su próximo torneo el 4 de enero y esta invitando a cualquier equipo que desee unirse a que lo hagan, pues pronto abrirán otra división dado la inscripción de más equipos a esta liga tan importante. Para mayor información se puede comunicar con Efraín Martínez al 285-6727.
Las Vegas Major Soccer League - Week 10 Many Goal, Good Play
By: Lito Carbajal
(Translated from El Tiempo Libre Newspaper by Phillip Detmer)
LAS VEGAS, NEVADA (OCTOBER 17 2008)
-- Just because they are one of the latest teams to join the league and should probably be in the lower half of the standings. Don't discount them.
Stella Clavisque FC arrived at The Las Vegas Major Soccer League not only to stay, they came to win the winter season (if they continue their current form).
It's impossible to ignore their soccer, especially in light of its repeated results in the league. It does not leave any doubt that they should be at the higher end of the standings.
This squad formed by players from around the world, faced the team of La Barca as their rival in this week of league action.
Both teams knew that their match in Week 10 was worth 6 points for the winner, since both teams needed a make-up game; La Barca, was also conscious that a victory by Stella Clavisque would seriously compromise its qualification to the post-season.
Despite this knowledge, La Barca was completely incapable to contain the furious attack to which was submitted by the squad of Joey Ramjeewon.
It was clearly evident within thirteen minutes of the game that Stella Clavisque had control of the game as they put La Barca under a merciless attack and took advantage by a goal to zero in the 27th minute, and by minute 40 they were already at 4 x 0 in favor of Stella.
The yellow team was a hurricane that devastated a defenseless La Barca, securing in the end of the 90th minute, a glorious 5-0 victory.
Stella Clavisque FC shares the second position of the table next to Mexico DF, that recovered their form and more importantly, a soccer improvement accentuated, thanks to the inclusion of various talented young footballers. The final scoreboard was a deserved Mexico DF 4 - Atonal 0.
In other results, the current monarch and super-leader of the standings, Tyneside United SC, was too hard of a bone to gnaw for the boys of Don Bosco, and the management of José Sequeiro.
It did little to help Don Bosco to try to play Tyneside "man-to-man." Especially, a team that counts on many different options in their attack and has proven that few teams exist that can beat them.
We keep in mind that Tyneside is the team that has recorded more goals than any other and has conceded less than any other team this winter season.
It was too much of a challenge for Don Bosco to face, as the eventual 7-1 scoreline revealed. A result that discourages the other teams in the league not only by the number of goals scored against Don Bosco, but also because they tried to double up their defensive line with two lines of four, but were unsuccessful against a team that knows how to open up the playing field. Where all they do is touch it around their opponents and more importantly, they can play the ball into the open spaces, something that simplifies the collective play.
In another encounter, Caesars Palace FC defeated one of the last place teams in the standings, Sin City United for 7 to 3. However, the surprise of Week 10, was the match versus Cruz Azul and Deportivo Citala. Cruz Azul defeated Deportivo Citala 3-1.
This unexpected and historic fall of this last one enlarges the odds of Deportivo Citala not qualifying (for the first time) to the post-season in the Las Vegas Major Soccer League.
After Week 10 of competition, the following table is how it stands as only a few weeks remain in the regular league season. It is head to head, as this horse race reaches the finish line:
1.- TYNESIDE UNITED. ..... 32
2.- MEXICO DF. ................ 31
3.- STELLA CLAVISQUE. .... 31
4.- CAESARS PALACE. ....... 26
5.- LA BARCA. .................. 19
6.- BLUE CROSS. ................. 19
7.- Don BOSCO. ............... 17
8.- DEP. CITALA ................... 17
9.- SIN CITY UNITED. ........ 10
10.- MICHOACAN. ............. 10
Next weekend of competition is Inter-Liga action
The 2nd Annual Tournament will be played in the fields of McCarran Marketplace (Russell and Eastern).
Torneo Independencia 2008
September 27, 2008
El Mundo Newspaper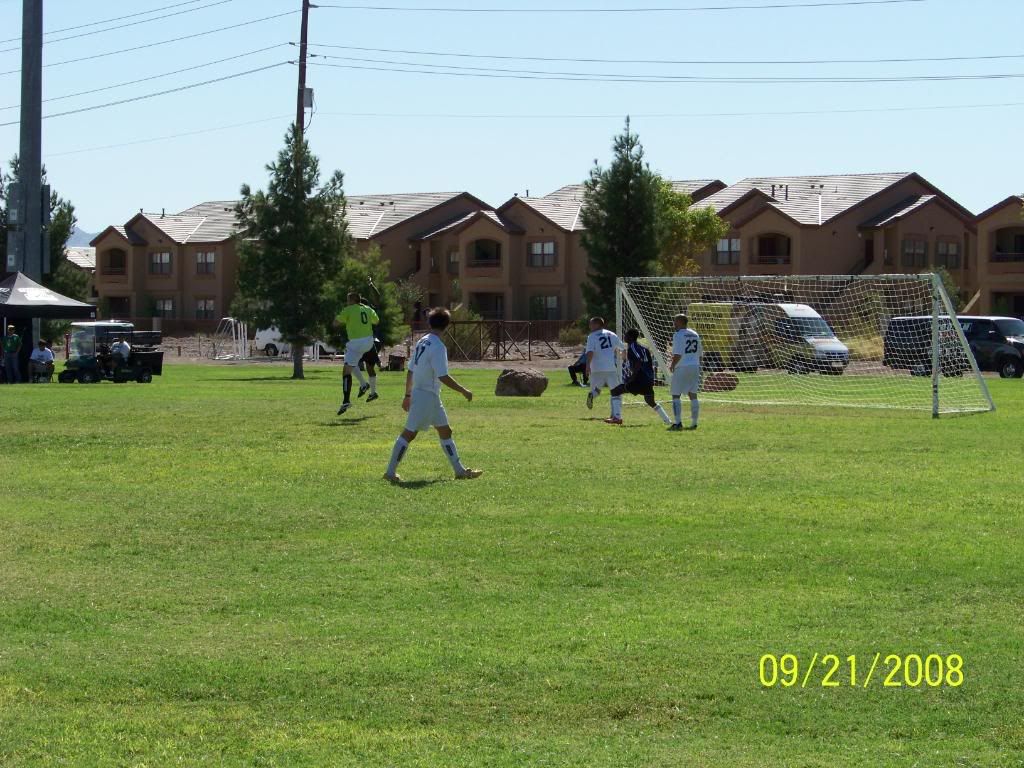 El torneo Copa Independencia 2008 no decepcionó y mucho menos con un campeón que se dedico a deleitar a los aficionados del buen fútbol, el Destroyer. Los pupilos de Rafa Gómez derrotaron a cuanto equipo le pusieron en su camino, y al final ganaron el campeonato con un 4 a 2 en penales ante el durísimo Tyneside United.
La Nevada State Soccer Association dijo que organizó el torneo Copa Independencia para que los mejores pelearán por el título. Simplemente queremos encontrar al mejor equipo de Las Vegas, dijo Álvaro Puente.
Escuadras como el México DF, Cítala, el Tanguancícuaro, Tyneside United, y el Arsenal de San George, Utah fueron los atractivos que este torneo ofreció a los aficionados que se dieron cita en las canchas del Silver Bowl.
Los partidos se llevaron acabo durante el pasado fin de semana. El sábado 20 se jugaron los partidos de la primera ronda con 20 equipos representando a cinco ligas, como la Azteca Soccer League, la Major Soccer League, la UMCAF, la Masters Soccer League y la Continental Real Soccer League, que fueron divididos en cinco grupos de cuatro equipos. Los lideres de cada grupo más los tres mejores segundos lugares consiguieron su boleto para la liguilla que se jugó al día siguiente.
Solo ocho equipos sobrevivieron y dos de los cuatro partidos de los cuartos de final fueron muy disparejos; el Destroyer aplasto 7 a 0 al Real Ilobasco, mientras el Stella Clavisque hizo lo mismo con el Caesars Palace con un 7 a 2. El México DF y el Tyneside United también consiguieron las otras dos plazas.
Las semifinales no pudieron ser más atractivas. El Destroyer tenía una cómoda ventaja de 3 a 0 pero llego el descuento del México DF y los últimos 15 minutos fueron espectaculares pero el tiempo no les alcanzo y el juego terminó 3 a 1. Mientras en la otra semifinal, el Tyneside United se midió con el Stella Clavisque y el Tyneside dominó el partido de principio a fin y goleo al Stella con un 3 a 0. En el juego por el tercer lugar, el México DF y el Stella Clavisque dieron un buen partido. El juego terminó empatado uno a uno y el partido se tuvo que definir con penales, donde el Stella gano por 5 a 4.
En la gran final los dos mejores equipos del torneo se vieron las caras, el Destroyer y Tyneside United. El juego tuvo la fortuna de tener a dos equipos que sabían jugar el famoso "jogo bonito". El árbitro central, Raymundo Báez, comenzó el juego y las emociones también. Desde el principio el Destroyer se fue al frente pero no pudo abrir el marcador. Las llegadas seguían pero la defensa del Tyneside parecían una muralla y los contragolpes estuvieron a la orden del día. Al minuto 30, Ben Stott del Tyneside aprovechó una gran jugada y con un soberbio disparo venció al arquero Julio Flores para poner el 1 a 0. El Destroyer siguió con la presión pero el final de la primera parte llego y Rafa Gómez aprovechó ese descanso para reordenar sus fichas y buscar la forma de encontrar el tanto que se les negó todo el primer tiempo.
Inicio la segunda parte y el juego siguió con el mismo libreto hasta el minuto 24. Esteban Guevara del Destroyers empató el juego con un cabezazo que entró pegado al poste contrario del arquero que quedó paralizado. El partido siguió con la misma intensidad pero el marcador se mantuvo y por segunda vez se tuvo que definir al ganador por medio de los once pasos. El Tyneside voló un penal y el último fue detenido por el héroe del partido, Julio Flores del Destroyers para darle el campeonato a su escuadra.
A los primeros tres lugares se les entregó sus respectivos trofeos, medallas y una suma monetaria como parte de los premios que este torneo ofreció. Emmanuel Ayim del Stella Clavisque terminó como el goleador del torneo con nueve tantos y fue galardonado como el jugador del torneo. Felicitaciones al Destroyers por haber dado un gran torneo y salir campeón "¡jugando bonito al fútbol!".
Comenzó el Interligas 2008
September 5, 2008
Por Lito Carbajal
La primera jornada del Segundo Torneo Interligas Las Vegas-2008 no pudo ser más auspiciosa.
Esta nueva edición agrupa los mejores 22 equipos de La Mayor Soccer League y La UMCAF, divididos en dos grupos (A y B) para tratar de conseguir igual competitividad, evitando (en lo posible) las desmoralizantes goleadas, que sólo consiguen restarle interés a los que siempre ganan y desatar enojo y agresividad en los que pierden por abultados resultados en contra.
En las últimas fechas de las diferentes Ligas de nuestra ciudad, se viene repitiendo que los equipos más poderosos alinean sus escuadras con 9 o 10 jugadores (ya que son los que llegan a tiempo), ofreciendo alguna clase de ventaja numérica a su rival de turno, cosa que, lejos de ser bien vista, se transforma en objeto de burla y por consiguiente, degenera de alguna manera en la agresión física.
Resultados
El eterno y siempre vigente ADET dio cuenta del muy buen equipo de La Barca por 1-0. El gol de Miguel Jiménez le valió 3 puntos de oro al equipo pionero de La Liga UMCAF.
Un encuentro que se esperaba con ansiedad desde que se anunció en el sorteo de los grupos, fue la batalla entre las poderosas escuadras del Tyneside United SC, y el Demócratas (Latin United).
Si bien el 1x1 dejó conforme a los dos equipos, ya que ninguno mereció perder.
El actual campeón, Tyneside United se fue adelante en el marcador e hizo todo para tácticamente no ser arrollado por el juego individual del Demócratas.
Se fueron al descanso con el equipo blanco ganando por la mínima diferencia y no fue sino hasta el minuto 88 que El Latin United consiguió el empate por intermedio de Mario Luna cuando todo parecía que el triunfo se lo llevaría el equipo de LVMSL.
Los demás resultados del grupo A fueron: Stella Clavisque FC superó 5-2 al equipo Mitad del Mundo;
D. Citala 5-0 al Alianza;
Caesars Palace FC 8 a 1 sobre El Salvador y el México DF arrasó 9 x 0 al UVA.
Por otro parte, en el grupo B, El Cruz Azul derramó hasta la última gota de sudor para superar en 2 x 1 al muy buen equipo de Atonal.
El Sin City United sufrió para alzarse por el mismo marcador de 2 a 1 frente al C.D. Roble.
La goleada de Chapines, 5 x 0 frente al C.D. Michoacán resultó un tanto sorpresiva, sin dejar de ser justificada.
Para finalizar, Don Bosco y Tikal, ambos ganaron sus partidos 1-0 ante Ameca y Aurora respectivamente, ya que insólitamente, estos no pudieron llegar a tiempo a sus encuentros.
Un hecho insólito
En el segundo tiempo del encuentro Tyneside United y Demócratas, el director técnico de estos últimos hizo ingresar al jugador Emanuel Iyain (Ex Cádiz).
Ya se comentaba desde hace un tiempo la decisión de Emanuel de sumarse al grupo del Latin United. Al término del partido pudimos comprobar que este jugador no figuraba en el Roster del equipo por el cual jugó.
Cuando finalmente pudimos comunicarnos el Lunes por la noche con Rafael Gómez (DT de Demócratas) este nos dijo que pidió autorización a los árbitros para incluirlo, ya que este llegó ya con el partido comenzado y RAFA no sabia como se escribía su nombre.
Acto seguido, cuando se inició en encuentro del Stella Clavisque contra Mitad del Mundo, luciendo una hermosa camiseta amarilla, Emanuel Iyain hacia las delicias de los seguidores de Stella.
Tengamos en cuenta que este jugador está en plantel de este equipo ya que jugó el día 17 de Agosto frente al Aurora y ahí marcó un gol.
Sr. Lector, ¿Qué haría Ud. ante tan difícil situación que involucra a un equipo de cada liga? ¿Quién actuó de mala fe, si es que la hubo? Al cierre de esta edición todavía no se había llegado a un veredicto final y que sirva de ejemplo para que situaciones como esta no se vuelvan a repetir.
La próxima jornada del Segundo Torneo Interligas se jugara el próximo 14 de septiembre.
Tyneside Grabs League Title
June 6, 2008
By BRENT HINCKLEY w/ Silverado Home News
It did not take long for the Tyneside United Soccer Club to prove it belonged in the Las Vegas Major Soccer League. The team captured the league title on May 25 in a 4-1 win against Caesars Palace. Forward Geoff Barto scored all four goals for Tyneside.
Tyneside moved to the league after spending last season in the Nevada Soccer League and the previous six years in the Las Vegas Premier League, where Tyneside won six consecutive league titles
"We moved over and just kept going," said Phillip Detmer, a midfielder and the team's owner. "This league is a lot more competitive, so to win was a great accomplishment." Tyneside went 9-1-5 and finished in second place in the regular season, behind Caesars Palace.
"This is the top league in town, so it's a big deal for us to step in and beat those guys," team captain Danny Welsh said.
Tyneside's success hasn't been limited to the Las Vegas Valley. Each year, the team's goal is to reach the U.S. Open Cup, which features teams from Major League Soccer, United Soccer League First and Second Divisions, Premier Development League and the United State Adult Soccer Association all playing to determine the best club in the country.
Club's owner has eye on U.S. Open Cup
MLS teams have won all but one time since they were included in 1995. The squad has yet to reach that goal, but came close in 2002 when it played in the United States Adult Soccer Association's National Finals, which featured each of the association's four region champions - Tyneside won Region IV. However, Tyneside lost to Illinois' AAC Eagles 8-2 in Philadelphia.
Tyneside went 1-2 at this season's region tournament, May 16 and 17 in Scottsdale, Ariz. "We've been able to put together a good team of former college and semi-professional players," Detmer said. "We take things a little more seriously."
Detmer and co-owner Jeff Canarelli grabbed the reins of the organization in 2001 when former owner Steve Lazarus stepped down. The club changed its name from Las Vegas Arsenal. "We wanted to keep things going, so Phill and I got together and took over the team," Canarelli said. "It's been great to have such a successful team."
Detmer, a Bishop Gorman graduate and Canarelli, a Green Valley High grad, met while they were playing semi-professional soccer in Germany in the late 1990s. They returned to town and began playing for Arsenal.
Detmer said one of the team's goals is to help younger players advance to play in college or professionally. "We've had a couple of guys tryout for the L.A. Galaxy. One guy played for Chivas USA and another guy reached the U.S. national team player pool," Detmer said. "We want to help the local talent get seen and play at a competitive level."
Welsh, a 1994 Chaparral graduate, has been part of Tyneside since it was first formed in 2001. "It allows me to keep playing at a competitive level," Welsh said. "It takes the place of not playing professionally."
Brent Hinckley can be reached at 990-2687 or brent.hinckley@hbcpub.com
El Tyneside United destrozó al Caesars
May 30, 2008
Por Lito Carbajal w/ El Tiempo Libre
LAS VEGAS, NEVADA -- Hay una cosa que no se puede disacutir, el Tyneside United fue (a lo largo de los 90") el mejor de los dos. Es por eso y por lo hecho a lo largo de todo en año que es el campeón indiscutible de Las Vegas Major Soccer League, Torneo de Verano LVMSL-2008. Es muy posible que en nuestra memoria no se puedan borrar los 4 goles que el equipo blanco le propinó a un Caesar desconocido, falto de ideas y superado en cada pelota dividida. El hasta ese momento invicto y superlider Caesars Palace FC. fue lo que no le conocíamos en actuaciones anteriores. Su caída comenzó después de los primeros 10" de comenzado el encuentro cuando desperdicio un par de oportunidades imposibles de malograr.
No solo por que eran mas difíciles errarlas que hacerlas; también porque eran la bisagra entre lo que hasta entonces había pasado y lo que se vendría. Aquellos que saben de fútbol dicen que "Goles errados, son goles en contra" y no hubo nada más cierto. El castigo a su ineficacia por supuesto no tardo en llegar; de ahí en más el equipo blanco despertó de su modorra inicial y comenzó a jugar un fútbol de una precisión increíble De un lado, los dirigidos por Efraín Martinez intentando jugar un fútbol armónico para tratar de frenar el ritmo demoledor que le trataba de imponer el Tyneside United. Su estrategia principal fue ocupar aquellos espacios vacíos que su rival les regaló. En la primera mitad, abrió la cancha con pases a ras del piso, lo que facilitaba el dominio del balón mientras que su rival, levantaba la pelota frente a un medio campo que lo superaba físicamente. Como si esto fuera poco, la inmovilidad de sus delanteros a la hora de mostrarse, hacían más difícil la descarga de todo aquel llegaba con pelota dominada. Esto forzaba al intento individual que se repetía una y otra vez sin resultados positivos. Fue así que el toque lateral de Tyneside, con un Jeoff Barto que hasta ese momento jugaba de espaldas al arco rival, fue causando estragos en la defensa del Caesar, cuya defensa comenzó a hacer agua conforme pasaban los minutos. El Caesar, después de errar otra situación favorable de gol (tras un regalo de las defensa rival), cuando corrían 25", descuida sus líneas, permite que la bola salga limpia desde el fondo del equipo blanco y en contragolpe letal, Jeoff Barto logrando vencer a Julio Flores, pronosticando lo que se vendría. Para colmo de males, el mismo e imparable Barto faltando un minuto para terminar los primeros 45" anota el 2-0 favorable al Tyneside United. Y golpea sicológicamente a los azules, que hasta ese momento no encontraban como parar a esa maquina demoledora que tenían en frente.
De que se habló en el entre tiempo
Lo único que quedaba era borrar lo hecho hasta ese momento y motivar a sus dirigidos, fue justamente eso lo que Martinez les dijo a sus dirigidos "Un dos a cero no es imposible de remontar, no quiero patadas, quiero juego limpio y si corren 20" y el marcador sigue así, la defensa se va a tener que sacrificar" "Nos vamos todos hacia arriba"
Al comienzo de la segunda mitad, una expulsión innecesaria (sin pelota y lejos de la jugada) de un jugador del Caesars Palace le agrega otra frustración a un equipo que trataba por todos los medio, pero caía en el embudo defensivo que el rival le planteaba.
Como si todo lo anterior no hubiera sido poco, penal a favor del Tyneside y 3 a 0. Silencio total de los seguidores del Caesar que (mezcla de emociones) trataban de encontrar alguna explicación a la apatía de los suyo y la admiración a su rival, al que ese mediodía, le salían todas bien. El resultado final fue de 4 goles a favor de equipo que quizo todo, contra un equipo azul que quizo pero no supo como.
Al final El Tyneside United, además de ganar claramente y sin ninguna objeción, a lo largo de los 90" lucio sólido, práctico y (a la hora de atacar) tuvo en Jeoff Barto un artillero imparable destrozando a su rival con 4 anotaciones.
Los que estuvimos en los campos del McCarran Marketplace Soccer Park, tuvimos el placer de ver un equipo que practican muy bien el famoso "Pressing" en toda la cancha, en especial cuando su rival ingresa a la suya, que cuando recupera la pelota sabe que hacer con ella y, lo mas importante: Una escuadra que practica el FAIR-PLAY en todo momento. Es de destacar que contó con Ben Stott como goleador y Dean Snyder como el portero menos vencido.
Otro que se llevó toda la gloria y el reconocimiento general fue Julio Flores, portero del Caesars Palace que a pesar del resultado final y de perder su equipo el invicto que hasta esa hora traía es una de las figuras que más prometen en el fútbol local.
Felicidades
Tanto la organización, la ceremonia previa como los trofeos entregados y el comportamiento de todos los que estuvieron en la final, demostraron (una vez más) que La Mayor sigue má viva que nunca.
Tyneside United: ¡Campeón indiscutible!
May 30, 2008
Por J. M. ZÁRATE w/ El Mundo
LAS VEGAS, NEVADA -- Una de los atractivos del fútbol, como de prácticamente todos los deportes, es que es impredecible. Cuando empieza un juego, los aficionados quieren que su equipo gane, y cada quien marca su favorito.
Esta vez no fue la excepción, pero contra todos los pronósticos, y con muy pocos aficionados que apostaron a su favor, Tyneside United conquistó el Torneo de Verano LVMSL-2008 en el partido final en el que superó ampliamente 4-1 al hasta entonces invicto y súper líder Caesars Palace FC.
La debacle para el equipo decano de Las Vegas empezó cuando recién iniciado el encuentro desperdició un par de oportunidades claras de gol, lo que presagió la catástrofe que estaba por desarrollarse en su contra y que, por supuesto, no tardó en llegar, porque existe un adagio futbolero que dice: "aquel que perdona los goles a favor, recibirá su castigo".
El partido tuvo dos caras, por un lado el Caesars intentando un fútbol pausado, como tratando de frenar el ritmo endiablado del Tyneside United, una escuadra formidable que atacaba con velocidad y directo al arco del Caesars Palace, cuya línea defensiva comenzó a desarticularse conforme pasaban los minutos.
El Caesars Palace, después de errar otra situación favorable de gol, recibió un contragolpe mortal al minuto 25, y esta vez el implacable Jeoff Barto no perdonó, anotando el primero de sus cuatro goles, en lo que seria una tarde memorable para el hijo del ex-entrenador del equipo de fútbol de UNLV, quien faltando un minuto para el medio tiempo anotó el 2-0 favorable al Tyneside United.
Si el dos a cero fue como una cubeta de agua fría, entonces la expulsión de un jugador del Caesars Palace, cuando apenas iniciaba la segunda mitad, y la marcación de un penal rigorista en contra, fueron como un "chubasco" glacial para el ánimo de sus jugadores y seguidores. En resumen, el Tyneside United es un digno campeón que además de ganar claramente por momentos lució espectacular; se trata de un cuadro que practica siempre el Fair-Play, muy compacto en sus líneas y con un futuro prometedor en LVMSL.
Cuentan con el campeón goleador del torneo, Ben Stott, y el portero menos goleado, Dean Snyder. Sin embargo, los aplausos mayores fueron para el jugador más valioso del torneo, Julio Flores, el portero del Caesars Palace considerado por muchos como el jugador más grande del momento en el valle de Las Vegas.
READ ARTICLE
Bulldozer on the Pitch -- Tyneside forward brings physical presence to soccer club
January 23, 2008
Written By: Jared Harmon for The Home News, Community Newspapers of Nevada
The Tyneside United adult soccer club's top goal-scorer hopes to lead the team through another undefeated season in its new league, the Nevada Major Soccer League.
Fabrizio Ricci, 22, a Green Valley High graduate attending UNLV, averaged nearly a goal per game last season as a forward. "I've been pretty consistent since I've come to the team," Ricci said. "I had my average around two goals per game for a while. It helps that I'm playing with such a good team though. We're deep in every position. It's exciting to be able to play with guys who create opportunities to score every game. They make me better."
Tyneside United manager Phill Detmer said he first took notice of Ricci when he was an opponent playing with another local competitive amateur team. "When we used to play against him I could tell he had a lot of talent," Detmer said. "When we had the opportunity to bring him into our club we went for it. I like that he's a little unorthodox in his style. He's unpredictable. You think he's going to do one thing and he throws you a curveball and it can really trip up a defender."
Ricci described his style as a little more physical than the average soccer player. "I have a lot of strength in my upper body and I'm pretty aggressive on the field -- guys have called me a bulldog," Ricci said. "Most soccer players are skinny and frail but I'm (5 feet, 9 inches and) 190 pounds. I can plow right through guys and do it cleanly."
Teammate Ben Stott, a midfielder, compared Ricci to a bulldozer on the field combining talent with physicality. "He's real fun to play with because he brings so much energy to the team," Stott said. "He has this physical presence that is a great asset. He can manhandle guys and that makes opponents nervous."
Ricci got into soccer when he was 5 years old after watching the World Cup with his father on television. Ricci said he fell in love with the Italian National team and decided that day he wanted to give the sport a try. "I absolutely love soccer and everything about it," he said. "There's nothing better for me. I just get such a rush when I'm on the field. I don't know of anything else like it. I'm always pushing myself to be a better player and I get a high from that."
Ricci said he's contemplating walking on at UNLV as another possible road to earning a professional tryout. "I'm always thinking about going professional -- and in my heart I could do it right now -- it's just a matter of tyring to get that look," he said. "Playing with Tyneside has helped me stay in shape and even improve some things. I just have to keep playing my best."
Jared Harmon can be reached at 990-8922 or jared.harmon@hbcpub.com
Tyneside moves up to stiffer competition
January 23, 2008
Written By: Jared Harmon for The Home News, Community Newspapers of Nevada

One of the Las Vegas Premier League's top soccer teams, Tyneside United, has taken its undefeated record and moved to the Nevada Major Soccer League. The move was made official on Dec. 30, and with the exception of what manager Phill Detmer called more challenging competition, not much has changed for the club as it has begun the season 3-0-2 (W-L-T).

"We went undefeated in the last league and we're trying to keep that going over here," Detmer said. "So far, so good." The five games this season have pushed the competitive amateur club to 32 straight games without a loss. The club holds most of its practices and several games at McCarran Marketplace on Russell Road and Eastern Avenue.

Detmer said the move was made mainly to satisfy location and travel concerns after the Premier League moved its home field to North Las Vegas. "We just couldn't expect our team to drive out there all the time so we started looking for something that was going to be a better fit," he said. "With Nevada Major we've found a league that's a lot more competitive -- it almost feels like a semi-pro league."

Tyneside United will rely on defender Colin Dalrymple, midfielder Ben Stott and forwards Dave Isleib and Fabrizio Ricci to continue the team's recent success as it gets deeper into the season. The team is now preparing for the Silver Mug Invitational at Kellogg-Zaher Soccer Complex on Feb. 9 and 10. The tournament draws the top amateur teams from around the country.

Jared Harmon can be reached at 990-8922 or jared.harmon@hbcpub.com.
Protagonistas de los campos
January 7, 2008
http://www.eltiempolasvegas.com/deportivo/
By: Lito Carbajal
Steve Lazarus nació en Montreal Canada, actualmente tiene 40 años. Comenzó a jugar al fútbol en el sur de California desde muy pequeño. Estudió en Saugus High School CA. cerca de Magic Mountain.
Cursó College en California State University, Northridge donde fue el capitan del equipo de la Universidad donde mas tarde fue nominado como El jugador del año. Dentro de su colegio fue elegido El Atleta del Año.
Hace 10 años que vive en Las Vegas, ha jugado en muchos clubes como: Universal, National,
Arsenal y en la actualidad Tyneside United
(www.tynesideunited.com).
Acaba de regresar de Argentina donde tuvieron una actuación mas que destacada. En sus giras por el mundo tambien han visitado: Canada, Mexico Argentina, Chile, Suiza e Israel...
Steve es un hombre que hace amigos "dentro y fuera de la cancha".
LV Team To Play For U.S. Crown
July 17, 2002

Tyneside United qualifies for National Cup
By Victoria Sun

LAS VEGAS SUN

Tyneside United conquered the 13-team Las Vegas Premier soccer league, but it won't be satisfied unless it brings a national championship to Las Vegas.

"We're all excited," midfielder Phillip Detmer said after Tyneside became one of four teams to qualify for this weekend's men's open National Cup tournament in Oakford, Pa. "We want to do well and make a name for ourselves and the state.

"We have always been overshadowed by the California teams. Growing up, playing against them, it was difficult to compete with them."

Now the team with a 20-0-1 Premier league record will see how it matches up against the rest of the country.

"It's a big deal. It's a once-in-a-lifetime thing," Detmer said. "I've played soccer most of my life and I've never competed in a national tournament until now."

To reach the National Cup, Tyneside United beat two California teams, one from Utah and another from Colorado to win the Region IV championship.

Tyneside will play the Region II champion, the AAS Eagles of Chicago, on Friday. The winner advances to play for the national title against the winner between Region I and Region III.

Detmer, a former Bishop Gorman High School and UNLV player, founded the team last year with Jeff Canarelli, a Green Valley High graduate who played for St. Mary's College.

The friends took over the Las Vegas Arsenal team to form Tyneside United. The team is named after Canarelli's favorite English Premier team, Newcastle United, formerly known as Tyneside United.

Despite missing the last nine regular-season games with a knee injury, Canarelli led the team with 15 goals in 12 games. Detmer was second with 11 goals and first in assists (17), followed by Alberto Zermeno with 10 goals. Goalkeepers Emmet Meilbrecht and Kenny Tewsley allowed just 13 goals in league play.

While sidelined, Canarelli continued as the team's coach and played sparingly in the regionals.

"It's a great way to come back," he said. "No team in Las Vegas has done this, so everyone is excited about the opportunity to win a national championship."

Detmer and Canarelli hope this year's World Cup, in which the U.S. team surpassed expectations, will help increase soccer's popularity here. Canarelli said 10 Tyneside players work as Las Vegas youth coaches.

"Soccer is growing," Canarelli said. "The players on our team are doing everything we can to promote the game. The majority of the team grew up playing youth soccer in Las Vegas. In the U.S., it's very difficult to make a living at it. We'd like to see more money and support for the game."

The team is seeking sponsors to help with travel expenses. Anyone interested may call Detmer at 401-6888.



Celebrities, Soccer Team to Help Commissioner Reid Open McCarran Marketplace Park
September 19, 2007
Celebrities Costas Mandylor ("Saw" movies and one of People magazine's "50 most beautiful people"), Jimmy Jean Louis (the hit television show "Heroes"), and other members of the Hollywood United Football Club will join Clark County Commission Chairman Rory Reid to dedicate the new McCarran Marketplace Park and its soccer fields. The free event, scheduled for Saturday, Sept. 22 at 9 a.m., will take place at 5800 Surrey St., just west of Eastern Avenue off Russell Road. Refreshments will be served and the event is open to the public.

The semi-pro Hollywood soccer team will kick-off the first official game on the fields and a local youth league game will follow immediately afterward. Hollywood United is a soccer team made up of actors and entertainers, mostly British, who are now living in Southern California. The team's mission is to increase soccer's popularity in the United States.

Two last minute additions for Hollywood United who will play in Las Vegas are Frank Leboeuf, a former defender with the French national soccer team who won the 1998 World Cup with the French team. Erik Wynalda is a forward who holds the record for the most goals scored for the U.S. national team. Wynalda played for several U.S. pro teams and in Germany, as well as the U.S. national team, during the 1990s and is a soccer commentator for ESPN and ABC.

"This park is a great addition to our recreational sport facilities," Reid said. "It's hard to keep up with the demand for soccer fields, and McCarran Marketplace Park will fill that need and will accommodate families with small children who come to watch the games. We're very pleased to be able to offer this beautiful new park to the public."

Hollywood United will play against the Las Vegas-based Tyneside United Soccer Club. Tyneside is the Las Vegas Premier League's reigning champions for six years in a row. In 2002, they were the first Nevada club to win the USASA Region IV National Cup Championship, and they represented the state at the National Finals. Tyneside United also established a semi-professional team, the Las Vegas Strikers, in the National Premier Soccer League in 2003.

The soccer park was created by the Department of Aviation in cooperation with Marnell Properties, the developer of the McCarran Marketplace master-planned commercial center. The Parks and Recreation department will maintain and schedule the facility. It provides much-needed soccer fields for the nearby neighborhoods and will be used by both community soccer and flag football leagues.

McCarran Marketplace Park is an 8.5-acre facility. Amenities include two full-sized, fenced, synthetic turf soccer fields, a covered children's playground, restrooms, two picnic pavilions, desert landscaping and parking for about 100 vehicles. For more information or to RSVP, call (702) 455-8242.
Former Rebels Down Men's Soccer in Preseason Exhibition Game
August 23, 2002
Bittersweet
Former Rebels down men's soccer in preseason exhibition game.


Aug. 23, 2002

LAS VEGAS - Former Rebels Andrew Hooker, Phillip Detmer and Todd Roberts led Tyneside to a 4-2 exhibition victory over the UNLV men's soccer team Friday night at Peter Johann Memorial Field.

Tyneside, a local amateur men's club team which won a regional title and went to nationals this past year, consisted of former collegiate players from UNLV, Cal State Northridge and Saint Mary's College.

Five minutes into regulation play, Tyneside's Carlos Bordonea opened scoring after hitting the back of the net on an unchallenged goal. Later, in the final seconds of the first half, teammate Todd Roberts (1996-99) found Andrew Hooker (1998-2001) in-front of the net, who scored off a header for the 2-0 lead.

In the second half, sophomore defender Kristian Paananen (Espoo, Finland) put the Rebels on the board with a 35-yard rocket off the leftside in the 61st minute.

Two consecutive Tyneside goals followed as Phillip Detmer (1993-96) challenged goalkeeper Chris Scott (Corinth, Texas) for the put-in at 75:21. Jeff Canarelli later sneaked the ball past the near post for the team's fourth goal of the night.

In the 85th minute, junior transfer Espen Sjoevoll (Heimdal, Norway) scored in traffic off a cross pass from freshman Matt Harris (Portland, Ore.), but it would not be enough for the Rebels to even the score.

UNLV opens the 2002 regular season on Friday, August 30, hosting a four-team tournament at Peter Johann Memorial Field. MPSF rival New Mexico will face Northern Illinois at 5 p.m., while the Rebels take on Marshall in the nightcap at 7:30 p.m.


Tyneside 2 2 - 4
UNLV 0 2 - 2

SCORING SUMMARY
Tyneside - Carlos Bordonea (unassisted), 5:03.
Tyneside - Andrew Hooker (Todd Roberts), 44:30.
UNLV - Kristian Paananen (unassisted), 60:48.
Tyneside - Phillip Detmer (unassisted), 75:21.
Tyneside - Jeff Canarelli (unassisted), 77:20.
UNLV - Espen Sjoevoll (Matt Harris), 84:32.

SHOTS
Tyneside (13), UNLV (17)

CORNER KICKS
Tyneside (6), UNLV (5)

GOALKEEPER SAVES
Tyneside (5) - Ben Stollerman (4), Brian Galvin (1).
UNLV (2) - Justin Dennis (2), Chris Scott (0).


Men's Premier Soccer League Announces League Formation and Structure
October 30, 2002
FOR IMMEDIATE RELEASE:
October 30, 2002

MEN'S PREMIER SOCCER LEAGUE ANNOUNCES LEAGUE FORMATION AND STRUCTURE

-New Amateur Soccer League to feature 14 men's franchises from Arizona, California, Nevada, Oregon, and Utah-

Sacramento, CA (October 30, 2002) - The Men's Premier Soccer League (MPSL) has announced the formation of a men's soccer league in the Western United States. Teams from California, Arizona, Utah, Oregon, and Nevada recently attended a meeting in Sacramento at which fourteen teams were granted initial registration with the league.

The league is patterned after the five-year-old Women's Premier Soccer League (WPSL). Jerry Zanelli, commissioner of the WPSL, announced the organization of the new men's league and will temporarily serve as the MPSL commissioner during its formation.

"The MPSL will be operated and managed as a team run league" stated Mr. Zanelli, "The structure of the league will allow each team to have one vote on the executive committee."

The MPSL will consist of three teams previously active in a professional, National League. Chico, Reno, and Arizona will be leaving the United Soccer Leagues (USL) to become founding members of the MPSL. Other teams scheduled to enter from California include Fremont, Redwood City, Lodi, San Diego, San Bernardino, and Sacramento with Salt Lake City, Utah, Ashland, Oregon, Tucson, Arizona, and Las Vegas, Nevada rounding out the league.

The MPSL also announced it has established founding corporate partnerships with Soccer Development of America (www.90soccer.com), Creative Focus Productions (www.creativefocusproductions.com), and WAYSoccer, Inc. (www.waysoccer.com). Soccer Development of America through its monthly national soccer publication, 90:00 Minutes Soccer Magazine, will assist in marketing, advertising and league sponsorship. Creative Focus Productions Inc. will be providing website development and maintenance for the league. WAYSoccer, Inc., as an Internet Service Provider will be contributing $4.00 from every Internet subscription referred by MPSL.

The Men's Premier Soccer League will start play in April 2003 and will be affiliated with the United States Adult Soccer Association (USASA), Region IV, and the WPSL. The MPSL will be accepting teams until December 1, 2002. Entry fee is $3,000 plus a $5,000 Performance Bond.

Contacts for the league:
Dave Stahl, Associate Commissioner - (530) 343-7665
Jerry Zanelli, Commissioner - (916) 487-3512

MPSL League Public Relations - Corporate Advertising and Marketing
Yan Skwara, Soccer Development of America (SDSD-OTC)
Tel: (858) 488-7775
Fax: (858) 488-7717
Local Soccer Team Nears Spot in Amateur National Championship
July 18, 2002
Thursday, July 18, 2002
Copyright © Las Vegas Review-Journal

COLUMN: Joe Hawk
Local soccer team nears spot in amateur national championship

Steve Lazarus, 35 years old but not looking a day over 25, takes the razzing from his teammates without flinching. "Grandpa" and "Gummer" they call him, the good-natured needling coming from all directions during twice-a-week practices and weekly games for Las Vegas' Tyneside United soccer team.

"I'm the old and `unrespected,' " Lazarus says in mock resignation.

"But they'd better be careful," he adds, arching his eyebrows as his readies a needle of his own. "They'll be there, too. And for some, it's sooner than they think."

"Ooooh!" interjects a younger teammate standing nearby.

In soccer, "old" is a relative term. There's something about the sport -- perhaps all the healthy running -- that seemingly takes 10 years off one's appearance. Soccer players rarely look their age.

And there's definitely nothing "unrespected," as Lazarus might term it, to reference a 35-year-old who still gets his kicks out of corner kicks and penalty kicks -- especially when he's leading his team into the semifinals of a prestigious national tournament.

Lazarus, the vice president of sales for Global Cash Access, the company that coordinates cash-machine transactions for the local casino industry, is the oldest player on the 18-member Tyneside United team that has reached this weekend's "Final Four" of the U.S. Amateur Soccer Association's National Cup Competition in Oakford, Pa.

Having outplayed 50 state and eight West regional foes -- including besting two-time Cup champion Northern California in the West title game three weeks ago in Salt Lake City -- Tyneside will meet the Illinois representative Friday for the right to face the winner of Texas-Pennsylvania for the national championship Saturday.

Playing in the men's open division -- the largest field with 600-plus teams -- Tyneside is the first Nevada representative to advance this far in National Cup play. And the squad of players, ranging in age from 23 to 35 and careers that span fireman, electrician, valet parking attendant, mortgage loan officer and youth corrections officer, did it in just its first year.

Considering the country's spiked interest in soccer following the recent success of the United States in the World Cup, it's not exactly a bad year to bang a few saucepans.

"We feel good about what we've accomplished this year. It's a good time to be on a roll," says Jeff Canarelli, 27, the team's coach and one of its midfielders.

While he accepts that soccer in the States never will be embraced the way baseball, basketball and football are, Canarelli is hopeful the World Cup demonstrated to at least some Americans how tactical the sport is and how truly skilled the players are.

"In basketball, because most people have played it, it's understood how difficult it is to hit a 3-pointer. But in soccer," he says, "unless you've played it you don't appreciate how tough it is to steal the ball or trap the ball or kick the ball 60 yards in the air right to someone's foot."

All things, by the way, that Tyneside United does well.

Like most of his 'mates, Phillip Detmer, 27, the team's manager and also a midfielder, played collegiately, then professionally for club teams overseas -- where soccer is not just appreciated but worshiped. He believes for Americans to share in that worldwide sentiment they're going to have to want to make the commitment.

"What we do out here, we do because we love the game," he says. "We've always loved the game. We love the speed, and we love how really tough it is to play well. ... People look at soccer and think it's just a bunch of people running and kicking the ball. But if they ever took the time to learn the game, they'd find out it's much more than that."

Admittedly for Lazarus -- not exactly raised from the dead at 35 but frequently feeling his age on the field -- "much more than that" includes the occasional wheezing.

"No question, we're weekend warriors," the veteran striker says. "We have some young guys out here who are `chasing the ball' -- looking for that chance to maybe catch on with a professional team somewhere. But most of us are guys who've moved on to corporate, professional lives and just want to stay active and competitive."

Oh, and try to claim a national championship, too.

Joe Hawk's column is published Sunday, Tuesday, Thursday and Saturday. He can be reached at 387-2912 or jhawk@reviewjournal.com.

This story is located at:
http://www.lvrj.com/lvrj_home/2002/Jul-18-Thu-2002/sports/19211858.html

A message from the Region IV Commissioner to the NV State Soccer Director
July 31, 2002
Your boys with Tyneside did a great job, getting to Oakford for the National Cups Finals. Having sat on the sidelines and watched the entire match, they ran into some very unfortunate luck early on, which meant they were chasing from almost the beginning. They went for offense to win the game and scored some good goals; that is why. The score does not tell the whole story. They were up against a very strong, experienced Polish team, which team had been to the National Finals many times before. I really enjoyed working with Tyneside. They are a great bunch of players and I wish more of the cup teams were as easy to work with.
-Bob McGee
President

Good job guys. We in Nevada are proud of your efforts, and we look forward to another good showing next year.
-Graham Biles
Nevada State Cup Commissioner