Stay in the know!!
Receive text and/or email alerts of:
Click on the following image to begin!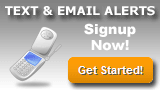 To discontinue getting texts and/or emails:
Since you create the account to get the texts and emails-
you will have to log back into "My Account" on our website
(top right corner of website)
using the email and password you created
and then you can delete the account.
The only thing we can do on our end is "unapprove" people
who signed up to get them.
This does not delete the account- only you can do that.
Email Nicole Fooks with questions regarding this: