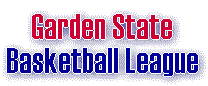 2018 - 2019 Season Dates
League Registration and Forms can be mailed to 
Garden State Basketball League
33 Village Road
Florham Park, NJ 07932
Below you will find our dates for the upcoming 2018/19 season 
Dates for 2018/19 Season:
Meeting - Monday Sept 10 7:00pm - 8:00 pm Ridge High School - Room 630 
Registration - $150 Sunday Oct 21
Early Discount $125 by Oct 1 

Partial Teams accepted 
Conflict Dates and Gym Availability - Friday Oct 26
Season Starts - Saturday Nov 24
Season Ends - Sunday Feb 17
Playoff Seedings announced Feb 20
Playoffs start - Thursday Feb 21 [all Full participants make playoffs]
Playoff Finals - "Super Sunday" March 3 - at various sites  
Any questions please contact:
Enjoy the rest of your summer! 
GSBL Board
---
Playoff and Regular Season Champions 2018
Congratulations to all our winners! 
Boys

Division

Playoff Champion

Playoff         Runner Up

Regular Season Champs

4 Boys

Basking Ridge Green

Bridgewater Bratus

Basking Ridge Green

5 Boys American

Basking Ridge Green

Long Valley

Basking Ridge Green

5 Boys National

IHM

Flemington

IHM

6 Boys American

Washington

North Caldwell

North Caldwell

6 Boys National

North Hunterdon

Basking Ridge Red

North Hunterdon

7 Boys American

Scotch Plains

Basking Ridge Green

Scotch Plains

7 Boys National

Flemington

Basking Ridge White

Basking Ridge White

7 Boys Central

Orange

Bedminster

Orange

8 Boys American

Basking Ridge Green

Randolph Blue

Basking Ridge Green

8 Boys National

Parsippany

Washington

Parsippany

8 Boys Central

Morris Plains

Bedminster

Bedminster
Girls

Division

Playoff Champion

Playoff         Runner Up

Regular Season Champs

4 Girls

West Essex

Randolph Blue

West Essex

5 Girls American

Randolph Blue

Westfield PAL

Westfield PAL

5 Girls National

Chester

Mt Olive

Bridgewater

6 Girls American

West Essex

Basking Ridge Green

Randolph Blue

6 Girls National

Bridgewater

Readington Relovsky

Bridgewater

7 Girls American - Upper

Randolph Blue

Long Valley

Co-Champs -               Long Valley and Chester 

7 Girls                    -Lower

Basking Ridge Green

Mt Olive

xxxx

8 Girls

Randolph Blue

Bridgewater Black

Bridgewater Black
---
Playoffs:
All GAMES at Fernwood Elementary School have been rescheduled to other gyms throughout Please go to PAGES then Playoff Info for the latest changes.
RIDGE High School has a detour on Lake Rd - so please use other roads. 
Thank you all for working to get these games completed. 
  Good Luck
Good sportsmanship by all - use the league to help police your unruly parents (hopefully not many).  Code of Conduct for all coaches, players and parents needs to be returned this week. [Parents forms you keep]
Rosters are due by this weekend.    Scores are to be posted within 24 hours after the game. Front page - top right corner of website.   
Password: thescore        Either team can post the score, venue must be selected 
Warmup time - A minimum of 4 minutes between games.       $50 per REF - Each team pays one REF.
No forfeits please - if so the team forfeiting is responsible to pay the league $100 for the Refs and the league will pay the Refs.
Call your assignor and email the league (on front page of website) if a team cancels within 48 hours. [you must make contact with your Assignor, a message does not suffice]
Please confirm your scheduled game with all opponents each Monday of that week. It is much safer to make contact instead of relying on an unread email. You do not want to show up on the wrong day or to the wrong school. 
Playoffs start Feb 22              Finals will be played on Sunday March 4th.   Snow days will happen - please make sure your Assignor is aware of immediately.  
Good luck this season.     GSBL