Booster Club Sign Ups: Click Online Forms.
Support Our Baseball Team by Purchasing a Stater Bros. Script Card Today
San Andreas League Champions
1976
,
1997
,
2004
,
2005
, 2007, 2008
---
---
C.I.F. Play-off Appearances
1976, 1982, 1983, 1984, 1988, 1995, 1997, 1999,
2001, 2003, 2004, 2005, 2006, 2007, 2008, 2009, 2010, 2011, 2013
---
---
Congratulations Aaron for making it to Major League Baseball
See the full article at http://www.kansascity.com/2014/04/05/4939068/royals-bring-up-right-hand-reliever.html
---
 Cajon CowboyBaseball supports the Helping Hands Pantry on 12-21-13. Thanks Team for the Holiday support!
---
---
Stater Bros. Fundraiser 

Great fundraiser for the Cowboys Baseball team and simple to do! 

You can order a card in the amount of  $25,  $50,  $100, or $250
If you buy grocerys by a script card first and we get 6% of every card sold

Orders are placed on Monday evening and cards are available on Thursday of the same week

Cash or
Checks payable to Cowboy Baseball Booster  
---
---

---
The 10 Commandments of Baseball
1. Nobody ever became a ballplayer by walking after a ball
2. You will never become a .300 hitter unless you take the bat off your shoulder. 
3. An outfielder who throws back of a runner is locking the barn after the horse is stolen. 
4. Keep your head up and you may not have to hold it down. 
5. When you start to slide, S-L-I-D-E. He who changes his mind may have to change a good leg for a bad one. 
6. Do not alibi on bad hops. Anybody can field the good ones. 
7. Always run them out. You can never tell. 
9. Do not find too much fault with the umpires. You cannot expect them to be as perfect as you are.
10. A pitcher who hasn't got control, hasn't got anything.
---
---
CIF Bat Rule for 2013 Season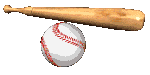 ONLY BBCOR approved
bats are legal for the 2013 season.
---
1971-2010 Varsity Team Photos

Something new in the Photo Album. Wow! Do you want to see how real baseball players looked back in the day here at Cajon? See the first San Andreas League Championship Team of 1976. Team Photos are available to view starting back to 1971.
---
Did you ever know what to do in a rain delay as a player?