Getting ready for spring!
Enjoy the off season
10AA TOURNAMENT BRACKETS
June 24, 2019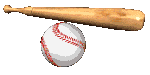 10AA FRIDAY/SATURDAY POOL PLAY
GOOD LUCK & HAVE FUN!
---
---
11AA Tournament Results
June 24, 2019
---
June 6, 2019
THANKS TO EVERYONE FOR REPORTING YOUR SCORES ON A TIMLEY MANNER AND COMMUNICATING WITH YOUR OPPOSING COACHES.  THE SEASON IS OFF TO A GREAT START!
---
May 2, 2019

  Thanks to everyone who came to the meeting last night. That was a GREAT turnout!  It certainly makes the season go smoother when everyone is there to receive the information first hand.  Below is the PowerPoint presentation from the meeting.  If you have any questions please let me know.
2019 Coach Meeting Presentation
---
---
League Qualifiers and Tournaments
April 29, 2019
Here are the brackets for the following tournaments.  When I have more done I will add them to the list.
POSTED
10AA Qualifier in Maple Lake, June 28-30, 2019
11A in Howard Lake, July 19-21, 2019 (coming soon)
10B coming soon
12B coming soon
---
---
Teams and Division
April 18, 2019

  SCHEDULES HAVE BEEN POSTED.  I WILL CLEAN UP FIELD MAPS TOMORROW.  IF YOU HAPPEN TO HAVE A CHANGE OR TWO PLEASE EMAIL IT TO ME.  THANKS!
League tournament dates are posted below.  I am assuming all teams will be participating in these tournaments unless I hear differently by May 20th.  I will begin penciling out blank brackets in the next few weeks.
---
---
League Meeting Update
April 2, 2019
2019 CLASS A/AA TOURNAMENT RULES
-Coach meeting: Wednesday, May 1st at 6:30pm at the Hutchinson Event Center.


-League start dates will be: 
     AA/A May 14, 2019. Approximately 14 game schedule.
     B May 21, 2019.  Approximately 12 game schedule.
-No games will be scheduled the week of July 4th


-The league tournaments will be:
     10AA June 28-30 in Maple Lake
     11AA June 21-23 in Howard Lake
     11A July 19-21 in Howard Lake
     10B July 19-21 in Hutchinson or Annandale
     12B July 19-21 in Hanover
The MSF State tournaments are:
     10AA July 26-28 in Mankato
     11AA July 26-28 in Sartell
-League fees will be $325 per team and will be all inclusive (12 game balls, rule and score books, website, administrative fees, awards, umpires and gate fee for league tournaments)
-OTHER IMPORTANT DATES:
April 1, 2019:  Team #'s, and field availability due to League (submit at on website)
May 7, 2019: Team pages need to have coach contact information current
July 1, 2019: Fall ball player registration opens
August 9, 2019 Fall ball player registration closes
September 8-October 6, 2019: Fall ball games (Sunday's only)
---
League Tournament Results
July 16, 2018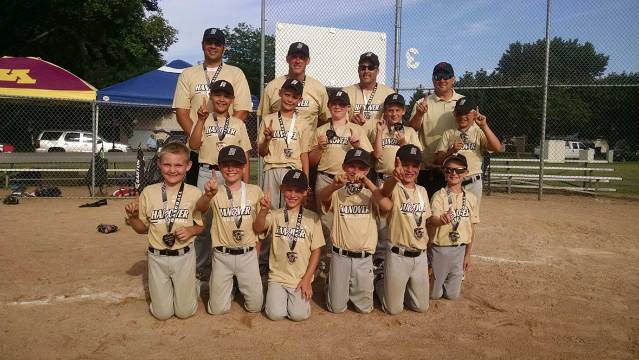 HANOVER GOLD 10B GOLD BRACKET CHAMPION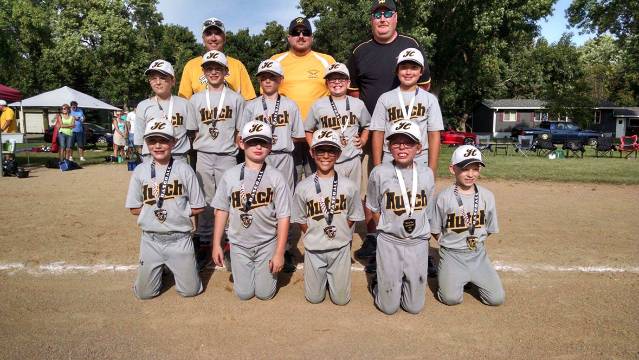 HUTCHINSON GREY 10B SILVER BRACKET CHAMPION

KIMBALL CUBS 12B GOLD BRACKET CHAMPION
ROCKFORD WHITE 12B SILVER BRACKET CHAMPION
---