Register for July/August season now!
WE GET TO PLAY BALL!
Schedules and Rules
July 8, 2020
---
2020 SUMMER SEASON
June 26, 2020
THE LEAGUE WILL NOT HAVE A TOURNAMENT AT THE END OF THE SEASON DUE TO LACK OF HOSTS.  THE REGISTRATION FEES HAVE BEEN ADJUSTED TO REFLECT THIS.  REFUNDS WILL BE ISSUED TO THOSE WHO HAVE ALREADY PAID TO REFLECT THE NEW FEES.
TO REGISTER FOR BASEBALL PLEASE GO TO WWW.CROWRIVERFASTPITCH.COM
---
June 5, 2020
The Governor just turned the dial to open up low risk youth sports. We are a medium risk sport and we are NOT open for games today. There are three risk levels.
Low risk is open to competition. If I had to guess that is a sport like tennis.
Medium risk is baseball/softball and is NOT open for games today.
High risk I am going to guess is like wrestling and football based on contact but this is only a guess.
---
2020 - The Season of Sandlot
May 22, 2020
This comes with a very heavy heart, and to be honest, some tears. As you are aware we didn't get the result from the Governor and his Youth Sport Task Force that we were hoping for. Although we are now able to have practices with "pods" of ten on a field we still have no guidance as to when/if we will be able to resume games. Based on the phase in model we are entering phase two on June 1. Games will not be permitted until we achieve phase three. We have no criteria or timelines as to when we may enter into phase three.
I are fairly certain that tournaments will not be permitted this summer in a fashion that would resemble anything we would want. Some of our associations are also receiving push-back from their local government and schools with regard to field usage.
Based on the above mentioned situations and lengthy discussions with many league directors and some families Crow River Baseball has made the very hard decision to cancel the 2020 season. Please understand that this decision had been one of the hardest things I have ever had to do. Due to the open endedness of this situation our local boards are under a large amount of pressure and stress with parents and dealings the situation as a whole. Our families are under a lot of stress also with all of the unknowns with regards to timelines and potential safety risks. My goal is that our families and board members will be able to breath again, per say. At least everyone will be able to move forward in whatever fashion that may look like for each of us.
My hope is that the State will have all of this figured out and that we will be able to go forward with a successful fall ball season. As our Softball/Baseball Consortium continues to work with the Governor's Task Force I will send out updates on any new developments.
Here is my request of you for our kids this summer....ENCOURAGE THEM TO GET OUT AND PLAY SOME SANDLOT BALL. Guide them to get ahold of some friends and find a field or someone's back yard and play some pick up ball. Let them pick teams, the old school way, and have some fun. Encourage them to simply play. Let them explore and learn the game (without being coached) and fall in love with it in a whole different way. If we can all do that for our kids this summer will turn out to be a successful one.
Thanks to everyone single one of my directors and your board members for all of your hard work. I know that it seems to be unacknowledged but what you are all doing is "Building Strong Young Men One Game At A Time".
---
2020 Season and COVID-19
March 16, 2020
I'm sure that everyone is wondering where we are with the upcoming baseball summer season.  As of right now Crow River Junior Baseball (14A/B and below) will be moving forward as if "all is normal".  We will be monitoring the guidance of the Minnesota Department of Health, the Minnesota State High School League and other youth governing sports organizations.  I don't want to make a knee-jerk reaction and postpone or cancel anything at this point.  
I'd like to ask that your community fill out the Community Registration form and the Team Registration forms with field availability by the April 1st deadline as if we are starting on time.  If you do not have coach information you can leave that blank for now and we can add it at a later date.  We can always adjust as needed but at least this gives us a starting point on our end.  Between baseball and softball we are scheduling for nearly 180 this summer and we don't want to get in a situation where we can not get schedules out.
Thank you for your patience and understanding in with this situation.  It's uncharted territory for all of us and we all want to be sure to make the safest decision for all involved without over reacting.
---
2020 registration is now open
January 23, 2020

The link on the left of this page labeled "Community Registration" is where you will register your community and list the number of teams you will have at each age/division.
The link labeled "Team Registration" is where you will list your team name, coach's information and field availability.  A form for each individual team is required.  If you don't have a coach assigned by the deadline please still fill out the form and put "TBD" in the coach spot.  You can edit it later but it's important that we have the field availability by the deadline.
These forms need to be submitted by April 1st so that we can begin schedules.
If you have any questions please email me at crowriverjuniorbaseball@gmail.com or call/text me at (320) 583-0681.
---
Tournament Dates & Hosts for 2020
January 22, 2020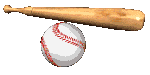 10AA JUNE 26-28 IN MAPLE LAKE
11AA JUNE 26-28 IN HOWARD LAKE
12AA JUNE 26-28 IN ANNANDALE
10A/B JULY 17-19 IN WESTONKA
12A/B JULY 17-19 IN HANOVER
14A/B JULY 17-19 IN HUTCHINSON
---
October 22, 2019
Thanks to those who attended the meeting last evening.  I appreciate all of the great discussion that took place and the willingness to assist and providing the best experience for our players.  Below are the 2020 rules with the updates we spoke about.  Please take some time to look them over and let me know if I've missed something.  Dates for registration and such will be coming sometime in November and will be posted here.
14A/B, 12A/B, 10A/B League Rules 
14A/B, 12A/B, 10A/B League Tournament Rules
---
October 21, 2019
  CLICK HERE FOR THE POWERPOINT PRESENTATION FOR THE MEETING


Or 2020 league planning meeting is coming up!  If you have an item that you would like added to the agenda please email it to me.  We will discuss any suggestion for rules or format changes.  Directors and coaches are all welcome to attend and participate in the discussion.  When items are voted on each community will receive one vote.
Monday, October 21, 2019
7:30pm (following the softball meeting)
Hutchinson Event Center
(intersection of Hwy 15 & South Grade Road)
---
---
October 17, 2019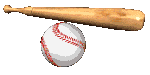 Effective January 1, 2020, bats which are marked with the 1.15 BPF Stamp WILL NOT be allowed at the 13U-15U age levels.  Bats used by 13-15 year olds must have the USA Bat stamp, BBCOR Stamp, or be a wood bat. 
Bats which are marked with the 1.15 BPF, USA or BBCOR Stamp (or wood bats) WILL be allowed for use at the 10U-12U age groups.
---
May 2, 2019

  Thanks to everyone who came to the meeting last night. That was a GREAT turnout!  It certainly makes the season go smoother when everyone is there to receive the information first hand.  Below is the PowerPoint presentation from the meeting.  If you have any questions please let me know.
2019 Coach Meeting Presentation
---
---
League Meeting Update
April 2, 2019
2019 CLASS A/AA TOURNAMENT RULES
-Coach meeting: Wednesday, May 1st at 6:30pm at the Hutchinson Event Center.


-League start dates will be: 
     AA/A May 14, 2019. Approximately 14 game schedule.
     B May 21, 2019.  Approximately 12 game schedule.
-No games will be scheduled the week of July 4th


-The league tournaments will be:
     10AA June 28-30 in Maple Lake
     11AA June 21-23 in Howard Lake
     11A July 19-21 in Howard Lake
     10B July 19-21 in Maple Lake
     12B July 19-21 in Hanover
The MSF State tournaments are:
     10AA July 26-28 in Mankato
     11AA July 26-28 in Sartell
-League fees will be $325 per team and will be all inclusive (12 game balls, rule and score books, website, administrative fees, awards, umpires and gate fee for league tournaments)
-OTHER IMPORTANT DATES:
April 1, 2019:  Team #'s, and field availability due to League (submit at on website)
May 7, 2019: Team pages need to have coach contact information current
July 1, 2019: Fall ball player registration opens
August 9, 2019 Fall ball player registration closes
September 8-October 6, 2019: Fall ball games (Sunday's only)
---
League Tournament Results
July 16, 2018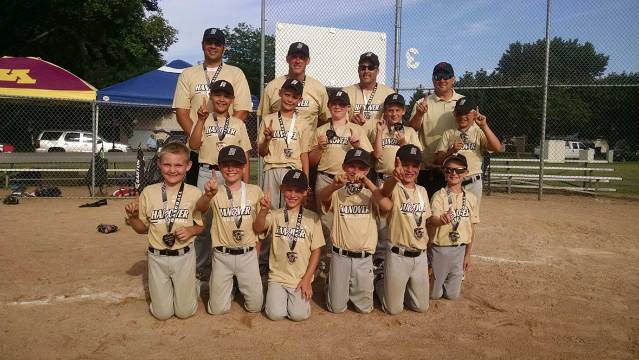 HANOVER GOLD 10B GOLD BRACKET CHAMPION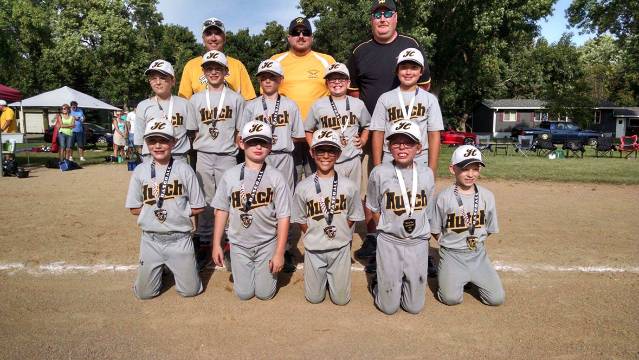 HUTCHINSON GREY 10B SILVER BRACKET CHAMPION

KIMBALL CUBS 12B GOLD BRACKET CHAMPION
ROCKFORD WHITE 12B SILVER BRACKET CHAMPION
---