"Give Me A Chance To Play" 2010
Please Donate Equipment to "GMACTP"
"Visit www.holmanbaseballshed.com"
"Proverbs 11:25"
Update for Winter Baseball Camp
Dear Baseball Family, we are sorry to announce that the Holman Baseball Shed will not be offering Private Baseball Instruction nor will Give Me A Chance To Play offer the annual Winter Baseball Camp this season. This year has been overwhelming in terms of personal obligations that have occupied much of our personal time. We will be back on schedule next Fall. Wishing everyone a successful 2016 Baseball Season, work hard!
---
2015 Preseason Workout Update
The 2015 Preseason Workout Clinics, held at the Holman Baseball Shed, were fun and beneficial to Wichita area high school baseball players.  The  workouts were held on Saturdays throughout  the months of January and February at the "Shed" and provided Wichita high school aged ball players a chance to get their preseason work in.  The players had full access to the facility and full access to former Seattle Mariner pitcher and current Texas Ranger's Minor League pitching coach, Brad Holman.  Brad was available for hitting/pitching instruction and instruction on fundamentals. Give Me A Chance To Play, a non profit youth organization affiliated with the Holman Baseball Shed, would like to give a big "thank you" to Brad Holman for volunteering his time and facility to these young men.  Other volunteers included Jaime Doss, Justin Harris, Stormy and a few dads who chipped in on the live bullpens.  We would like to thank everyone; sponsors, donors and volunteers for making these preseason workouts possible. Good luck fellas, on your season!
---
2015 High School Preseason Workout at the Holman Baseball Shed
January 10, 2015 – 01:00 PM
G,M,A,C,T,P. and Holman Baseball Shed are teaming up for the 3rd Annual Preseason Baseball Workout. If you would like to recommend a high school ballplayer who would benefit from this event, please email Stephanie Holman at holmanbaseball@
cs.com.
The student must be in good standing in school and must meet the need based criteria to attend this free event. This event is possible because of our volunteers and donors. G.M.A.C.T.P. would like to thank Pitcher Neal Cotts, Pitcher Mark Lowe, Texas Rangers Mike Daly, All American Automotive (Kellogg), Pig N Pig Out, Textron, John Solis DJ Service, Robert Hinckley; CPA, and our Chili Cook Off fundraising coordinators, Aaron and Stacy Peters for being our biggest supporters. We would li
ke to thank some of the local business' for their continued support. Thank you Abode Venue, Emerson Biggins, Wichita Wingnuts, Donut Whole, Nancy's Amazing Sandwiches, Riverside Café, All Seasons Sportswear, Coleman and many more who have donated items for our annual fundraising events. We have had some great Artists donate their musical talent and art. Mike Potts, Tony Ngo, Aaron Blanton, Eric the Viking, Nikki Moddelmog and many more who have donated their creative talents and time for our fundraising events. Our volunteers have been second to none, you know who you are. Stacy/ Aaron, Starr, Jessi, Tiffani, Jordan, Cynthia, Robin, Josh, Piper, Mike/Katherine, Angie/Randy, Natalie/Brad, Jaimie Doss and many more. We love you all and thank you!
---
2014 Pre-Season Workout
Pre-Season High School Baseball Workout Opportunity.  January 4th, 11th and 18th; Free.  Contact Brad/Stephanie at (316)722-8448 for details or email

holmanbaseball@cs.com

.  Sponsored by The Holman Baseball Shed and Give Me A Chance To Play. 
---
2013 G.M.A.C.T.P. Chili Cook-Off Fundraising Event.
October 12, 2013 – 03:00 PM
The 2013 G.M.A.C.T.P. Chili Cook-Off Fundraising Event is approaching fast!  For information about contributing donation items for this event, please email Stephanie at holmanbaseball@cs.com. Our wish list:  Art (Paintings, personal work, wood/metal art, etc.), Gift baskets, gift cards, gift certificates and monetary donations are always helpful.  In the past, Pitcher Mark Lowe (Seattle Mariners, Texas Rangers and currently with the Washington Nationals) has matched the events total every year. Thank you, Mark Lowe, and everyone involved with this fun and exciting fundraising event.  We are very thankful for our volunteers and especially thankful for our event planners, Aaron and Stacy Peters, who originated this wonderful fundraiser for Give Me A Chance To Play.  PIG IN PIG OUT, ALL AMERICAN AUTOMOTIVE (west Kellogg), WICHITA WINGNUTS, WICHITA STATE ALUMNI, MIKE POTTS PAINTINGS and many more donors have contributed to our cause every year and we are blessed to have them.  Thank You!!!
---
June Baseball Clinic offered by Give Me A Chance To Play
June 8, 2013 – 10:00 AM
Give Me A Chance To Play is partnering with the Wichita Aviatiors (members of the Walter Johnson League) and will be offering a two hour (10am-12) baseball clinic on Saturday, June 8th. This clinic is for 5th thru 8th grade and will be held at the Holman Baseball Shed field, 4720 N. Ridge Rd. Contact Stephanie Holman if you would like to participate. holmanbaseball@cs.com or call 316-722-8448. For those interested in staying for lunch afterwards, a few of the Aviator players will share a testimony of their faith. The clinic is free
---
Highschool Baseball Preseason Workout by G.M.A.C.T.P. and H.B.S.
January 5, 2013 – 01:00 PM
The next clinic for highschool players is Saturday, January 5th. Brad will be at the Holman Baseball Shed from 1pm to 3pm if you would like to participate. The clinic is free of charge, email Stephanie at holmanbaseball@cs.com to sign up. All highschool players are welcome but you must call 641-2032 or email to confirm a spot. Brad will instruct two more clinics before he leaves for springtraining, so get signed up. Clinics will be on Saturdays and announced on www.givemeachancetoplay.com, www.holmanbaseballshed.com sites and our pages on facebook. These clinics will provide you the opportunity to get hitting and pitching preseason work in and an evaluation from Brad Holman.
---
Winter Baseball Clinic by Give Me A Chance To Play and Sponsored by Holman Baseball Shed
December 29, 2012 – 09:00 AM
Give Me A Chance To Play is holding a clinic for highschool ballplayers Saturday, December 29th. This clinic is sponsored by Holman Baseball Shed, Brad will be working with the guys from 9am to 12pm. We have set other dates throughout Jan
uary and will announce them on our website: www.holmanbaseballshed.com and www.givemeachancetoplay.com, These clinics are FREE, you can email Stephanie to find out more information at: holmanbaseball@cs.com
---
2011 Pre-Season Girls Tennis Clinic
August 8, 2011 – 08:30 AM
Free Tennis clinic for girls ages 13-18. Those interested in getting ready for the upcoming High School season or interested in learning the game. Email Stephanie @ holmanbaseball@cs.com. Equipment will be provided. Dates are August 8,9,10. We will start at McAdams Park at 8:30am to 9:30am. We will then move to Evergreen Park and start at 10:30 to 11:30. Come on out!!!
---
2010 "Give Me A chance To Play" Winter Baseball Clinic
December 18, 2010 – 09:00 AM
'Give Me A Chance To Play", a non-profit 501c3 youth organization is offering a free baseball clinic for high school aged players (14-18). The clinic is sponsored by the Holman Baseball Shed and the Shed instructors will conduct the activities. This 2 hour clinic is being offered to the high school athlete who desires to improve or learn the game of baseball. We prefer and encourage the athlete with limited experience to sign-up. Our goal is to increase participation in baseball and to provide a venue for the player who hasn't had the opportunity to have professional instruction. Space is limited, please call Brad or Stephanie to sign-up. 316-722-8448 or email holmanbaseball@cs.com
*High School catchers who need community hours are encouraged to volunteer, G.M.A.C.T.P. is a 501c3 organization.

---
Equipment Update

G.M.A.C.T.P. is pleased to announce that our organization has received new equipment for future camps. The City of Wichita's Career Developement Office provided the equipment through the Community Service Block Grant. We would like to thank Joe Dermid,Heidi Cleveland and Lt. James Espinoza for working hard to make this happen.
---

The G.M.A.C.T.P. Spring Break Camp was a success! Our camps have drawn many kids who have the desire to learn the game and we have been blessed to have enough volunteers and instructors who have it in their hearts to teach and get to know these wonderful children. The free 3 day camp attracted 27 children on Monday at Evergreen Park, on Tuesday, 28 kids at Evergreen Park and 30 kids at McAdams Park. On Wednesday, we had 30 kids at Evergreen and 35 at McAdams. Wow! We would like to thank Holman Baseball Shed instructors Brent Holman and Brock Piper for their professional instruction, Lt.James Espinoza and the Wichita Police Department for providing wonderful officers to assist with the camps and who have a lot of baseball knowledge (and "Big" hearts), Youth Horizon's staff and boys (outstanding group)! Last, we would like to thank the Holman kiddos, they are doing a great job helping with these camps. Thanks guys and "Thank God" that we have this opportunity to share.


---
The Baseball Clinic was a hit!
The baseball clinic at North High School was fantastic considering the freezing cold temperatures outside. Thanks to North High School and the onsite staff, the small gym was available and perfect for the indoor clinic. The kids had fun while receiving Professional instruction from Brad Holman,Craig Dingman, Brock Piper and Derek Dibbens. Several coaches,college players,highschool players and our guys from Youth Horizons donated their time and expertise to the G.M.A.C.T.P. clinic. We would like to thank all the volunteers, this is what it's all about! Next Camp: TBA.
---
"Give Me A Chance To Play" is a non-profit 501c3 organization.
All donations are tax-deductable.
---
MISSION STATEMENT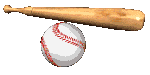 "Our goal is to increase participation in baseball, while sharing our passion and knowledge of this great game, to youth everywhere."
---
Give Me A Chance To Play teams up with the Wichita community
The Holman Baseball Shed, National Latino Peace Association, Evergreen Park & Recreation staff, Youth Horizons and the Wichita Police Department teamed up to hold the first "Give Me A Chance To Play" 4-day baseball camp during Spring break 2009. The kids got better and had a fun time learning the fundamentals of baseball. The weather was great and the camp was a "big success" thanks to all the wonderful volunteers. GMACTP would like to send a special "thank you" to all the wonderful instructors, Offc. Steve Meyers, Offc. Matt Hoyt, Offc. Steve Drizymalla and Sgt. Santiago Hungria. To Lt.James Espinosa, thanks for your work behind the scenes. YOU GUYS ARE AWESOME! The kids had a blast! Finally,thank you to my sisters(homegirls)from River Community Church for the "Delicious" cookies! God is Great!!

---
"Throw the ball, Catch the ball"
---
---
---
"Hey batter, SWING!"