Visit our Fan Shop for that Special Someone
Remember....the only Dogs allowed in the Ball Park are the ones from the Concession Stand...
---
  Parents Code of Ethics
I hereby pledge to provide positive support, care, and encouragement for my child participating in youth sports by following this Parents' Code of Ethics:
I will encourage good sportsmanship by demonstrating positive support for all players, coaches, and officials at every game, practice or other HDYB events.
I will place the emotional and physical well being of my child ahead of my personal desire to win.
I will support coaches and officials working with my child, in order to encourage a positive and enjoyable experience for all.
I will refrain from the use of tobacco and alcohol and will refrain from their use at all youth sports events.
I will remember that the game is for youth - not adults. I will do my very best to make youth sports fun for my child.
I will ask my child to treat other players, coaches, fans and officials with respect regardless of race, sex, creed or ability.
I will help my child enjoy the youth sports experience by doing whatever I can, such as being a respectful fan, assisting with coaching, or providing transportation.
At HDYB, the Baseball Committee will take a no tolerance approach to the above. If an umpire or a HDYB official throws you out of a game you must leave the ballpark immediately. You will be suspended from the ballpark for a time to be determined by the baseball committee.  Depending on the severity of the offense this may result in suspension for the remainder of the season.
---
---
2020 Approved Bat Listing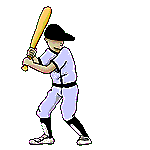 Click Here to see a listing of Approved bats for
2020 Dixie Youth Baseball
---
---
2020 Dixie Youth Baseball Adopted New Policies,Rule Changes
Dixie Youth Adopted Rule Changes for the 2020 Season 
Click Here to Print/View
---
Pitch Count Tracker
Pitch Count Tracker is now up and working on our website just like last year.  This proved to be a great enhancement to help monitor our pitchers.  Please go to the Divisions /League and Pitch Count Tracker Tab on the top of the Welcome Page and select Pitch Tracker to view individual players Pitch Counts for the last 15 days.  Every effort will be made to update this every night.  This is an extension of our rule book.
---
Dugout Captain ...A Resource for All Coaches

As the Official Workout and Practice Planning Tool of the Dixie Youth Baseball, Dugout Captain is proud to offer FREE membership benefits to all participating families. This partnership aims to provide tools and resources to benefit the parent or coach of the Dixie Youth ballplayer, with the ultimate goal of improving the player and family experience.
JOIN THE MOVEMENT TO MAKE BASEBALL FUN AGAIN.
PLAY HARD, HAVE FUN!
   Please Click Here and sign up today !  Get ready to get Trained up ! 
---
---
Dixie Youth Travel Team Pilot Program
Information concerning the 2019-2020 Travel Team Pilot Program
is currently being updated.
For additional information Call Josh Jussely 601-310-9893jjussely@aol.com
---
---
---
Too Many Pitches-Article from New York Times
April 9, 2016
Click Here to view an article posted in the New York Times discussing the safety of our children.  For more information about pitching and young people we encourage you to check out the New Tab titled "Pitch Smart".
---
---
---
---
Directions to the Park
Google Map

Physical Address:
84 Parkway Blvd
Hattiesburg, MS 39401

Mailing Address:
PO Box 211
Hattiesburg, MS 39403

From Interstate 59
Take Exit 60 onto Hwy 11 North toward Hattiesburg - go 1.5 miles
Take Right onto Parkway Blvd
Follow signs

From Highway 49
Take Hwy 11/Broadway Dr. South toward Purvis - go 1.6 miles
Take Left onto Parkway Blvd
Follow Signs
*There is also an entrance/exit to/from the park off of Bonhomie Road.
---
---
Larry Doleac Youth Sports Complex
---
---
| | Field's Current Status |
| --- | --- |
| | Field 1 - Bobby Myrick Field |
| | Field 2 - Warren Paving Field |
| | Field 3 - Lee Field |
| | Field 4 - VFW 3036 |
| | Field 5 - Grand Bank Field |
Signup for Alerts
Get important messages from HATTIESBURG DIXIE YOUTH BASEBALL by Text & Email