LETS GO RAMS!!!
If at first you don't succeed, try try again
There is no "I" in "Team"
PLAY HARD OR GO HOME!
Great day to play basketball!
Holt Jr. Rams Basketball
2018-19
PRACTICE SCHEDULE RELEASED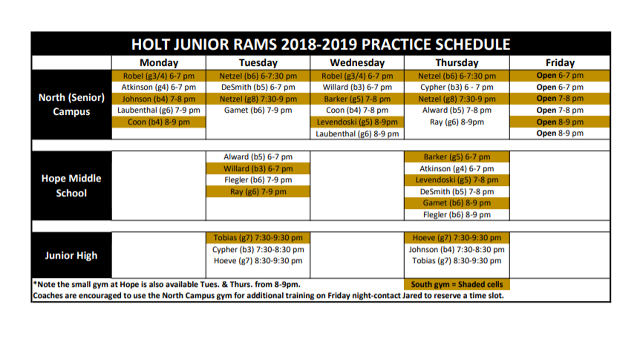 ---
UNIFORM DISTRIBUTION—NEW DATE SUNDAY 12/21!!!!
CHANGE!!!!  Due to UofM/MSU Game
UNIFORM DISTRIBUTION IS NOW OCT 21TH AT THE MAIN CAMPUS
Payments and ALL forms are due BEFORE A UNIFORM IS GIVEN. Pay online or bring check/cash. Full payment must be received to receive a uniform. Partial payment can be made, but no uniform will be given until paid in full.
7/8th grade girls 12:30-1pm 
5th and 6th boys/girls 1pm- 2pm
3rd and 4th boys/girls 2pm-3pm
If you have multiple kids in the Jr Rams basketball program you may pick any of the time slots (3-6th grade) to get all kids uniforms.
For time purposes and the number of kids we must distribute uniforms we are not allowing kids to pick their numbers.
If you are unable to make the 21th, you are able to make payment online and arrange with your child's coach on the size and we will distribute to the coach.
---
COACHES NEEDED - UPDATE
We are still in need of potential coaches for a few teams.  If you are interested, PLEASE be sure to get an application in so that we can start discussing with you and get ready for the upcoming year.  
Girls: 3rd Grade Coach Needed
Girls: 4th Grade Coach Needed 
Boys: 4th Grade Coach Needed (1-2)
We have a coach for one girls team.  But rather than lock her into one grade, we are waiting to see if a parent wants to coach.  Otherwise, if we have enough girls, we will create a COMBO-3rd4thTeam who will play as a Girls 4th Bronze.  
One of our 4th Boys Coaches has had to remove himself as a Head Coach this year.  It happens...we are all Volunteers.  If you are interested in taking on the Head Coach position for 4th Grade Boys, PLEASE DO AN APPLICATION.  We would LOVE up to 1-2 more coaches for this age of play.  Why?
** ONE TEAM = 11-12 PLAYERS MAXIMUM
** 2017-18 YEAR WE HAD 3 TEAMS FOR 4TH GRADE
** NO COACH = NO TEAM 
---
PARENT MEETING - 9/26/18
Please come to the North Campus Gym area  to learn about our program and receive information on tryouts.  
We start on time, at 7PM, and the meeting generally lasts an hour. 
We'll go through the program and take questions.
This it the same night as the boys baseball parents meeting; we do try to schedule around things and this time of year football drives the schedule.  If you cannot make it, we will make sure to share information on our website as well as Facebook page.
Hope to see you there!
---
TRYOUTS
If your child will be participating in tryouts, please register your player online prior to the day of tryouts.  MAKE SURE YOU CHECK OUT WHEN REGISTERING OR YOU WILL NOT BE REGISTERING YOUR CHILD.  Once registered, you will receive a confirmation email.  If not, they are not confirmed.
The cost to participate as a Holt JR Ram Basketball player is $150 per player.  If you have more than one child playing, we do offer a reduction of $25 for the 2nd player, $50 for the 3rd.  PLEASE NOTE: HJR Basketball does not participate in reduced rates with school programs.  Fees are due in order to receive a uniform.
Tryout Times for our 2018-19 HJR Basketball Season:
Girls Tryouts will be held at Senior Campus
10/4 - 6:00PM to 7:30PM - 3rd & 4th Grade
10/17 - 6:00PM to 7:30PM - 5th Grade
10/18 - 6:00PM - 7:30PM - 6th Grade
10/20 - 9:30AM - 11:00AM - 7th & 8th Grade
Boys Tryouts will be held at Senior Campus
10/2 and 10/4 - 6:00PM to 7:30PM - 3rd Grade
10/1 and 10/3 - 6:00PM to 7:30PM - 4th Grade
10/15 and 10/17 - 6:00PM to 7:30PM - 5th Grade
10/16 and 10/18 - 6:00PM to 7:30PM - 6th Grade
7th & 8th Grades will be held after the Junior High season ends
ALL UNIFORMS WILL BE DISTRIBUTED ON SATURDAY 10/20 ONLY.  PAYMENT MUST BE RECEIVED BEFORE A UNIFORM WILL BE PROVIDED.  PRE-PAYMENT ONLINE IS RECOMMENDED, OR ACCEPT ONLY CASH/CHECK ON 10/20. ONLINE PAYMENTS WILL OPEN ONCE A CHILD IS CONFIRMED TO A TEAM.
---
RETURNING 2018-19: COACHES
We have reached out to coaches from the previous season and so far have received confirmation on returns by:
Grade 4: Johnson (Boys), Atkinson (Girls)
Grade 5: Alward (Boys), DeSmith (Boys), Barker (Girls)
Grade 6: Flegler (Boys), Gamet (Boys), Netzel (Boys), Laubenthal (Girls)
Grade 7: Mason (Boys), Hoeve (Girls), Tobias (Girls)
Grade 8: Lopez (Boys), Netzel (Girls)
We are awaiting for confirmation from previous coaches yet BUT we DO NOT have a 3rd Grade Girls Coach so if you are interested in coaching, please fill out a coaches application.    
As coaches confirm, we will update the list.
---
---