THE MDFFA IS THE LARGEST 9 MAN LEAGUE IN MARYLAND
MARYLAND REBELS 2014 SPRING A DIVISION CHAMPIONS
CONGRATULATIONS TO RAMPAGE ON WINNING THE MDFFA SPRING 2015 A DIVISION CHAMPIONSHIP!
---
CONGRATULATIONS TO THE MD TITANS ON WINNING MDFFA SPRING 2015 B DIVISION CHAMPIONSHIP!
---
CONGRATULATIONS TO XPLOSION FOR WINNING THE USFTL BATTLE AT THE BEACH REGIONAL TOURNAMENT @ VA BEACH!
---
THE MDFFA "HOME OF MARYLAND 9-MAN!!!"


The short list of field rules for our home field are below:

-No drinks other than water allowed on the field. Gatorade, Powerade, etc.... All must be off the field. We can set them up on the grass or right off the track but they cannot be on the field.

-Players and coaches ONLY are allowed beyond the track. Spectators and fans are to be seated in the stands. They are really sticking to this one gentlemen. After the fight that took place with the Semi-Pro team and fans a couple weeks ago there is no bending on this one.

-No alcohol anywhere on the campus especially not on the field. CCBC is a dry campus and If alcohol is found anywhere on the fields or in the stands we will loose our permit that was made crystal clear by the AD. We have to police this folks, please don't be the reason we all loose access to the fields. If the league catches any one with alcohol you will be put out of the league and your team will be forced to forfeit a game plus a fine to be paid before the next game is played. We have to control our players folks we worked hard to get these fields so let's make sure we keep them.

-Fighting will not be tolerated. Therefore the same rules should apply for alcohol and fighting.

-No metal cleats

-All trash must be picked up after every game

These rules will be posted at the field as well so everyone please make your players and fans aware. Honestly most of them are common sense so I don't see us having any problem sticking to them.

Good luck all!

---
THE MARYLAND REBELS WIN THE 2014 MASON DIXON TOURNAMENT
---
THE EXPLOSION WIN THE MDFFA FALL 2014 A DIVISION CHAMPIONSHIP
---
THE MCKENZIE TIGERS WIN THE MDFFA 2014 FALL B DIVISON CHAMPIONSHIP
---
RAMPAGE GO BACK TO BACK IN WESTMINSTER

---
TWO IN A ROW!!! MD REBELS WIN THE 2014 SPRING A DIVISION CHAMPIONSHIP
---
THE ELITE SPARTANS WIN THE 2014 SPRING B DIVISION CHAMPIONSHIP
---
MD REBELS WIN FALL 2013 A DIVISION CHAMPIONSHIP
---
THE MIDAS TOUCH.....
---
MCKENZIE'S TIGERS WIN FALL 2013 B DIVISION CHAMPIONSHIP
---
MDFFA SWEEP A & B BRACKETS AT THE 2013 MASON DIXON FLAG FOOTBALL CHALLENGE...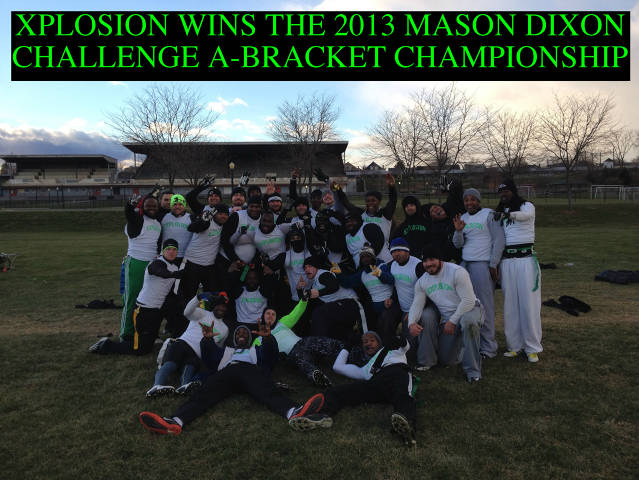 ---
THE MDFFA TAKE 1ST & 2ND AT THE WESTMINSTER SUMMER TOURNAMENT
ONCE AGAIN THE MDFFA PROVES THAT WE ARE THE BEST 9 MAN LEAGUE IN THE DMV AREA. ALL OF US HERE AT THE MDFFA WOULD LIKE TO GIVE CONGRATULATIONS TO TEAM RAMPAGE FOR WINNING THE 2013 WESTMINSTER SUMMER TOURNAMENT. WE WOULD ALSO LIKE TO CONGRATULATE THE HURRICANES FOR A GOOD SHOWING AND FINISHING THE TOURNAMENT IN 2ND PLACE
---
SPRING 2013
---
HAIL TO THE CHIEFS
---
A HURRICANES SWEEP THROUGH THE B-DIVISION
---
BALTIMORE BLAZE WINS THE FALL 2012 A DIVISION CHAMPIONSHIP
---
THE SPARTANS WIN THE FALL 2012 B DIVISION CHAMPIONSHIP
---
XPLOSION TAKES A DIVISION IN HAGERSTOWN
WE HERE AT THE MDFFA WOULD LIKE TO GIVE CONGRATULATIONS TO THE XPLOSION FOR WINNING
THE 8TH ANNUAL MASON DIXON FLAG FOOTBALL TOURNAMENT A DIVISION
---
MARYLAND REBELS ON A ROLL AFTER SECOND TOURNAMENT WIN IN A ROW
We here at the MDFFA would like to give congratulations to The Maryland Rebels for winning the 2012 4TH ANNUAL MDFFA BALTIMORE CHALLENGE CHAMPIONSHIP
---
THE BALTIMORE CHIEFS BRING ANOTHER TITLE HOME TO THE MDFFA
We here at the MDFFA would like to give congratulations to The Baltimore Chiefs for winning the 2012 National Flag Football Series Summer Sizzler Championship
---
MARYLAND REBELS ADD ANOTHER CHAMPIONSHIP TO THE MDFFA
We here at the MDFFA would like to give congratulations to The Maryland Rebels for winning the 2012 USFTL SUMMER INVITATIONAL CHAMPIONSHIP