Welcome to the Mount Pearl Mens's Slo-Pitch Softball League
"Sometimes the only thing fair in life is a ball hit between 1st & 3rd base"
"Run hard.... Turn left"
"Enjoy playing with "C" players, cause if you play long enough, you will become one too"
"I'd run through hell in a gasoline suit to play softball!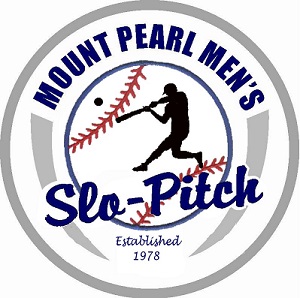 "A" Division Champs
Congratulations to the In The Box Promotions team for becoming league champs for 2018!  The boys had a dominating and great playoff run, first knocking off North Atlantic, then in shocking the top seed Twin Cities Imaging in the semi- finals, before beating a game The Big's team to walk away with the hardware and bragging rights for the rest of the winter.
Members of the championship team are:
Back row l-r: John "Blackie" Blackwood, Darrin Reid, Ron Lane, Tony Kane, Doug Walters, Dean McCarthy, Shane Chafe, Wayne Rose
Middle row l-r:  Val Nazarenko, Terry Clarke
Front row l-r:  Doug Whittle, Ray Decker, Dave Tiller, Paul Boland, Randy Hatcher, Don Peach
Receiving the K&D Cup from league President are Darrin Reid, Blackie, Dave Tiller and Terry Charke 
"B" Division Champs
Congratulations to City Tire and Auto for picking up the "B" championship with a win over a game Leon's team in a tightly contested final.  It was a seesaw series with the final 2 games decided by 1 run.  City Tire got to the final with wins over Dave Peet's Siding and a scrappy Avalon Mall team.
Members of the "B" championship are:
Standing (where did you guys learn to take a tam picture... yeesh) l-r: Colin Swain, Ed Harris, Jack Constantine, Dion Carew, Gary Beresford, Randy Earle, Darrell Durdle, Rick Gibbons, Jim Mallard, Mike Hawkins, Nick Morrissey, Dave Cooney
Kneeling l-r:  Mike Frelich, Mike Murphy, Bill Vincent, Ray Nixon
Receiving the "B" Championship trophy from Executive member Rollie Furlong are: Jack Constantine, Gary Beresford and Billy Vincent.
---
Twin Cities clinch 1st place
Congratulations to Twin Cities Imaging for topping off a great season by finishing at the top of the standings after a grueling 30 game schedule.  Twin finished with a 23-6-1 record to finish 1 point ahead of the 2nd place Pepsi team.
Members of the Twin Cities team are:
Back row L-R:  Andrew Spurrell, Bill Newell, Dave Kiell (Mgr.), Tom Hogan, Steve Bugden, Steve Ducey
Front row L-R: Rod Power, Dennis Power, Bob Jenkins, Nipper Forristall, Derek Ducey, Wayne Peddle, Paul Nolan
Missing: Rob French, Brian Budden, Dave Pretty
Receiving the 1st place trophy from league president  Stan Linstead is Capt. Bob Jenkins and Mgr. Dave Kiell
Signup for Alerts
Get important messages from Mount Pearl Men's Slo-Pitch Softball League by Text & Email