Alone we can do little; together we can do so much - Helen Keller
You play the hand your're dealt. I think the game's worthwhile - Christopher Reeve
My attitude is never to be satisfied, never enough, never - Bela Karolyi
2016 SUMMER CAMP INFO IS POSTED ON TAB TO THE LEFT. CLICK ON ONLINE FORMS TO REGISTER
---
2016 NEW WAVE SUMMER CAMP
April 24, 2016
LIST OF SUMMER CAMP/CLINIC OPTIONS FOR 2016
Rush, Prospect, and Splash Camp will be held at the Oak Brook Park District
Setter's Delight and all clinics are at MFC in Darien,   8521 Lemont Rd.
RUSH CAMP 
June 6th-10th (1:30-4:00 pm)
Cost:  $200.00
Instructional Focus:  All-Skills and Team Play
For any 5th-8th graders who would like to continue to hone their skills, then RUSH on over to New WAVE's intense all-skills camp for motivated athletes looking to improve their basic skill sets, as well as advanced techniques. 
SPLASH CAMP 
July 25th-27th and 29th (Monday and Wednesday from 1-3:00 pm and Friday 29th 4-6 pm
Cost:  $120.00
Instructional Focus: Repetition of fundamental skills, teaching court positions, zones, and basic base to free-ball movement
Curious 1st-4th graders who are looking to see if volleyball is for them, come take a SPLASH with us! Jump into the fun and exciting world of volleyball. 
PROSPECT CAMP 
July 18th-20th (1:00-4:00 pm)
Cost:  $150.00
Instructional focus:  All-Skills and advance serve receive and free ball offensive plays.  Team play and mini tournaments. camp geared toward experienced players who intend to tryout next year.  We will be testing each player's intensity, aggression, competitive nature, volleyball IQ and confidence on the court.
SETTER'S DELIGHT
JULY 11, 18, 25, AND AUG 1st
COST- $200.00
CLINIC DATES WILL BE POSTED SOON
COST: $20.00 (AFTER JULY 1ST $25.00)
To reserve a spot, please go to on-line forms and register your child and then send a payment to:
Deidre Dunbar
1005 Jameson Way
Westmont, IL 60559
---
2013-2014 CLUB INFO AT NEWWAVE.CLUBFUSIONVB.ORG
OCT. 6th
10-12's - time: 10-12 At Montini fieldhouse
13's - time: 2:00-4:00 at Montini in the main gym
14's - time: 4:30-6:30 at Montini in the main gym
---
16 RUSH - NORTHERN LIGHTS QUALIFIER - 16 AMERICAN DIVISION CHAMPS! Copy
16 Rush went 10-0 to secure a bid to USA Junior National Championship in Dallas, TX
---
18 TORNADO TAKE 3RD IN KENTUCKY AT THE 2013 JVA WORLD CHALLENGE
April 13, 2013
FOR THE SECOND SEASON IN A ROW, TORNADO BROUGHT THEIR GAME AND SOME MEDALS BACK TO CHICAGO!
CONGRATS TO ALL SENIOR WHO WILL BE PLAYING IN COLLEGE:  #2 DOMINIWUE MILLETTE (MB) - UNIVERSITY OF TEXAS - EL PASO, #7 KATIE TABISZ (SETTER/RS)- OLIVET NAZARENE UNIVERSITY, #10 CORDELIA COOPER (DS) - CHEYNEY UNIVERSITY IN PENNSYLVANIA #13 MEGAN WAGNER (OH) - DEPAUW UNIVERSITY IN INDIANA, #19 KATIE DUGAN (DS) ST. JOESEPH COLLEGE IN INDIANA, #44 RACHEL LENDERMANN (LIB) - DEPAUW UNIVERSITY IN INDIANA, #66 EMILY MILHALKANIN (SETTER) - MILILIKEN UNIVERSITY
---
14 HURRICANE PLACE FOURTH IN GLC PRESIDENT'S DAY TOURNAMENT, LUCAS NAMED TO ALL-TOURNAMENT TEAM
February 19, 2013
---
PLEASE FOLLOW THE LINK BELOW FOR THE 2012-2013 NEW WAVE NEW WEBSITE
---
---
---
ALUNMI NEWS: UIC ATTACKS PENN STATE AND SARA STERNARD IS NAMED TO UIC ALL-TOURNAMENT TEAM
---
SUPPORTING UIC'S SARA STERNARD, MELISSA NAVA AND OUR PSU FAM AT CHICAGO CLASSIC
---
ALUMNI NEWS: ASHLIE JONES TAKES LEADERSHIP ROLE AT ARKANSAS PINE BLUFF
@Arkansas-Pine Bluff 3, Fisk 0
(25-12, 25-11, 25-21)
PINE BLUFF, Ark. - University of Arkansas at Pine Bluff jumped back into the win column with a 3-0 sweep over Fisk University on Saturday at Clemmons Arena.

The Lady Lions (9-16) ended a three-game skid picking up the sets with scores of 25-12, 25-11, 25-21, in non-conference play.

Ashlie Jones led all players with 11 kills and Jordan Foyer accounted for 24 of UAPB's 33 assists. Brea Clayton finished with a match high of 14 digs.

The Bulldogs (7-20) were led by Mele Halalilo's four kills and McKenzie Rodriguez's five assists. E'Tasha Keeton posted 13 digs to lead Fisk on the defensive end.

---
ALUMNI NEWS: UIC's SARA STERNARD EARNS HORZION LEAGUE "OFFENSIVE PLAYER OF THE WEEK!"
Nov. 12, 2012
INDIANAPOLIS – Sophomore middle hitter Sara Sternard has been selected as the Horizon League Offensive Player of the Week for the period of Nov. 5-11, it was announced by the League office Monday. The honor comes on the coat tails of career-high numbers.

Sternard bested her career-high .600 hitting percentage set against Green Bay on Sept. 24, 2011 with a .684 performance Saturday (Nov. 10) as UIC defeated Loyola, 3-2 to secure the No. 2 seed in the Horizon League Championship.

Sternard collected 13 kills on 19 attempts without a single error. Defensively, she recorded career-highs in block assists and total blocks with eight. Her previous bests were five blocks assists (at Green Bay on 9/24/11) and six total blocks at Youngstown State on Nov. 5, 2011.

Of Sternard's 13 total kills, she had two in each set, while collecting five in the third set of play, where she hit at 1.000.

After earning the No. 2 seed in the Horizon League Championship, Sternard and the rest of the Flames received a first round bye. They will begin post-season play in the semifinals Saturday at 6:00 p.m. (CT) inside the Woodling Gymnasium in Cleveland, Ohio, and will face the highest remaining seed from the quarterfinals.
---
---
HINSDALE CENTRAL, SOUTH, AND OPRF LIBEROS WILL HAVE A SAY IN WHEATON CLASSIC
HERE IS A NICE ARTICLE ABOUT 17 TORNADO LIBERO RACHEL LENDERMANN, AND SETTER EMILY MILHALKANIN WHO IS PLAYING LIBERO AT SOUTH.
Updated: September 11, 2012 6:23PM
WHEATON — After a slow start to the season, Hinsdale Central will try to rebound at this week's Wheaton Classic. That might be harder than imagined against some of the Chicago area's toughest teams.
The annual 24-team tournament at Wheaton Warrenville South, which ends Saturday, features three teams ranked in the Chicago Sun-Times Top 10, including No. 1 Marist, defending Class 4A state champion Benet and undefeated Sandburg.
The Red Devils lost all five of their matches in the season-opening Benet Invitational Aug. 24-25, where senior libero Rachael Lenderman was Hinsdale Central's top player. The Wheaton Classic should be even a tougher task, scheduled to begin with pool play Wednesday at Wheaton North.
The Devils (2-6) enter the pool with fifth-seeded Libertyville and Wheaton North.
"We've been in the gym training really hard," Lenderman said. "Obviously, we want to do good. We've known there will be a lot of good teams there."
Liberos don't get a lot of publicity when it comes to a team's success, but completing the first pass is a big factor in determining winning or losing. Lenderman is one of three talented liberos from five West Suburban Conference teams at the Wheaton Classic.
Hinsdale Central, Hinsdale South and Oak Park-River Forest join conference foes Downers Grove North and South in the tournament.
Senior Emily Mihalkanin led Hinsdale South (7-2) to a No. 4 seed at the Wheaton Classic. The Hornets are off to an even better start than last season when they earned a No. 2 preseason ranking by the Sun-Times. Hinsdale South finished second in last year's Wheaton Classic after losing to Benet 25-16, 25-22, falling to 10-5.
"She is a terrific kid with nerves of steel and should be awesome by the end of the season," Hinsdale South coach Lisa Martinez said of Mihalkanin.
Hinsdale South opens pool play against Prairie Ridge and Downers North.
"I think last year's (Wheaton Classic) helped us," Mihalkanin said. "Two years ago when we played, we were the underdogs. Last year, we were ranked second. This year is a wake-up call. We're back to playing as underdogs."
The Hornets' last loss was 25-21, 25-22 at Joliet Catholic Aug. 28. Hinsdale South defeated Marist 24-26, 25-22, 25-21 to open the season and could meet the RedHawks again in the Wheaton Classic semifinals.
"I definitely feel like with Marist that we can show what we can do," Mihalkanin said. "We did not play our best in that first game (against Marist) too."
One of the Wheaton Classic's surprise teams could be OPRF (8-3), which was to host West Suburban Silver favorite Glenbard West at 6 p.m. Tuesday. The Huskies were to return to action Wednesday and play in the same pool with Marist and Waubonsie Valley at Wheaton North.
OPRF opened the conference Sept. 4 by knocking off 2010 state champion Lyons 25-19, 26-24 for the first time in 16 years behind the blocking of middle hitters Kiley Nelson and Symone Speech.
"We are playing solid. We are playing very well together," OPRF senior libero Ellie Herner said. "Our blocking has been phenomenal lately."
---
CHICAGO SUN TIMES PREPS VOLLEYBALL ARTICLE
---
12 SPLASH GO UNDEFEATED IN THE 1st ANNUAL SUNSETTERS SUMMER LEAGUE!!
With a strong 11's club season under their belts, the Splash team was poised to take on the 6-2 offense during summer league play. The girls picked up the offense and defense quickly, transitioning from base to defense effectively, switched to base during their serve,shifted on serve receive, and hid the setter on serve receive. They went 10-0, never dropped a game and played with so much energy and confidence. GREAT JOB GIRLS!
---
17 TORNADO'S MILLETTE, LENDERMANN, MIHALKANIN, KENT, AND LYONS BACK TO CROSS TOWN RIVALRY
August 20, 2012
Chicago, 11/01/11 Hinsdale Central's Dominique Millette fights to keep the point alive during their sectional matchup against Lyons Township at Whitney Young Magnet High School Nov. 1. | Curtis Lehmkuhl~Sun-Times Media| Curtis Lehmkuhl~Sun-Times Media
BY GEORGE M. WILCOX ~ gwilcox@pioneerlocal.com
July 11, 2012 2:33PM.
Updated: July 11, 2012 2:34PM
Five members of the Hinsdale Central and Hinsdale South girls volleyball teams have been club teammates since the winter. Now that the AAU Junior Nationals ended late last month, those teammates will renew their high-school rivalry.
The Red Devils and the Hornets open the Great Lakes Center Summer League on Tuesdays for the next three weeks and Hinsdale Central Black and South have been placed in the same pool.
Hinsdale Central is the defending summer league champion after beating Huntley in last year's final and Hinsdale South placed 11th.
"Actually, I do look forward to (summer league)," said Hinsdale Central senior Dominique Millette, a 6-foot-2 middle hitter. "After club, you need to get refreshed before coming back."
For players such as Millette, it has been a two-week break. With the beginning of the summer league season, both teams will begin their team camps in the next week before players take another break until preseason practice begins in August.
Six players from District 99 schools were placed on the Westmont-based New WAVE 17 Tornado, which tied for 43rd out of 177 teams in the 17 Club division at the AAU Junior Nationals last month in Orlando, Fla.
Five players are returning to their high school teams, while former Hinsdale Central outside hitter Katie Grabowski recently graduated.
At the Great Lakes Center, Hinsdale Central Black and Hinsdale South have been placed in the same pool with St. Francis Blue and Schaumburg, which placed ninth in last year's summer league. This year's Tuesday night league includes 31 teams along with a Hinsdale Central Red and Hinsdale Central White team.
New Hinsdale Central coach Kelly Moran is a club coach for Sports Performance, which is based at the Great Lakes Center.
The New WAVE 17 Tornado included Millette and Rachel Lenderman from Hinsdale Central and Emily Mihalkanin, Rachel Kent and Colleen Lyons from Hinsdale South.
Mihalkanin was one of two setters, along with Wheaton Warrenville South's Jessica Bossman, to run the offense for New WAVE. Tornado went 5-5 in the tournament. After losing its first match, Tornado won four consecutive matches, but eventually lost its last three matches.
With setter Sharon Anderson returning for the Hornets, Mihalkanin doesn't expect to play much setter this fall. She plans on using the summer league as a transition to defensive specialist.
"I don't think I'll start much during the high school season," Mihalkanin said. "I'm going to work on my passing and possibly play libero."
Kent, a 6-foot senior, hopes to become one of Hinsdale South's top middle hitters this fall.
"With school summer camps coming up, (summer league) is a nice way of getting the whole team back together," Kent said. "It sets a good mood for the upcoming camps."
© 2012 Sun-Times Media, LLC. All rights reserved. This material may not be copied or distributed without permission. For more information about reprints and permissions, visit www.suntimesreprints.com. To order a reprint of this article, click here.
CORRECTION: 16 HURRICANE JACKIE ADELPHIA WILL PLAY MIDDLE AT SOUTH AND RACHEL KENT PLAYS OUTSIDE HITTER.
---
2012 RUSH CAMP DEDICATES A DAY TO SAND VOLLEYBALL
The Rush camp looks to teach junior high level players the game of volleyball. Participates received packets of information on volleyball terms, court positions, player positions, and more. Written quizzes were given, and player performance was used to assess their retention of material. The 6th graders were excited to start working on their 6-2 offense for next year, as well as continued to work on fundamental skills.
Congratualtions to team of 6th graders Abby Mihalkanin and Kathleen Millett, Ryan and Sarah R., and 8th graders MacKenzenie Bell and Jasmine Mrozek who were neck and neck in the passing ball control competition. All three groups finished with over 300 consecutive passes without stopping but in the end, the team of Mackenzie Bell and Jamsine Mrozek edged out the others.
The next Rush camp will be July 23rd at Montini Catholic High School. If you are interested in participating in a Junior High Summer League Team please contact Deidre at deidredunbar@hotmail.com
---
2012 GLC JUNIOR NATIONAL CLASSIC RESULTS
15 RUSH - 6th PLACE IN THE GOLD OF (15 CLUB DIVISION). 5-3 RECORD
15 ICE - 18th PLACE (15 CLUB SILVER DIVISION CHAMPIONS) 5-2 RECORD
16 HURRICANE - 14th PLACE IN THE GOLD (16 OPEN DIVISION) 3-5 RECORD (32 teams)
16TYPHOON - 12th PLACE IN THE GOLD (16 CLUB DIVISION.) 4-4 RECORD. (48 teams)
17 TORNADO - 4th PLACE IN GOLD (17 CLUB DIVISION) 6-2 RECORD
18 TSUNAMI - 18th PLACE IN SILVER (18 CLUB DIVISION)
---
16 HURRICANE MAINTAINED POSITION IN GLC POWER LEAGUE
16 HURRICANE FINISHED 11TH OUT OF 134 TEAMS IN THE 16'S POWER LEAGUE.
THE GIRLS COMPLETED A SUCCESSFUL POWER LEAGUE SEASON BY STAYING IN THE TOP TWO POOLS THROUGHOUT LEAGUE PLAY. AFTER GOING 6-0 DURING THE FIRST SEEDING DATE, HURRICANE FOUND THEMSELVES BATTLING TOUGH TEAMS IN POOL B, WITH WINS OVER MILWAUKEE STING 15 GOLD, AND MICHIO 15 NATIONAL, THEY MOVED UP TO POOL A FOR THE NEXT TOURNAMENT DATE. THE TEAM COMPETED, BUT DROPPED TO POOL B AGAIN, THEN MOVED BACK TO POOL A, THEN DOWN TO B, WHERE THEY ULTIMATELY FINISHED ON MAY 13TH.
NICE JOB LADIES!
---
13 LIGHTNING GO 3-0 AT LAST POWER LEAGUE
13 Lightning dropped to pool C in last Power League, but bounced back with their best performance of the season with a 3-0 record to finish 1st in their pool. The girls and parents thanked their coach, Dieveriah Johnson for all her effort with flowers and a gift after the tournament.
---
11 SPLASH TAKE THE I-80 INVITE TITLE
After concluding 12's GLC Power League in late April, 11 Splash, 11 Breeze,and 10 Riptides played in their first one-day tournament of the season. 10 Riptide won a gamae, and both 11's teams won their first two matches, advancing to the play-offs. Splash faced Milwaukee Sting 10's in the semi-finals winning 25-6,25-10. In the finals Splash dominated UNO 11's with the score 25-19,25-9. Great job done by all the teams. 11 Splash will be back in action June 2nd and 3rd at the Youth Classic.
---
A SUCCESSFUL RETURN TO USA VOLLEYBALL'S NATIONAL QUALIFIER
After a four-year absence, New WAVE return onto the USAV National Qualifier circuit with success when the 10th seeded 16 Hurricane team made it to the semi-finals of the American Division this Sunday in Minnesota with a 8-2 overall record. Their only losses came at the hands of the eventual American Division Champions.
In Friday pool play, 16 Hurricane defeated a local Minnesota team, STMA 16-1's, 25-12, 25-14. Middle hitter, Katie Ball finished with 6 kills. Next up was Kansas City, Missouri's Pride 16 Black, final score 25-22, 25-13. Liberio Bridget Lucas, and setter Vanessa Possidoni finished with 8 digs a piece, while Katie Ball finished with 5 kills. Last match of the day was with the 24th seeded team and the eventual American Division Champions from Tempe, Arizona's Aspire 16N Black team. With aggressive serving and a solid passing game, Aspire was able to disrupt the Hurricane's usually steady serve receive passing, beating us 18-25, 24-26. Middle hitter, Jackie Adelphia finished with 6 kills, and 2 blocks.
On Saturday, the Hurricane advanced to Division 1 as the third seed in the pool. Hurricane beat #1 seeded Rockwood Thunder 16 White from Eureka, Missouri with a final score of 25-12, 25-8. Lucas tallied 13 digs on no errors, Possidoni served up 4 aces, and dished out 12 assist, while Adelphia hammered 6 kills and put up 4 blocks. The toughest match of the day was with the Legit team from Iowa. Hurricane took set one 27-25, dropped set two 20-25, and squeezed out a victory 16-14 in set three. Possidoni had 21 assist, Kristen Acciavatti finished with 9 kills, Adelphia dominated the net with 9 blocks and 12 kills. Hurricane also defeated Sunsetters 16 White, 25-19, 25-16, putting them in the gold bracket on the final day and four matches away from a bid to JO Nationals.
Sunday started with a win against Net Force 16 Comp 25-18, 25-16. Acciavatti finished with 3 aces, 7 kills and 13 digs, Natalie Lopez had 12 digs, while Adelphia added 3 blocks and 8 kills. In the quarterfinals, Hurricane defeated Sky High 16 White, 25-15, 25-21. Haley Bueser provided two aces, Lucas dug 16 balls, while Ball added 4 blocks and 7 kills. The semi-final match was a 17-25, 18-25 lost to Aspire 16N Black once again, but Hurricane had to play the overall 1 seed coming into the tournament, Orlando Volleyball Club's 16 Molten team to medal and get 3rd place. After a slow start the Hurricane woke up, eventually winning 23-25, 25-23, 15-13. With 57 teams competing in the American Division, the team took home New WAVE's first USAV National Qualifier medal. Great job ladies and a fun weekend!
---
18 TSUNAMI SOARS TO NEW HEIGHTS!
The 18 Tsunami team entered in the Top Flight tourney this weekend with the hopes of a tournament win and that is what they received! In pool play, the 18 Tsunami defeated MVP 18s, Lightning 18 Black, then lost to Sky High 17 Watling in three games, allowing them to come out in 1st place. In the playoffs, they came up against a tough TIV PInk 18s team coming out victorious 25-21 and 25-23! Congrats 18 Tsunami!!!
---
WINNING ASICS HELP 18 TSUNAMI TO BACK-TO-BACK TOURNAMENT CHAMPIONSHIPS
18 Tsunami made a strong showing in the Asics Mikasa Invite with wins over Keapa Krush 17's and their 18's team, then beating UNO Spring team in the championship in two games. The ladies will back in action at NJC's over Memorial day Weekend.
---
17 TORNADO TAKE 3RD PLACE AT JVA WORLD CHALLENGE IN HOUSTON
April 1, 2012
New WAVE played in their first ever JVA Challenge this year which moved to Houston, Texas for the 2012 season. 17 Tornado entered the tournament as the 2nd seeded team in the 17 club division. They rolled to a 25-18,25-22, and a 25-10, 25-13 win over SPVB 17 Runbird and Team Sting 17-1's. As the top finisher in pool play, Tornado had to face off against the 1st seeded team in the division, Texas Advantage 17 Blue in a cross over match. After taking the first set 25-19, Tornado dropped set two 22-25, eventually losing in set three 11-15.
On day two, 17 Tornado got an opportunity to play our friends from Fusion South 17-1's team. Torando came out strong and took the match 25-14, 25-11, also defeating Illini Elite 17 Black, 25-18, 25-20. The win over Illini Elite and Fusion South gave Tornado a bye in the Gold Bracket for the final day of play and automatically in the semi-finals.
Feeling good about the play throughout the weekend, the girls went into the semifinal match ready to take on TAV 17 Molten. With a 19-12, start it looked as through Tornado would roll through TAV, but TAV broke the of rhythm the Tornado offense and eventually came back to win 22-25 in set one. TAV continued their consistent play and took set two. Tornado finished the tournament in 3rd place, received a plaque and individual team medals. Awesome job ladies.
---
17 TORNADO ROLLED THRU PRESIDENT'S DAY, MAKING IT TO THE CHAMPIONSHIP
17 Tornado entered the three-day GLC President's Day Tournament as the 17th seed out of 32 teams and came out as the 17 Club Runner's Up, finishing second behind the unknown 17 Stars and Spikes team from Iowa. On day one, Tornado had to battle back after dropping their first match to Stars and Spikes by beating Club Fusion 17 White and the #1 seeded team in the tournament, Michio 17 National. Advancing to the Gold bracket on day two, Tornado dominate the pool, only dropping one set to come out 3-0 on the day and put them into the FINAL FOUR. In the semi-finals, they faced off against Ultimate 17 Gold. Set one standout, Katie Grabowski went on a huge service run to put the set out of reach, winning 25-13. Ultimate stormed back with some fire power of their own and took set two 25-20. After a 1-4 start in set three, Tornado were able to even the score and eventually pull ahead to take a 15-9 victory over Ultimate.
The championship match was a rematch from day one pool play. The Stars and Spikes solid blocking and quick middle attack made it difficult for Tornado to push ahead, and eventually lost the match 21-25, 21-25.
Job well done and a repeat performance of their 2nd place President's Day Tournament finish as 15's. To see action shots from the tournament go to: http://newwavetornado2010.shutterfly.com/
CONGRATULATIONS TO OUTSIDE HITTERS MEGAN WAGNER AND KATIE GRABOWSKI FOR BEING NAMED TO THE ALL-TOURNAMENT TEAM!!!!!!!!
---
February 12, 2012
11 SPLASH AND 11 BREEZE TOOK TO THE COURT FOR THE FIRST TIME THIS SEASON IN A FRIENDLY SCRIMMAGE AGAINST UNO AS THE TEAM PREPARES FOR GLC POWER LEAGUE IN MARCH.
---
February 12, 2012
---
January 28, 2012
---
---
16 HURRICANE COME OUT 6-0 ON WEEK ONE OF POWER LEAGUE - RANKED 11TH OUT 131 TEAMS
16 HURRICANE TOOK ADVANTAGE OF THEIR ONE SEED ON SATURDAY IN POOL PLAY BY FINISHING 3-0, NOT DROPPING A GAME AGAINST LIONS 15 NAVY, FUSION SOUTH 16 SIENNA, AND SPVB 15 RED. SUNDAY THE LADIES CRUISED TO A 3-0 FINISH AGAINST WISCONSIN JRS. 15 BLUE, SPVB 15 FROSH AND SPVB 16 BLUE. THE HURRICANE WILL MEET STING 15 GOLD IN POOL B ON FEB 4TH.
16 TYPHOON FOUND THEMSELVES AT THE TOP OF THEIR THREE TEAM POOL ON SATURDAY WITH WINS AGAINST PPV16 BLACK AND CLUB 1 16 RED. ON SUNDAY THEY BEAT SPVB 15 WHITE, BUT COULDNT HANG ON TO THE LEAD AGAINST LIONS 16-1 AND LOST TO SPVB 16 ELITE. TYPHOON WILL PLAY DIAMOND ELTIE 16 JADE ON FEB 5TH
---
---
15 ICE TAKES 3RD PLACE IN GOLD DIVISION AT PLAY AND BOND TOURNAMENT
SATURDAY WAS AN EPIC BATTLE BETWEEN TWO STRONG NEW WAVE 15'S TEAMS TRYING TO GET INTO THE GOLD DIVISON ON SUNDAY. GAME ONE THE 15 RUSH TEAM PULLED OUT A CLOSE WIN, AND LOOKED TO TAKE GAME TWO WITH AN EARLY LEAD BUT ON THE STRONG SERVING OF LIBERIO JEN MARTEN, 15 ICE FROZE THE RUSH AND WON GAME TWO. WITH THE MOMENTUM IN THE FAVOR OF 15 ICE, 15 RUSH STRUGGLED TO GET THEIR OFFENSE GOING AND ICE WON GAME THREE IN CONVINCING FASHION, PLACING THEM IN THE SEMI-FINALS ON SUNDAY.
---
NEW WAVE 15 FIRE TAKE ON THE WINDY CITY LEAGUE
---
ERIN JULEY RECEIVES ALL-FRESHMEN TEAM HONORS IN THE BIG WEST CONFERENCE
Long Beach State had two players honored on the All-Freshman Team. Setter Erin Juley led the 49ers to a Big West Championship, playing every set while helping the 49ers lead the Big West in hitting percentage at .253 in conference. Middle Blocker Alma Serna also earned all-freshman honors, finishing second in the conference in blocking and ninth in hitting percentage in league games.
No. 23 Long Beach State begins postseason jouney Friday night against San Diego
Long Beach State has never left the state of California for the opening round of the NCAA Tournament in 26 appearances ... Setter Erin Juley is one of nine true freshman to lead their team to the NCAA Tournament.
---
STERNARD EARNS ALL-HORIZON LEAGUE HONORS
INDIANAPOLIS – UIC junior outside hitter Kelsey Safranek (Downers Grove, Ill./Downers Grove South) was selected to the all-Horizon League team, while freshman middle hitter Sara Sternard (Clarendon Hills, Ill./Westmont) was named to the League's Newcomer team, as selected by the Horizon League coaches. The conference office announced the teams Monday afternoon.
"It's no surprise that Kelsey and Sara received the Horizon League honors," head coach Katie Schumacher-Cawley said. "They both work extremely hard, and have been major contributors to this team. They make players around them better, and I look forward to seeing what they do this weekend and during their careers here at UIC. They are great representations of UIC volleyball."
The 2011 season marks Safranek's third-consecutive season to earn an all-Horizon League honor. As a freshman (2009), Safranek was selected to the all-Newcomer team, followed by being named to the all-Horizon League team as a sophomore in 2010.
Safranek sits atop of the Horizon League in number of kills with 455 at a clip of 4.42 per set. She has also chipped in 236 digs and 27 blocks, three of which were solo blocks. Safranek was selected as the Offensive Player of the Week Sept. 12 after her performance at the Dunn Hospitality Invitational, where she logged 55 kills in the three matches, including a (then) career-high 28 kills against Southeast Missouri State.
Safranek bested her career-high kills as she hammered down 33 kills against Youngstown State on Nov. 5.
Sternard has knocked down 153 kills at a clip of .278, which places her eighth in hitting percentage for the league. The newcomer was named the Offensive Player of the Week Sept. 26 upon leading her team to back-to-back wins with a .538 hitting percentage on eight kills against Loyola (Sept. 23) and a .600 clip with 12 kills versus Green Bay Sept. 24.
Sternard has also logged 73 blocks on the season, 18 of which were solo blocks.
Milwaukee's Kerri Schuh was named the Horizon League Player of the Year. Taylor Root of Valparaiso earned the honor of Defensive Player of the Year and Milwaukee's Kayla Price garnered the Newcomer of the Year honor.
Safranek, Sternard and the rest of the Flames roster begin plan in the Horizon League Championship as the No. 5 seed and are slated to face No. 4 Valparaiso Friday at 4:30 p.m. (CT) inside the Klotsche Center in Milwaukee, Wis., as regular season champion team, Milwaukee, plays host to the event.
--UIC--
---
ASHLIE JONES AND THE THOROBREDS CAPTURED THEIR SECOND CONSECUTIVE SIAC CHAMPIONSHIP
Albany, GA (November 9, 2011) — The third day of the 25th Annual SIAC Volleyball Championship found four teams still in contention for the coveted SIAC Crown. Defending champ Kentucky State University; Claflin University; Albany State University; and Benedict College all had their eyes fixed on the conference prize. The only thing that stood their way was each other. Held in the Albany State University Health and Physical Education & Recreation (HPER) Gymnasium, The 2011 SIAC Volleyball Championship match featured two teams that are no strangers to the SIAC Volleyball title. The Thorobrettes of Kentucky State University (KSU) were the defending conference champions and prior to last year, the Lady Rams of Albany State University (ASU) had won nine consecutive SIAC crowns.
While the championship history of both teams is impressive, the this year's title came down to the team with the best performance on championship day. That performance was given by the Thorobrettes of Kentucky State University. After dropping the first game 23-25, KSU galloped back to claim the next three games (31-29, 25-22, 25-15) to claim the crown.
The offense for the Thorobrettes was led by Emily Grieshaber, Audrey Sherles, and Erica Coleman with 15, 10 and nine kills, respectively. Brittany Stewart issued 56 assists while Sherles and Ashlie Jones had three service aces each. The Thorobrettes were led defensively by Markeshia Williams with 17 digs. For her efforts, Williams was named Libero of the Tournament. Stewart's contribution also extended to the Thorobrettes defense with 13 digs.
The Lady Rams were led in the championship match by Jillian Anderson and Sabrina Garcia. Anderson had 17 kills and Garcia finished with nine. Garcia was voted to the SIAC All-Tournament Team. Teammate Jennifer Johnson had 39 assists and 14 digs in the title game and was voted Setter of the Tournament.
Defensively, the Lady Rams got 13 digs from Sharme Ridley; another 12 digs from Adrienne Morris; and four solo blocks from Tiffany Butler. The Lady Rams finished the season with a 21-16 record.
With the win, the Thorobrettes will receive the automatic bid to represent the SIAC in the NCAA Regional Tournament.
---
2011 NEW WAVE FALL LEAGUE WRAP UP
THE INVITE LEAGUE FINISHED THEIR SEASON THIS PAST WEEKEND WITH A BANG. 14 NAVY PLAYED COMPETITVELY FRIDAY NIGHT, BUT FINISHED 3RD IN POOL PLAY. ON SATURDAY THEY KNOCKED A BOY'S SQUAD AND ADVANCED TO THE SILVER BRACKET CHAMPIONSHIP. 14 NAVY PLAYED ITS BEST VOLLEYBALL OF THE SEASON AND FOUGHT HARD,BUT COULDN'T PULL IT OUT IN THE THIRD GAME. WAY TO END THE SEASON ON A HIGH NOTE.
14 SKY TOOK ADVANTAGE OF THEIR TOP SEED IN POOL PLAY AND FINISHED FIRST ON FRIDAY, LANDING THEM IN THE GOLD DIVISION PLAYOFFS. WITH SINGLE ELIMINATION ON THEIR MINDS, THE LADIES FELT THE PRESSURE AND JUST COULDN'T PLAY CONSISTENT VOLLEYBALL. SKY LOST A HARD FOUGHT GAME TO LION'S ROYAL, ENDING THEIR FALL SEASON ON A SOUR NOTE. THE GIRLS CAN FEEL COMFORT IN KNOWING THAT THEY WERE A TOP SEED BASED ON THEIR GOOD PLAY THROUGHOUT THE SEASON.
---
STERNARD HELPS LIFT FLAMES TO A VICTORY AGAINST GREEN BAY
GREEN BAY, Wis. – The UIC volleyball team picked up its second-consecutive conference win as the squad downed Green Bay, 3-2 (25-18, 15-25, 25-19, 23-25, 10-15) Saturday at the Kress Events Center in Green Bay, Wis. Freshman Sara Sternard (Clarendon Hills, Ill./Westmont) hammered down 12 kills at a clip of .600.
The Flames (9-5/2-1) were led in kills by junior Kelsey Safranek (Downers Grove, Ill./Downers Grove South) and redshirt junior Nicole Allgood (Crestwood, Ky./South Oldham), who both knocked down 17 kills in the match.
"It was a great team effort," head coach Katie Schumacher-Cawley said. "We battled and made some nice plays to win. It was nice to see us compete and earn points. We must continue to work every day in practice and get better in order to work toward our goals."
The Flames dropped the first set in a 25-18 decision, before evening out the match at 1-1 with a 25-15 victory in the second set. Green Bay then regained the lead as the team defeated UIC 19-25 in the third set, but the Flames continued to battle and won the fourth (25-23) and final (15-10) sets to secure the match in a 3-2 decision.
Safranek and Allgood led all UIC players with 17 kills, while Sternard notched a .600 hitting percentage with 12 kills with no errors. Allgood's 17 kills ties her personal best, which she originally set against UT-Martin on Sept. 9, 2009.
Sophomore captain MaryKate Imrie (Orland Park, Ill./Sandburg) logged 57 assists in the victory, while blanking Green Bay with three of the squad's seven service aces.
The Flames return to the Flames Athletic Center Friday in a match against Butler. The event is slated to begin at 7:00 p.m. (CT). Fans can follow the live stats and live videostream, which can be found at UICFlames.com.
--UIC—
---
Sara Sternard Earns Offensive Player Of The Week!
CHICAGO - Freshman middle hitter Sara Sternard (Clarendon Hills, Ill./Westmont) was selected as the Horizon League Offensive Player of the Week after logging a .538 hitting percentage Friday and .600 Saturday to help the Flames to back-to-back conference victories, it was announced by the conference office Monday morning.
"This is a great honor for Sara and a true testament to all of her hard work so far this season," head coach Katie Schumacher-Cawley said. "It is also a great reflection on our team as a whole. We need to continue keep working to get better as we are approaching a big weekend of home competition."
Sternard earned the conference honor after her solid play in Friday's 3-1 victory over Loyola, followed by edging out Green Bay, 3-2 Saturday. Sternard had eight kills at a clip of .538 against the Ramblers. Saturday, the freshman bested her Friday performance as she had 12 kills with a .600 hitting percentage against Green Bay.
Sternard currently leads the conference in hitting percentage at .500 through 12 sets with 25 kills and a mere one error.
Sternard and the Flames were 3-0 on the week. In addition to defeating Loyola and Green Bay, the squad downed Chicago State (Sept. 19) in a 3-0 decision. UIC is now 9-5 on the season and 2-1 in conference play. The 9-5 start marks the best start since 2002.
The Flames squad returns to action Friday in a match against Butler at the Flames Athletic Center at 7:00 p.m. (CT), followed by a match against Wright State Saturday at 4:00 p.m.
---
JULEY AND THE LONG BEACH 49's MAKING A STATEMENT
Set It Up
Freshman Erin Juley has shown rapid improvement after taking over as the 49ers setter against Washington. After making 32 assists against Washington, Juley has increased her assist totals in every match this season, and the team's overall hitting percentage has also increased in each match she has set.
Aloha Spirit
Participating in the nation's premier tournament last week, No. 22 Long Beach State posted a 1-2 record against three ranked opponents, but took sets in all three matches and fared well against No. 8 UCLA, No. 12 Hawaii, and No. 25 Ohio State. The 49ers started the tournament with a 3-1 loss to the Bruins, and then took on the host Rainbow Wahine in the team's second match. Winning sets two and three, the 49ers were tied with Hawaii 10-10 in the first set, but ultimately fell despite a second-straight 18 kill performance from senior Caitlin Ledoux. Needing a win in the finale, Long Beach State responded with an important victory over Ohio State, winning 25-21, 23-25, 25-16, 25-21 to maintain their spot in the Top 25. Ledoux led the way once again, finishing with 17 kills against the Buckeyes. Her 53 over the weekend helped the outside hitter earn All-Tournament honors. Junior Janisa Johnson had three double-doubles in Hawaii, while freshman setter Erin Juley set a career high with 50 assists against Ohio State.
---
YOUTH FALL LEAGUE - SIGN UP NOW!
---
16 TORNADO TAKES THE WHITE DIVISON AT THE 2011 AAU NATIONAL CHAMPIONSHIP
---
2011 AAU NATIONAL SEEDINGS FOR 14's AND 15's POSTED
15 Hurricane will finish its season next week when they compete in the 2011 AAU National Tournament in Orlando, Florida. The Hurricane have secured a seed of 15th out of 141 teams from across the country based on their 55-11-1 season record, with only four of those losses to 15's teams.
They started the season with a Mayor Daley Title, captured a President's Day Championship, and won numerous 1-day tournaments throughout the season. Congrats, and good luck in Orlando!!
14 Rush will be riding high as they enter the AAU Nationals with a seed of 30th out of 130 teams, after an impressive showing in the Youth Classic. The Rush is prime and ready challenge for the top stop in Orlando!
---
14 RUSH TAKE OUT THE #1 SEED IN YOUTH CLASSIC TO GET TO THE FINALS
June 5, 2011
14 Rush finshed in 1st place on day 1 of the youth classic. They continued their winning ways by knocking off Club 1 14-1's, and #1 seed Kane Country Juniors in 3 games.
---
NATIONAL JUNIOR CLASSIC RESULTS
15 CLUB - 15 HURRICANE FINISHED WITH A RECORD OF 7-1 AND 10TH PLACE OUT OF 22 TEAMS IN GOLD DIVISION AFTER LOSING A TOUGH TIE-BREAK GAME ON DAY TWO.

16 CLUB - 16 TORNADO FINISHED WITH A RECORD OF 6-2 AND 7TH PLACE IN GOLD OUT OF 29 TEAMS.

18 CLUB - 18 TSUNAMI FINISHED WITH A RECORD OF 5-3 AND 6TH PLACE IN THE GOLD OUT OF 12 TEAMS.

NICE JOB LADIES!
---
18 Tsunami Dominate at the Sunsetters Tourney
After losing to Wildcat Jrs 18's in pool play in 2 games and taking 2nd place in the pool, the 18 Tsunami found their stride in the playoffs. First round crushed Celtic Force 17 Black (25-16, 25-13) and was able to avenge it's pool play loss and beat Wildcat Jrs 18's in 2 games (28-26, 25-20) to win the Sunsetters Tourney! Great Job Ladies!
---
15 HURRICANE AVENGE POOL PLAY LOST TO TAKE TITLE!
April 10, 2011
Hurricane suffered a big blow during pool play when they lost to a tough Michio team from the south side 25-16, 25-22, but in the playoffs the 4th seeded Hurricane later avenge their lost in the semi-finals against the top seeded Michio team, beating them 25-11, 25-22! The Hurricane fought off a determined Energy 16 Surge team in the championship, winning 25-11, 20-25, 15-11.
---
April 17, 2011
15 Hurricane finished another long day of volleyball with 5 match wins. In pool play the ladies knocked off Sky High 15 Kelly 25-13, 25-9, Shamrock 15's 25-6, 25-14, and Kane County 15 Navy. Hurricane faced Midwest Jrs in the Quarterfinal set which was one game to 25. Hurricane won the quarterfinal game 25-5. In the semi-finals they won 25-12, 25-11 against a spirited Sky High 15 Teal team. After a long day, the finals was a game of endurance as the Hurricane control a lead throughout the entire match beat the Sunsetter 15 Black squd 25-17, 25-21.
---
New WAVE CAPTURES ITS FIRST GLC PRESIDENT'S DAY TITLE
February 17, 2011
Huricane upset the top seeded SPVB 15 Red squad in two sets to take the GLC President's Day 15 Club Division Title. The Hurricane beat Dunes, Fusion White, Fusion Blue, SPVB 15 White, Outland VBC, Illini Elite 15 Black, and East Duesquence Warriors and suffered no losses throughout the three day tournament.
---
16 TORNADO TEAR THROUGH SKY HIGH TOURNAMENT, CAPTURING THE TITLE!
The absence of some key players could not slow down the Tornado team that went undefeated in the Sky High tournament. All the girls did a great job of playing different positions! The team was rewarded with a championship tee-shirt.
---
15 Monsoon Win Asics Tournament!
February 12, 2011
15 Monsoon finished a long day of volleyball with a tournament championship. Congrats girls!
---
SENIOR SETTER, ERIN JULEY NOMINATED FOR PREP VOLLEYBALL'S ANDI COLLINS AWARD
From PrepVolleyball.com 01/28/11
Andi Collins wanted to be the best setter in the nation. Cancer ended that dream Sept. 4, 2003, a month shy of her 17th birthday. The Andi Collins Award, presented in her honor and memory, recognizes the best senior setter in the nation.
The Andi Collins Award winner, as well as class National Players of the Year, will be announced within the next few weeks.
Candidates for Andi Collins Award to Nation's Top Senior Setter
Erin Juley, 5-10, Lyons Township (LaGrange, Illinois) – A key cog in Lyons' run to the Illinois 4A title, Juley delivered 19 assists and 10 digs in the state final win over Cary-Grove, capping a year in which her 650 assists led the team. "Her ability to block, play defense and run the offense made her a significant contributor on our team," said Joann Pyritz. "Even after a knee injury during her junior club season, Erin's drive to return and play as a senior was outstanding. She pushes herself to achieve and works to bring this effort out in her teammates as well."
CONGRATULATIONS ERIN; WHAT A HUGE HONOR!
FOR MORE INFORMATION OR TO SEE THE OTHER NOMINEES, GO TO PREPVOLLEYBALL.COM
---
Class of 2011 College Committments
The New WAVE 18 Tsuanami has a mere three seniors on their roster and each athlete will be attending school on a volleyball scholarship.

Erin Juley (Long Beach State) a 5'10" senior setter at Lyons Township who led her high school team to a State Championship this year will be playing her first season with the New WAVE program. Erin is an All-Conference and All- Academic athlete who spent most of her club volleyball career at EPU under the tutaluge of John Trojaniak. Erin is coming off a knee injury and we are looking forward to seeing Erin compete in her first tournament of the season at the next GLC Power League.

Sara Sternard (University of Illinois in Chicago) a 6'2" middle hitter at Westmont High School who led her high school team to a conference and regional championship, began her club volleyball career at New WAVE in the eight grade. Sara is a three-time All-Conference, and two-time All-Area player for Westmont. Sara is coming off a shoulder injury and we are looking forward to seeing Sara compete in her first tournament of the season at the next GLC Power League.

Ashlie Jones (Kentucky State University) a 5'10" outside hitter at Plano High School, led her high school team to their best record in a couple decades. Ashlie Jones played her first year of club ball as a freshmen with New WAVE and has excelled since then. She is also an ALL-Conference and All- Area athlete.

More bio, picutres,and future plans information to come. Stay tuned and thanks for supporting New WAVE!!!

---
15 HURRICANE TAKE HOME 2010 MAYOR DALEY FESTIVAL CHAMPIONSHIP
New WAVE began its 2010 season at the annual 2010 Mayor Daley Festival. Although this tournament is early in the season, the players consider this one to be one of their favorites!! The 15 Hurricane team continued the streak by winning the 15's division with a tournament record of 6-0. In 2008, the 15 Tsunami team were runner's up, and in 2009 the 15 Tornado team took home the title. Here are some other results:
13 Thunder - tied for 5th in the GOLD DIVISION with a record of 3-3. On Saturday the team finished 3-1, and in 2nd place in a 5-team pool. On Sunday, they won their first match against Attack 13 Orange. Thunder then lost in three in the semifinals to the Altitude 13 Black Rox team that ended up winning the tournament. Thunder played for 3rd place, but lost a close match to the Wildcats of Northwestern.
14 Rush - 1st in SILVER DIVISON with a record of 5-1. On Saturday the Rush finished 2-1, and in a three-way tie with Altitude and Diamond Elite. Unfortunately, the Rush finished 3rd in their pool based on game win percentage, but never lost another match on Sunday, finishing 3-0.
14 Storm - tied for 5th in the SILVER DIVISON with a record of 1-4. On Saturday Storm went 0-3, but found the confidence to pull out a win on Sunday when they beat Attack 14 Orange.
15 Hurricane - 1st in the GOLD DIVISION with a record of 6-0. On Saturday the Hurricane showed its dominance with strong serving and consistent play by winning all matches and two games and keeping them under 10 points. On Sunday, the Hurricane continued their winning ways by knocking off Next Level 25-10, 25-14, and beating Cyclones 25-9, 25-15. In the finals the Hurricane faced an undefeated Kane County team, but won in three games.
15 Monsoon - tied for 3rd in the SILVER DIVISON with a 1-4 record. On Saturday, Monsoon played some close matches, but came up short finishing 0-3. On Sunday, they won their first match but lost a close match against Northside Out 15 Pink 24-26, 25-27.
16 Tornado - tied for 5th in the GOLD DIVISION with a 4-1 record. On Saturday, Tornado finished 3-0 in pool play, beating their opponets in two games. On Sunday, Tornado won their first match against Kane County 16 Gold, but faltered in the quarterfinals against Northside Out Pink losing
19-25, 23-25.
18 Tsunami - 6th in the GOLD DIVISON with a 3-3 record. With a injury-ridden squad Tsunami finished 2-1 in pool play on Saturday, but lost their first match of the day in three against Primetime 18 Blue. Tsunami bounced back beating Attack 18 Blue 25-16, 25-22, but lost another three-game match to Sky High 18 Viloet 25-12, 25-10, 11-15.
---
HANNAH JULEY MAKES USA HIGH PERFORMANCE SELECT CONTINENTIAL TEAM!!!
Congratulations to Hannah Juley, she was selected to be a member of the 2010 USA Volleyball High Performance Indoor National Girls' Select Continental Team Program (GSCT). The CT is a nine day program where 33 athletes train as a group for 2 days and then break up into 3 teams of 11 athletes to compete in the 2010 USA Volleyball High Performance Championships (an international style competition) in Wisconsin Dells, WI July 22-30.
Select Continental Team head coaches are A.J. Malis, USAV High Performance; Kimberly Martinez, Marshall University; Cecile Reynaud, Florida State University- retired.
Hannah attended the USA High Performance try-out at the MEQ Indy Qualifier in late March. Tens of thousands of young female volleyball players tried out for the USA High Performance Program from around the country. It is a great accomplishment for Hannah to be selected as one of the top 50 players in the country that tried out in her age group.
In the winter 2009-2010 issue of Volleyball USA Magazine, Hannah was listed as one of 33 athletes to be invited to the U.S. Girls' Select Holiday Camp in Colorado Springs, Colorado.
Profile:
Grade: 7th
Team: 14 Hurricane
Height: 5'9"
Position: Setter / Middle Blocker
Approach Jump: 9'7"
---
14 HURRICANE OUTLAST THE OPPONENTS AT THE WINDY CITY INVITE & CAPTURE THEIR 3RD TOURNEY CHAMPIONSHIP
March 14, 2010
14 Hurricane and 14 Surge faced off in the Asics Championship in late February. Hurricane regained their position in Power League by moving back up to pool C on March 3rd. With their momenteum growing, Hurricane came into the Windy City Invite with a lot of confidence. They breezed through pool play knocking off 14 Northshore Assault, 13 Rolling Thunder Blue, and 13 Ultimate White. In the playoffs, the Hurricane outlasted Chicago Shamrock 14's in the pre-quarterfinals, Rolling Thunder 14 Blue in the quarterfinals, Sports Performance 13 Elite in the semi-finals, and after 10 hours of volleyball fought off a tough 14 Energy team in game three 17-15.
14 Surge has also had their own success and a tournament championship under their belt. After losing their starting middle, Surge has shown their depth by moving up a pool in February poower league and making it to the championship match of two Asics tournaments.
WAY TO GO GIRLS!!!
---
15 TORNADO RUNNER'S UP IN GLC'S PRESIDENT'S DAY TOURNAMENT
15 Tornado
Day -1: 2-1 and 2nd place in pool play (lost tough match to #1 seed SPVB 15 Red in three games 12-15.)
Day 2: 2-1 and 1st in pool play (lost in three to Fusion 15 White)
Day 3: win in semi-finals to Dunes, lost in the finals to SPVB 15 Red in three 13-15.)
To check out 15 Tornado action shots from tournament, go to teams on menu, click 15 Tornado, and click on link.
16 Tsunami
Day - 2-1 and 2nd place in pool play (lost match to #1 seed M-Juniors in three)
Day 2 - 3-0 and finished in 1st place knocking off No Limit, Michigan Elite 16-2, and Powerhouse 16 Red.
Day 3 - 2-0 finished in 1st place knocking off Prime Time 16 Toxic, Kane County 16 Gold.
17 Rush
Day 1 - 1-2 finished in 3rd place beating Competitive Edge in 2.
Day 2 - 1-2 finsihed in 3rd place
Day 3 - 2-1
---
CONGRATULATIONS TO THE 13'S FOR TAKING ANOTHER ASICS CHAMPIONSHIP!!
---
13 THUNDER TAKE TOURNAMENT CHAMPIONSHIP AT ASICS!
13 Thunder have shown improvement and were rewarded with a Asics/Miksas Tournament Championship, then coming back the next week to take first in Pool D of 13's Power League, beating Kane County 13 Navy, Sunsetters 13 White, and Powerhouse 13 Black!! Nice Job Ladies!
---
12 STORM THROUGH THE COMPETITION AT FIRST POWER LEAGUE!
After making it to the championship of the Asics Tournament the previous week, 12 Storm went 3-0 at Power League defeating Lions 12 White, Uno 12 White, and Sports Performance 12 Navy.
---
16 TSUNAMI MIDDLE BLOCKERS SHUT DOWN THE COMPETITION AT POWER LEAGUE
---
15 TORNADO FACE OFF IN POWER LEAGUE SEEDING TOURNAMENT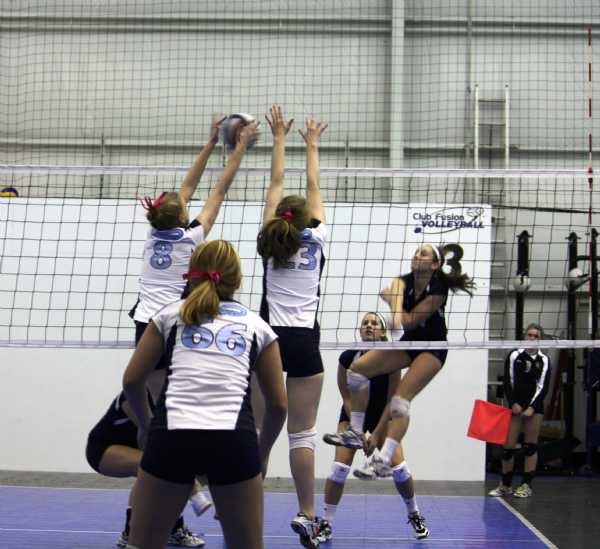 ---
15 TORNADO CAPTURE NEW WAVE'S FIRST MAYOR DALEY CHAMPIONSHIP!
Congratulations to 15 Tornado who went 6-0 this weekend at the Mayor Daley Sports Festival Tournament to capture the title! On Sunday, the Tornadoes started off shaky, but were able to win their first two matches against Velocity and Diamond Elite. In the third match against Attack the Tornadoes had hit their stride winning match 3 and carrying them into Gold on Monday. Monday started strong and finished strong as the Tornadoes beat Next Level, Kane County, and Velocity to clinch New WAVE's first Mayor Daley Championship!
---
17 RUSH MAKES IT TO MAYOR DALEY FINALS!
17 Rush found itself in the finals of the Mayor Daley Sports Festivals against Attack 17 Blue. After beating Attack in pool play the Rush was unable to sustain the momentum in the finals and fell 20-25, 19-25. The Rush will be back in action this week when GLC Power League play begins.
---
16 TSUNAMI FAIL TO MAKE IT BACK TO MAYOR FINALS
16 Tsunami finished pool play 3-0 on Sunday in convincing fashion and had their sights set on making it back to the finals after finishing in second place last year. Monday morning, Tsuanami found themselves in a rematch of 2008 finals with Northside Out in the quarterfinals. Tsunami took game one 25-23, but struggled with touch jump float serve and lost game two 11-25. Tsunami came out strong in the third set and took a lead of 11-8, but failed to side-out until the score was 12-14. Tsunami lost set three 13-15. Their inconsistent play continued in their second match and fell to Kane County Juniors 16 Gold, finishing tied for 11th in the Gold Division.
---
14's FALTER IN GOLD DIVISION QUARTERFINALS
14 Hurricane came out in full gear in matches one and two, but finished the day with a 2-1 recond after taking a lost to Diamond Elite. On Monday, 14 Hurricane had to face off against a strong Chicago Jrs. team and lost 25-8, 25-21 in the quaterfinals. They bounced back in their second match of the day by defeated Altitude 14 Downing in two sets.
14 Surge competed in matches one and two, and tallied a match win in their third match of the day. After a couple competitive matches Surge fell in their two Monday matches.
---
The Tornadoes had their annual beginning of the year Pasta Party/Grab Bag Unity Party on Saturday. Great food and tons of desserts with some perfect Grab Bag gifts for each teammate!
---
2009 Junior High Summer Camp
July 10, 2009
---
14's FINISH THE SEASON IN DOMINATING FASHION
14 Tornado was determined to go out with a bang. They beat a tough Powerhouse team in three, knocked of IPV Red in convincing fashion, and took out Celtic Force to come in first place. 14 Riptide wouldn't be outdone, they also won all their matches, as well. Nice job ladies, and thanks for a GREAT SEASON!
12's POWER LEAGUE FINISH
12 Surge - 17th out of 40 teams (top half)
13's POWER LEAGUE FINISHES
13 Thunder - 17th out of 40 teams (top half)
13 Lightning - 34th out of 40 teams
14's POWER LEAGUE FINISHES
14 Tornado - 28th out of 79 teams (top third)
14 Riptide - 70th out of 79 teams
16's POWER LEAGUE FINISHES
15 Tsunami - 52nd out of 159 teams (top third)
16 Rush - 73rd out of 159 teams (top half)
15 Storm - 148th out of 159 teams
18's POWER LEAGUE
17 Hurricane - 91st out of 110 teams
---
15 STORM HIT THEIR STRIDE AT THIS WEEK'S POWER LEAGUE!
May 3, 2009
15 Storm took out Rebels Jrs. 15 26-24, 26-24, SKy High 15 Blue 25-17, 26-24, and IP 15 Black 25-23, 25-22 to take first place in pool R. Way to go girls! The girls will move up to pool Q for the May 16-17 Power League.
---
15 TSUNAMI KNOCK OFF CHICAGO JRS. 15-1's IN POWER LEAGUE
May 3, 2009
15 Tsunami moved up to pool F and faced stiff competition, but knocked off a strong Chicago Jrs. 15-1's team who qualified for Nationals! The match went down to the wire with a 19-17 finish in game three. Match 2 followed the same blueprint, the game came down to Tsunami having game point in game three 14-13, but the ladies couldn't capitalize and lost 14-16. Great match and the team finished in 4th place and will play its last Power League match in Pool F on May 17th.
---
14 TORNADO ROLLED INTO GOLD DIVISION AT NORTHERN LIGHTS QUALIFIER IN MINNESOTA - 9TH PLACE FINISH
14 Tornado made their debut on the qualifier circuit in Minnesota this past weekend. Seeded second in their pool on Friday, the 14's took out Eden Prairie 14-3, Court Masters, and the 1 seed, G-Force 14 Green, finishing with a 3-0 record on day one. Saturday the 14's beat Wisconsin Select, and Crossfire to lock up a position in the gold bracket on Sunday. Unfortunately, the girls were defeated by a evenly-matched Eden Prairie 14-1's team 21-25, 19-25. The girls finished 5-2, and tied for 9th place out of 80 teams.
Great weekend, nice job ladies!!!!!!!
---
14's MAKE IT TO THE CHAMPIONSHIP MATCH IN 15's DIVISION AT ASICS
---
TOURNAMENT HIGHLIGHTS FOR THE WEEK OF 4/3-4/09
15 Tsunami - GOLD DIVISION 5th place out 28 teams in the 15/16 Club Divsion in the 1st Annual Lions Spring Extravangza. 5-2 RECORD FOR THE THREE-DAY TOURNAMENT.
14 Riptide - 14's Power League, pool 6: 6-2(games, not match)
13 Thunder - 13's Power League, pool E: 3-0 record, 1st place
13 Lighting - 13's Power League, pool J: 3-0 record, 1st place
12 Surge - 12's Power League, pool E: 4-2(games, not match), 2nd place
---
POWER LEAGUE HIGHLIGHTS FOR 3/21-22
CONGRATULATIONS TO 15 TSUNAMI FOR KNOCKING OFF A TOUGH ULTIMATE 15 GOLD TEAM FOR A THIRD PLACE FINISH IN POOL G.
CONGRATUALTIONS TO 16 RUSH FOR THEIR 2ND PLACE FINISH IN POOL J. KUDOS TO LIBERIO, KATIE MARTIN FOR STEPPING IN AND SETTING WHEN THE STARTING SETTER, KARLI KNACK WENT DOWN WITH AN INJURY IN THE FIRST MATCH
BOTH TEAMS WILL MOVE UP FOR THE MAY POWER LEAGUE!

---
The bet was made at the beginning of the season that if the 17 Hurricanes could move up two pools in the same weekend, Coach Steve would buy them pizza for practice. This weekend the 17 Hurricanes out did just moving up in two pools, they won all six matches at the 18's Great Lakes Power League coming away with two First Place finishes. The 17s felt like spending every possible minute in the gym this weekend having each match go all three games. On Saturday, the #1 seed Hurricanes beat Belusa 17 Storm (26-24, 21-25, 15-7), Ignite 18-1s (20-25, 25-21, 15-9), Chicago Shamrocks 17-1s (on a coin flip, Tails never FAILS!) moving up from Pool M to Pool L for Sunday. On Sunday, the #6 seed 17s continued their long hard fought battles down to the last point of every match against #3 seed NVC 18-1s winning (25-20, 22-25, 17-15), #2 seed Cyclones 18TK (19-25, 25-16, 17-15) and in the 1st place game against #1 Avalanche 17 Black (23-25, 26-24, 15-13). With their 1st place finish on Sunday, the Hurricanes moved up two pools this week and are ready for to do the same at the Indy Qualifier at the beginning of March. Great weekend ladies and bring on the PIZZA!
---
A TIDAL WAVE WASHES OUT THE COMPETTION AT FUSION FEST
13's Thundered passed their competition in pool play of this weekend's Fusion Fest tournament, knocking off 14's teams to get to the chamiponship match against their fellow club mates, 14 Tornado. 13's Thunder ended the tournament with a 4-1 record. Nice job Ladies!!!!!!!!!
---
14 TORNADO DOESN'T DROP A SET IN ROUTE TO BECOME FUSION FEST CHAMPS!
14 Tornado went 5-0, knocking off Avalanche, SPVB, 2 Legecy teams, and New WAVE. Tsunami increases their season record to 12-4 on the season.
---
16 RUSH 15 TSUNAMI, AND 14 TORNADO FINISH WEEK ONE OF POWER LEAGUE SEEDING IN THE GOLD DIVISON
The first week of 16's Power League is over and 16 Rush, along with 15 Tsunami finished in second place in their respective pools, going 2-1 on the day. Their finish placed them in the gold divison on day two where both teams went 1-2, finishing in third place. Both teams will be back in action January 28th and Feb 1st when 16's Power League play resumes.
14 Tornado's results were identical to the Rush and Tsunami. A second place, 2-1 finish on day one, with a 1-2 recond on Sunday's bracket play.
Both 13 Thunder and 13 Lighnting finished in first place on day two of Power League Seeding. Way to bounce back ladies!!
---
15 TSUNAMI MAKE IT TO THE CHAMPIONSHIP MATCH AT MAYOR DALEY FESTIVAL, BRINGING HOME SOME HARDWARE!!!
December 28, 2008
Tsunami continued its run of being unbeated this season by knocking off Northside Out 15 Pink, Chicago Jrs. 15-2, and Rally Force 15 Pink, on day one of the 2008 Mayor Daley Festival at McCormick Place.
Tsunami took out Kane County 15 Gold 25-23, 25-15 in the quarterfinals, and Attack 15 Blue 27-25, 25-12 in the semi-finals. Tsunami suffered their first lost of the season in the championship, snapping a 11 match win streak when they failed to match the defensive play of Northside Out 15 Pink. Congratulations ladies, for bring home our first plaque!!!!!!!
---
14 TORNADO FINISH 5TH IN GOLD DIVISION OF MAYOR DALEY FESTIVAL
December 28, 2008
14 Tornado stepped onto the court for the first time this season at the Mayor Daley Tournament and went undefeated in pool play by beating Trinity 14 Black: 25-18, 25-19, Attack 14 Orange: 25-14, 25-22, and Chicago Finest 14 Black: 25-20, 25-15.
Tornado dropped its first match of the seaosn in the quarterfinals to Altitude 14 Black: 22-25, 20-25, but rebounded by knocking off Chicago Jrs. 14-2: 25-20, 25-19 and securing a 5th place finish in the Gold Division.
---
16 RUSH FINISH 3RD IN THE SILVER DIVISON
With a 2-1 match record in pool play after beating Net Force 16 Comp and Trinity 16 Green, the Rush thought they were sitting pretty and poise to play in the Gold Divison, but later learned that there was a three way tie for first. The Rush got the short end of the stick with one more game lost then the other two teams, and ultimately placed them in the silver divison.
The Rush beat Prime Time 16 Chaos: 25-18, 25-20, and Diamond Elite 15 Jade in the semi-finals: 25-12, 25-13. The Rush maintained their pace throughout most of game one and two in the semi-finals, but allowed Kane County 16 Navy to steal the match: 27-29, 22-25.
---
17 HURRICANE WASH OUT THE COMPETITION AT ASICS INVITE
17 Hurricane took the court for the first time of the 2008-2009 club volleyball season and finished with as Asics Invite Champs in the 17's division this past Saturday. The Hurricane will be back in action in late Decemeber when they compete in the Mayor Daley Sports Festival.
---
15 TSUNAMI OUTLASTED THE COMPETITION IN ASICS INVITE TO WIN THEIR FIRST TOURNAMENT OF THE SEASON!
15 Tsunami'S first tournament of the season lasted over 12 hours and proved to be a test of their endurance, focus, and desire to be the last team standing. Tsunami started the morning with three pool play matches: a 21-15, 24-22 win over Illinois Extreme 16 Gold, a 21-11, 21-13 win over Northside Out 15 Black, and a 21-13, 15-21 split with Iowa's Pleasant Valley 15 Aces.
Tsunami beat Pleasant Valley in the quarterfinals 20-25, 25-10, and 16-14 with the help of a dominate offensive game from setter/right hitter Jessie T. Tsunami met New WAVE 16 Rush in the semi-finals who had not dropped a game the entire day and came out as the first seed in the playoffs. Tsunami shocked the Rush with a 25-13 win in game one behind the strong serving of defensive specialist Nihkita M. The Rush bounced back with their own statement of a 25-20 win in game two. The Rush jumped to a 7-3 early lead in the third and deciding game, but Tsunami was able to close the gap by the time the teams switched sides. With 9-9 tie, Tsunami broke away with two key kills by outside hitter Emily W., winning 15-9.
Tsunami convincingly defeated Illinois Heat 16 Black in the finals 25-10, 25-23, and walked away with an Asics Invite Championship in the 15/16 division. AWESOME JOB LADIES!!!!!!!!
---
16 RUSH MAKE IT TO SEMI-FINALS IN ASCIS INVITE
---
Sophomore Middle Hitter, Sara Sternard named All-Area
Westmont High School's Sara Sternard adds All-Area to her All-Conference Awards for the 2008 season. CONGRATULATIONS!
---
Freshmen Setter, Jessie Tulacka Receives All- Area Honorable Mention
Jessie was a right side attacker for the Downers Grove North Trojans for the 2008 season, and also received all-tournament honors at the Downers Grove North Invite.
---
2008 PREP VOLLEYBALL CLASSIC
14 Tsunami at the Dells for the 2008 Prep Volleyball.com Classic
---
---
THANK YOU TO ALL THE 2008 NEW WAVE JUNIOR HIGH SUMMER CAMP PARTICIPATES!
This year we got great participation for the junior high summer camp. We love meeting all the new girls and it was nice to see familiar faces, as well. The girls all worked hard to improve their fundamental skills. See you in the fall!
STAY TUNED FOR MORE INFORMATION ABOUT CLUB TRY-OUTS IN OCTOBER!
---
---
Sara and Kerri Walsh Talk About Bejing Olympics at the AVP Tour
15 Rush starting outside hitter, Sara Bres capitalized on an opportunity to speak one-on-one with Kerri Walsh as the walked around at the AVP tour in Chicago. Sara says they chatted about the upcoming Olympics in Bejing.
Coming soon: Pictures of Melissa Nava and AVP players, and Melissa and Coach Deidre at the AVP tour Championship Match!
---
CATCHING UP ON SOME ZZZZZZZ!
Melissa and Jessie couldn't wait to get in the car to catch up on some must needed rest after a grueling week of nonstop volleyball for 8 hours a day at the USA High Performance Camp.
---
JESSIE BLOCKS IN HIGH PERFORMANCE SCRIMMAGE
---
TWO TSUNAMI PLAYERS OFF TO THE USA HIGH PERFORMANCE CAMP
14 Tsunami's 5'11" starting setter, Jessie Tulacka and 5'9" starting middle blocker Melissa Nava will be participating in the USA High Performance A1 Developmental Camp this week in Michigan. The girls tried out for the High Performance program at the Mid-East Qualifier in Ohio in late March. The girls are among 27 other girls from around the U.S., and even Hawaii!
Good luck ladies and have fun!
---
---
16 HURRICANE FINISH THEIR SEASON IN THE GOLD DIVISION OF THE ASCIS JUNIOR NATIONAL CHAMPIONSHIP
The Hurricane finished in 9th place in the Gold Division and capitalized on the opportuntiy to beat a team that they had fallen to during the Regional Qualifier. Nice job ladies!
---
14's PROVE TO BE THE REAL DEAL!
14 Tsuanami wrapped up Power League play on Sunday in Pool C with two wins over SPVB 14 Navy and Club Elite 13 Black. The Tsunami finished tied for 24th out of 80 teams in the standings with a total of 145 points. They never moved down a pool throughout the Power League season. AWESOME LADIES!
Tsunami will finish their season in the Dells at the PrepVolleyball.com tournament in June.
14 Ripitide finished their season in Power League play on Sunday also. The Riptide finsihed 51 out 80 teams and climbed all the way to Pool E in the middle of the season, just one pool shy of the morning wave. The Riptides peaked at 43 in the standings during their mid-season run. WAY TO FIGHT LADIES!
---
13's POWER LEAGUE FINAL STANDINGS
13 Thunder and 13 Lightning have finished Power League, and the final standings have been posted. The Thunder finished 21 out of 42 teams, reaching as far as Pool D in tournament play. Another season highlight was in the Attack Invite where the Thunder took on the 14 Tsuanami team in the semi-finals.
The Lightning finished 35 out of 42. The Thunder will finish the season with the PrepVolleyball.com tournament in the Dells and the Lightning will wrap up their season this weekend at the Asics/Miksas Invite. Nice job ladies! Keep in touch.
---
12 SURGED INTO REGIONAL QUALIFIER WITH A 19 MATCH WIN STREAK
The Surge dropped a couple matches early in the season at the Mayor Daley Tournament and two other matches the first week of Power League. The Surge then went on to win an Asics/Miksas Invite with 5 match wins, and 14 straight Power League wins. The Surge ended Power League in Pool D and finished 6th in the Regional Qualifier. Nice job ladies!
---
16 HURRICANE GO 3-0 ON DAY 1 OF INDY QUALIFIER!!!
The 2nd seeded Hurricane exploited their opponents' weaknesses with smart offensive shots and balls-out hustle on defense taking first place in their pool on Day 1 of play at the Indy Qualifier. The Hurricane beat N3 from Fort Watne Indiana, TEVA, and Toledo Volleyball Club.
The Hurricane continue pool play Saturday morning at 8:00 am when they face Tulsa Juniors, NKJV, and 16 Arrowhead. GOOD LUCK LADIES!!!
DAY 2
Saturday pool play began where Friday night pool play ended. The Hurricane won their first two matches(against Kaepa NKJV 16-1 and Tulsa Juniors) and boosted an undefeated record in the tournament. The Hurricane had their sights on moving into the Gold Division; in the hunt for a bid when disaster struck. The Hurricane lost to Arrowead 16 (21-25, 19-25) in the last match of the day, which uncharacteristically caused a THREE-WAY tie for 1st place in the pool. Based on point % NKJV 16-1 was put into 1st place, and the Hurricane was forced into a 1-game tiebreaker with Arrowhead for 2nd place where they lost a close game, 24-26.
---
16 HURRICANE COME TOGETHER TO TAKE 1st PLACE IN POOL K OF POWER LEAGUE
Last week the Tornado took 1st and now the Hurricane improve on their 2nd place finish last week with a 1st place finish on Saturday. Nice job by all!
---
14 TSUNAMI GO 5-0 TO TAKE THE ATTACK INVITE CHAMPIONSHIP
14 Tsunami didn't drop a game the entire day to finish the day off with another championship under their belt. A great job by ALL. To see more pictures, go to the photo album and click on 2007-2008 tournament pictures.
---
WE ARE FAMILY!!!! 13 THUNDER AND 14 TSUNAMI AT THE ATTACK INVITE
13 Thunder finish 3rd in the Attack Invite
---
13 THUNDER ADVANCED TO CHAMPIONSHIP MATCH IN 14'S DIVISION AT ASICS
---
TSUNAMI, RAISING MONEY, AND HAVING FUN!!!
14 Tsunami successful filled the local Connie's Pizza Restaurant, where they raised money to help with travel expenses. Fun was had by all and we would just like to thank everyone agaim for supporting our program and team.
Check out more pictures in the Photo Album under Team Unity Activities.
---
THE RUSH GO 3-0 ON DAY TWO OF POWER LEAGUE SEEDING
15 Rush defeated Fusion 15 Power, Chicago Jrs. 15 White, and Rockford 15-2 to finish in 1st place on Sunday, after a 3rd place finish on the opening day.
---
13 THUNDER ROLL THE COMPETITION IN POWER LEAGUE
---
THE NEW YEAR BRINGS BIG TEN AND BIG EAST BALLERS TO NEW WAVE!
Days after the Mayor Daley Tournament some big-time local college players came by to visit New WAVE.
Purdue senior liberio Annie Mastandrea, a Downers Grove native willingly donated her time to give 14 Tsunami and 15 Rush a crash course lesson in the art of defense. Marquette sophomore setter/DS Caryn Mastandrea, took the setters under her wing and ran them through some setting drills. While Penn State freshmen middle hitter, and newly crowned NCAA National Champion, Arielle Wilson gave the middles some pointers in blocking.
To see more check out the pictures in the Photo Album under, 2007-2008 Practice Pics.
---