Welcome to the new Park Association website!! At the current time we are using the calendar only.
Please bookmark site and check back often
for news and information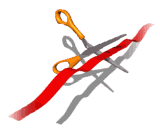 The new Park Association website is here:
We hope this will be a very active site and a great place for the exchange of ideas, support, news, and everything Girl Scouting.
The Message Board/Forum is open with many topics to contribute your ideas and thoughts.
There will be troop news, association news, forms, pictures and lots of great information for all the leadership of the Park Association.
Bookmark the site and come back often as we hope to update on a regular basis.
Let us know what you think, and send us your suggestions on what you would like to see on the site.
Enjoy