Welcome to SouthEastJaguars.com
South East Defeats Canoga Park 42-20
South East is Going to the Championship!
South East ranked #1 in Division II
2006, 2007, 2008, 2009, 2010, 2011 Azalea Bowl Champs!
Champions
---
LA36.org: So-Cal Prep Report
December 13, 2012
---
---
ESPN.com: City Div. II: South East 51, Marshall 34
December 10, 2011
MONTEREY PARK -- Derwin Henderson looked over his left shoulder, then over his right. The South East coach promptly pulled the hood of his sweatshirt over his head, knowing exactly what was coming next.
Nothing like an icy bath to kick off the celebration.
Henderson and top-seeded South East captured the City Section Division II championship Friday afternoon with a 51-34 victory against second-seeded Marshall at Weingart Stadium on the campus of East Los Angeles College. South East (13-1), in only its seventh year of existence, shattered its previous school record of eight wins.
The disbelief was evident on junior quarterback Jonathan Santos' face. He passed for 317 yards and five touchdowns, and added a season-high 135 rushing yards and another score to pace the explosive Jaguars attack.
"I wouldn't trade him for the world," Henderson said.
Highly regarded Robert Lewis, the Southern Methodist-bound tailback who had 2,004 rushing yards and 30 touchdowns heading into the game, had difficulty finding running lanes but made his presence felt in a different way. He caught a 24-yard touchdown and returned an interception 36 yards for a score in the second half to help Eastern League champion South East pull away.
"Back in February Robert could have left to any other school he wanted, but he stuck around, stuck with me," Henderson said.
Santos' 71-yard touchdown pass to Ramone Smith was the dagger, making it 38-20 early in the fourth quarter. In the stands, newspaper scraps fluttered in the air, serving as makeshift confetti.
"This is everything," said Santos, who fell just 31 yards short of 3,000 for the season. "Since I was little this is what I've been dreaming about. We never thought it'd be reality."
It all came to fruition in a dizzying third quarter, which had three lead changes and long gains to spare. The Jaguars jumped ahead, 19-14, when Santos found Christian Quiñones for an eight-yard touchdown midway through the quarter. Marshall responded with a one-yard score from Walter Moctezuma but the elation was short lived when Santos connected with a wide-open Alex Alvarez for the go-ahead score.
South East actually trailed at halftime, 14-13, after botching the potential game-tying extra point following Christopher Ochoa's one-yard plunge. But it could have been far worse -- a holding penalty with nine seconds left in the half negated a Marshall touchdown. The Barristers still had an opportunity in the red zone but Anthony Benitez lost track of time on the next play and the clock expired when his pass fell incomplete near the goal post.
"We're a second-half team," Lewis said. "We knew we'd come out and play."
If anything, the Barristers (11-3) were opportunistic. Jonathan Mina intercepted a pass intended for Lewis in the end zone, leading to Moctezuma's 24-yard touchdown catch at the other end. Minutes later, another South East turnover -- this one on a fumbled option pitch from Santos to Lewis -- set up Mina's 10-yard score. Mina caught a Benitez swing pass, danced near the sideline and avoided five tackles at around the 15 before gliding into the end zone. Marshall converted its two-point attempt and had the 14-7 advantage.
Benitez had 352 total yards and Moctezuma added 181 for the Northern League champion Barristers.
Santos broke the scoreless tie with a four-yard touchdown pass to Lewis late in the first quarter. Marshall, which hasn't won a divisional title since 1982, tried anything -- and everything -- to keep the ball away from Lewis, who heading into Friday was averaging more than 10 yards per rush. He carried the ball only four times for 13 yards in the first half, but found a way to make an impact.
"I stuck it out and ended up winning a championship," Lewis said.
Source: ESPN.com
---
WaveNewspapers.com: Santos sensational night leads South East to Division II title
December 10, 2011
By RON GUILD, Sports Editor
Story Created: Dec 10, 2011 at 12:00 PM PST
Hard as it is to believe, Jonathan Santos wasn't even the starting quarterback on the South East High School junior varsity last season.
Today, he is not only the varsity starter, but the principal reason the Jaguars are City Section Division II football champions, the first grid title in the history of a school that opened in 2005.
The junior put on a spectacular big-game performance in the final Friday at East L.A. College by passing for 306 yards and five touchdowns and rushing for 136 yards and a TD in a 51-34 victory over Marshall.
He completed 20 of 29 passes, with the scoring tosses going to four different receivers. His 30-yard scoring run with 3:53 left was his 12th and final carry, pushing the top-seeded Jaguars over the 50-point mark.
"This is an unbelievable feeling," Santos said. "Since I was small, I told everybody I was going to win a City championship."
But first he had to win the starting job, no small feat considering the Jaguars were expected to have a three-year starter returning. but he left, then came back.
First-year coach Derwin Henderson decided to go with Santos as his starter and has never regretted the decision.
"A lot of people didn't believe in me, but Robert (star running back Lewis) and (Christopher) Ochoa came up to me and told me they were going to stick with me and to work hard.
"I told them, I was going to get them to the promised land. This is the greatest feeling in the world."
Even though he threw for better than 2,900 yards and 35 TDs this year, Santos still wasn't the focal point of the offense.
That honor goes to Lewis, the lightning-quick running back who gave a verbal commitment to SMU before the season started.
But with the Marshall defense focused on Lewis, Henderson decided to alter his approach.
"We were going to run the ball, but they took Robert away by putting eight men in the box," Henderson said. "After the second series, I told Jonathan we were going to go to him. To me, he's the second best quarterback in the City behind (Narbonne's) Troy Williams."
It took a while for South East (13-1) to get untracked on a night when both offenses really exploded after intermission.
The Barristers (11-3), led 14-13 at the break, but had trouble keeping pace the final 24 minutes of a night when the two teams combined for 1,039 yards and 53 first downs.
In the third quarter, Santos had scoring passes of eight yards to Christian Quintanilla, 49 yards to Alex Alvarez and 24 yards to Lewis.
That gave the Jaguars a 31-20 lead heading into the final period and they continued to extend it.
Santos threw a 71-yard scoring pass to Ramone Smith, then Lewis returned an interception 36 yards for another TD and the Jaguars were in control, 45-20 with 10:15 left.
Just about all the heroics provided by Santos and Lewis (who had four TDs of his own) were needed because Marshall was putting up its own share of video game-like numbers.
Senior quarterback Anthony Benitez completed 18 of 30 passes for 225 yards and two TDs and also ran the ball 28 times for 128 yards and two scores.
Running back Walter Moctezuma carried 25 times for 145 yards and a TD. Moctezuma also caught one of the scoring passes.
Henderson, in his first year as South East coach, was ecstatic afterwards.
"This is just the greatest feeling," he said. "We got off to a tough start in February, but the kids rallied behind me and worked as a group. I'm so proud of all the work the kids put in. They were the ones who averaged 45 points per game. All that hard work culminated today with a championship."
Final stats
South East 51, Marshall 34
Passing South East: Santos 20-29-1 306; Marshall: Benitez 18-30-1 225
Rushing South East: Santos 12-136, Ochoa 6-26, Lewis 7-21; Marshall: Moctezuma 25-145, Benitez 28-128
Receiving South East: Alvarez 5-88, Nevarez 4-31, Smith 3-117, Lewis 3-27, Quinones 2-13
Source: WaveNewspapers.com
---
LATimes.com: South East beats Marshall, 51-34, for City Section title
December 9, 2011
Video
South East junior quarterback Jonathan Santos throws five touchdown passes to help the Jaguars win the City Section Division II football championship, the school's first.
December 09, 2011|Eric Sondheimer
With All-City running back Robert Lewis a marked player, South East turned to junior quarterback Jonathan Santos, and he responded with five touchdown passes in the Jaguars' 51-34 victory over Marshall in the City Section Division II championship game Friday night at East Los Angeles College.
Santos completed touchdown passes of four and 24 yards to Lewis, eight yards to Christian Quinones, 49 yards to Alex Alvarez, and 71 yards to Ramone Smith. He completed 20 of 29 passes for 317 yards. He also rushed for 135 yards in 11 carries and scored on a 31-yard run.
"Without the team, we couldn't do none of this," Santos said. "The first half was a little rough, but we kept playing our game. Now we're champions."
Lewis finished with three touchdowns, including a 36-yard interception return in the fourth quarter that helped South East (13-1) reverse a 14-13 halftime deficit.
It was the first football title for South East since the school opened in 2005. Last season, the Jaguars won a soccer title. So now they're champions in football and futbol.
Fans got one final chance to watch Lewis, who entered with 2,004 yards rushing and has been known for his versatility. Although he rushed for only 18 yards in six carries, he had a 55-yard kickoff return.
"He's a once-in-a-lifetime player," Coach Derwin Henderson said.
Marshall quarterback Anthony Benitez did his best to keep his team in the game. He passed for 193 yards and two touchdowns and ran for 135 yards and one touchdown. Walter Moctezuma gained 159 yards.
Marshall took advantage of an interception in the end zone by Jonathan Mina and a fumble recovery to score two touchdowns after turnovers to take a 14-13 halftime lead. Moctezuma had a 24-yard touchdown catch, and Mina had a 10-yard TD catch.
But South East unleashed Santos in the second half. He threw three consecutive touchdowns, and Marshall went from leading, 20-19, to falling behind, 38-20.
eric.sondheimer@latimes.com
Source: LATimes.com
---
LATimes.com: If you like offense, South East-Marshall final is perfect
December 5, 2011
The busiest person at East Los Angeles College on Friday night will be the scoreboard operator for the City Section Division II final between South East and Marshall. The 4 p.m. game figures to be an entertaining offensive slugfest.
The teams are virtually the same when it comes to trying to balance passing and rushing. And each scores a lot of points.
South East has running back Robert Lewis, who has rushed for 2,004 yards and scored 30 touchdowns. Quarterback Jonathan Santos has passed for 2,652 yards and 30 touchdowns.
Marshall has quarterback Andrew Benitez, who has passed for 2,656 yards and 35 touchdowns, along with running back Walter Moctezuma, who has rushed for 1,131 yards and 16 touchdowns.
The key to victory for Marshall will be its ability to deny the big play to Lewis, who also causes trouble on special teams and playing defense.
For South East, avoiding turnovers will be critical to coming away with its first City championship.
-- Eric Sondheimer
Source: LATimes.com
---
Division II Playoff Bracket
---
ESPNLA.com: South East's Garcia hailed as a hero
October 5, 2011
By Sean Ceglinsky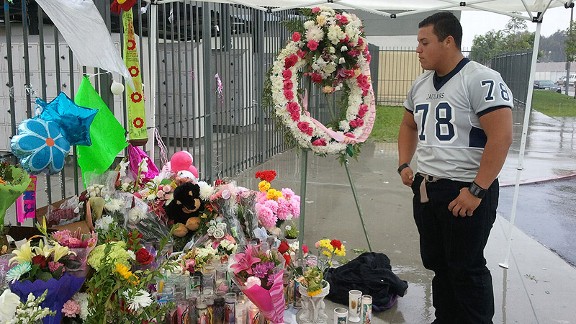 Courtesy of Jackie Satti
South East junior football player Jorge Garcia intervened during a fatal stabbing on campus last week and helped subdue the accused attacker.
SOUTH GATE -- Football instincts took over.
One second, Jorge Garcia was sitting with a group of friends during lunch at South East High, having a good time, seemingly without a care in the world. Moments later, the high school junior was in the midst of a battle for his very life.
During an on-campus altercation last Friday, Garcia did his best but couldn't prevent fellow South East student Abraham Lopez, 18, from fatally stabbing Cindi Santana, 17, Lopez's one-time girlfriend and also a South East student. Santana died later that night at a local hospital during surgery from the injuries sustained during the attack.
By most accounts, Garcia, a lineman for the Jaguars, without heisitation went into gridiron mode at the time of the incident. In his mind, he said, his own safety was an afterthought.
Garcia said he tackled Lopez, blindsiding the accused attacker in an effort to prevent further harm to Santana. Garcia, himself, suffered stab wounds during the skirmish and was treated a nearby hospital to receive stitches and close his wound. Days after the fatal tragedy, Garcia continues his road to recovery. He is being hailed as a hero at South East.
"I was with my boys, goofing around like always, then I heard a scared crying noise from a girl,'' the 16-year old Garcia recounted. "I didn't wait around, I jumped in and sacked [Lopez]. I wanted to get him away. My adrenaline was pumping, like it does in football. Thinking about it now, I think my background on the field helped me out.
"After everything happened, I knew I was cut pretty bad. But it didn't hurt. People were telling me I was lucky to be alive. I'm not going to lie, I was calm. I'm not sure why I felt that way. My mom was worried, but she's a mom. My dad told me I did a good thing."
Garcia said he did not personally know Lopez or Santana.
"I never saw them at school," Garcia said. "Still, I was put in that position for a reason. A lot of people would have froze if they saw something like that going on. I didn't. It could have been anyone, I would have helped out. I'd do it again too.''
As the incident unfolded, the dire, echoing scream for help caught his attention first. The commotion taking place nearby was undeniable. Garcia did not have time to think. He merely reacted.
But by the time Garcia subdued Lopez, the damage was done. Santana was rushed to St. Francis Medical Center in Lynwood. With family and friends by her side throughout, she fought to survive, but was pronounced dead at 7:45 p.m.
Garcia was taken to the hospital as well. He first went to St. Francis in an ambulance and later to Kaiser Permanente in Downey for further observation. Garcia received 12 stitches on his right shoulder, six underneath the skin to repair a damaged muscle and another six on the surface to close the gaping gash.
Not overly concerned about his own well being, Garcia said his thoughts were with Santana during his trying time. He says others have always come first in his mind, and he worries about himself second. That mentality best explains why Garcia came to the aid of a peer in desperate need, no questions asked.
Christina Ordonez, the Dean of School at South East, along with a campus police officer also were injured during the incident. However, both are reportedly recovering well, according to school officials.
"When I heard that Jorge was the student in trying to help out and defend his classmates, I was not surprised,'' South East coach Derwin Henderson said. "That's the type of person he is. He'll take up for anyone, any time. He is good representative of this team, this school and this community. Jorge Garcia is a role model. A hero. We're proud to call him one of our own."
Henderson said he visited Garcia in the hospital during the afternoon, hours after the attack.
"We talked for 20 minutes. He was in good spirits, all things considered," Henderson said. "He was telling me about how he tackled [Lopez], just like he does against our opponents on game day. It was an emotional day for him, for all us here at South East.''
Garcia is living proof there is more to life than football. That's not to say the sport isn't an extremely important part of his life. In fact, after his hospitalization, Garcia was right back on the sidelines for that night's game against Garfield.
He arrived midway through the third quarter, bandages and all covering his injured and swollen shoulder. The timing could not have been better. Clinging to a three-point lead, Garcia provided the Jaguars with a much-needed emotional boost as he rooted on his teammates.
The end result: A 31-28 South East victory in an Eastern League opener as the team improved to 5-0.
"Jorge is a kid with a lot of character,'' said Roger Satti, the South East coach last season and current director of operations for the Jaguars. "Our football players are taught to be the leaders. They represent the program. On the first day of school, Jorge was with the rest of his teammates, out in front of campus wearing jerseys and helping the incoming ninth graders find their way to class. He's held in high regard around here. You can see why with his actions.
"I talked to Jorge after the incident happened. He told me that he had to help out, he had to try and take care of [Santana] any way he could. Others might have run away from the conflict. Not Jorge though. He stepped up, just like he has done on the football field for us. If there were more student-athletes like Jorge Garcia, the world would be a better place. His selfless act was something that only a hero would do, there is no denying that fact. I can't praise him enough.''
The timetable for Garcia's return as a backup on the offensive line for South East is uncertain. Doctors said he could be back Oct. 21 against Huntington Park.
It it were up to him, Garcia would already have put on his No. 78 uniform over his pads. Odds are, the 5-foot-10, 250-plus pounder would like to be in the lineup for the host Jaguars (5-0, 1-0) during Friday's league game against Roosevelt (3-2, 1-0).
"My shoulder feels better, I'm ready,'' Garcia said. "I know I have to be careful, everyone keeps telling me that. Thing is, I miss being on the football field with my teammates. They're my brothers, my family. I was at practice this week. I was bored, but still out there, trying to be involved. I can't wait to get back under the Friday night lights.
"In some ways, the stabbing thing hasn't hit me yet. It's weird. I woke up that day and everything was normal. I got dressed, went to school and started thinking about our game that night. Then, everything changed. The only thing I've been thinking about since is how that poor girl started her day the same way as me and she never got to go home. It's sad.
"The way things went down has made a big impact on my life. You never think something like that is going to happen to you. You never think you'll be in that kind of situation. People have called me a hero, and all that stuff, for what I did. I don't think about myself that way. I never have and never will. I just did what I felt was right at the time.''
Two separate funds have been established to help with burial and other costs for the family of Cindi Santana, one of which is an online contribution site on Facebook. Donations can also be mailed to the South Gate Police Officers' Association: C/O Cindi Santana, 8620 California Ave., South Gate, CA 90280. The contact number is (323) 573-2632 or (562) 254-0411.
On Monday, Lopez was charged with 10 criminal counts, according to the Los Angeles County district attorney's office. He appeared in a Downey courtroom Tuesday and had his arraignment continued until Oct. 25. The felony charges include one count each of murder and false imprisonment by violence and three counts each of assault with a deadly weapon. Lopez faces a maximum sentence of life in prison with the possibility of parole, if convicted, and is being held on $1.2 million bail.
In retrospect, Lopez possibly could have caused much more havoc on the South East campus last week. Garcia was not going to let that happen though.
"I've known Jorge for a while now,'' said Noel Bautista, the school's athletic director. "He is the type of young man that's willing to go the extra mile for people, it doesn't matter if he knows them or not. You don't see that very often these days. He's a real-life hero.''
Garcia's actions certainly speak to those sentiments.
Source: ESPNLosAngeles.com
---
---
LATimes.com: Derwin Henderson named South East coach
February 7, 2011
Derwin Henderson
, a former assisant coach at Los Angeles Cathedral and Woodland Hills Taft, has been named coach at Los Angeles South East. Henderson also works for LAPD.
-- Eric Sondheimer
Source: LATimes.com
---
Scout.com: South Gate (Calif.) South East athlete Robert Lewis has made his decision
February 25, 2011
By Josh Harvey
Recruiting Analyst
Date: Feb 25, 2011
It's something that PonyStampede.com hinted to on our national signing day radio show, it just took a little longer than expected. The Mustangs have their first commitment in the 2012 class, and it's a big one Coach Adrian Klemm reeled in. Be the first to know inside.
Full Story (Requires subscription): Scout.com
---
---
Robert Lewis Magic Sparks South East Victory
---
---
---