Excellence happens when you try, each day, to both do and be a little better than you were yesterday
Toronto Fastpitch Club
Hello All,
www.torontofastpitchclub.com
We've had to change venues for Friday night's 16U try-out. Please come out to River Grove Park in Mississauga.
Friday, September 9th at 7:00pm @ Rivergrove Park in Mississauga
Location: 5800 River Grove Ave, Mississauga, ON L5M 4R8
Please bring water and all necessary softball equipment as pertains to your position.
See you there!
---
Please see www.torontofastpitchclub.com for a more visually appealing TFC experience!
The 16U Bantam Toronto Fastpitch Club program is looking for energetic, athletic and inspired softball players looking to grow and develop under the expert instruction of Robyn Draper! With an extensive softball resume, and the ability to inspire loyalty, work ethic and accountability in her players, Coach Robyn is ready to put an exciting roster together for the 2017 season. For more info on Coach Robyn, please see 2017 16U Bantam Head Coach and Try-Outs- Updated
There will be a general discussion/information session about the program for parents and athletes from 6-7pm due to popular demand. The official try-out will begin at 7pm.
LOCATION: 224 NORTH QUEEN STREET, ETOBICOKE (ACROSS FROM THE HOMESENSE)
Please bring running shoes and your equipment.
Try-Outs for the 2017 season will start as follows:
Wednesday, September 7th at 7pm @ The TFC Training Warehouse
Location: 224 North Queen St., Etobicoke across from Homesense at the private training facility for the Toronto Fastpitch Club. Please wear running shoes and bring water. Pitchers and catchers will be evaluated after a hitting and fitness circuit.
Thursday, September 8th at 8:30pm @ Birchwood Park Diamond 2
Location: 1101 Clarkson Road, east side, just north of Lakeshore Road West, west of Mississauga Road. Please bring water and all necessary softball equipment as pertains to your position.
Friday, September 9th at 7:00pm @ Birchwood Park Diamond 2
Location: 1101 Clarkson Road, east side, just north of Lakeshore Road West, west of Mississauga Road. Please bring water and all necessary softball equipment as pertains to your position.
---
*please visit our new official website www.torontofastpitchclub.com for news and team updates*
Hello All,
As the TFC try-outs start tonight, and I finally get a chance to sit down and address some email questions, I'd like to provide another glimpse into the inner workings of the Toronto Fastpitch Club.
Why does the Toronto Fastpitch Club travel so much?
The TFC prides itself on having an extensive amount of cool stamps in its passport. There was one year where our 16u program dipped its toes in oceans in California, British Columbia and Florida!
Besides the benefit of being an avid tourist, traveling outside of our province exposes our players to different regions and levels of softball. We travel to get a challenging and varied level of competition. We gain our strength by placing ourselves in situations that test us and bring out our character. No one has ever suffered by competing against Nationally ranked teams from California, Georgia, Texas, Florida, etc. A welcomed side effect of this regional exposure is that we are introduced to new college coaches and the opportunities that they provide. As is always the case, we try to find the best competition to prepare ourselves for Provincial and National competition at home.
This traveling also has an added bonus of providing our athletes with a safe, monitored and structured road environment. By making the athletes accountable on the road, this sense of responsibility prepares them for post secondary education and even their life beyond. The program and its coaches help players become better athletes and students. The TFC fosters maturity through academic accountability and planning, fitness, healthy lifestyle and team chemistry-building skills that are not only useful on the ball field, but truly allow players to grow into well-adjusted adults.
2. But who will do her laundry?
While on the road, player-captains take care of uniform choices, laundering and repairs. Grocery stores and Walmarts are plentiful in North America. The players almost always remember to bring laundry soap once they realize their parents aren't there to make sure their socks don't smell. Believe me, road trips really force a student-athlete to decide what is and isn't acceptable in terms of personal hygiene.
3. How much does this cost? 
The registration fee for the TFC is +/-$1750.00 depending on the tournaments that we commit to attend. The registration covers tournament fees, uniforms and field rentals. This doesn't include hotel and flight costs where necessary. However, these costs are split evenly amongst players by putting 4 to a room. In the 2017 season, there will be one tournament that requires flights and hotel, which will be the Colorado Fireworks in Aurora, CO.
4. I've heard you're all tough/mean, is this true? Addressing the rumour mill.
If there's anything that I've learned from growing up in the world of softball in Ontario, what people say about you says more about themselves than it does about you. Oh boy, have we had to develop a thick skin. I've heard it all. The truth is that the players that I have worked with over the years, still come to see me, they still come to practice and they're certainly not afraid to communicate with any of the coaches on this staff. If you've heard otherwise, I invite you to call myself or Alan Spohn to talk about it. The quickest way to the truth is to go to the source. This direct approach works for most, but not all, and that is the reality in this world.
In this program, playing time and positions are earned. No negotiations, no favours, no nepotism, no bull. If you want something in life, you work for it. That is our mandate.
Lauren Spohn 416-910-5642

Alan Spohn 416-684-4931
We have a very loyal and trusting student-athlete network, and I'm proud of each and every one of them and what they have achieved. Please see Program Graduates.
If the walls could talk, you would hear a lot of laughter, followed by a lot of hard work and instruction. If it isn't fun and enjoyable, there isn't a point in doing it. We form a family environment. Families don't always get a long, but they always respect and love each other. These are the life skills that we hope to teach. Communication, respect, discipline and hard work. Above all, love the sport you're planning on dedicating your life to. Set your goals, do your homework, be kind to your team mates and respect yourselves.
As a reminder, the first 18U Try-Out is tonight, September 6th, 2016 at 7pm. 224 North Queen St. Etobicoke, ON. (across from Homesense)
If you'd like to be a part of our program, and you think you have what it takes, please come to tonight's try-out and see what we're all about. If you can't come tonight, but wish to attend another night, please let us know via email or call one of the two phone numbers listed above.
Cheers,
Lauren
---
*the main TFC website is www.torontofastpitchclub.com Please join us there for more updates and way better graphics!*   
With Try-Outs starting next week after Labour Day, the Toronto Fastpitch Club would like to announce its full fall schedule. Come back tomorrow afternoon for a full frequently asked questions post where we will address all of the questions emailed over the course of the last couple of weeks.
The Toronto Fastpitch Club carries a challenging and exciting yearly schedule. The TFC is one of the only programs in Ontario that attends up to three major US Invitation-only tournaments over the course of the year, and also participates in varied multiple fundraising events as well. Tournaments include the Pennsbury Invitational, another major east coast event (TBD), and the Colorado Fireworks. In past years, we have attended the Canada Cup in British Columbia, Champions Cup in California, and various other prestigious invite-only events. For many of these events, our program is the only Ontario entry invited to attend.
Besides team fundraising, players are also welcomed to get their own personal sponsors to help cover travel costs. In order to save money, the coaches work together with parents to provide rides if said parents aren't able to attend. The players are housed 4 to a room under the supervision of the coaching staff. Our summer season plans include at least 4 Ontario tournaments TBD as well in order to fully prepare for Provincials. Coaches are volunteer only, and they take care of their own travel costs.
The Fall schedule is designed to showcase players, give them the collegiate experience, provide campus tours and also give real-time game feed back to help the coaching staff properly plan and execute our Winter and Spring training strategy. It's hard to fix the gaps for the summer if you don't expose them in the fall. Our mandate is to prepare players for provincial, national and college level softball. With a storied history of successful program graduates, this formula is proven by the sheer number of players that have gone on become well-adjusted members of society.
If any of this is mildly interesting or you enjoy a good challenge, please feel free to contact our coaches for more information. Our first 18U try-out is 7pm September 6th at 224 North Queen St. in Etobicoke.
Saturday Sept 17-18: Syracuse, N.Y. two double header scrimmages against upstate NY club teams in preparation of the first leg of our College Tour.
Wednesday Sept. 28  Adelphi University Panthers:  Janet L. Fricke Field -Garden City, N.Y. (NE 10 Champions . Back to Back World Series Appearances NCAA DII)
Thursday Sept. 29 Kutztown University Bears: North Campus Field -Kutztown, Pa. (PSAC Atlanta Regionals NCAA DII)
Friday Sept. 30 University of New Haven Chargers: UNH Softball Field - West Haven, Conn. (NE 10 NCAA DII)
Friday Oct.14 Marshall University Thundering Herd: Dot Hicks Feld  Huntington WV. (Conference USA NCAA DI)
Saturday Oct.15 Kentucky Christian Knights: Championship Softball Complex - Cannonsburg, KY (Independent NAIA)
Sunday Oct.16 Morehead State Eagles: University Field - Morehead KY (Ohio Valley Conference NCAA DI)
October 28-30th Diamond 9 Sun Classic Fall Showcase: ESPN Wide World of Sports Complex in Orlando, Florida.
---
*Please proceed to www.torontofastpitchclub.com for up to date news and releases for the TFC*
The Toronto Fastpitch Club is proud to announce program graduate Robyn Draper as the 2017 16U Bantam Head Coach. Robyn spent several years under Head Coach Alan Spohn as a Brampton Blazer, leaving Ontario for sunny southern Florida to attend State College of Florida, formerly known as Manatee College, a DI Junior College in the NJCAA. Coach Draper finished her college career at NCAA DII Flagler College where she currently ranks in the top ten in multiple softball record categories even though she played her senior year on a torn labrum in her hip.
Her first taste of true international softball came in 2006 when she wore her country's colours playing for the Canadian Junior National Team in the Pan American Games in Puerto Rico. She was also chosen to compete for Canada in the 2007 Junior Women's World Championships in Enschede, Netherlands.
Never one to quit, Robyn rehabbed after her surgery in 2013, going on to play professionally in Haarlem, Netherlands for the Terrasvogels. She helped propel her team to both the Dutch and European Championship, proving yet again that hard work, determination and inner strength can help you achieve any of your goals.
It is this work ethic and love of softball that brings Robyn back to the field in a coaching capacity for the 2017 season. Robyn brings with her extensive softball knowledge, catching expertise, switch-hitting skills, and a welcoming youthful female perspective that really serves the 16-under age group well. She will represent the TFC with pride, and any players that have previously worked with her, enjoy her coaching style immensely.
My teaching philosophy is simple, I always provide an opportunity to develop their skills and create a learning environment that is both challenging and enjoyable. Anybody can win through natural athletic skill or by cheating and cutting corners. This only carries a player so far. Playing with integrity, making the right choices during and after each play, having heart and not making excuses; that is what makes up a successful player. There is no substitute for hard work and passion for the game. With the combination of the right tools, success is inevitable.

-Coach Draper
Robyn will announce her coaching staff in the coming days, so please check back for additional info. If you have any additional questions, please feel free to fill out the form on our Contact Page or email Coach Robyn directly at torontofastpitch.draper@rogers.com.
Try-Outs for the 2017 season will start as follows:
Wednesday, September 7th at 7pm @ The TFC Training Warehouse
Location: 224 North Queen St., Etobicoke across from Homesense at the private training facility for the Toronto Fastpitch Club. Please wear running shoes and bring water. Pitchers and catchers will be evaluated after a hitting circuit.
Thursday, September 8th at 8:30pm @ Birchwood Park Diamond 2
Location: 1101 Clarkson Road, east side, just north of Lakeshore Road West, west of Mississauga Road. Please bring water and all necessary softball equipment as pertains to your position.
Friday, September 9th at 7:00pm @ Birchwood Park Diamond 2
Location: 1101 Clarkson Road, east side, just north of Lakeshore Road West, west of Mississauga Road. Please bring water and all necessary softball equipment as pertains to your position.
---
August 16, 2016 – 05:40 PM
**The TFC have moved announcements to our official website www.torontofastpitchclub.com
Please feel free to follow that webpage for future news and announcements regarding our program.**
TRYOUT SCHEDULE:
 The 18U Midget Toronto Fastpitch Club is pleased to announce the try-out schedule for the upcoming year. With a busy fall ahead, we welcome any interested players and parents to contact us if they have any additional questions. The coaches do appreciate being contacted prior to the try-out dates in order to fully plan and utilize our time. Contact info can be found on our Contact page. If you are interested in trying out, but you are unable to attend these dates, please feel free to contact Coach Alan Spohn to speak directly about other options.
The Try-Out Schedule is as follows:
Tuesday September 6th @ 7pm 
Location 224 North Queen St. Toronto M9C 4Y1. This is the private training facility of the TFC program. It is a 2400 sq ft fully turfed indoor facility that boasts a batting area, cages, mounds and all training and fitness equipment required to field a competitive team come summer.

Please bring running shoes, batting equipment (and bat if possible) and water as this try out will be a combination of fitness plus batting.

*Please note that pitchers and catchers will be evaluated immediately after hitting*
Thursday September 8th @ 8pm
Location Paul Coffey Park (formerly Wildwood Park)
3430 Derry Rd E, Mississauga, ON L4T 1A9
This park is tucked into the Southwest corner of Derry and Goreway Drive. Please bring cleats, water, and all equipment necessary for your position.
Saturday September 10th @ 9am
Location Paul Coffey Park (formerly Wildwood Park)
3430 Derry Rd E, Mississauga, ON L4T 1A9
This park is tucked into the Southwest corner of Derry and Goreway Drive. Please bring cleats, water, and all equipment necessary for your position.
---
Kristin Fealy Named To North East 10 All-Rookie Team Copy
---
Brampton Guardian Article on Amanda Janes
January 10, 2016
Janes heading to Simon Fraser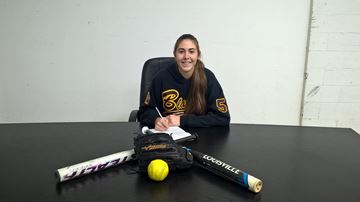 Amanda Janes
Submitted photo
Long-time Brampton Blazer Amanda Janes has announced she is heading to Simon Fraser University in B.C. where she will be joining two other former Blazers on the softball team.
Brampton Guardian
Although she is heading to the West Coast of Canada, Brampton's Amanda Janes should feel comfortable when she begins playing softball at Simon Fraser University in the fall of 2016.
Janes, who has been a long-time member of the Brampton Blazers girls softball program, is joining a Simon Fraser team that already has three other former Blazers: catcher/first base Samantha Ruffett and pitcher Jessica Tate, both currently freshmen, and sophomore shortstop/second baseman Victoria Saunders. Janes has also had several opportunities to visit the campus while playing in tournaments over the years.
While she is happy to be joining some friends, the big attraction is the quality of education she will get at the Burnaby university.
"The education program was the best of the universities I was looking at," she said. Janes, an honour roll student at Brampton Centennial Secondary School would like to go to dental school with the goal of becoming an orthodontist.
Simon Fraser is the only Canadian school that plays a schedule against U.S. schools. Janes said there are benefits of staying in Canada for school, including getting an education that is recognized across the country and not having to worry about how the exchange rate might affect costs.
Janes has played 11 years of softball in the Blazers program. This summer though, she will be joining The Toronto Fastpitch Club 18 Gold, along with a number of former Blazers. That team is coached by longtime Blazer coach Al Spohn.
She has been part of a number of strong teams, wining three provincial gold medals and two silvers and has gone to several national championships. Janes has played catcher, first base and shortstop but catcher is the position she most enjoys.
"When you are a catcher you always have to think about the next play," she said. Last year at the nationals she helped the Blazers finish fourth, batting .379. During the season she had a .368 batting average with 75 hits, including 12 doubles, and drove in 42 runs.
She had a tryout with the junior national team last year and the national coach has kept in touch with herm so Janes is hoping to get another chance this summer.
Simon Fraser head coach Mike Renney said Janes is part of one of the school's best recruiting class ever.
"I first saw Amanda play at the U18 Nationals where she played three different positions in one game, and she played all three very well," said Renney. "The other thing I like about Amanda is that she is a tough out at the plate and she will only get better."
---
Passing of Mark Sanderson
December 21, 2015
Passing of Mark Sanderson
Published by Gilles LeBlanc
Published on December 21, 2015
(Ottawa, ON) Softball Canada is saddened by the news of the sudden passing of Mark Sanderson (Brampton, ON) on December 15, 2015.
A long-time coach in Softball Ontario's Provincial Women's Softball Association (PWSA), Mark was inducted to the Softball Canada Hall of Fame in 2000 as the Manager of the 1995-1997 Chinguacousy Junior Cougars team, which won three consecutive Canadian Championships during those years. He also coached club teams in Brampton and Cawthra, as well as the Universities of York and Toronto of the Ontario Intercollegiate Women's Fastpitch Association (OIWFA). Mark was an Assistant Coach with the Canadian Junior Women's National team from 2002 to 2007, attending two WBSC World Championships over that span. He was always willing to help out the National Team coaching staff as a guest coach at various identification camps and Development Team/Futures events, where his presence and opinions were always valued by coaches and players alike.
Our heartfelt condolences go out to Mark's family and friends, as well as all of the players, coaches and umpires who have had the pleasure of crossing paths with him on the softball diamond.
Click here to view Mark Sanderson's obituary.
-SC-
For more information, please contact:
Gilles LeBlanc
Manager - Marketing and Communications
Softball Canada
(613) 523-3386 ext. 3105
gleblanc@softball.ca
---
Toronto Fastpitch Club is holding its own against some fantastic College Squads in the US. 
Thanks to our hosts Adelphi University (DII) - Garden City on Long Island New York; Kutztown University (DII) in Pennsylvania;  Winthrop University, South Carolina (D1)  and South Carolina State University (D1). Your great hospitality in granting us Campus Tours as well as scrimmage opportunities was very very much appreciated!!!
---
Program Description
With a dedication to player development unparalleled in Ontario, the Toronto Fastpitch
Club is pleased to announce a program that will once again lead the province in the world of
softball.
 In its core design, instruction will be offered in hitting, defence, pitching, and catching in a
consistent format that relies on team work, dedication and a mutual understanding of what it
takes to be apart of a successful program.
 The volunteer-based instructors will be using the same techniques seen previously with the
National Team and US College programs. Your instructors are a group of qualified, expert
coaches and trainers with years of proven performance and experience.
 This program also places greater emphasis on the progressive fitness and strength training
of our athletes through-out the off season. On top of the physical aspects of the game, our
athletes will be introduced to the mental aspect of sports and its impact on their game as they
continue to reach milestones.
 The TFPC team will be entered into top competitive tournaments in the US and Canada. They
will travel together whenever possible. We will strive to deliver a tournament schedule that will
prepare us for our own Ontario and Canadian Championships. All of our tournaments will also
provide exposure for those players who have aspirations of playing for the National team as well
as US College ball.
 With the close of a solid 2015 season upon us, we plan to build on the success our team has
seen this year to carry us directly into the future.
The mandate of our program is to develop elite level athletes with the ability to compete at the
National and Collegiate level.
*****See the "Coaches Qualifications" section/tab to see their TEAM ACCOMPLISHMENTS*********
All coaches are volunteers and receive no renumeration.
---
Fall Season: September through October
Weekly practices ( Wildwood Park, Malton)
Fall Tournaments:
Post Season: November through January 15th: All practices shut down for off-season
Personal two x a week physical conditioning + Home program
Training for Xmas College Camps if required
Pre-Season Workouts: January through the end March
Pitchers and Catchers:
♦ dedicated one - on - one coaching twice a week (Indoor Gym)
♦ Strength training specific to your position
All positions:
♦ Weekly 2 hour one - on - one dedicated hitting slot
♦ Weekly 2 hour speed training and defensive skills ( School Gym & Soccer Facility)
♦ Comprehensive at home training / fitness program with monthly testing
♦ Guest NCAA Coaches and players
Pre-Season practices: April through mid May
♦ Dedicated 2 hour slots twice weekly
♦ On going dedicated Physical Training
♦ Organized exhibition games.
In-Season Activity:
♦ Twice weekly, week night practices (Tuesday & Thursdays)
♦ Organized Exhibition game schedule –mostly at home
♦ Tournament Schedule to include:
Three Ontario Tournaments in May
Four major US competitions (Columbus, Ohio; Pennsbury-Yardley PA.; Team New Jersey Summer Showcase;  & Champion's Cup - Irvine California)
 PWSA Grand Championships
Softball Canada Nationals – must qualify
---
Experienced Coaching Staff
Alan Spohn- Head Coach (alanspohn@rogers.com)
•NCCP Level III Softball.
•Over 25 years of coaching experience.
•Coaching girls' rep softball since 1995.
•Teams have captured Eight Provincial Championships since 1995
•Teams had qualified for 13 National Appearances in a row between 2000 -2007 - 2011 -2015
•National Gold, Silver & Bronze winner
•Team captured the 1999 Eastern Canadian Tier 1 Novice Championship.
•Has had 8 players advance to the Junior National Program & 4 players to the National Team
•Since 2003 has helped advance 36 players to US College Ball.
•2010/11 PWSA U16 Coaching Staff
•Every Midget Graduate player has attended Post Secondary Education
Jocelyne Volpe-Associate Coach  (jvolpe03@gmail.com)
NCCP Level II Softball.
Over 30 years of player/ coaching experience.
As a Player: Five-time Softball Canada National Champion
As a Coach: Eight Years of Rep  Experience
Member of 2015 Team Ontario Support Staff
Lauren Spohn Pitching Coach & Associate Coach
Iona College D1
Softball Canada Junior National Team
Head Coach Humber College Hawks Varsity Softball Team
Softball Canada National Champion
Mark Sanderson-Associate Coach
NCCP Level III Softball.
Over 25 years of coaching experience.
Multiple National Championships
Chinguacousy Junior Team is a Member of the Softball Canada Hall of Fame
2007 Softball Canada Junior National Team Head Coach
2009 Team Ontario Summer Games Team Head Coach
Brian Robertson - Associate Coach
NCCP Level II Softball.
Over 15 years of coaching experience.
9 years experience coaching University Softball, 8 years as Head Coach
Began coaching midget girl's rep softball in 2001
President of the Ontario Intercollegiate Women's Fastpitch Association from 2006 -2011
Mike Smuk - Associate Coach
NCCP Level II Softball.
Over 25 years of coaching experience.
Multiple National Championships
Libby Norris-Varsity Trainer
BA – Communications and Phys ed – now working on Masters in Communications
Fitness Expert – CTV
Corporate Wellness Consultant
Instructor – Exercise Science & Health Promotion, Sheridan College
Professional Speaker – healthy workplace, lifestyle, motivation and communications
International Fitness presenter and Master Trainer – Reebok U; Bender Ball, Drums Alive
Certified Personal Trainer and Group Ex instructor
Dean's Advisory Council – Wilfred Laurier University Science Department
Advisory Board – Can Fit Pro
NCCP Level 1 – of the fastball coaching program
Ex amateur boxer and certified boxing coach
Chris McColl - Pitching Coach
Long time International Softball Congress pitcher
Recipient of the Hazel McCallion Sportsmanship and Dedication Award in recognition of his stellar MFL career.
Over the years, Chris has won both the Playoff MVP and Most Valuable Pitcher award.
Mainstay of the Mudcats pitching staff since the early 1990s.
With our staff Since 2003
Shannon Robinson Catching (Coach At-Large)
Valparaiso University D1
Softball Canada National Elite team
Brampton Blazer 2002 - 2007
Assist. Coach 2011 Bantam Blazers
Softball Canada National Champion
Lisa Kingsmore Outfield (Coach at Large)
Winthrop UniversIty D1
Three time ESPN The Magazine/CoSIDA Academic All American
NFCA All-American
Big South Conference Woman of the Year
Brampton Blazer 1996 - 2007
---
Tryout Information
The Toronto Fastpitch Club would like to thank all athletes that came to our tryouts.  The team is selected and our fall season has begun.  However, if you would like to be considered you may contact us
647-230-2134
"Never allow the fear of striking out keep you from playing the game!" - Babe Ruth