Trinity County Only Semi Pro Baseball Team
Playing all of Northern California
Our Home Field is Trinity High School
Our Players are Home Grown
Thanks to Trinity River Lumber

The number 7 Jersey retired May 14, 2011 @ 11.00 God Bless Darrel Hanger a true hero and Ryan Hanger #8 get well from us.
---
TRINITY RIVER LUMBERJACKS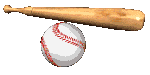 THE LUMBERJACKS ARE PLAYING WITH WOOD BATS AND STEALING BASES.
THIS IS NOT SOFTBALL.
EVER HIT WITH A WOOD BAT
LABEL UP OR LABEL DOWN?
WANT TO KNOW ABOUT A WOOD BAT ASK A LUMBERJACK!
530-623-0892