Welcome to the Home of The Horizon League
"Where the sky is the limit!"
$5 Horizon League Car Magnets @ www.acworthparksandrec.org

Horizon 

B I N G O Night
Join us at the Acworth Beach House for great fun, food, and games! Celebrate the super bowl early and wear your favorite football team gear!
Thursday, January 25th at 6:00 p.m.
This program is specifically designed for participants with developmental and/or physical disabilities ages 13 and older. Limited to 20 participants. Fee is $5. 
---
---
Horizon Adapted Yoga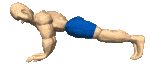 When: Wednesday, February 7- March 7
Where: Cauble Park Beach House (4425 Beach Street)
Time: 6:30 p.m. - 7:30 p.m.
Age: 13 and up
Cost: $8.00
Registration Deadline: Friday, February 2
Register online at www.acworthparksandrecreation.org
For more information, please call Acworth Parks, Recreation and Community Resource Department at 770-917-1234.
---
---
Inclement Weather Policy

In the case of inclement weather, please check this website. If we encounter bad weather, you can call the Parks and Recreation office (770) 917-1234,1 hr. prior to your scheduled game.
If the website or recording has not been changed, always assume you are playing.
---
ADA Compliance
Acworth Parks and Recreation Department believes that all individuals should be provided with leisure opportunities that allow for performance at their highest level of ability. We welcome people with disabilities into our recreation programs through specialized programs. We will comply with the Americans with Disabilities Act (ADA), which prohibits discrimination of programs, services, and activities for individuals with disabilities. In order to best accommodate your individual needs we ask that you let us know of any accommodations needed at the time of registration and/or at least 48 hours in advance of a program. Please contact Lauren Ham, CTRS, CPRP at 770-917-1234 or lham@acworth.org for further information on accommodations or program opportunities.


---