Visit us on Facebook!
Get ready for 3v3 action in Joyce park in 2017!
Check Facebook for tons more photos of our events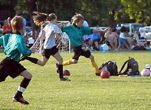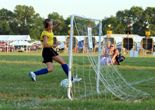 Cincy 3v3 - Cincinnati's Original Youth 3v3 League
We're proud to present Cincinnati's best 3v3 soccer! 
Now in our 9th year...
The 2017 Cincy 3v3 league has now concluded.  Thanks to all teams, families and players for another great season of soccer!
Cincy3v3 2017 Season Event Schedule:
Week 1:  June 12th
Week 2:  June 19th
Week 3:  June 26th
Week 4:  July 10th
Week 5:  July 17th
Rain out date (if needed):  July 19th or 24th
Be sure to check us out on Facebook!  Photos, info and more! 

 Cincy 3v3 2017 League rules

Find out more about the league, including FAQ's
---
Some 3v3 action photos from 2017 week 4:
2017 Photo Contest: Grab your camera (or phone), snap pics of your team in action and submit your entry today!  The best photos capturing the Cincy3v3 atmosphere can win prizes!  Send all entries to cincy3v3@gmail.com    
To see 2016 photo contest entries, check out our Facebook page.  For previous years, see the photo contest gallery portion of this site. 
---
Cincy 3v3 is proud to recognize its Official T-Shirt sponsor: