Spring 2019 Team Tryouts Coming in August!!!
Tryout Registration Is Open!!!
Thank you to Matt Alsip
On behalf of the Hereford Travel Baseball Program, many thanks to Matt Alsip who held the reins as Commissioner of the Hereford Travel Baseball Program over the past three years. Matt is an extremely dedicated volunteer who worked tirelessly for the betterment of Hereford Baseball. Thank you again Matt for all of your efforts!
Contact Commissioner Bob Oler at rolerhtb@gmail.com for future inquires.
---
Tryout Registration Is OPEN!!!
Registration is now open for Hereford Travel Baseball's Spring 2019 team tryouts (9U - 14U) and 8U Clinic.  Click on the link to the right and follow the instructions to sign up. 
Tryouts will be held in August at Hereford Middle School and Hereford High School.  The 8U Clinic will be held at Hereford Middle School.  The schedules are posted under the "Spring 2019 Team Tryouts & 8U Clinic Schedule" tab, found above.
There is no cost to try out for a team.  Attending one tryout session is required to be eligible to make a team.  Attending two sessions is encouraged.
Each age group will have a Fall program in September and October following tryouts for players who make the Spring 2019 teams.  The nature of the Fall program will be determined by each team's manager.
There is a $50 fee for the 8U Clinic (three sessions).  If there is sufficient interest among players and coaches to form an 8U team in the Spring, separate 8U tryouts will be held in September or October.
Thank you.
---
Hereford 9U Wins in Essex!
Congratulations to our 9U Hereford Bulls.  Coach Casey and his squad won a championship at the Essex Father's Day Tournament.  Go Bulls!
---
Cooperstown 2019
The Hereford Bulls are headed to Cooperstown in 2019!!!  This week-long 12U tournament in upstate New York will allow our players to compete with high-level teams from across the country.  It is a baseball lover's dream and should be the experience of a lifetime for our players.    
Our 11U team (DeSantis) will be the first Hereford team to participate at Cooperstown in many years.  We hope to get the support of the Hereford community behind our team.  
To become a corporate sponsor, or make a personal pledge, click on Handouts page under the Forms tab on the menu bar located above.  Go Bulls!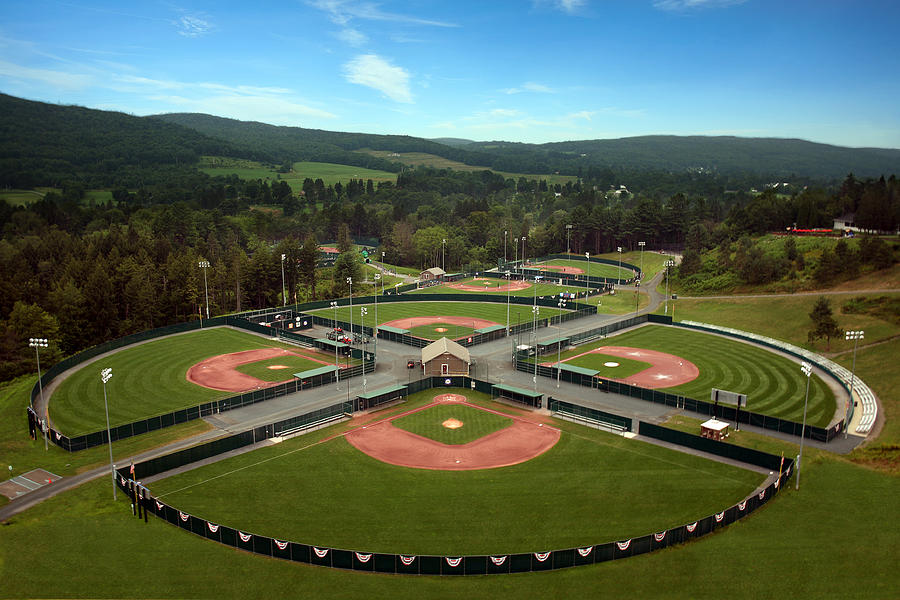 ---
1st Annual Hereford Babe Ruth Classic
On Saturday, March 31, our 11u (DeSantis) and 12u teams enjoyed a great day of baseball at Babe Ruth Field in Baltimore.  This is the same field where Ruth learned to play the game while attending St. Mary's Industrial School for Boys, and it is the field where Cardinal Gibbons High School used to play.  The facility is fantastic, the weather was great, and the boys had a great scrimmage.  Go Bulls!
---
Hereford Travel Baseball Mission Statement
Hereford Travel Baseball is the premier baseball organization sponsored by and affiliated with Baltimore County Parks * Recreation and Hereford Zone Recreation & Parks Council. We are comprised of a completely volunteer Executive Committee and coaching staff.
The goals of Hereford Travel Baseball are to teach the fundamentals of the nation's pastime to our Hereford youth, provide enhanced skill development, and play at a high level of competition. Our players build their baseball IQ and have fun along the journey.
Go Bulls!
"It's not practice that makes perfect... but perfect practice that makes perfect." 
"If we do all the little things right, then we'll never have a big thing to worry about."
"Baseball's just a walk of life. Everything you do in this game you do in life. And everything you do in life you do in this game." - Cal Sr.