Every time I turn off of Old Spanish Trail onto Terrace Avenue, the memories come flooding back.
And if you grew up in Slidell, or if you are growing up in Slidell, that sentence probably makes you think of playing youth sports, too.
For me, they start back in the 1970s, when I was a regular at the Slidell Bantam Baseball Association fields located just off Terrace Avenue. Baseball was my sport, though I did give football a shot sometime around 1980, I guess.
The experience was pretty strange, to say the least. I was the youngest and smallest kid on the team, and I played offensive guard. That's the position usually reserved for the guy who eats two school lunches, not the one who looks like he might have his lunch money taken by the schoolyard bully.
But I digress.
My football team was named the Cajuns, which is as apropos as any mascot name around south Louisiana. We had a kid on the team who went on to play major college football. The quarterback handed the ball to him on every play, which usually resulted in a touchdown run.
The Cajuns went undefeated during my one year of football, which probably makes me one of the few people on Earth who can say he "retired" from the sport with an unblemished record.
Those are my memories of playing at the Slidell Youth Football Association, and they are quite vivid, honestly, given that they harken back nearly 40 years.
I wondered about the memories being made by hundreds of other young children when I visited the SYFA fields (also just off Terrace Avenue) on Aug. 20. That was the opening day of the 2016 season, and as usual, the first day of the season is one of excitement and anticipation.
About 700 youngsters ages 5-12 are suiting up at the SYFA this year. There are about 30 teams in four age brackets – 5-6, 7-8, 9-10, 11-12. They vary in size and shape, and in ability and tenacity. But they all seem to be having fun, and that's what youth sports is all about.
Football is thought of as a cool-weather sport, and just about all of us have huddled underneath blankets on half-frozen metal bleachers, cheering on a brother or a boyfriend though chattering teeth. But Aug. 20 was not one of those days. It was hot and humid, and seemingly more suitable for the beach than the ball field.
But again, no one seemed to mind, as helmets bobbed like inflatable toys floating on a hazy ocean of green grass, hemmed in by a multitude of cheering parents.
The SYFA regular season will continue through Oct. 22, and the championship games in each age group will be held soon thereafter. Those title matchups will be held at a local school; either Northshore, Salmen or Slidell High.
The location is to be determined, much like the memories of the boys who will be playing football this day.
Some of them will turn out to be like my teammate, who was handed the ball on every play and ran for a touchdown. Others will turn out more like me -- the undersized kid in the oversized shoulder pads.
Some will switch to baseball, and some will stick it out in football. Maybe they'll be dads one day, too, much like the ones rooting for the home team on the sideline this sticky August day.
Whatever happens, they're all making memories. And that's what counts, most of all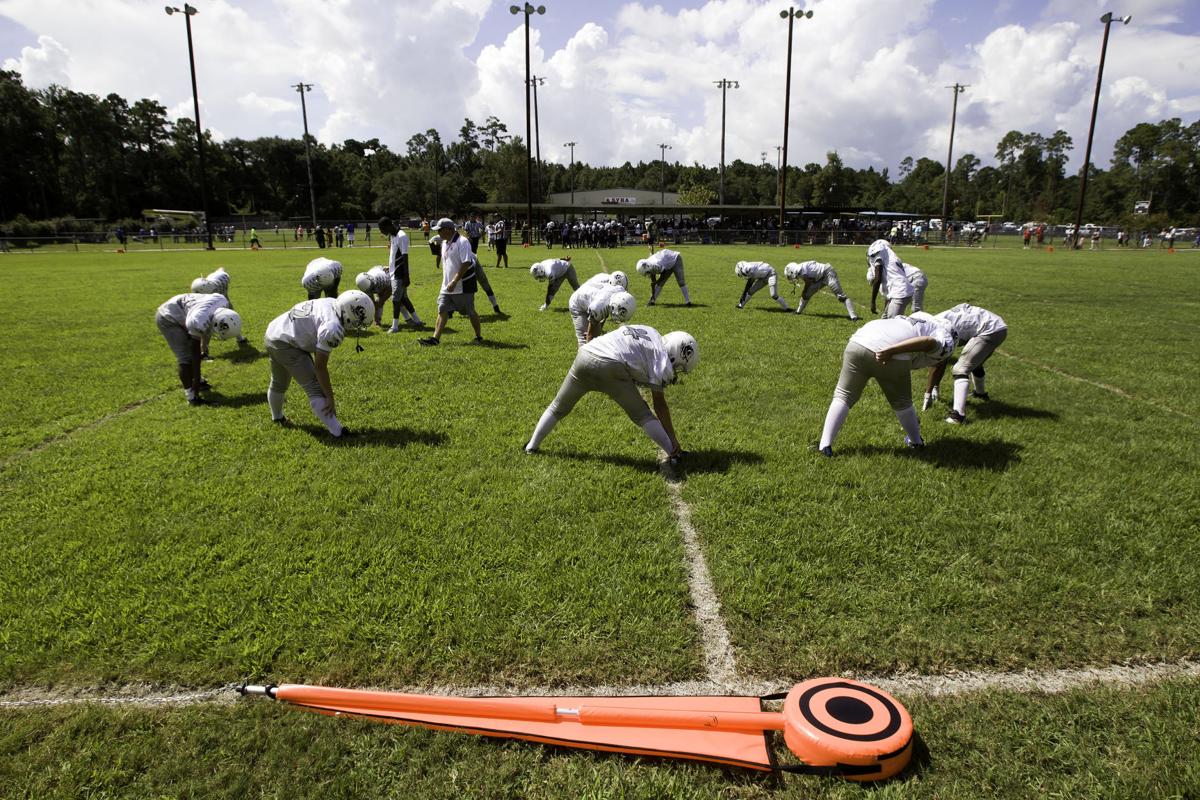 Members of the Division 3 Ducks stay loose during am injury timeout on Aug. 20 during Slidell Youth Football Association opening day.
---
---