TX-ABL, THERE'S NEVER AN OFFSEASON!!!!
THESE ARE THE 2012 TEXAS AMATEUR BASEBALL FEDERATION SUMMER LEAGUE CHAMPIONS!!!
2012 released players
Jerry Sillivan Released by 25+ Rangers 4/29-- Claimed by 25+ Nationals
Colon Weaver Released by Bulldogs 5/20-- Claimed by 18+ Rangers
Austin Caldwell Released by 18+ Giants 6/3-- Claimed by 18+ Rangers
Jacob Mercer 6/17-- Free Agent
Jason Crafton Released by 25+ Naionals 6/28-- Claimed by 25+ Cubs
8TH ANNUAL 4TH OF JULY COWTOWN CLASSIC BASEBALL TOURNAMENT
July 6, 2012 TX-ABF 7TH ANNUAL 4TH OF JULY COWTOWN OPEN WODD-BAT TOURNAMENT

ONCE AGAIN, IN 2012 THE COWTOWN CLASSIC WILL BE PLAYED IN NORTH TEXAS, DUE TO 4TH OF JULY LANDING ON WEDNESDAY THIS YEAR, WE WILL PLAY ON FRIDAY JULY 6TH, SATURDAY JULY 7TH, & SUNDAY JULY 8TH.

3 GAME MINIMUM

GAME BALLS PROVIDED


PLAY AT LOCAL PARKS & HIGH SCHOOLS

SEVEN INNING GAMES.

MLB PLAYING RULES(some modified batting rules).

COST: $45 PER PLAYER

TEAM AWARDS:

FIRST PLACE
------------------
TEAM TROPHY
TEAM MVP AWARD
3 WOOD-BATS
1 DOZEN D-1 DIAMOND BASEBALLS

SECOND PLACE
-------------------
TEAM TROPHY
1 WOOD-BAT
1 DOZEN BASEBALLS

REGISTRATIONS OPENS 6-1-2012 AND ENDS JUNE 23RD, 2012.
FIRST 8 TEAMS WILL BE ACCEPTED.

WHO'S COMING!!

NTX GIANTS (ORANGE)
DALLAS PATRIOTS
PLANO PHILLIES
NTX GIANTS (BLACK)
DFW DRAGONS
WACO COLTS


CALL ME 817-862-1227 FOR RESERVATIONS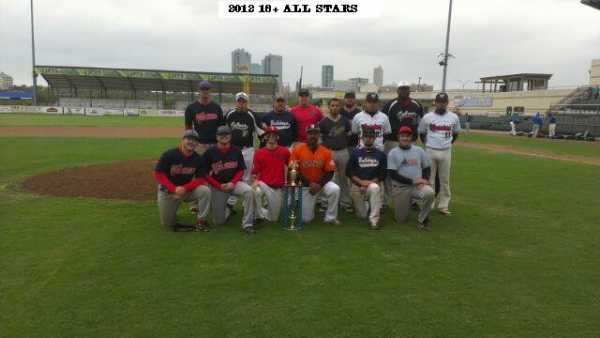 2012 (18+) National Division Champions: FW Vaqueros
Congrats, to the 2012 FW Vaqueros on having a great season. The Vaqueros took the most post season awards of any team in 2012, the Had the 18+ League MVP, and Manager of the Year Award and won their division easily. In 2013, the Vaqueros will move up to the Premier Division to compete against some of the best teams DFW has to offer. Once again, Great season and we will see you in 2013.
2012 (18+) Texas Amateur Baseball League Champions: DFW Rangers
The 2012 DFW Rangers are this years League Champions, they proved to be this seasons best team in the Texas Amateur Baseball Federation. This is a young team that was hungry to win a championship, they beat the best teams that DFW has to offer, and they will continue to be a force for many years to come. Congrats, to Adrian Cital on winning his 1st Championship!!!
2012 All Stars @ LaGrave Field.
It was cold, but we had a great time playing at the historic LaGrave Field in downtown Fort Worth. Big thanks to the Fort Worth Cats for allowing us to be a part of LaGrave Field history in 2012. We had a few Spring Training Contracts offered to some of the players that played in the All Star Game.

Thanks to these managers for managing and making sure that all the players received equal field time. 25+ Team Lewis Horton and Jon Beggerly, and for the 18+ Team Kevin West and David Poe.

WINTER LEAGUE 2012/2013 REGISTRATIONS ARE OPEN!!!
Individual Players interested will need to sign up by November 25th, to be eligible to play. Don't miss out, the 2012/2013 Winter League will start on 12/1/2012 and it will go end in early February.

Here are some more details:

Cost per Individual Player: $75

What does this fee cover?

(1) 10 Game Season
(2) Umpire Fees
(3) League Fees
(4) Team T-Shirt
(5) Game balls

The average cost is less than any other league in North Texas. You must sign up before the deadline expires!!

All Games will be played in Fort Worth and Arlington.

If teams are interested on joining, the cost per team is $450, this does not include umpires fees, game balls, or team t-shirts.
2012 Fall National West Division Playoffs are Set and they will start this Weekend..
This Fall Season, the National West Division was very competitive and it came down to the last game of the season. The Lonestars will face the Outlaws this weekend to kick off the 2012 Fall Season Playoffs.

Game #1 Saturday(11-17-2012) @ South Hills HS.

Game #2 Sunday(11-18-2012) @ South Hills HS.

Game #3 Sunday(11-18-2012) @ South Hills HS.

Good Luck to Both Teams!!
2012 SPRING/SUMMER LEAGUE ALL STARS @ LaGrave Field
2012 TEXAS AMATEUR BASEBALL FEDERATIONS ALL STARS!!
2012 WAS A GREAT YEAR FOR OUR BASEBALL LEAGUE, WE CROWNED NEW CHAMPIONS AND HAD NEW BASEBALL STARS COME INTO OUR LEAGUE. THE 2012 ALL STAR GAME WAS HELD AT THE HISTORIC HOME OF THE FORT WORTH CATS, LaGrave FIELD IN FORT WORTH, TEXAS. EVERYONE HAD A GREAT TIME ON A COLD DAY AT LaGrave FIELD. MANAGERS (18+ KEVIN WEST & DAVID POE-- 25+ LEWIS HORTON & JON BEGGERLY) FOR THE BOTH TEAMS DID A GREAT JOB ROTATING ALL THE PLAYERS THAT WERE SELECTED TO THE ALL STAR GAME. WE ARE BLESSED TO HAVE GREAT MANAGERS AND PLAYERS THAT HELP US ORGANIZE OUR BASEBALL LEAGUE.
2012 WILL BE A BANNER YEAR FOR THE TX-ABF.. HERE ARE THE 2012 INDIVIDUAL SEASON AWARDS:
18+ PREMIER MVP- NTX GIANTS - ROB JOHNS
18+ NATIONAL MVP - FW VAQUEROS - DUSTIN LOONEY
25+ PREMIER MVP - BURL. BULLS - BRETT BARKLEY
25+ NATIONAL MVP - DFW COBRAS - JASON
18+ MANAGER OF THE YEAR: FW VAQUEROS - KEVIN WEST
25+ MANAGER OF THE YEAR: FW CUBS - DAVID ARCHULETTA
2012 ALL STAR GAME MVP: BURLESON BULLS - BRETT BARKLEY
CONGRATS TO ALL THE INDIVIDUAL WINNERS!!
2013 ROOKIE LEAGUE WILL BEGIN MAY 19TH.
In 2013 we will kick off the new division called the Rookie League... This Division is for players that need to get back to playing baseball or have limited experience.
The Division will play twice a week. Tuesdays and Saturdays.
The only game that will be played on Sunday will be Opening Day on May 19th. The season will be a 13 Game Season and the cost will be $150 per player. This cost will include jersey, league fees, insurance, umpire fees, and team equipment. All games will be played in Tarrant County. Also, the Rookie League will be an Aluminum Bat League. Players that are interested will need to sign up online and the sign up deadline will be May 10th.
In Memory Of Daniel Winstead!!
Daniel Winstead was a Proud Member of the DFW Rangers. He was the type of player that was always a pleasure watching him play, because was the one of the best players on the field every single week. Daniel came into the league in 2011 as a member of the NTX Nationals and led them to the Fall National League Championship Game, then he moved to the DFW Rangers where he won the 2012 Premier League Championship as a member of the DFW Rangers and also won a Summer League Collegiate Championship. Daniel was a great pitcher, he was the kid that you enjoyed watching his skills on the field, he was always respectful to his coaches and he met a lot of great friend in his time in our Baseball League. Daniel had a great passion for the game and he looked forward to every single game, he wanted to be on the field 24/7.
Daniel also played a few seasons with the FW Bulldogs and Arl. Texans.
 Arrangements for Daniel Winstead:
Visitation: July 1, 2013.. 5pm - 7pm.
Wayne Boze Funeral Home
1826 W. Hwy 287 Business
Waxahachie, TX 75165
Funeral: July 2, 2013... 11AM.
First United Methodist Church in Red Oak, Texas.
Yovani Gallardo is ready to be the Brewers Ace in 2009...
NOW YOVANI IS THE ACE OF THE BREWERS AND HE SHOULD PROVE WHY WE TALK SO MUCH ABOUT THE MAJOR LEAGUER THAT 2 YEARS AGO WAS PITCHING IN OUR LEAGUE. WE ALWAYS FELT THAT THIS KID WOULD BECOME A FUTURE CY YOUNG AWARD WINNER. GOOD LUCK From everyone in Fort Worth Amateur Baseball League wish him the nothing but success.
F.W.A.B.L.
EFREN
NTX GIANTS ARE THE 2008 FALL/WINTER CHAMPIONS.

KELLEY SPORTS IS NOW A MEMBER OF FWABL
TODAY AUGUST 30, 2009 KELLEY SPORTS HAS JOINED FWABL. THE KELEY BRAND WILL BE SEEN ALL OVER THE LEAGUE, WITH THEIR NEW STORE THAT OPENED IN ARLINGTON ALL BASEBALL NEED WILL BE THERE FOR ALL THE MEMBERS TO ENJOY. THE LINK HAS A SPECIAL COUPON FOR ALL MEMBER AND VISITORS TO OUR BASEBALL LEAGUE. TRY IT AND SAVE!
click on this site and print the coupon.
OFFICIAL SITE OF THE ARLINGTON STORE: www.arlington.kelleyusa.com
2010 LEAGUE RULE CHANGE

2010 FWABL League Rule Change.
Effective immediately the league Insurance Policy will no longer allow any non-players or non-registered baseball attendees in the team dugouts. This will be monitored by umpires and league commissioners.
Failure to comply with the new rule may result in a forfeiture of the game and or fines imposed on the teams that allow these actions to continue.
FW-ABL 2009/2010 AWARDS....

FW-ABL 2009/2010 FALL/WINTER LEAGUE AWARDS
LEAGUE CHAMPIONS: FW BULLDOGS
LEAGUE RUNNER-UP: FW ROCKIES
LEAGUE MVP: (FW ROCKIES) MARIO AVILA 9-1 2.52 ERA.
MANAGER OF THE YEAR: (FW RED RAIDERS) THOMAS COOK
FW-ABL PREMIER DIVISION ALL STAR TEAM @ LAGRAVE FIELD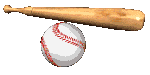 DALLAS ABL ALL STARS (5) FW-ABL ALL STARS (1).
THIS WAS THE 1ST ANNUAL FW-ABL -VS- DALLAS ABL OPEN DIVISION ALL STAR SERIES. FORT WORTH WAS DOWN EARLY AND NEVER RECOVERED, A FEW DEFENSIVE MISTAKES WERE THE DIFFERENCE, BUT PITCHING WAS REALLY DOMINATING ON BOTH SIDES. WE WILL HAVE THIS EVEN AGAIN NEXT YEAR.
2010 FW-ABL CHAMPIONS
2010 FW-ABL WALL OF CHAMPIONS
SPRING/SUMMER 18+ PREMIER LEAGUE CHAMPIONS: NTX GIANTS
SPRING/SUMMER 18+ NATIONAL LEAGUE CHAMPIONS: FW D-BACKS
SPRING/SUMMER 25+ SENIOR LEAGUE CHAMPIONS: DFW PADRES
SPRING/SUMMER MANAGER OF THE YEAR: DFW PADRES TIM ADAMS
SPRING/SUMMER OFFENSIVE PLAYER OF THE YEAR: NTX GIANTS ROB JOHNS
SPRING/SUMMER PITCHER OF THE YEAR: HEB WHITE SOX BRETT FROST
SPRING/SUMMER SPORTMANSHIP AWARD: FW D-BACKS GABRIEL TORRES
----------------------------------------------------------------
FALL/WINTER LEAGUE CHAMPIONS: NTX GIANTS
NO INDIVIDUAL AWARDS FOR THE FALL/WINTER SEASON...
FALL LEAGUE POST-SEASON TOURNAMENT
ALL POOL GAMES WILL BE 7 INNINGS AND WILL BE PLAYED ON TIME LIMIT AND RUN RULES.
TIME LIMIT: 2 HRS 30 MINS.
RUN RULES: 10 AFTER 5 INNINGS
1) YOU CAN BAT YOUR ENTIRE LINEUP OR BAT AT LEAST 10 BATTERS. OR YOU CAN USE BATTER A&B. TO GET ALL YOUR GUYS PLAYING TIME.
2) 2 NON RUNNERS. AND YOU CAN RUN FOR THE PITCHER AND CATCHER AT ANY TIME.
3) YOU CAN SWITCH IN AND OUT ON DEFENSE AT ANY TIME.
4) AFTER FOUR GAMES THE BEST 2 TEAMS WILL PLAY IN THE CHAMPIONSHIP.
(HERE ARE THE TIE-BREAKERS)
1. HEAD TO HEAD
2. TOTAL AMOUNT OF RUNS SCORED.
3. TOTAL AMOUNT OF RUNS ALLOWED.
THANKS
FW-ABL
7TH ANNUAL COWTOWN CLASSIC SCHEDULE
2011 COWTOWN CLASSIC BASEBALL TOURNAMENT IS A ROUND ROBIN TOURNAMENT.
THE TOP 2 TEAMS WILL FACE EACH OTHER IN FOR THE CROWN ON MONDAY JULY 4TH.
SCHEDULE
--------------------------------------------------------------------------
FRIDAY 7/1/11
FW REDHAWKS -VS- NTX GIANTS 6PM @ DIAMOND HILL HS
--------------------------------------------------------------------------
SATURDAY 7/2/11
WACO COLT '45 -VS- DABA BARRACUDAS 11AM @ TEXAS WESLEYAN
TX TIGERS -VS- DABA BARRACUDAS 1:30PM @ TEXAS WESLEYAN
WACO COLT '45 -VS- NTX GIANTS 4PM @ TEXAS WESLEYAN
FW REDHAWKS -VS- TX TIGERS 5PM @ DIAMOND HILL HS
--------------------------------------------------------------------------
SUNDAY 7/3/11
DABA BARRACUDAS -VS- NTX GIANTS 10AM @ TEXAS WESLEYAN
WACO COLT '45 -VS- TX TIGERS 12:30PM @ TEXAS WESLEYAN
WACO COLT '45 -VS- FW REDHAWKS 3PM @ TEXAS WESLEYAN
DABA BARRACUDAS -VS- FW REDHAWKS 5:30PM @ TEXAS WESLEYAN
NTX GIANTS -VS- TX TIGERS 5PM @ DIAMOND HILL HS
--------------------------------------------------------------------------
MONDAY 7/4/11
CHAMPIONSHIP GAME
TEAMS TBA 1:00PM @ TEXAS WESLEYAN UNIVERSITY