Director of Operations/Head Coach

Coach Rick Meza grew up in Sugar Land, Texas where he grew up playing baseball and being taught by members of the Houston Astros. When he graduated high school, he joined the U.S. Army and played for the U.S. Army baseball team. He was also a member of the U.S. Army baseball team while he was stationed in Germany. He also played AAA baseball for the California White Sox program. Coach Rick Meza is a U.S. Army veteran who served his country for 25 years Active Duty. Meza was deployed to Baghdad, Iraq from 2004-2005. Meza has over 30 years of coaching experience with over 10 years of experience coaching softball and baseball at the middle and high school level. He coached softball at Norman High School from 2002-2004 prior to being deployed. He also coached high school baseball at NW Classen High School from 2005-2018 for 10 years where he was also the JROTC Instructor. He coached middle school softball at Taft Middle School from 2011-2014. 
Coach Meza started the Blaze (Building Lady Athletes with a Zeal for Excellence) in 2002 when it started as the Norman Blaze. In 2004, the team transitioned into more than kids from Norman and became the Oklahoma Blaze. The team remained until 2007 when the doors were closed and Coach Meza went on to coach for the Oklahoma Angels Baseball program. After his daughter graduated college in 2010, she kept bugging him to start the Blaze back up and become a father/daughter coaching duo. In the fall of 2012, he gave in and the Oklahoma Blaze 18U was re-formed. In 2014, the program grew to two teams and expanded over time to our max 4 team program that we have today. 
Associate Head Coach 
Candice "Meza" Eades is the daughter of Rick Meza. Candice has lived in Jacksonville, Arkansas; San Antonio, Texas; Northridge, California; and Anaheim, California before moving to Norman, Oklahoma around the age of 10 years old due to military moves as a family. She played softball on varsity for three years at Norman High School and played for the Norman Blaze from 2002-2004 before becoming the Oklahoma Blaze in 2005. She finished out her Blaze career through 2007. Candice went on to play college softball at NAIA Mid-America Christian University from 2006-2010. She was awarded the second player in school history at MACU to play all 4 years at the school. Candice played 1st Base and Outfield for Mid-America. 
Candice graduated from Mid-America Christian University in 2010 with a Bachelors of Science in Behavioral Science and went on to graduate school at MACU towards her Masters in Counseling for Marriage and Family Therapy. She has also earned certifications and taken courses at Francis Tuttle for Accounting - Bookkeeping. Following college, Eades worked in inpatient mental health with adolescents age 12-17 who were experiencing emotional/behavioral difficulties as Direct Care Staff II leading individual and group therapy sessions. She also worked for two years in outpatient mental health working with the severely mentally-ill homeless population and homeless families in need as a Supported Housing Specialist/Case Manager II. Candice currently works at the USA Softball Hall of Fame as Event Staff managing and running tournaments including the Women's College World Series. 
Candice was named Head Coach of the Taft Middle School team for two years from 2012-2014. She has been coaching for the Oklahoma Blaze program since 2012.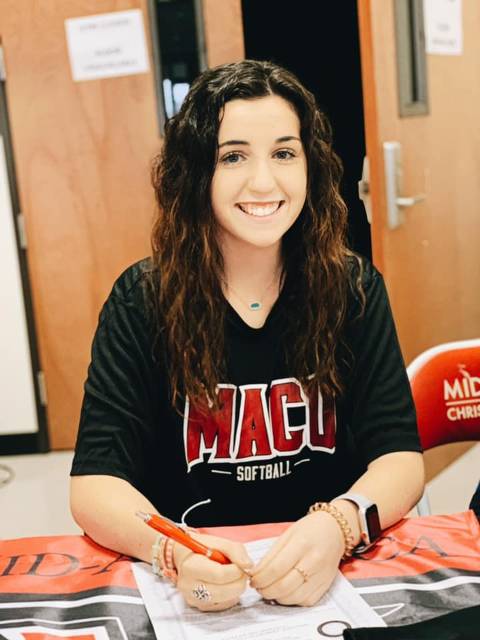 Coaching Staff

Adyson Bradley is from Guthrie, Oklahoma where she played softball at Guthrie High School. Bradley played for the Oklahoma Blaze 18U Prospect team during the 2017-2018 season and played for the Oklahoma Blaze 18U team for the 2018-2019 season. Bradley is the 2018 season Best ERA holder as she pitched a 2.333 ERA for her Senior year under Blaze. Bradley played 3rd base, middle infield, and pitched for the Oklahoma Blaze. She earned the MVP award during her senior nationals in Panama City Beach for her outstanding defense at shortstop during the tournament for the 18U team. Bradley received several scholarship offers including NOC-Enid, Oklahoma Wesleyan, Iowa Lakes Community College, and Western Oklahoma State College. For her Freshman year of college, Bradley played at Western Oklahoma State College as an outfielder. She transferred to NAIA Mid-America Christian University for the current year where she plans on finishing out her undergraduate education while being a member of the women's softball team. 
Adyson has been assisting the 12U team for the last year as a coaching intern building up her coaching skills and confidence and will now lead the Oklahoma Blaze 10U program this year as she adds on as coaching staff under the organization. In her spare time, Bradley will also assist the older teams as well. 
Bradley is currently studying towards her Bachelors of Psychology. When she graduates, she plans on attending graduate school to obtain a Masters in Counseling where she hopes to use her degrees to obtain the certification towards becoming a Licensed Professional Counselor. 
Coaching Staff

Lauren Waddell is the Assistant Coach of the 10U program. Waddell is from Guthrie, Oklahoma and is also a Blaze alumni of 3 years. Waddell is known for the dig and stretch at 1st base. 
During her time in a Oklahoma Blaze jersey, Waddell played in 146 games with 228 trips to the plate. Her career batting average was .295 and career fielding percentage of .935% with only 32 errors out of 489 chances. She was involved in the turning of 15 double plays for Blaze. 
After graduating, Waddell went on to play softball for two years at Western Oklahoma State College. She will be transferring to the University of Central Oklahoma in Spring of 2020 to finish her college education. 
Catching Instructor

Faith currently works with our catchers for all teams in our program giving group catching lessons. Hollingsworth is from Burkburnett, Texas and has played college ball for Western Oklahoma State and North Central Texas College before moving to NAIA Mid-America Christian University where she is currently a junior in college and an outfielder and catcher for the MACU softball team. Faith is also a Blaze alumni and brings great leadership knowledge and skills to the girls she gives lessons to.  
Pitching Instructor

Nicole Denes is from Katy, Texas and pitched for the University of Oklahoma from 2003-2006. Denes has over 18 years of experience instructing and developing pitchers with over 9 years of experience working as a licensed professional mental health therapist. She also has international and professional experience in the game, both as a player, and as a coach. Denes currently owns "BE COMPLETE ATHLETICS" which teaches our athletes how to COMPETE in the circle, and be confident in their worlds. In every lesson and class, they stress the little, every day things athletes can do to train their confidence – from their body language, to their speaking voices, to their inner voices. They offer a mix of small group classes and private lessons each cycle. Classes address various parts of pitching, but essentially the class environment is where pitchers learn how to compete while supporting and helping the other pitchers around them, just as they would on a pitching staff. Private lessons are where pitchers are encouraged to "be real" with themselves and look at their strengths/weaknesses in a non-judgmental way. All of the instructors at Be Complete Athletics are trained by licensed professional mental health therapists to recognize and appropriately address negative thinking and attitudes that can impact an athlete's performance, and more importantly, their overall confidence.
The majority of the Oklahoma Blaze pitching staff sees Nicole or one of the pitching coaches at Be Complete Athletics for their pitching lessons. It is not required, but we highly encourage them as they have proven successful performance increase and mental strengthening of our athletes that meet with Nicole and her staff.
Pitching Instructor

Nancy has taught pitching lessons and coached for over 25 years. She has coached well-known names in softball such as Jennifer Stewart, (OU 2000 WCWS Championship). TeeHee pitched at Oklahoma State University and had great success along with my team. In high school, Nancy pitched in front of a crowd of 7,000 fans in Binghamton, New York and placed second at the ASA National Tournament.