UMPIRE PAGE
SYKES AND STEINER, CITED!
MIKE SYKES (SECOND FROM LEFT), AND KEN STEINER (SECOND FROM RIGHT),
WERE CITED AT OUR WINTER MEETINGS FOR OUTSTANDING CONTRIBUTIONS
TO THE WARREN-HUNTERDON USA SOFTBALL ASSOCIATION.
PRESENTING THE AWARDS WERE UMPIRE-IN-CHIEF, HANK McCLARY (LEFT),
AND CHIEF OPERATIONS OFFICER, PAUL CHARDOUSSIN (RIGHT).

IN ADDITION TO BEING EXCELLENT ASSETS TO OUR TOURNAMENT UMPIRE STAFF, SYKES AND STEINER, TOOK ON RESPONSIBILITIES AND DUTIES THAT GREATLY ENHANCED OUR 2016 TOURNAMENTS.
GENTLEMEN: THANK YOU AND CONGRATULATIONS!

-------------------------------------------------------------------------------------------------------------------
(L TO R)
BACK ROW: JOE DZIEDZIC, TOM DIAMENTE, DALE HUMMER,
ROB ROUNSAVILLE, HENRY PAYNE.
FRONT ROW:
GERARD COLONEL, "MASKED MAN," JOHN VASSELLI.

DO YOU KNOW WHO THE "MASKED MAN" IS?
THE "MASKED MAN" IS:

NEAL WALLEN
--------------------------------------------------------------------------------
 (L TO R)
BACK ROW: MIKE BOYLAN, HANK McCLARY, MATT MENKOWSKI,
KEN STEINER. FRONT ROW: MIKE SYKES, DAVE KUBICH,
ED NOVY, MIKE PLANER.
-----------------------------------------------------------------
(L TO R)
BACK ROW: DAVE KUBICH, HANK McCLARY, KEN STEINER.
FRONT ROW: MIKE SYKES, MATT MENKOWSKI, JOHN VASSELLI,
GERARD COLONEL, ROB ROUNSAVILLE.
-------------------------------------------------------------------------------------------------------
(L TO R)
FRONT ROW: SCOTT FRIEDLAND, MIKE PLANER, RICH ANESKEWICH.
BACK ROW: NEAL TOBIN, TOM DIAMENTE, HENRY PAYNE,
ROY TOMPKINS.


-----------------------------------------------------------------------------------------------------------
(L TO R)
BACK ROW: JOHN STERBINSKY, ROY TOMPKINS, SCOTT FRIEDLAND.
FRONT ROW: MATT MENKOWSKI, GERARD COLONEL, HANK McCLARY,
MIKE BOYLAN, NEAL TOBIN.
(SEPTEMBER 18, 2016)
------------------------------------------------------------
(L TO R)
BACK ROW:
NEAL WALLEN, KEN STEINER, RICH ANESKEWICH, HENRY PAYNE.
FRONT ROW:
TOM DIAMENTE, DALE HUMMER, MIKE SYKES, JIM RAPSIS.
(SEPTEMBER 18, 2016)
--------------------------------------------------------------


STANDING (L TO R): NEAL WALLEN, DAVE KUBICH, BOB BACHMAN,TOM DIAMENTE, GERARD COLONEL, MATT MENKOWSKI.
FRONT (L TO R): HANK McCLARY, MIKE BOYLAN.


------------------------------------------------------------------
THESE ARE THE UMPIRES THAT WERE ASSIGNED TO WORK THE
2016 METRO ATHLETIC CONFERENCE DIVISION I CHAMPIONSHIP
TOURNAMENT. OUR OWN MIKE BOYLAN, 2ND FROM LEFT (WITH MASK),
WAS SELECTED TO WORK THE PLATE FOR THE CHAMPIONSHIP FINALS.
CONGRATULATIONS, MIKE!
------------------------------------------------------------
2015 HALLOWEEN CHALLENGE SUMMER ROAD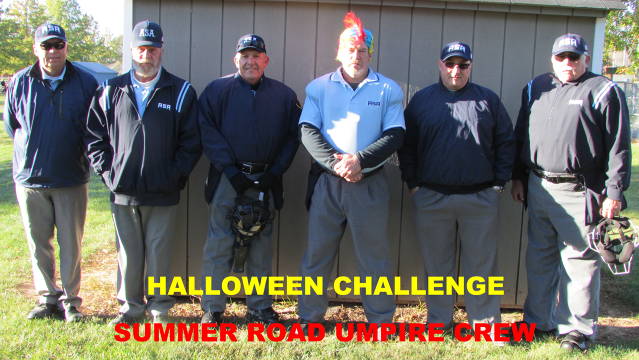 (LEFT to RIGHT) Joe Dziedzic, Harold Schuyler, John Sterbinsky,
Don "Chicken Man" Schuyler, Neal Wallen, Paul Chardoussin.
IN ADDITION TO SUMMER ROAD UMPIRE CREW, THIS GROUP REPORTEDLY APPEARED ON AMERICA'S
MOST WANTED, WHERE THEY WERE VOTED MOST LIKELY TO APPEAR IN FRONT OF A FIRING SQUAD.
-------------------------------------------------------------------------------------

UMPIRE HONOR ROLL
NATIONAL INDICATOR AWARD
PAUL CHARDOUSSIN
DAVID KUBICH
JOE MARTIN
HANK McCLARY

NATIONAL TOURNAMENTS
MIKE BOYLAN
DALE HUMMER

REGIONAL TOURNAMENTS
BILL LUNGER
NATIONAL UMPIRE SCHOOL
RICH ANESKEWICH
DAN CLAPP
JIM DORNBACH
SHAWN FAVINO
MIKE FESINSTINE
THE LATE ALLY MEEHAN
HENRY PAYNE
MIKE PLANER
MIKE PUCOWSKI
ROB ROUNSAVILLE
GENE SCHAEDEL
DON SCHUYLER
MIKE SCHWAR
CHRIS SOTIRO
JOHN VASSELLI
NEAL WALLEN


 -------------------
CONGRATULATIONS!
2015
MIKE BOYLAN
USA/ASA 16U A NATIONALS
SOUTH CAROLLINA
----------------------------------------
CONGRATULATIONS!
2015
PAUL CHARDOUSSIN
ASA 14U A EASTERN NATIONALS
CONNECTICUT
-----------------------------------------
2014
CONGRATULATIONS!
FIVE (5) OF OUR UMPIRES
ASSIGNED NATIONALS
DAVE KUBICH
HANK McCLARY
ASA/USA 16U GOLD
NATIONAL CHAMPIONSHIP
BROKEN ARROW, OK
JOE MARTIN
ASA/USA 16U CLASS A
NATIONAL CHAMPIONSHIP
SALEM, VA
PAUL CHARDOUSSIN
DALE HUMMER
14U/12U/10U CLASS B
EASTERN NATIONALS
LA PLATA, MD

---
BACK ROW (L TO R): KEN STEINER, DON SCHUYLER, PAUL CHARDOUSSIN,
ART PETERSON. FRONT ROW (L TO R): JIM DORNBACH, DAVE KUBICH,
CHRIS SOTIRO, HANK McCLARY, ROB ROUNSAVILLE.
(L TO R): MATT MENKOWSKI, JOE DZIEDZIC, RICH ANESKEWICH,
TOM DIAMENTE, STEVE ALLEN, BOB BACHMAN,
DALE HUMMER, HENRY PAYNE.

---
2014 HALLOWEEN CHALLENGE UMPIRES
SOME OF OUR SUMMER ROAD CREW

Front Row (L to R) Frank Capozzi, Rich Aneskewich, Dale Hummer, Rob Rounsaville.
Back Row (L to R) Joe Dziedzic, Tom Lembrich, Paul Chardoussin.

---
2014 FALL CHALLENGE
BACK ROW (L TO R): JOE DZIEDZIC, ROB ROUNSAVILLE, NEAL WALLEN,
MIKE PLANER, GARY PECKMAN.
FRONT ROW (L TO R): MATT MENKOWSKI, DALE HUMMER,
DON SCHUYLER.
---
Hank McClary on the left, and Dave Kubich on the right,
at the opening ceremonies for the 2014 USA/ASA Nationals 16U Gold,
in Broken Arrow, OK.
 Hank McClary in action.
Dave Kubich in action.
Dave Kubich (L) and Hank McClary (R),
in Broken Arrow, OK, just before leaving
for separate games.
---
JOE MARTIN

Here's Joe Martin at the
USA/ASA 16U CLASS A 2014 National Tournament in SALEM, VA.
Joe caught up with softball legend Dot Richardson.
Dot not only posed for the photo with Joe, but
she let him pose with her Olympic medals.
How neat is that!!!

---
CONGRATULATIONS!
RICH ANESKEWICH
STATE BASEBALL FINAL FIRST BASE
NON-PUBLIC B
HUDSON CATHOLIC VS. ST. JOSEPH HAMMONTON
SATURDAY, JUNE 7, 2014, TOMS RIVER NORTH

---
CONGRATULATIONS!
PAUL CHARDOUSSIN
STATE SOFTBALL FINAL THIRD BASE
NON-PUBLIC B
LODI IMMACULATE VS. ST. JOSEPH HAMMONTON
SATURDAY, JUNE 7, 2014, TOMS RIVER NORTH

---
CONGRATULATIONS!
HANK McCLARY
STATE SOFTBALL FINAL HOME PLATE
NON-PUBLIC B
LODI IMMACULATE VS. ST. JOSEPH HAMMONTON
SATURDAY, JUNE 7, 2014 TOMS RIVER NORTH

---
HANK McCLARY
AT STATE FINALS

---
CONGRATULATIONS!
HANK McCLARY
&
PAUL CHARDOUSSIN
BOTH MEN HAVE BEEN SELECTED TO WORK THE
CENTRAL JERSEY  GROUP III SECTIONAL FINAL

MIDDLETOWN SOUTH @ EWING
ARMSTRONG PARK, MERCER COUNTY

FRIDAY, MAY 30
4:00 PM
                 
 HANK McCLARY (L), HOME PLATE.
PAUL CHARDOUSSIN (R), THIRD BASE.
---
CONGRATULATIONS!
RICH ANESKEWICH


RICH WILL WORK FIRST BASE ON MAY 30,
IN THE SOUTH JERSEY GROUP IV SECTIONAL BASEBALL FINAL,
EASTERN @RANCOCAS VALLEY.
IN ADDITION, RICH WILL WORK A BASEBALL STATE FINAL
PLATE ASSIGNMENT, ON JUNE 7, TBD.

---
CONGRATULATIONS!
BOB BACHMAN


BOB HAS BEEN SELECTED TO WORK THE PLATE IN THE
NON-PUBLIC SOUTH "A" SOFTBALL FINAL ON JUNE 3.
THE GAME IS AT ROWAN UNIVERSITY.
ST. JOHN VIANNEY VS. GLOUSESTER CATHOLIC.
---
CONGRATULATIONS!
JOE MARTIN


JOE WILL WORK A BASEBALL PLATE ASSIGNMENT,
NORTH JERSEY SECTION I, GROUP II,
LENAPE VALLEY @ RAMSEY, MAY 30.

---
CONGRATULATIONS!
HANK McCLARY
MID-ATLANTIC UMPIRE OF THE YEAR


HANK McCLARY (CENTER), IS PRESENTED WITH THE
2012 MID-ATLANTIC UMPIRE OF THE YEAR AWARD BY
JIM PETERS (LEFT), THE NEW JERSEY STATE U-I-C,
AND BOB MAUGER (RIGHT), THE MID-ALANTIC U-I-C.

---
JIM POPOVITCH PASSING
James Andrew Popovitch, devoted husband and loving father and grandfather, passed away Wednesday October 21, 2015 at the Dwelling Place inside St. Claire's Hospital in Dover, NJ.
Jim was born in Mine Hill, NJ on January 8,1945 to the late John and Stacy Popovitch. He lived in Long Valley, NJ for the past 38 years. Jim graduated Delhi State University of New York SUNY campus and was a brother of the KSE fraternity. He was later drafted into the US Army during the Vietnam War. He was then an engineer for Jersey Central Power and Light for 38 years and retired in 2005.
He loved baseball and played for 30 years. After his playing days were over he umpired for the ASA and NJSIAA for another 30 years. He was a member of the Elks club (Hackettstown) and the American Legion (Trenton). He loved bowling and spent much of his free time fishing with friends. He was preceded by his two brothers John (Jack) and Det. Michael Popovitch.
He is survived by his wife of 45 years Krystyna (Bialek) and two daughters Mandee of Long Valley and Peggy and her husband Arthur Schott IV, two grandsons James and Corbin, three sisters in law Julia Popovitch,Katherine Bialek, and Irene and her husband Bob Debold three god daughters Kimberlee Ciccerone, Leigh Anne Sullivan, and Colette Popovitch and many many aunts uncles cousins neices and nephews.
As per Jim's wishes services will be private and donations can be made to ALS or another charity of your choice. 
The family would like to extend a big thank you to Tim Doyal and his staff at the Dwelling Place for their care and support and comfort during his last days. 
JIM POPOVITCH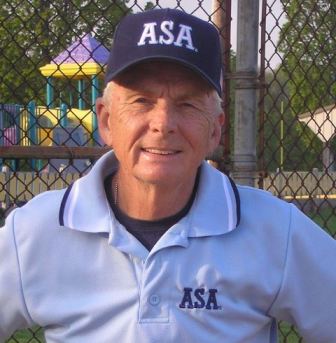 (LEFT) JIM POPOVITCH, AT OUR AUGUST, 2013 LUNCHEON, DISPLAYS THE PLAQUE THAT WAS PRESENTED TO HIM EARLIER THAT YEAR FOR 30 YEARS OF SERVICE TO THE
WHWM A.S.A.
(RIGHT) IS A PHOTO OF JIM, FOLLOWING A GAME IN 2012.

INTRODUCTION
I FIRST MET JIM POPOVITCH UMPIRING MEN'S FAST PITCH SOFTBALL IN RANDOLPH OVER 30 YEARS AGO IN THE LATE 1970'S. I WAS IMMEDIATELY DRAWN TO JIM. NOT ONLY WAS HE A VERY GOOD UMPIRE, HE WAS ALSO JUST VERY SIMPLY, A REALLY GREAT GUY. WE IMMEDIATELY HIT IT OFF, AND IT WASN'T TOO LONG BEFORE I WAS FORMING A LOCAL A.S.A. CHAPTER. I APPROACHED JIM AND A NUMBER OF OTHER VETERAN UMPIRES TO HELP ME FORM OUR CURRENT ORGANIZATION. THESE MEN WERE MORE THAN WILLING TO JUMP IN AND LEND ME A HAND, AND THE REST IS HISTORY.
JIM HAS ALWAYS BEEN A GENTLEMAN, BOTH ON AND OFF THE FIELD. HIS DEDICATION AND DEPENDABILITY HAVE BEEN HIS TRADEMARKS. HIS INTEGRITY AND GENTLE SPIRIT SET HIM APART. I CONSIDER JIM A DEAR FRIEND, AND HE WILL ALWAYS HOLD A SPECIAL PLACE IN OUR HEARTS.
BILL LUNGER

"JIM POP"
by Peggy Popovitch
As a young boy growing up in Mine Hill, NJ, Jim Popovitch loved playing softball and baseball. He started playing between the ages of 5-6. If he wasn't playing for the town's recreational team he was playing with his friends in his back yard. He grew to love the game and continued to play for Little League, Babe Ruth, Dover High, American Legion, SUNY Delhi College, and the Sussex and Morris County Major teams. The position he played most was first base but he also did some pitching in college and the Morris Majors. He was invited to the Baltimore Orioles tryouts but unfortunately nothing ever became of it.
"One of my most memorable games as a player was when I played my first game for the Musconetcong American Legion team in Stanhope.  Being from Mine Hill, nobody really knew me that well, so the coach batted me in the ninth spot of the batting order.  On my first at bat with men on base, I hit a homerun (what a thrill and great start).  After that, I batted in the third spot of the batting order for the rest of the season.  I was always proud of myself for always being at least a 300 avg. hitter my whole playing career." –Jim Popovitch.
His baseball career ended after playing ball for over 30 years.  He then played a little softball for his JCP&L company team. When he was around 36 years old, Jim was asked by a fellow JCP&L co-worker and umpire Dick McWilliams, if he would like to get into umpiring.  Jim's reply was, "it would be great being involved in my favorite sport again."  After one year of umpiring experience and attending umpiring school classes Jim received his official NJSIAA umpiring certification.  Hence, his over 30 year umpiring career began. 
At that point he started meeting many great people who were umpires, players and coaches.  Really great guys like Bill Lunger, Hank McClary, Bruce Bergman, and the late Harry Shatel of Morristown and his very close friend Gene Rampone.
After moving to Long Valley in the late 70's, Jim's friend and fellow umpire, Bill Lunger, started giving him some more softball games in the local Morris, Warren, and Hunterdon county areas. That was the beginning of slow pitch umpiring. The slow pitch and women's fast pitch umpiring was the final components of his umpiring career.  Prior to his ASA certification Jim's umpiring career also included games in Little League, Babe Ruth, High School (Boys & Girls), College, Morris Majors, as well as, the Over 30 & Over 40 men's leagues.
Jim tells of his three most exciting and memorable umpiring career games:
 "Doing a girls softball game at Whippany Park High with Yogi Berra's granddaughter playing for Livingston High."
"A game at Voorhees High where Michelle Mary Smith who was pitching, was the future Olympic Gold Medal winning pitcher for the USA women's softball team."
"I was also chosen to umpire 2 – four man crew Over 30 men's baseball tournament games at Doubleday Field in Cooperstown, N.Y.   That was really an inspiring moment at the time.  Not too many umpires, even the pros have ever gotten a chance to umpire a game there."
Sadly, Jim had to end his umpiring career this year, 2013, because of some physical problems with his feet and legs.  However, after over 30 years of umpiring and probably well over a 1000 games, Jim will always remember the great times he had and the fantastic people he umpired with.  "My umpiring career has been truly amazing.  There can't be any better part time job than umpiring."
Jim is going to take the time now to spend with his grandsons and family but most of all to just enjoy watching the game he loves so much.
 "I want to wish all my fellow umpires the best of luck and good health in the future. I miss you all." Jim Pop (Jim Popovitch)
---
RELECTIONS ON JIM POPOVITCH BY HANK McCLARY
Where do I begin, when it comes to 

congratulating

Jim

Popovitch

on his retirement from officiating after over thirty years.
Well, I can tell you that I have known

Jim,

for over twenty years. I met

Jim

from officiating

softball

games mostly assigned by Bill Lunger, in locations all over north and central New Jersey. I was always happy to see

Jim, and to be teamed with him for a game

. Working with Jim, I knew that I never had to worry in the least about communications or mechanics with my partner. He was always right on top of everything, and you knew that you were working with somebody that you could count on. You could always depend on having a smooth game when

Jim

 Popovitch was your partner.
Several other officials have said what a pleasure it was to officiate with

Jim

. A bigger tribute comes from the players who also said they were delighted to see

Jim

arrive to officiate their game.

Jim

was not only knowledgeable about the rules, he was a players umpire because he had been an excellent player and used that knowledge when officiating.
I got to know

Jim

a lot better in his last 10 years or so of his career, when he worked

softball

games in the High Bridge slow pitch league. I am the assigner for the league and never had any doubt about putting

Jim

on the field for the most competitive games, and I always used him on the most important

playoffs games.
Off the field, Jim

and I talked about our families and the similarities we had in common with our children and grand children.
Jim

was a great umpire, but an even greater father and grandfather.
There were three fields of play in High Bridge. I would as often as possible, assign

Jim

to field number two because he would bring his young grandson to games and that field had a sand pile area for his grandson to play.
Where does my tribute to

Jim

end? It doesn't.

Jim

will always be remembered and missed by officials and players alike.  It would be hard to find a better official, friend, or family provider than

Jim

Popovitch

.
Jim

, may your good memories stay with you forever.
Your friend -

Hank

McClary

---
TRIBUTE TO JIM POPOVITCH BY GENE RAMPONE
It is a pleasure for me to add my congratulations to a great, life-long friend, Jim Popovitch, on his retirement from umpiring.  Jim umpired the same way he does everything in his life: with precision, integrity and fairness.
Jim and I were born in the same month and the same year just 8 days apart. It was only fitting that we would become best friends and teammates.  We played baseball together in Babe Ruth and at Dover High School.
Jim was one of the finest first baseman I ever saw play the game. He was smooth around the bag and he had that great left handed swing that so many great left-handers seem to have.  His effortless swing sent many baseballs screaming into right-center field on a line that looked like a frozen rope. I distinctly remember Jim hitting one of those live drives at Wayne High School where there was no fence. The ball took off like a shot and rose over the head of the center fielder.
Neither Jim or I were known for our running speed, but as Jim rounded third base, in my excitement for him, I jumped off the bench and ran with him down the third base line encouraging him to beat the throw from the outfield.  Jim scored, but the umpire was not happy with my behavior.  It didn't matter to me because I was so excited to see Jim get the home run.
When I played short stop, it was so easy to let the ball fly to first, as Jim always made the play whether the ball was online, to his left or right or in the dirt. I don't think I ever saw him make a physical error or an error in judgment at first base in all of the games that we played together.
All through high school Jim and I would double date and go to parties, dances and the movies. Thankfully the girls didn't mind listening to us talk about baseball.  We ate meals at each other's homes and that's when I learned what a terrific family Jim had. His Mom was a wonderful woman and a fantastic cook.  Jim's Dad was one of the nicest people you could meet, with a sense of humor that would make us laugh long and loud. Jim's older brother Mike, was a high level New Jersey State trooper, and his younger brother, Jack, was a dead-ringer for the great Ricky Nelson of TV and recording fame.
After high school, college separated us, except for vacation times. Then Jim went into the Army and was sent to Germany. I loved his stories about Oktoberfest in Germany and his travel stories.  Shortly thereafter we both got married and Jim and his lovely wife, Kris, would visit with us often. 
I especially remember Christmas Eve nights, after we had children, when Jim and Kris would be the last people to leave. Jim helped me put together all of the kids' toys which I never could have done by myself.
I'm proud to say we remain good friends right up until today. I should also mention that Jim and Kris are god-parents to our daughter, Kimberlee.  So for my wife and I and our children, our lives have been enriched by having Jim and Kris as dear friends.
I can't imagine having a more loyal, sincere friend than Jim Pop.  His humble, unassuming personality makes him easy to be around, and his caring, nurturing manner enhances the lives of all of his friends and acquaintances.
So congratulations Jim!  You deserve all the best life has to offer. You were a great baseball player and umpire. And you are an even a better husband and father.  And for me and my family, the best friend we could ever ask for!  God bless you and your family!
Your friend, Gene Rampone

---
My memories of Jim Popovitch by Bruce Bergman
 
My first contact with Jim Popovitch came in the late 1960's, early 70's.  Jim was a slick fielding first baseman for Dover in the Morris Majors who also wielded a pretty good stick.  Pop was not real flashy, but he was an excellent player who did his job well, just like his umpiring profile in later years.
I played for the Morristown Colonials at first then switched to Mendham when they came into the league.  Jim was a class guy that you liked to play against. 
 
My next encounter came in the mid 1980's when I became head baseball coach at Mendham HS and during my stint in that position, it was a privilege to have Mr. Popovitch as an umpire.  Again, nothing flashy; he just did his job well. You always got a fair game, that was skillfully managed. 
Then we move ahead to the mid 90's and 2000's when I started umpiring ASA softball.  Pop and I were frequently paired together in slow pitch softballl playoff  games.  Jim with his trademark long gray heather pants (even when the temps were in the 90's), not surprisingly went about his business without a lot of flair, but always with a lot of skill.  It was about this time I was introduced to Jim Popovitch the grandfather and fisherman. Before and after he retired from his job, he started helping to take care of his grandchildren.  You could tell how much he loved those kids, and he always talked about taking them fishing. 
When Jimmie Pop announced at our meeting this past year, that he was retiring from umpiring, I was shocked at the news. But as usual Jim did it without a lot of fanfare, but with a whole lot of class. 
And that's Jim Popovitch.

---
CONGRATULATIONS JIM POPOVITCH
THANK YOU FOR 30 YEARS OF DEDICATED SERVICE
TO THE WARREN-HUNTERDON-WEST MORRIS A.S.A.
MARCH 21, 2013.
HANK McCLARY (L) AND DALE HUMMER (R) PRESENT JIM POPOVITCH (CENTER) WITH A PLAQUE AND GIFT UPON HIS RETIREMENT.         
---
     DAVE KUBICH & HANK McCLARY

DAVE AND HANK WORKED THE
2013
18U CLASS A
NATIONAL CHAMPIONSHIP
SALEM, VA

HANK (L) AND DAVE (R) ABOUT READY TO EXIT THE TEAM ROOM PRIOR TO A GAME THAT THEY WORKED TOGETHER.
DAVE KUBICH

HANK McCLARY

---
PAUL CHARDOUSSIN

PAUL WORKED THE
2013
12U & 10U CLASS B
EASTERN NATIONAL
STERLING, VA



---
2013
WARREN COUNTY WOMEN'S SOFTBALL LEAGUE
BENEFIT ONE-PITCH TOURNAMENT


JULY 27, 2013
INDEPENDENCE TOWNSHIP FIELD OF DREAMS
CONNOR'S FAMILY CHARITY FUND

THE CONNOR'S FAMILY, THE WCWSL, AND THE
WARREN-HUNTERDON-WEST MORRIS A.S.A.
WOULD LIKE TO THANK THE FOLLOWING VOLUNTEER UMPIRES:

BRUCE BERGMAN
MIKE BOYLAN
JOHN CONTINI
JOE DZEIDZIC
HENRY PAYNE
BILL POCH

---
CONGRATULATIONS!
PAUL CHARDOUSSIN
PAUL WAS SELECTED TO WORK FIRST BASE
 AT THE CENTRAL JERSEY GROUP III FINAL
 NOTTINGHAM @ WALL TOWNSHIP
MAY 31, 2013
---
2013 PHILLIPSBURG COACHES AND UMPIRE CLINIC
DALE HUMMER ADDRESSES THE AUDIENCE.
---
MARCH 7, 2013 REGULAR MEETING
AT WARREN HILLS REGIONAL HIGH SCHOOL
Paul Chardoussin speaks to the membership,
while Hank McClary (blue shirt) warms up in the bullpen.
---
2013 NATIONAL UMPIRE SCHOOL
FEBRUARY 15- 17, 2013
ASTON, PA
(L TO R)
Mike Boylan, Hank McClary, Dave Kubich.
---
2013 SKYLANDS UMPIRE CLINIC AT NORTH HUNTERDON
BILL LUNGER AND HANK McCLARY CONDUCT THEIR ANNUAL
UMPIRE CLINIC FOR THE SKYLANDS FAST PITCH LEAGUE.
KENDA RILEY (LEFT), STARTED OFF THE EVENING WITH A BRIEF ADDRESS TO THE GIRLS AND THE AUDIENCE, AND ONE OF OUR OWN UMPIRES THAT WAS IN ATTENDANCE WAS HAROLD SCHUYLER (FRONT & CENTER)
---
FRONT ROW (L TO R): MIKE FESINSTINE, NEAL WALLEN, AL MAGUIRE, HANK McCLARY.
BACK ROW (L TO R): PAUL CHARDOUSSIN, NEAL TOBIN, JIM POPOVITCH, DALE HUMMER.
MISSING FROM PICTURE HENRY PAYNE AND DON SCHUYLER.
---
CONGRATULATIONS!
DAVE KUBICH
AND
MIKE BOYLAN
2012 EASTERN NATIONALS CLASS A 18U & 14U
AUGUST 1-5, 2012
SALEM, VA
CONGRATULATIONS!
MIKE BOYLAN AND DAVE KUBICH!
MIKE (L), AND DAVE (R),
WORKED THE 18A AND 14A EASTERN NATIONALS
IN SALEM, VA, IN THE FIRST WEEK OF AUGUST.
BOTH RECIEVED VERY HIGH MARKS!
CONGRATULATIONS, GENTLEMEN!
PHOTOS OF DAVE AND MIKE AT THE NATIONALS ARE POSTED BELOW
---
DAVE KUBICH
DAVE KUBICH
MIKE BOYLAN
MIKE BOYLAN
CONGRATULATIONS RICH ANESKEWICH!
RICH WAS ASSIGNED A STATE SOFTBALL FINAL!
GROUP II PEQUANNOCK VS. ROBBINSVILLE
SATURDAY JUNE 9, 2012, AT TOMS RIVER EAST HIGH SCHOOL.
RICH WAS ASSIGNED THIRD BASE, AND THIS WAS HIS
SECOND TRIP TO THE STATE FINALS.
CONGRATULATIONS RICH!

---
CONGRATULATIONS BOB BACHMAN!
CONGRATULATIONS GO OUT TO OUR OWN BOB BACHMAN. BOB WAS SELECTED TO WORK A SOFTBALL SECTIONAL FINAL, CENTRAL JERSEY GROUP III, LAWRENCE AT MANASQUAN. BOB WAS ALSO ASSIGNED AN NJSIAA BASEBALL GROUP III STATE SEMI-FINAL AT THIRD BASE.
CONGRATULATIONS BOB!
---
CONGRATULATIONS JOE MARTIN!
CONGRATULATIONS GO OUT TO OUR OWN JOE MARTIN. JOE WAS SELECTED FOR A PLATE ASSIGNMENT FOR AN NJSIAA BASEBALL GROUP I STATE SEMI-FINAL.
CONGRATULATIONS JOE!
---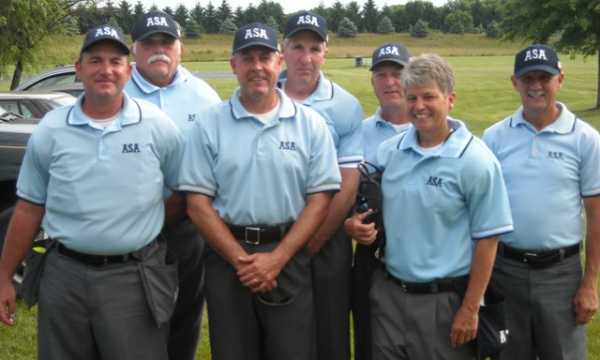 WEST JERSEY CHALLENGE
Some of our Local Crew
Front Row (L to R): Mike Boylan, Rich Aneskevich, Kenda Riley.
Back Row (L to R): Paul Chardoussin, Bill Poch, Dave Kubich, Hank McClary.
---
CONGRATULATIONS KENDA RILEY!
2011 NJSIAA UMPIRE OF THE YEAR
KENDA IS THE SOFTBALL INTERPRETER FOR THE SKYLANDS UMPIRE ASSOCIATION,
AND HAS BEEN A LONG TIME MEMBER AND SUPPORTER OF OUR ASA CHAPTER
(SHE GOT HER START WITH US!)
CONGRATULATIONS, KENDA!

---
MID-ATLANTIC REGION 2/UMPIRE CLINIC
MARCH 3, 2012/EATONTOWN, NJ


IN ATTENDANCE
(Front Row) From L to R: Mike Fesinstine; Joe Martin; Al MaGuire; Mike Petrozelli; John Fasselli; Hank McClary. (Back Row) L to R: Henry Payne; Dave Kubich; Bill Poch; Harold Schuyler; Paul Chardoussin; Dan Clapp; Mike Schwar; Mike Boylan.
Missing from picture is Rich Aneskewich.
See TRAINING PAGE for Action Shots
AND BY THE WAY, OUR DISTRICT SENT BY FAR THE MOST ATTENDEES.
FIFTEEN MEMBERS PARTICIPATED.
CONGRATULATIONS TO ALL PARTICIPANTS.
---
CONGRATULATIONS
HANK McCLARY
SELECTED TO WORK THE
2011 EASTERN NATIONALS
18U GOLD & 14U A
STERLING, VA

---
CONGRATULATIONS
2011 MORRIS COUNTY SOFTBALL TOURNAMENT
SEMI-FINALS
RANDOLPH VS. PEQUANNOCK
(L TO R)
MIKE IACOBINO, BOB BACHMAN, HANK McCLARY.
---
CONGRATULATIONS
2011 MORRIS COUNTY SOFTBALL TOURNAMENT
SEMI-FINALS
WEST MORRIS VS. CHATHAM
(L TO R)
JOE MARTIN, NEAL WALLEN, MIKE BOYLAN.
---
WARREN COUNTY WOMEN'S CHARITY ONE-PITCH TOURNAMENT
JULY 30, 2011
INDEPENDENCE TOWNSHIP FIELD OF DREAMS
WARREN COUNTY WOMEN'S SOFTBALL LEAGUE
CHARITY ONE-PITCH
This year HAVEN OF HOPE FOR KIDS
OF WARREN COUNTY was the charity of choice.
Once again, the tournament was a big success.
MANY THANKS TO THE UMPIRES THAT DONATED THEIR TIME:
BOB BACHMAN
BRUCE BERGMAN
DAN CLAPP
JOE DZIEDZIC
JIM GARY
GARY GIBBS
DAVE KUBICH
SUE LEGGIO
HANK McCLARY
BILL POCH
---
2010
UMPIRE SPOTLIGHT 2010
JOE MARTIN
JOE MARTIN, ALONG WITH MIKE BOYLAN, ARE THE ONLY




COLLEGE BOARD CERTIFIED UMPIRES IN OUR ASSOCIATION.




JOE IS ENTERING HIS FIFTH SEASON ON THE COLLEGE CIRCUIT




AND HAS WORKED THE JUNIOR COLLEGE REGION 19 FINAL FOUR,




FOR THREE YEARS IN A ROW. JOE ALSO IS ASSSIGNED DIVISION




II AND III GAMES DURING THE REGULAR SEASON, THROUGHOUT




NEW JERSEY AND PENNSYLVANIA. JOE IS CURRENTLY ATTENDING




CLINICS IN PREPARATION FOR DIVISION I EVALUATION.




IN HIGH SCHOOL AND A.S.A., JOE HAS BEEN A CERTIFIED OFFICIAL




FOR 23 YEARS. IN HIGH SCHOOL, JOE IS REGULARLY ASSIGNED TO




IMPORTANT COUNTY AND STATE TOURNAMENT GAMES. IN A.S.A.,




HE HAS WORKED NUMEROUS STATE AND REGIONAL TOURNAMENT GAMES,




AT THE GOLD, CLASS A, AND CLASS B LEVELS, AND IS A CONTINUAL




FIXTURE IN THE FINALS FOR ALL OF THOSE EVENTS.




JOE HAS TWICE BEEN SELECTED TO THE A.S.A. EASTERN NATIONALS,




WHICH IS DOCUMENTED BELOW.




CONGRATULATIONS JOE MARTIN, AND KEEP UP THE GREAT WORK

!
JOE MARTIN
JOE MARTIN WAS SELECTED TO WORK
AT THE EASTERN NATIONALS
TWO YEARS IN A ROW IN STERLING, VA.
2007: Class A 18U and 16U.
2008: Class B 18U, 16U, 14U.
UMPIRE SPOTLIGHT 2010
MIKE BOYLAN
MIKE BOYLAN WILL BE ENTERING HIS FOURTH SEASON IN 2011, ON THE COLLEGE BOARD, AND HE HAS ALREADY ESTABLISHED HIMSELF AS A STUDENT OF THE GAME WITH A BRIGHT FUTURE AHEAD. MIKE IS WORKING DIVISION I, II, AND III, GAMES THROUGHOUT NEW JERSEY AND PENNSYLVANIA DURING THE REGULAR SEASON.
IN 2008, MIKE ADVANCED TO THE DIVISION III NJAC QUARTERFINALS AND SEMIFINALS. IN 2009 & 2010, MIKE WAS INVITED TO WORK THE DIVISION III SEMIFINALS AND FINALS OF THE CACC. AND ALSO IN 2010, MIKE WORKED THE QUARTERS, SEMIS, AND FINALS OF THE DIVISION II COLONIAL STATES ATHLETIC CONFERENCE (CSAC). MIKE HAS COMPLETED SIX YEARS OF WORK IN THE HIGH SCHOOL AND A.S.A. RANKS. IN HIGH SCHOOL, MIKE HAS ALREADY BEEN SELECTED TO WORK TWO SECTIONAL QUARTER FINALS, AND IN A.S.A., MIKE HAS ALREADY BUILT A FINE RESUME WITH STATE GOLD, CLASS A, AND CLASS B STATE TOURNAMENT ASSIGNMENTS.
CONGRATULATIONS ON YOUR ACCOMPLISHMENTS TO DATE AND KEEP UP THE GREAT WORK,
MIKE BOYLAN!
UMPIRE SPOTLIGHT
BILL SCHNEIDER
Bill Schneider has served our organization for nearly 30 years in almost too many capacities to name. Bill is the last of the original 12 umpires that helped to get the Warren-Hunterdon-West Morris A.S.A. up and running back in 1982. He has been a player, coach, mentor, member of our executive board, umpire, assigner, and biggest of all, friend.
Affectionately called, "Doc," Bill played for a number of area slow pitch teams, but got his claim to fame playing second base for the Bartley House. The Bartley House was one of several area Class A/B teams to make their mark throughout the state and region in the 1970's and early '80's. Playing for the Bartley House and Wine Rack, Bill played in the Richmond Round Robin Memorial Day Tournament for 18 years in a row. In 1998, Doc played in the Over 35 Slow Pitch Nationals for Harvel Plastics, out of Scranton, PA, and as late as 2001, he went to the Over 55 Senior Nationals with Spring Ford.
Bill joined our umpire team, and immediately made his mark there as well. Bill went to the A.S.A. National Umpire School out in Kansas City back in 1976, and just a year later was assigned to the Class A Slow Pitch Nationals in Atlanta. Bill helped to obtain and organize our first slow pitch state tournaments. His wisdom and advice have always added to the quality and integrity of our organization. Bill was a regular selection to work the finals of the prestigious Hackettstown Firemen's Tournament, where great Class A teams like DeBacco Brothers, Sparkle Carwash, and Hunterdon Sporting Goods (just to name a few), ruled the day. Bill has worked literally dozens of state and regional national qualifiers, but his biggest accomplishment may have come in 1997, when he was among just twenty-four umpires selected from New Jersey to work the Coors Light national.
Bill has also served as a softball coach, and a few years back, he got the opportunity to coach both of his daughters for a team in the Warren County Women's League.
Doc has been a member of our executive board for a number of years, and has served as the umpire assigner for the Warren County Girls League for longer than anybody can remember.
Each year Bill prepares a brief address to our umpire group. His comments and observations come from a life-time of experience and unique insight; simply put, he inspires us all to do better.
Congratulations on an incredibly successful softball career, dear friend! Your contributions are notable and appreciated! Many years of continued success!
Bill "Doc" Schneider.
CONGRATULATIONS
NEAL WALLEN. SELECTED TO WORK THE 2010 MORRIS COUNTY TOURNAMENT FINALS.
CONGRATULATIONS
BOB BACHMAN (TOP) AND HANK McCLARY (BOTTOM), WERE BOTH SELECTED TO WORK A 2010 MORRIS COUNTY TOURNAMENT SEMI-FINAL.
CONGRATULATIONS
DALE HUMMER, WAS SELECTED, ALONG WITH HANK McCLARY, TO WORK THE 2010 14U A EASTERN NATIONALS.
2010 FALL CHALLENGE
Back Row (L to R): Mike Schwar, Henry Payne, Paul Chardoussin, Don Schuyler, Dale Hummer.
Front Row (L to R): Neal Wallen, Hank McClary, Bruce Bergman.