Welcome to the 2017 softball season!
Check the website for updates!
Weather Line Number - 334-215-3555 and press 1
Continue to check the website for more information
Photo of the 2018 Belles District Champion All-Star Team!  These talented players also finished as Runner Up in the State Tournament!
---
Photo of our 2018 AUM Darlings All-Star team that finished Runner Up in the Sub-District Tournament and finshed 4th in the District Tournament!
---
Photo of the 2018 AUM Angels All-Star Sub-District Champions!
2018 AUM Angels All-Stars celebrating Victory!
---
Like and Join Our Facebook Page
If you are still having trouble finding our Facebook page. Try this…. When you are on your Facebook page go to the search area and type in AUM Softball. It will then bring up your choices. You will choose the one that says AUM Softball – page not group. This will be the one you are looking for. The cover picture will be a picture of a Sweetees team. We are trying to get as many people like our page as possible. Please let me know if you have any problems.
Click Here to LIKE the AUM Softball Facebook Page
---
---
AUM Dixie Girls Softball League/Team Sponsorship
AUM Youth Softball League is a non-profit organization that strives to offer an instructional, fun program for our players and their families. We emphasize good sportsmanship, teamwork, integrity and courtesy.
Your financial support is needed to continue providing a quality softball to these girls. Last season AUM provided many youth an opportunity to play in an organized softball program. This year our program will continue to be affiliated with Dixie Youth Softball. We strive to keep individual fees affordable. As a result, we rely on our local businesses and organizations to help us provide the best experience possible for our participants. Each year the generosity of our sponsors helps us buy new softball equipment, purchase field maintenance products and buy supplies needed to keep our league running smoothly. We hope that we can count on you for your continued financial support!
There are a number of sponsorship opportunities available. All sponsorships are tax deductible. Your sponsorship is a very affordable means of advertising your business, both on our uniforms and on the fields. Field sponsor signs are visible at our facility year round.
Please click on the link below for team sponsorship information:
---
---
---
Please go to the Handout section on the left hand side of the website or click on the following Concession Stand Price List.  This is a great addition to the website and we would like to welcome you and your family to the AUM Concession Stand for snacks or supper before, during, and maybe after the games.
---
---
Practice Schedule Information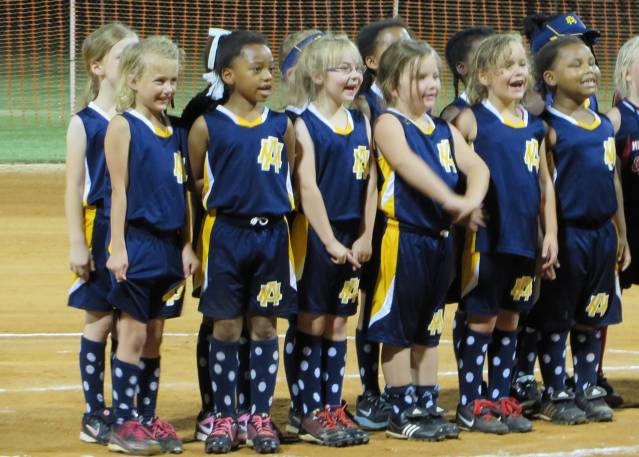 Coaches, please remember:
Teams will have use of the batting cages 30 minutes prior to your practice time
Please note that these are scheduled times for field availability.
Practice times and dates are changed by managers from time to time

---
Signup for Alerts
Get important messages from AUM Dixie Girls Softball by Text & Email