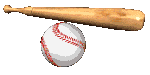 Welcome Parents and Athletes!
Practices will begin soon. We will let you know as soon as we have a plan with dates and locations to hold practice. Please click on the "Calendar" icon on the left of this page to see up to date information for practices and games.
Games will begin in April and run until approximately the last day of school. We will try and keep the dates as accurate as possible, hopefully the weather will cooperate with us this spring so not many changes will occur. Keep your fingers crossed.
Meanwhile, please be playing catch with your daughter and making sure her equipment fits properly and is in safe condition. If you can practice hitting with her that would also be great.
We are looking forward to a great season! See you soon.
---