Welcome to the 2019 Storm Softball Website
The Incredible Softball History
Posted: 04 Jan 2016 03:56 AM PST
Fact #1: Softball was not invented by divas and the first softball game didn't use a ball!
For many years football had been the norm and the talk in town. Nations within and without America had always cherished participating in football. The old folks organized and executed the football games at different venues. I mean, even today, football is almost as essential to boys as food is. In one such football event back in the year 1887 a game called softball was invented. This happened during a Harvard –Yale football game in Chicago. According to The Facts Net, while waiting for the results of the football match, a Yale fan had angrily thrown a boxing glove at a Harvard supporter who kicked it back using a stick.  A journalist for the Chicago board of trade by the name George Hancock yelled back happily with a "…play ball!" George Hancock later designed the game in a week's time. First the game was only an indoor game but it later advanced to become an outdoor match and eventually was put as one of the Olympic support in 1996. So, sorry if you have always thought that softball begun like hide-and-seek. Our fun fact-file states that:
In a nutshell:
1 .a Softball was invented by a man (George Hancock) and not a lady.
1 .b the first softball game was played using a glove and a stick!
1 .c Softball was initially designed to be an indoor game. Does that ring a bell about the softball field design?
Fact #2: Okla, a in Oklahoma, has held the highest number of Women's College World Series
The Women's College World Series is perhaps the biggest softball series that brings together players from different softball-playing nations. This king of all diva softball competitions (Women's College World Series), has been played in Okla for about 24 times. It is recorded by NCAA that the game has been played in Okla since the year 1990 with an exception of the year 1996 when it was hosted in Columbus. So, that is a fact worth bragging if you are from Okla.
Fact #3: School teams from Arizona and California are the highest scorers!
Pretty straight, if you are an Oklahoman, be free to brag with, "…We are the best in hosting worldwide!" But, for a Californian or an Arizonian, you can also brag with "… girl, do we have the highest number of softball trophies worldwide?"  In 2012, NCAA published a report that claimed that Arizona and California had bagged a staggering 23 of the 31 NCAA games that had been played in divisions.
Fact #4: Team USA in Softball has won 8 in 11 World Olympic appearances
Our fun-facts reveal that the women softball's Team USA has bagged just about all the trophies since it has made its occurrences in the world completions back in the year 1996. Such a record makes it conceivable to conclude that Team USA wins 4 in every 5 world softball games. As such, if not an Oklahoman, Arizonian, Californian, you can brag that as an American, we always win. The latest USA world win was concluded with a 6-1 win when pitching against Japan. So, let's all make it Team USA.
Fact #5: 147 countries and over 6 million girls actively play softball worldwide
Though it begun small, softball is growing to become the king among ladies' games. Already, it has been accepted in 147 countries and it has been scheduled to be officially included in the World Olympic Games by the year 2016 (next year). So, there we go, I already got you a new year tip if you would love to be known worldwide.
---
---
 Importance/Benefits of Playing Softball
When the whistle is blown, a little jiggle is seen in the field and some mumble will often be heard. Then, the softball fans draw closer and the game yelling begins. To most people, there is never greater importance to softball than just that fun. But a little more examination of its importance makes it the "King of The Teenage Ladies Games". Softball is not just enjoyable, but also healthy. Let us examine the scholastic findings.
#1. It improves one's moods
Have you ever watched a live softball game when stressed? Did you feel some relaxation and joy at the end of it? In a softball game, both the players and the fans always have a degree of interactivity. The players will craft the moves as the fans will instill the player's morale by some funny talks. The Mayo Clinic found out that such interactivity and active participation boosts the production of chemicals and hormones that encourage happiness to the players and a relaxation to its fans. This will ultimately enable one to cope with the feminine moody feelings. In addition, it fosters socializing and such like activities that are essential in getting a long-term solution to a lady who is often temperamental.
#2. Softball is great in Body Development
According to the Health Fitness Revolution, ladies who play softball are likely to have a better developed upper body than those who do not participate. That fact is pretty straight and verifiable anywhere softball has taken root. Softball players are often likely to have better hand muscles and better shoulders than most ladies. The triceps, biceps, and forearms are best developed for a lady softball player than any other lady.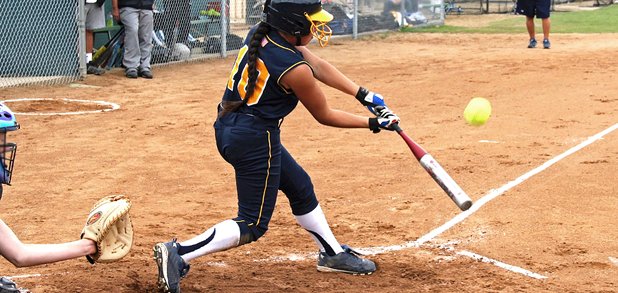 #3. It Helps to Sharpen one's Focus
The American Center for Disease Control and Prevention (CDC) reported this year that field games like softball help one to retain focus on projects and boosts one's mental judgment. Affirming the same, George Krucik advised that engaging in such games for at least 30 minutes every 3 days does nature a skill of concentration and mental development. This skill does not only enable one to be observant but also enables one to learn on how to pinpoint mistakes and how to solve them. Thus, making softball players become good project managers.
#4. Softball "Kills" Stress
Active softball players are likely to have a higher likelihood of producing certain hormones like small amounts of adrenaline and cortisol as reported by the Healthline Publication. Such hormones alongside endorphins (special type of mood filtering hormones) are released and help one to gain a relaxed and an optimistic feeling after the game. This also curbs the production of stress hormones keeping one free from stress and more likely to survive diseases like depression. So, do you mind a smile? Try participating in the game if you don't mind some fun.
#4. It Improves Sleep
Sleeping is one of the best means of resting as well as body healing. Some scholars reported that laughing and good sleeping are the best free cures for everything. Sadly, there is a common outbreak of "No Sleeping Syndrome (NSS)" among most juvenile American ladies. The current world is full of sugar-coated activities that snatch many people time to rest. At times, good sleep is regarded as a luxury to most people. However, the greatest means to ensure sweet dreams (for ladies) is to engage actively in games like softball. The better one gains this knowledge, the longer one is likely to enjoy the games. That is a deal; play well, snooze well.
---
---
---
MOTIVATION
"The best thing you have to offer the world is yourself. You don't have to copy anyone else. If you do, you're second best. To achieve success is to be first, and that's being yourself"
---
"People forget how fast you did a job - but they remember how well you did it."
---
"The way we distinguish ourselves is by showing our individuality."