29 SYFL SUPERBOWL CHAMPIONSHIPS
9 CHEER JAMZ NATIONAL CHAMPIONSHIPS
2016 JAMZ CHEER NATIONAL CHAMPIONSHIP
24 PLAYERS IN NCAA DIV 1
8 PLAYERS IN NFL
Spring/Summer Camp 2016
May 21, 2016 – 10:00 AM
SIGNUPS AND TRAINING CAMPS!
SEAHAWKS PRACTICE WILL RESUME JULY 24, 2017@DOMINGUEZ HIGH SCHOOL. PLEASE CONTACT CHAPTER PRESIDENT DEANDRE MALLORY  FOR MORE INFORMATION (509) 608-2234 
THE LEAGUE OF CHAMPIONS
SYFL SOUTHERN CALIFORNIA
MEET OUR 2017-2018 COMPTON SEAHAWKS BOARD
PRESIDENT DEANDRE MALLORY
CONTACT:  509-608-2234
VICE PRESIDENT
HURON JACKSON
TREASURER 
LA TRECE POLK
SECRETARY
TYNIEKA JACKSON
ATHLETIC DIRECTOR
DAVID JACKSON
PLAYER AGENT
MYESHA JONES
CHEER DIRECTOR
ANGELA ISAIAH-PAYNE
The Compton Lady Seahawks will host a FREE Cheer Conditioning Camp, for girls ages 4-14. Please join us for the 1st of many conditioning camps that will be held during the cheer off season. The camp will ensure that you remain in shape and are physically prepared for the upcoming 2017-18 season!!  We will also offer personal tumbling/gymnastics training for interested participants. Please contact us at: (562) 964-1480, regarding tumbling fees. R.S.V.P's are required for tumbling/gymnastics training provided by Coach "Jamaica"
CONGRATS COACH ANGIE AND COMPTON SEAHAWK CHEER 
2017 JAMZ NATIONAL CHAMPIONS 
 CONGRATS COACH DEANDRE MALLORY and COMPTON SEAHAWKS 10U
2017 SYFL SO CAL and STATE CHAMPIONS
SEAHAWK CHEER CAMP WITH SYFL 2016
SEAHAWK FAMILY FEEDING THE BABIES AFTER EVERY PRACTICE.  WE DON'T JUST TRAIN YOUR KIDS BUT WE FEED YOUR KIDS AS WELL. 
WHAT A BLESSING FROM THE SYFL AND SNOOP BLESSING OUR CHAPTER WITH NEW UNIFORMS.  NO OTHER ORGANIZATION TAKES CARE OF THEIR OF CHAPTERS LIKE THE SYFL.  THANKS SYFL
ATTENTION SEAHAWK FAMILY! The 2016 FOOTBALL AND CHEER season is almost here time to get signed up! Signs ups are Saturdays from 12-2 and Wednesdays from6-8pm!  Physicals will be done this Saturday as well from 12-2pm... Please see Ms. Polk for physical forms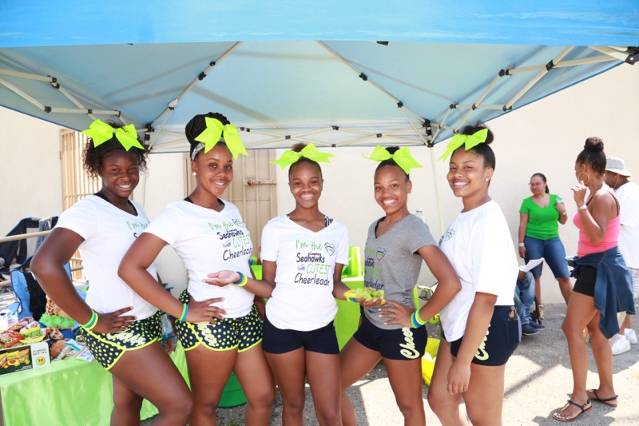 CONGRATS RONNIE HILLMAN ON WINNING SUPERBOWL 50 and MEETING PRESIDENT OBAMA
RONNIE HILLMAN COMPTON VIKINGS FOOTBALL AND SAN DIEGO AZTECS LEGEND
---
Spring/Summer Camp 2016 Copy
May 21, 2016 – 10:00 AM
SEAHAWK PARENTS AND CHILDREN, DUE TO A CITY WIDE EVENT IN COMPTON, OUR TRAINING CAMP TIME THIS SATURDAY JUNE 11, 2016 WILL BE FROM 12:00PM-2:00PM IF YOU HAVE ANY QUESTIONS PLEASE CONTACT COACH DEANDRE MALLORY 509-828-8387.  
 CONGRATS RONNIE HILLMAN ON WINNING SUPERBOWL 50 and MEETING PRESIDENT OBAMA
RONNIE HILLMAN COMPTON VIKINGS FOOTBALL AND SAN DIEGO AZTECS LEGEND