October 29, 2019
We are holding a mandatory parent meeting at the rink during your skater's regularly scheduled practice time.
We will be collecting wreath orders, as well as meeting with our president, Jason Schad.  We will be presenting information and/or training in various locations at the rink.  You will meet your child's coaches in the locker rooms, and get some Snack Bar Training.  We will also have members teaching Scoring Booth and Sound System 101.
The board hopes that this common information and training will help all of our members feel more comfortable volunteering in these necessary areas.  We need as many parents trained as possible to make this an enjoyable season for the kids.  We look forward to seeing all of our old friends and welcome all of our new families!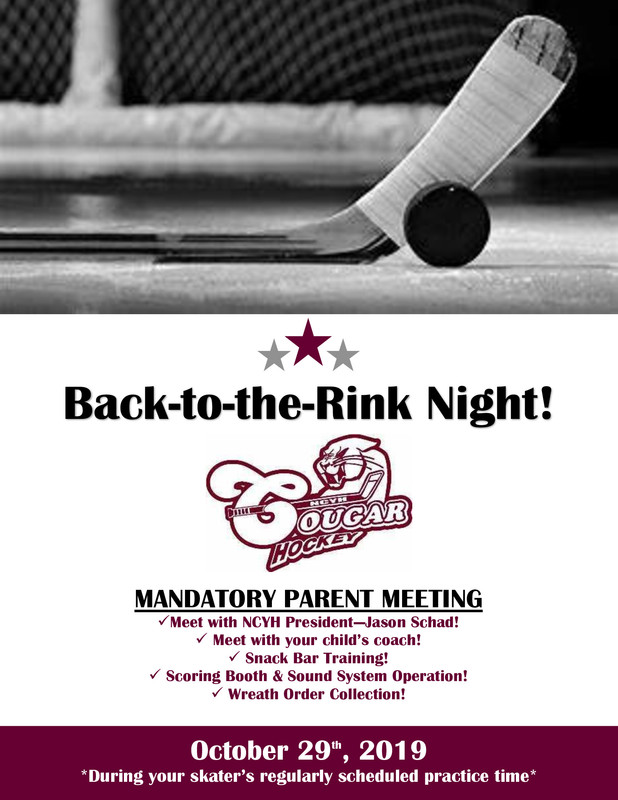 ---
Pay Online - Registration Fees available via PayPal
NCYH 2019-2020 Online Registration Fee Payment Option
The prices offered online are slightly higher than paying by cash or check. The online registration price includes processing fees. If you wish to avoid these fees you can pay in person. We are offering this option for your convenience and it is not required to be used.
---
---
 Goalie clinics now available.  Contact Coach Belley at https://www.ncgdhockey.com  
---
Skating is a fun way to stay active in the long winter months.  Your child can learn to skate for free!  In our Learn to Skate/Beginner's Hockey Program, your child will learn the basics of skating and hockey at no cost for ice time for the first year. 
Follow this link to print a registration form for your child!

---
Calling All Hockey Families!
2019-2020 NCYH Registration Forms are now available online.  Visit the online form page or click here to print the forms. 
We look forward to seeing you on September 21 at the NCYH soccer tournament at the Rouses Point Rec Park.  Board members will be collecting completed forms and payments at that time.  
An Early Bird Discount of $25 off will be offered that day ONLY! 
***Remember to bring completed USA Hockey registration confirmations with you.  They can be found at https://www.usahockeyregistration.com 
---
Attention Parents of NCYH Cougars...
The Association is looking for coaches at all levels.  All fees and associated costs will be reimbursed by the association, 100%!!! 
Please fill out application and email to ncyhcougars@gmail.com or mail to: 
NCYH
PO BOX 162
Rouses Point, NY 12979
We ask that all forms are back by 9/9/19.
Thank you
---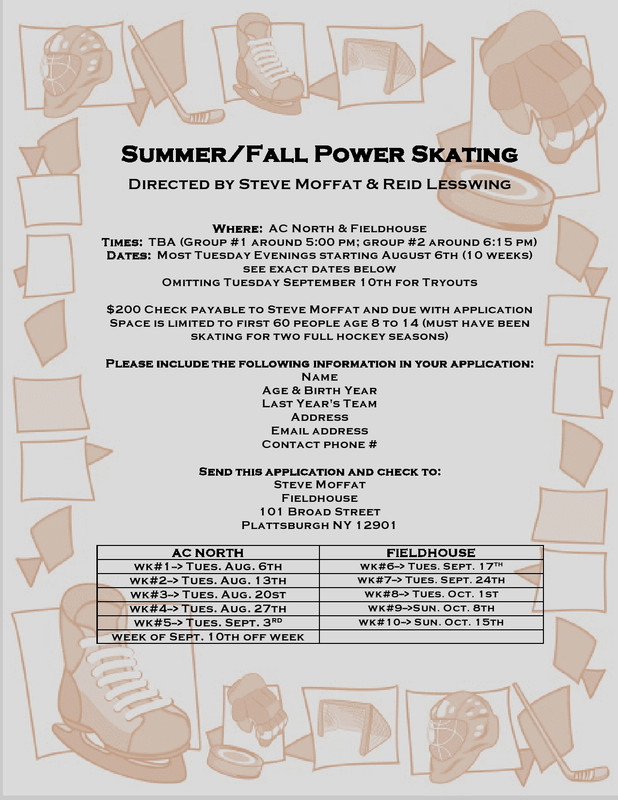 ---
2019 Cardinals Girls Hockey Camp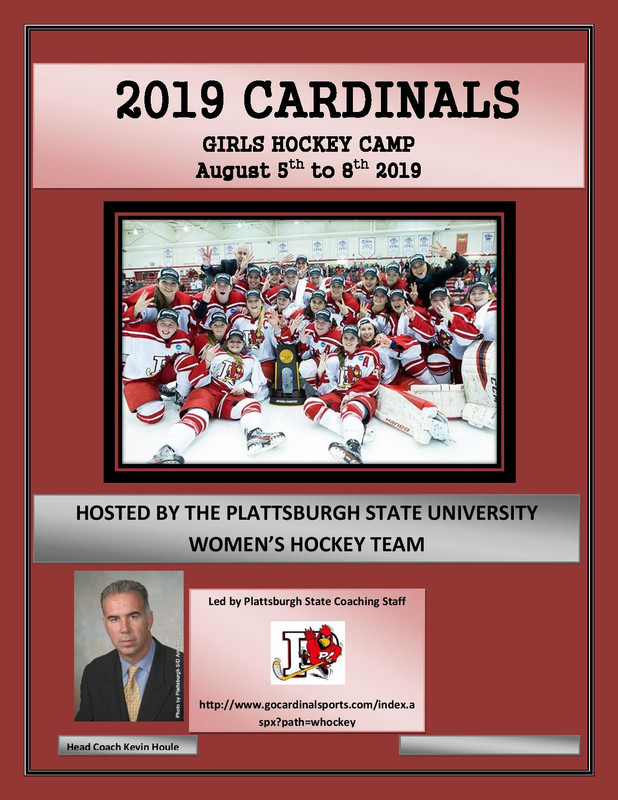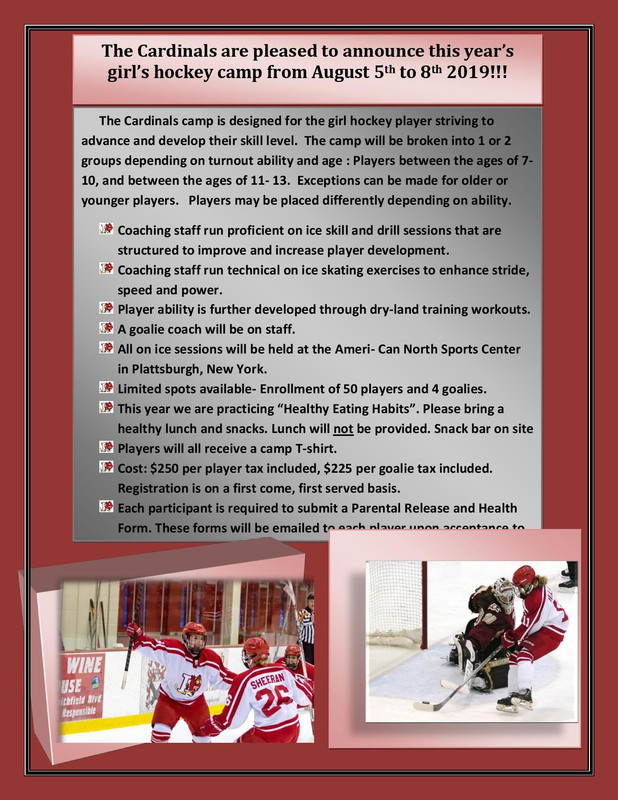 ---
July 14, 2019 – 08:30 AM
Attention! Opportunity for players to meet an Olympic gold medalist and get 2 hours on-ice and 2 hours off-ice instruction. Takes place July 14 in South Burlington. Register ASAP to reserve your spot!
Follow the link below if you're interested!
https://mailchi.mp/widewail/goldenopportunityclinicvt?e=925b3b6056 
---
Rouses Point Independence Day Parade
June 30, 2019 – 06:00 PM

NCYH will be participating in the Rouses Point Independence Day Parade on Sunday, June 30th!

All players are welcome to join us, as are any parents who would like to volunteer! Join in and show your NCYH Cougar Pride!

We will be meeting in the Delagar parking lot at 5:30pm and the parade will start at 6:00pm. Participants can walk or rollerblade, if they choose. Please be sure walkers are wearing appropriate footwear; a helmet is required for those who rollerblade!

Jerseys will be distributed for the players to wear during the parade at lineup. We will also provide water for the participants, and candy for them to hand out.

We look forward to seeing you all there!

Any questions, please message us - thank you!
---
NCYH 7th Annual Golf Tournament
Date/Location:  July 13, 2019 at the North Country Golf Club.  Play begins at noon.
Format:  Four person scramble.  
On-Course Fun: Happy Gilmore Challenge, Longest Drive, Closest-to-Pin, SKINS, and more.
Prizes:  There will be CASH prizes for 1st, 2nd and 3rd places as well as other giveaways.
Cost:  $70 for non-members and $55 for members.  Cost includes cart, golf and dinner.  
Handicap:  Your team of four must have at least a 50 handicap total.
Registration:  Please fill out a registration form and hand in your registration with
payment to the North Country Golf Club pro shop or email matthew.seguin13107@yahoo.com

ATTENTION SPONSORS!!!
If you would like to be a tournament sponsor, please read this letter!
As we plan for our 7th Annual North Country Youth Hockey Golf Tournament, we urge you to please consider sponsoring a hole at our event. The money raised by this golf tournament will allow us to continue to help young people in our area learn to play hockey at an affordable cost and we need your help!
For just $25, your name or the name of your company will appear on one of the golf holes at our event. The prominent display of your name or your company's name will be seen by approximately one hundred people who will be playing in the tournament. We ask you for this support with the understanding that, as a local business or community member, you are probably asked a great deal to donate to causes like this. We tried to keep our hole sponsorship fee low with this in mind. By keeping the donation amount low, we are hopeful to encourage increased support for our event. Your $25 donation is crucial in helping us provide affordable hockey to boys and girls in our area and your support is greatly appreciated.
To make your donation, please make a check out to North Country Youth Hockey and please mail your payment to North Country Youth Hockey, PO Box 162, Rouses Point, NY 12979.
We thank you in advance for any support you can give our event!
Sincerely,
Matthew Seguin, Heather Gadway, Daisy Schad, Kerri Dumas, and Chad Seguin
North Country Youth Hockey Golf Tournament Committee
PO Box 162
Rouses Point, NY 12979