2019 Schedule Posted and Easy to Print!
The 2019 schedule for the Dunedin Falcons can be found by clicking on "schedules" in the main menu above. If you'd like to print off a PDF version of our schedule, simply click on "forms" and then "handouts" in the drop down box. 
50th Annual Dunedin Spring Tourney Announced!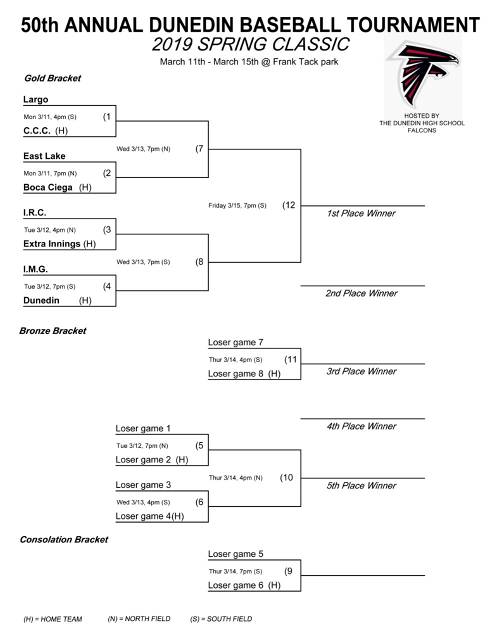 Tryouts Announced. Info Meeting for All Players Wed. Jan. 23rd
Tryouts for the Dunedin High School baseball team will be Monday, Jan. 28th. Time is 5-8pm (This is subject to change.) Tryouts are scheduled to take place at the Toronto Blue Jays Englebert Complex on Field 4. Players and parents are asked to park at Vanech and enter through the back gate. Please check back with this site regularly in the event any changes occur. 
*All prospective players must have a completed athletic packet including online certificates (plus supplemental insurance) on file in order to tryout.  
*There will be a mandatory meeting Wednesday, Jan. 23rd immediately after school in Coach Donald's classroom. This meeting is for all players interested in playing baseball (returners and non returners). This meeting will take 15 min. or less. 
---
State Champions
1964, 2008
Regional Champions
63, 64, 69, 82, 83, 91, 96, 97, 02, 08, 17
District  Champions
63, 69, 74, 79, 81, 82, 83, 87, 89, 90
91, 93, 97, 99, 00, 01, 02, 03, 04
06, 07, 08, 09, 10, 12, 13, 17, 18