Red/White Tonight! 7pm at Dunedin Stadium!

The Falcons Welcome Back a Pair of Alumni Pitchers!
This Friday night, the Dunedin Falcons will host their annual "Red/White" game at Dunedin Stadium. First pitch is scheduled for 7pm. Admission is free to all. 
This year, the Falcons welcome back a couple of former Dunedin pitchers to get things underway. Lefty Eric Sexton (pictured on top) is a 2014 graduate of Dunedin High School. Sexton was a member of two district championship teams (2012 & 2013) at Dunedin. During his senior season for the Falcons, Sexton earned co-MVP honors with his 1.88 ERA and .346 batting average. He was also the team leader in runs scored that season. During his collegiate career, Eric pitched all 4 years at Rollins College and ended his career with a 0.00 ERA for the Tars. Sexton graduated from Rollins in 2017 as a double major in business and economics.  Eric still resides in Winter Park, Florida working for a data based company called Baseball Cloud. 
Pictured below Sexton is his former teammate, RHP Ryan Beineke. Beineke is a 2013 graduate of Dunedin High School. He was a member of three district championship teams during his days as a Falcon: 2010, 2012 and 2013. In addition to pitching for the Falcons, Ryan was also a DH and played 1st and 3rd base for Dunedin. He also pitched in college for the Pasco Hernando Conquistadors. Ryan was a member of Pasco's team that made it all the way to the JUCO world series in 2014. Beineke pitched in game three of that five game World Series as Pasco finished in 3rd place. Ryan currently lives in Clearwater, Florida and works for Great Bay Distributors. 
Schedule for Week 
Friday - "Red/White" Game at Dunedin Stadium. Players need to report for BP at 4pm. Location for BP is TBD. Game time is 7pm. 
Saturday - Conditioning at 10am. 
50th Annual Dunedin Spring Tourney Announced!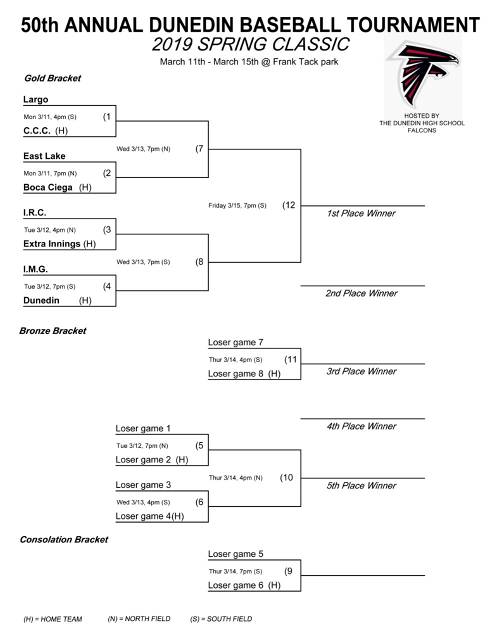 ---
State Champions
1964, 2008
Regional Champions
63, 64, 69, 82, 83, 91, 96, 97, 02, 08, 17
District  Champions
63, 69, 74, 79, 81, 82, 83, 87, 89, 90
91, 93, 97, 99, 00, 01, 02, 03, 04
06, 07, 08, 09, 10, 12, 13, 17, 18