EPGSL is a recreation league promoting fundamentals, sportsmanship and fun!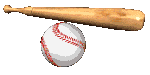 Welcome to East Penn Girls Softball League (EPGSL)
Our league is a culmination of teams from Allentown, East Penn, and Southern Lehigh School Districts. We are strictly a recreation league that bases itself on rules of the Amateur Softball Association.(ASA)
---
Want to know what we are all about....you can locate our Bylaws in the Bylaws/Rules link.
---
Click on the Weather link above for up to date reports!