East Troy beats Genesee in opener 5-2
Express travel to Waterford on mother's day
Jory Tess opens with 4-4 day, crushed the ball
Tim Dexter and Matt Lang shut down tough Rebels
May 11, 2018
The boys of summer are back at it, as the East Troy Express begin another campaign with championship aspirations.  The season began about 6 weeks ago as the players gathered on Wednesday's and Saturday's for batting practice a local store called Phoenix Sporting Goods.  Owner Jerry Schmidt welcomed the team in ro use the facility and the players appreciated Jerry's support.  The cages are open to the public and we recommend stopping by with your child and checking out the operation.  The Express return the core from last year and are led by player/reluctant coach Jory Tess.  His dedication includes driving back from Madison in.orser to attend practices and league meetings, the team thanks you.  Tess is joined by older brother Jeff Tess who is a long time member of the team.  JT begins his 27th or 28th season, but we are not sure as old.age is taking a toll on his memory.  Ryan Kehl returns to handle the catching duties and occasionally acts out put fantasy as a closer.  Matt Lang is back again along with som Walker and wife Jamie in his corner.  Dan Douglas returns as a Mack after getting settled down with his bride and looks to contend for a batting title.  Al Loth will be back in the outfield and looks to shake off the lingering effects of a car accident and speaking of accidents, Mitch Windle might be looking for insurance coverage, so if you know a guy who likes high risk player, he might need your business card.  Jimmy Tontillo looks to be in tremendous shape this season and we expect big things from Tonto.  Caleb Frey welcomed baby Easton this winter and shows up to avoid changing diapers, can't blame him.  Connie Scadden and Chewy Jewell look to find some playing time in a loaded roster.  East Troy added Tim Dexter and Eric the announcer and both players show some promise. Will Ilonciae is currently playing for UWSP but plans on joining the squad when his season ends and we hope the is sooner than later for selfish reasons.  East Troy plays this Sunday in Waterford at noon.  Come join us and bring your mother to the park.
---
East Troy battling for potential postseason bye.
The East Troy Express season is coming down the home stretch and currently sitting at 9-4 and in 4th place in the top heavy Land O Lakes southwest. Since the last article East Troy was rained out against Racine, Split with Burlington and beat Waterford. The Express travel to Ixonia this Sunday for a double header. Ixonia has been playing better of late and always seem to battle us hard. East Troy seems to travel to Ixonia every year for 2 games in sweltering heat and the wind blowing straight out. Rumors are that the playoff system will be top 6 teams getting in with the 1 and 2 seeds earning a bye, and 3 vs 6 and 4 vs 5, so all the games are critical if East Troy wants to have Saturday off... Game time is noon... Below is the link to the current standings.
http://landolakesbaseball.atomicleagues.com/standings
---
Splitsville twice
The East Troy Express split with Genesee and North Prairie the last 2 weekends and currently stand at 5-3. The offense was mostly to blame by missing some opportunities but all in all the team seems to be trending in the right direction. The pitching staff has been stellar with the resurgence of Todd Nabor and the emergence of Will Ilonciae to go along with steady Jeff Smith as the anchor of the rotation. Jimmy Tontillo came up big in his inning of work Sunday keeping the Express in the game. The Land O Lakes has gone thru a number of changes and the playoff format has yet to be revealed so it is imperative the East Troy go on a run in the next 3 weeks, all doubleheaders, starting this week with a twin bill at home against a dangerous Rome Raiders team. All games this year start at noon...  
---
East Troy defeats Tapoles (future Frogs) 5-1
East Troy travele
d to Dousman with rumors swirling of a regime change or the possibility that the Frogs were short players but when the Express 

arrived

 to see a bunch of new faces warming up in the outfield all was good. The Frogs only familiar face was former Express player Dan Timmers and he told us that the team consisted of a number of really young players from Mukwonago and the surrounding area. Well the newest members of the Dousman team rolled out a lefty with a couple decent pitches and kept the Express bats held in check all day long. East Troy got on the board when Jory Tess walked and was forced out by Dan Douglas, who promptly stole a bag to get into scoring position. Jeff Tess would single in Douglas to tie the score at 1. East Troy would take command in the 7th when right fielder Jeff Smith would smash a grounder off the 1st baseman, Jory Tess would sac bunt Smith over. Dan Douglas singled and Jeff Tess would rip a double to score Douglas. Will Iloncaie would drive in Tess with a single to left and when the smoke cleared East Troy was up 5-1. Todd Nabor would get the start on the mound and pitch 6 effective innings striking out 4 and collect the win. Will would come on in the 7th and get the save allowing only one hit.. Ryan Kehl maintained his torrid pace by collecting 3 more hits and raising his average to a gaudy .643. Jeff Tess also had 3 hits and a couple RBI. East Troy travels to Genesee for a doubleheader Sunday game time at Noon
---
Express take down West Allis Knighthawks
The Express traveled to West Allis to take on new a division foe and came out on top by a score of 3-1. Jeff Smith would go 8 strong innings, striking out 7 and allowing only 5 hits and earned the win. Will Iloncaie would pitch the 9th and earn the save but Will's real contributions would come at the plate where he collected 3 hits and a walk and scored 2 runs. Mitch Windle would have 2 hits for the 3rd 

straight

 game and early season MVP candidate catcher Ryan Kehl had 2 hits and an RBI. Josh Oswald would also have an RBI and Dan Douglas would have a booming double that may have left the yard if we played at the JV field. East Troy travels to Dousman as the schedule maker has the Express on the road the 1st 6 games of the year. SO thanks for that  
---
Express fall to New Berlin 6-5
The East Troy Express and New Berlin Lakers seem to developing a nice rivalry after only 2 career match-ups, both hotly contested games. On a frigid Sunday afternoon the teams hooked up in a pitchers dual with Jeff Smith getting the ball and going all 9 innings, allowing only 9 hits and 5 walks while striking out 7. Smitty battled 

command

 issues early allowing a single tally in the 1st and 3rd innings and the only hard hit ball was a no doubt homer in the 5th, a 2 run shot.. the final straw was a walk to open the final frame and a couple broken bat duck farts to end the game in disappointing fashion. East Troy was trying to come from behind all afternoon and finally struck in the 7th inning. Jory Tess would walk, Jeff Tess would single and Mitch Windle would follow with a single to push across Jory. Josh Oswald would drive in Jeff and Ryan Kehl would single in Windle to cut the score to 4-3. In the 8th, Jory would single and reach 2nd on a pass ball and Jeff Tess would single to drive him in and Tess would be thrown out by a mile trying to stretch it into a double. Tess would blame the 1st base coach, bat boy Bob, and a slow track for getting hosed. The Express would take the lead in the 9th when Windle would single and Matt Lang walked. After a double play, Kehl would clutch up and drive in Windle to put ET up 5-4. It was a tough loss but the silver lining was.... wait we lost so there is no silver lining... East Troy travels to West Allis on Sunday for a noon start. Game is at the location below... Expect Ryan Kehl to have a big game at Rainbow Park.. Just saying
700 South 119th Street
West Allis, Wisconsin
---
2016 Season off and running - Express open with W at Waterford
May 11, 2016
The 2016 season is already upon us and opening day saw the East Troy Express travel to 

perennial

 rival Waterford Rivermen. The new season brings change and uncertainty and East Troy had a issues coming into the season with pitching and depth as only 10 guys were around to start the season. Todd Nabor would be working his way back from an injury last year and started on the hill. Nabs was able to get thru 4 innings and made 2 mistakes that hurt him but all in all was solid and looked to be getting more comfortable as the game wore on. Jeff Smith would surprise the Express with his return after an offseaon with many questions surrounding his return. After many negotiations and some hard thinking he was able to finagle his way back for another year. His return suddenly made the rotation much deeper and Smitty was able to shake off the rust and grind out 4 innings. Matt Lang would pitch the ninth and secure the Express win. The offense was able to show great patience at the plate walking and getting drilled by a number of wild Riverman pitching. The highlight of the day was Dan Douglas and Lang both hitting homeruns. Al Loth had a huge day reaching base 6 times going 4-4. Douglas had 3 hits, Smiitty showed his golf swing DOES correlate to baseball, getting 2 hits. Mitch Windle had 2 hits and Jeff Tess had a couple hits and 3 RBI. Jory Tess coached the team and Jimmy Tontillo got to play for the 1st time in 3 years and of course Ryan Kehl was back behind the plate calling an excellent game... Hope that I mentioned everybody.. 
East Troy travels to New Berlin Sunday at noon. This game following the Express fundraiser golf outing has been a tough game for the boys historically.. maybe this year the curfew will be set at bar time...
---
Express win playoffs- travel to New Berlin Saturday
The link to the Playoff game in New Berlin is above it at Malone Park on National. Game is at noon on Saturday
Local Directions, 

National Avenue (Highway ES) west from Milwaukee County or east from Big Bend to field, approximately 1/2 mile west of Moorland Road (Highway O) 

Regional directions, 

From Interstate 94, 
Take Exit 301A (Moorland Road south). 
Moorland Road (Highway O) south about 3.5 miles to National Avenue (Hwy ES). Turn right (west) on National Avenue about 1/2 mile to field. 

From Interstate 43, 
Take Exit 57 (Moorland Road north). 
Moorland Road (Highway O) north for a distance of just under 2 miles to National Avenue (Hwy ES). Turn west about 1/2 mile to field.
---
East Troy get redemption against Genesee 7-3
In a Southwest showdown pitting 2nd place East Troy vs 3rd place Genesee both team knew a lot would be on the line and the game was intense from the start. Al Loth would again climb the hill a prove to be emerging as a solid #2 starter by going 8 strong innings to collect the win. Loth would allow only 6 hits and strike out 4 hitters. Will Iloncaie would come on shut em down in the 9th striking out 2. East Troy would score in the 2nd when Jeff Tess and Matt Lang single and Josh Oswald would drive them both in. In the 3rd Dan Douglas would single and Jory Tess would double in Douglas. Jeff Tess walked and Mitch Windle would single in Tess. Windle would single and score on Josh Oswald's booming homerun his 3rd of the year. East Troy tacked on an unearned run in the 8th to all but wrap up 2nd place. The Express travel to North Prairie in another big match up on Sunday.
---
Express rally to beat Cooney 13-7
The East Troy Express rallied from an early 6-0 hole to beat Oconomowoc 13-7. Starter Jeff Smith was knocked around early and when the hook came for him in the 3rd in asked for 1 more inning and found his groove. Suddenly Smith couldnt be hit and the strikeouts started to pile up. When the smoke cleared, Smith went the distance striking out a season high 13 batters to collect the win. The Express bats came alive in the 5th inning when Jory Tess walked and Matt Lang was hit by pitch. Jeff Tess then tripled to drive in 2. In the 7th East Troy would bat around and score 7 runs to take the lead. Ryan Kehl would triple and drive in 2 runs Matt Lang would double in a run and Jeff Tess would double in 2. In the 8th East Troy would put the game away when Jory would drive in Dan Douglas who singled and Smith who walked. Jory Tess was 3-3 and walked 3 times. Jeff Tess had 5 rbi.
---
Express Sweep Burlington in double dip behind pithcing staff
The East Troy Express battled the Burlington Barons in both games and found a way to squeak out the double header sweep taking each game 4-3. In game one lefty Jeff Smith was the story going the distance and earning the win. Smith struck out 5 and allowed only 3 runs in the 5th inning. Smith dominated a potent Baron offense with little offensive support until Josh Oswald homered and Jory Tess singled and drove in Smitty. Smith then single to drive in Al Loth who walked and stole both 2nd and 3rd. The Express would win the game in walk off fashion on an error in the 9th to send the crowd into a frenzy. 
Game 2 would have a similar story line with Al Loth taking the hill anticipating going 4-5 innings but instead would find a groove and go all 10 innings in an incredible display of will. Loth would get the win and strike out 6. East Troys bats struggled to get a big inning going but were able to stratch out a run in the 2nd when Smith would drive in Oswald. Jeff Tess doubled in the 3rd and was drove in by Loth. Oz was walked and then Dan Douglas single and drove him in and East Troy would win it in the 10th when Oz doubled and Loth singled and tried to steal 2nd and Oz broke for home and only because of his blazing speed was able to sneak in untouched for the win.
---
East Troy powers past Waterford 12-8
East Troy and Waterford matched for the 2nd time in 4 days and the results were much more favorable for the home team as the Express bats came alive and carried the team to a nice 12-8 victory. East Troy would go deep, deep into the well and pull out Jory Tess to start the game on the hill. Tess was on a pitch count as was able to get through 4 innings allowing 3 runs and struck out 3 in his 1st appearance of the season. Will Illonciae would come on in the 5th and go thru 4 innings as well and appeared to be getting stronger as the game wore on and the nerves settled down. Will gave up 2 runs and struck out 2 and earned the win. After a bit of a scare in the 9th, Al Loth would come on and nail down the save. The Express bats were able to come alive in a big way in the 4th inning. Matt Lang and Jeff Tess would be hit by pitches and "Mighty" Mitch Windle would hit a 3 run home run showing opposite field power. Illonciae and Dan Douglas would single as would Ryan Kehl and Jory Tess would also single to drive in a run. In the 5th inning Jeff Tess would double and Windle would hit his 2nd bomb of the game and 5th of the year. Tess would answer Windle bomb with a tape measure home run of his own into the skatepark. East Troy would salt it away in the 8th when Lang tripled, Tess singled in Lang. Windle was walked and Josh Oswald would single in Tess. Al Loth would then complete the scoring with an rbi single of his own. It was a complete team victory for East Troy as the look to lock up a playoff spot.  
Offensive Standouts
Mitch Windle 2 HRs and 5 rbi
Ryan Kehl 3 hits
Jeff Tess 3-4 HR, Double
Will, Al , Oz and Dan Douglas had 2 hits
East Troy has a huge double header this Sunday at home against Burlington at noon
---
Express bats lost in lights , Lose 3-2 at Waterford
The East Troy Express traveled to Waterford for a rare Wednesday night clash with the underfeated Riverman and left frustrated after the 3-2 loss. Tough luck pitcher Jeff Smith kept the potent Waterford lineup in check, going the distance striking out 7 and allowing 3 earned runs. Smith deserved a better fate but the Express bats were silenced in key situations by Waterfords solid pitching and defense. East Troy had a run in the 4th on Matt Lang's booming line drive homerun but failed to clutch up with 2 runners on in the 4th and 5th inning. The major threat came in the 8th inning when Mitch Windle and Todd Nabor singled with 1 out. Al Loth and Jeff Smith walked to drive in a run and cut the deficit to 3-2 but were unable to plate any runs after that. Give Waterford credit for making the plays necessary but East Troy felt as though it was a game that they should have won. Ryan Kehl, Nabor and Lang colleted 2 hits apiece. East Troy falls to 6-3 and Waterford moves to 10-0. The teams rematch this Sunday.
---
Triple Play Propels Express over Raiders in Game 1
The East Troy Express traveled to Rome for a double header on Sunday. Rome is an up and coming team that is young and dangerous with plenty of pitching to match up with the visitors. Jeff Smith would start on the mound, making a return to a place he spent 8 years as the Raiders main arm. Smitty would not disappoint in going the distance in dominating fashion allowing 7 hits and striking out 5. The key play was early in the 1st after Rome's 1st 2 hitters reached base, the number 3 hitter lined out to Danny Douglas who tagged 2nd base and then fired to Jeff Tess for a triple play and essentially took the starch outta the home team. From that point forward Rome never really threatened. The Express offense was held down for the most part but would muster a run in the top of the 1st as Rya Kehl would single and score on Matt Lang's base hit. Kehl would single and steal second base, advance to 3rd on a ground out and then steal home to score the only other run on the day. 
---
Shorthanded Express prevail 8-3 against Oconomowoc
The East Troy Express traveled to Oconomowoc Saturday to meet the 2-1 Titans in a critical early season battle. It appeared as though both teams were scrambling for players right up until game time, but the arrival of veteran Travis "t-town" Krauss would get the game started on time. East Troy would jump out in the 1st when Ryan Kehl- freshly released from Ebola quarantine, would walk and steal second with 2 outs. Jeff Tess would produce the rbi single to open the scoring. The Titans would get to starter Jeff Smith for a run in the 3rd and 2 more in the 7th but Smitty brought his "A" game on a day when the Express needed him most. Smith would go the distance scattering 11 hits and striking out 5 and relying on some excellent team defense. East Troy would turn 3 double plays and 3rd baseman Mitch Windle  woud sparkle with the glove, but it was his bat the had the visitors impressed, as he would go 4-5 on the day. East Troy would score 2 runs in the 5th inning when Kehl would be hit by pitch, Matt Lang and Jeff Tess would single and Windle would drive in 2. In the 7th , Jory Tess would start the inning with a single as did Windle and Josh Oswald would double to drive in 2.  East Troy would salt it away in the 8th when Krauss and Will Iloncaie singled. Lang would single to drive in one and Jeff Tess would double to drive in 2 and that completed the scoring. Tess would go 3-5 with 3 rbi and Lang, Oswald and Krauss would each have 2 hits apiece. It was a nice victory over a playoff team and East Troy looks to build on this win next week on the road against Rome. This is a noon start as the teams will play 2 games on Fathers day.
---
Dawg answer Express rally
The Express knew going into the Sunday tilt at home against North Prairie that is would be a tightly contest game. The Dawgs have a number of young players and they put pressure on your defense by putting the ball in play and using speed, but their power would be the trump card in this contest as a 9th inning 3 run bomb would prove the difference in the 12-9 loss for East Troy. The home team would get a run in the 1st as Dan Douglas would walk and Jory Tess would be hit by a pitch. Jeff Tess would single and score Douglas, who was replacing Ryan Kehl behind the dish. Danny played great but is still wearing ice bags as of Wednesday as Kehl is trying to grow hemp in Kenya. well that's what I was told he was doing anyways... In the 2nd Jeff Smith would single and drive in Al Loth. Smith battled hard all day despite dealing with general soreness after the street dance... In the 3rd, the Express would display a power surge in the form of the Tess boys, as Jory would collect his 1st hit of the year, a 350 ft homer to start the inning. Brother Jeff would not be out done by crushing a 395ft blast - also a solo shot. Jory claims the Southwest How Far did it Fly distantance calculator was broken on his measurement. ET would score in the 7th as JT would double and Jeff Smith would again deliver an RBI base hit. In the 8th, the Express would rally from 4 down to tie it with Douglas singling , Jory doubling, and Lang reaching base to load the bases. Loth would single, Smitty was beaned and Todd Nabor walked to tie it up, but it was all for naught as the Dawgs would take advantage of some shotty defense- but in all it was a very good game to play in and be a fan of. The Express have 2 games this weekend, Saturday in Ocomonowoc and Sunday at home vs Waterford.
offensive stars
JORY TESS 4-5 . 2 RBI, 2B, HR 
JEFF TESS 4-6 2RBI , 2B , HR
AL LOTH , JEFF SMITH 2 HITS EACH
---
Rebels down Express
May 28, 2015
The 2-0 Express traveled to an 0-2 Genesee Rebel team desperate for a win. On paper it seemed to be a game the visitors should win, but 

that's

 why you play the games. East Troy would start Jeff Smith and he would have a good game but was unable to wiggle of the hook due to some shotty defense and an offense that couldn't get the big hit. Smith would go 7 innings. Josh Oswald would go in the 8th and shut down the Rebels. The offense would be kept off balance all day in what amounted to a frustrating loss. Todd Nabor would provide a lift by crushing a 2 run homer deep into the pines. Nabor got the start in right field because he always hits well at this park and he did not disappoint. The Express would score in the 6th when Jeff Tess would lead off with a single and score after Josh Oswald singled and a pass ball. The Express would make things interesting in the 9th with Oswald singling again and scoring on an Al Loth sac fly. East Troy has an extra week to think about the tough loss as this is a schedule bye week. Matt Lang stayed scorching hot and in an interview after the game was quoted as saying "the team is looking good despite this loss. I personally am in a good rhythm early on due to the number practices we have had and the live pitching we have faced against our pitching staff. I just feel relaxed and comfortable in the box and hope to carry this start throughout the year." East Troy looks to rebound with a home game on June 7th against North Prairie.
---
East Troy puts on Fireworks display before Memorial day
May 22, 2015
The East Troy Express held their 2015 season opener by welcoming in the visiting Dousman Frogs to the Amusement Park on a windswept Sunday afternoon. It was Dousman's 1st game of the year and the Home team didn't know what to expect-Only that the Frogs were playing with Express castoffs Johnny Rah-Rah and Dan Timmers. Jeff Smith would start his second consecutive game and went 5 strong innings before leaving the mop up duties to newly returning Josh Oswald. Oswald would mow down the Frogs in order in an impressive season debut, but his mound accolades would pale in comparison by the absolute show Ozzie put on at the plate. Josh would homer and have 2 triples on the day, with a note that the triples were actually more impressive than the homer, but East Troy's cavernous centerfield cost him potentially 2 more big fly's. East Troy would take control in the early going and tack on runs basically every inning in route to a 20-2 victory. The day was filled with great individual performers. Matt Lang continued his torrid start by collecting 3 more hits. Mitch Windle would homer for the second time on the season. Jeff Tess was 3-3, Al Loth also had 3 hits. Ryan Kehl had a couple knocks as well. The only guy who sucked was rookie Tyler "Chewy" Jewell. Chewy received a token at bat when the game was outta reach and watched 3 cock high fastballs go right past him for a strikeout. Jewell – who unfortunately will turn 21 soon – was seen running to the Port-O-Let to change his undies after the at bat. East Troy travels to Genesee this Sunday to play the Rebels at 1:30
---
Opening Day Victory
May 15, 2015
Opening Day 2015 saw the Express travel to Ixonia on a dreary Mothers Day. East Troy players were excited to kick off the season and finally play a game after weeks of practice. The bats were silent for most of the day until Mitch Windle unloaded on a change up from the Snapper hurler deep over the left field fence for a 2-run dong. The offense was still in preseason mode and failed to capitalize on a day that should have been a stat stuffer. Matt Lang has 3 hits and other than Windle was that lone bright spot. Jeff Smith would get the start and he was in midseason form, going 7 innings without allowing a run. Todd Nabor would come in and record the save in a 6-1 Express win
---
Dousman leapfrogs Express 8-4
June 23, 2014
Some times you go the park and it just doesnt go your way and thats exactly what happend in Dousman on Sunday as the Express would fall 8-4. East Troy would jump out to an early lead scoring single runs in the 1st and 2nd inning but were unable to deliver the knock out punch with bases loaded and the missed opportunity would come back to haunt them. The Frogs would hang 5 runs in the 7th inning to blow the game open. Thats all there is to say about that...... East Troy will play a home game Saturday against a red hot North Prairie squad and look to rebound and climb back into the pennant chase. This is all star weekend so the Southwest representives will travel to Pewaukee Sunday to battle the Western division. As of the report, the meeting was still being conducted. East Troy should send a few players but you never know what the other teams stats will look like come voting. To see a complete list of our stats you an find it on our page under 2014 Stats.
---
Express sweep Snappers on Father's day
June 16, 2014
Game 1
East Troy journeyed up ol Hwy F to battle the Ixonia Snapper on Fathers day and came away with a doubleheader sweep. With the south winds blowing straight out both teams knew that it was going to be great day for scoring and that would hold true. The Express would open the scoring in the 2nd inning when Matt Lang would hit a home run. After the homer, every day Ray, the Ixonia pitcher would drill Jeff Tess in the arm and yell "happy fathers day" as Tess struggled to 1st. Mitch Windle had Tess' back and proved it by smashing a 425 ft shot to left for another homerun. Jeff Smith would walk as would Adrian Piel and both would score on singles by Ryan Kehl and Jory Tess. ET would score again in the 3rd when Jeff Tess would double and score on an error on Smith smash to 2nd base. The Express would score 2 runs in the 4th and 4 runs in the 5th  to pull away for good. Dan Timmers single, Kehl would walk , Jory Tess would be hit in the ankle, and Jeff would single driving in 2. Smith took control on the hill from the beginning and would allow 3 runs in going the distance for the win, scattering 9 hits and striking out 6. 
Game #2
Matt Lang would get the rock and have an interesting day. Matty would get the win and possibly the save.... as he went 5 strong innings allowing 2 runs and striking out 3 batters. With the Express up 15-1, East Troy run out a new pitcher who would literally walk the Snappers back into the game. The Express would then call Lang back into the game and Matt would restore order going the last 2 innings. It was quite possibly the longest 2 innings in baseball history. The offense has a party at the bat rack all day long with some impressive stat lines. Adrian Piel wouild reach base safely all 6 times and score 5 runs going 3 for 3 with a double. Lang drove in 4 and Jeff Tess would drive in 3 more to bring his total rbi's to 16. Mitch Windle would go 3-5 with 4 rbi's. Dan Timmers had 2 hits as did Jeff Smith. 
---
Express Fall Late to Barons in Thriller
June 14, 2014
The East Troy Express and the defending SW champion Burlington Barons battled tooth and nail for 9 innings before the champs pulled out a thrilling 5-4 win. The Express would lead most of the game after jumping out to an early 4-1 lead. Adrian Piel would start the 3rd inning with a walk followed by base hits by Jory Tess and Matt Lang. Jeff Tess would then rip a ground rule double down the left field line driving in 2. Burlinton would chip away at the Express lead with the long ball, with 3 solo shots, one being an inside the park homer to tie it up and then would win it with a walk and some poor bunt defense by an experienced Express defense in the 10th inning. Todd Nabor was solid again going 7 innings and leaving with the lead. Jeff Smith replaed Nabor and was the tough luck loser despite pitching well. EAst Troy had a chance to win it in the bottom of the 9th but could not get the job done with a runner on second and 1 out. Jory Tess stayed red hot going 3-5 and is batting around .500 and Matt Lang kept up his torrid pace by collecting 2 more hits and is batting over .500. Jeff Tess drove in 3 runs and now has the team lead in RBI. Adrian Piel was a wecolmed addition to bolster the roster as was Josh Oswald, who joined the Express after an all conference high school season, had 2 hits.  East Troy has a tough stretch of games beginning Saturday at home against Rome at 1:30 and then travel to Ixonia for a double header at noon. 
---
Express split with Rebels
June 2, 2014
ON a wind swept Sunday afternoon the Express train traveled to Genesee and came away with a split. It was just one of those days in game 1 as the Rebels got out to an early lead off of starter Matty Lang in the second inning with a perfect combonation of walks and seeing eye singles and a few questionable defensive plays put ET in an early 6-0. The Express would try and rally in the 4th when Jory Tess and Matt Lang would single and Jeff Tess would walk to load the bases with one out but could only muster a single run. The Express mounted rallies in the final 3 frames but couldn't get the big hit and would lose 8-3. Jeff Smith pitched the final 4 frames and would allow 2 runs while striking out 5 hitters. Lang would have a nice day at the plate going 3-4 with a double. 
Game 2
Game 2 had a familiar feel as Todd Nabor would set the tone on the hill in the 9-1 win. Nabor would go all 7 innings allowing 5 hits while striking out 8 Rebel hitters. East Troy's offense did not take long to get going in the 1st inning. Al Loth led off the game with a base hit. Ryan Kehl and Jory Tess would follow with singles to load the bases and Matt Lang would walk to put ET up 1-0. Jeff Tess would then single to drive in 2 and when the damage was done the Express were up 4-0. East Troy put the game out of reach in the 5th and 6th innings by scoring 5 more runs with key hits by Jory who doubled in a run and Land who drove in Tess. Loth would set the table all day by scoring 3 runs and 2 hits. Kehl, Jeff Tess, and Lang would collect 2 hits a piece and Jory Tess would come away with 3 hits. East Troy is now 4-2 on the young season and have their 1st home game this Sunday against defending champs Burlington at 1:30 
---
Express sweep Rome and clich #2 seed
August 6, 2013
The Express went into the regular season finale knowing that a sweep of Rome would lock up the #2 seed and a 1st round bye and low and behold they got the job done! The double dip played on Saturday August 3rd in front of a raucous crowd on fan appreciation day and the local 9 would not dissapoint. Al Loth took the hill in game one and despite battling flu like syptoms, would get the complete game win and allowing only 2 hits on the day as East Troy would win 4-0. Ryan Kehl was the offensive star, collecting 3 hits, including a double and 2 rbi. Jory Tess would have 2 hits and 2 rbi's.
Game 2
Matt Lang would start for East Troy and go 6 strong innings allowing only 3 hits and no runs. Todd Nabor would come in and mop up in the 7th for a save as East Troy would win 3-0. The offense was none existant as the Express turned to the "JV" squad resting Jeff Tess, Kurt Wenzel and Travis Krauss and replacing them with Josh Oswald at 3rd, Connie Scadden at 2nd and Andy Kiesow at 1st. The average age dropped from 30 something to barely legal but the young guns of the future played solid defense.
The Express will host a semifinal playoff game on August 11th @ 1:30 at the Amusement park.
---
Express play great- earn sweep of Wales Royals
July 22, 2013
The Express hosted the Wales Royals on 7/21 and played solid in all facets of the game to earn a sweep of the doubleheader. East Troy improved to 9-5 on the season and are currently in 2nd place in the LOL SW behind Burlington(12-1) and percentage points ahead of Genessee and Waterford. East Troy travels to Waterford for a big showdown on Wednesday night.
Game 1-
East Troy send Todd Nabor to the mound and the southpaw would not dissapoint. Nabor would go the 1st 6 innings to collect the win. Nabor allowed 5 hits and walked 2 batters while striking out 9 hitters. East Troy would call on regular Shortstop Jory Tess to mop up in the 7th to get him some work on the mound, Tess struck out the final hitter he faced. The Express offense didnt take long to get warmed up as the bottom of the 1st would have the home team scoring 6 times. Jory Tess lead off the game with a single, followed by Ryan Kehl's run scoring double. Matt Lang returned to the lineup and single to drive in Kehl. After an out, Jeff Tess joined the hit parade and drove in Lang. Kurt Wenzel would single as would Myles Olsen to load the bases. Travis Krauss would be hit by pitch and then Jory Tess would double to clear the bases and when the smoke cleared the Express were in command of game #1. Matt Lang was star of the game going 3-4 with a stolen base. Jory and Jeff Tess would go 2-4 with 2 rbi apiece.
Game #2
Al Loth would get the nod to start game #2 and Loth would lock down the Royals offense going 5 innings before an afternoon rain storm would end the game early. Loth would give up only one hit after some early game command issues. Al would get the win and he struck out 5 batters. East Troy would get rolling in the 2nd inning after 2 outs, Wenzel and Adam Wolter would walk and Myles Olsen would single to center and the ball was misplayed  allowing both runners to score. East Troy would tack on 2 more runs in the 3rd when Kehl singled as did Lang. Loth's fielders choice would score 1 and Jeff Tess' base hit drove in Lang to put East Troy up 4-0. East Troy would put the game away in the 4th inning when Wolter walked again, Connie Scadden would double and Krauss would single. Jory Tess would drive in one on a fielders choice and Kehl and Lang would single again to ice the game. Ryan Kehl- with his new girlfriend in attendence would go 3-4. Lang and Jory Tess would collect 2 hits along with Krauss.
---
Express spilt weekend games
July 17, 2013
I what amounts to kissing your sister, the East Troy Express split their 2 games over the weekend, beating Oconomowoc 5-1 and taking the day off against Genesee and losing 4-1.
Saturday-
East Troy came to the park on a mission to play a solid game against a team who was battling them for playoff position in the Titans and behind Al Loth's dominate picthing performance won 5-1. Ryan Kehl hit a career long home run that cleared the skate park and was found near the concession stands at Mitchell park(estimated at 425ft)
Sunday-
After celebrating the Saturday victory, East Troy looked awful in the heat and wasted an opportunity to take sole possession of 2nd place by losing to the Rebels 4-1. Todd Nabor pitched well and we hurt by a ball lost in the sun allowing 2 runs to score. Express bats were silenced by a whiffle ball magician pitching for the Rebs. ET never seemed to get anything going and before you knew it that game was over.
---
East Troy pitching keeps North Prairie offense locked up in the kennel
July 8, 2013
 
The East Troy Express traveled to North Prairie to face the Dawgs in a meaningful double header and behind excellent pitching swept both games. In game one East Troy would start fast and score in the top of the 1st when Al Loth single to drive in Ryan Kehl and Matt Lang to put East Troy up 2-0. Todd Nabor would start for East Troy and he would make that early lead hold up by pitching the complete game gem. Nabor would give up only 5 hits and 2 walks while striking out 6 batters allowing 1 earned run. East Troy faced early adversity as Kurt Wenzel would have to leave the game after taking a 88mph fastball to the knee cap. Wenzel, who has been hot lately, would be replaced by rookie Adrian Balboa. Adrian would then get beaned twice, with the finishing blow a shot to the left eyeball forcing him to leave the game as well. Deep reserve- Connie Scadden would fill in at 3rd admirably. The Express and their rag tag squad would finish the game with a 5-1 victory. Loth and Nabor shared MVP honors with Loth collecting 3 hits and 4 rbi and Nabor would get the win.
Game 2
Loth again would have a major impact in the Express 8-2 win. Loth went the distance allowing 2 runs- 1 earned and had the Dawgs guessing all afternoon. Jory Tess would get the offense going in the lead off spot by get 3 hits and a couple RBI. Ryan Kehl and Matt Lang both collected 2 hits apiece. With both wins East Troy captapults from 6th place to third and has a chance to move up further with 2 home games this weekend. The Express look to avenge ealry season losses Saturday against Oconomowoc and Sunday is against Genessee, both games at 1:30
---
Another rough day for the Express offense
June 24, 2013
East Troy traveled to Oconomowoc on Sunday to take on the Titans in a big game heading into the All Star break and came away with a dissapointing 4-0 loss. East Troy pitcher Todd Nabor worked the whole game and was shaky early allowing a few hits and a walk and was not helped when a bad hop squirted past 2nd baseman Jeff Tess to allow 2 runs to score in the 3rd inning and Cooney tacked a couple more runs late in the game to take the 4-0 final. Nabor deserved a better fate but ET was unable to get it going. The Express offense was kept off balance for all day long by the Titans pitcher. He threw 90% off speed junk and was excellent with location. The Express hitters were out in front all day and only had a few opportunities but a bases loaded threat ended with a double play ball on a one hopper back to the pitcher. The Express had 5 hits on the day wth Tess going 2-4 and Josh Oswald collected his 1st LOL hit. Jory Tess has a hit and that was about it. It was not the way the Express wanted to head into the All-Star break but at 4-4 East Troy is still in a good position to make a run at the playoffs and a home game.
---
Nabor, Tess and Tess make All-Star team
June 21, 2013
On Monday night coach Kurt Wenzel and 9 other LOL SW coaches met in Genessee and locked themselves in a cage and battled for who would represent our league in the 2013 All-Star game to be held in East Troy on June 30th and a bloodied and batter Coach Wenzel was able to land 3 Express players on the team. Lefthanded Ace Todd Nabor once again will be attendng the midsummer Classic and pitch for the Southwest. Todd is having another fantastic year and the timeless wonder continues to dominate hitters year after year. Joining Nabor are a pair of brothers, Jory (younger) and Jeff (much better looking) Tess. Jory will be starting at shortstop and Jeff will be starting at 2nd base in what is believed to be the 1st brother double play combonation to start a LOL Southwest All Star game. Jory, who is 23 years old, has been leading off for the Express and setting the table for older brother Jeff (age withheld) who lead the team in RBI's. All three are excited to represent East Troy and hope for a big turnout to support the team. Matt Lang was an all star snub and is an alternate should someone back out. Lang has pitched well and had a number of clutch hits. Special mention goes to Travis Krauss who has a nice year going and is batting around .300 but T-Towns glove has been just flat out awesome. The Express play Saturday 6/22 at home against Oconomowoc at 1:30
---
ALL STAR REPORT : STOLE THIS FROM ROME WEBSITE
June 21, 2013
My good buddy and basketball teammate AND Rome's current coach , Lance Pedersen does a kick ass job of writing articles and he put together a sweet break down of the All Star voting so I stole it so our readers and fans could get a feel for what actually happens at the meetings and so our players can recognize what other players in the league are doing,
2013 Southwest All-Star Team
The 2013 Southwest All-Star team is loaded with talent – both young and old. If you're familiar with the Southwest Division, it's an exciting time, knowing that there are still a lot of talented veterans spread throughout the league while at the same time some fresh faces are quickly making a name for themselves.
Every year there are said to be "snubs", and that will surely never end. But after the coaches met earlier this week, the pool was spread throughout each team, with every team sans Ixonia and Genesee being represented by at least two All-Stars. There were some quality names thrown into the voting, but some had to be left out.
Here's a look at each position and some of the stats for each player that was given at the meeting. The first player (in bold, too) is the starter. Also, for a change of pace (and since I have it right in front of me), there is a list of players who were put up at each position.
_____________________________________________________________________________________
Catcher: The league seems to be full of solid catchers nowadays. It wasn't an easy one to decide, as Jon Dobson got the nod to start and a newcomer in Zach Yesko will back him up. A couple of the names who were also nominated look pretty familiar, too.
JON DOBSON – Wales: .381 avg.; .409 obp; HR; 5 RBI
Zach Yesko – North Prairie: .368 avg.; .474 obp; thrown out all six attempted base runners
Also nominated: Jared Francois (Burlington), Ryan Kehl (East Troy), Wade Axelson (Waterford)
_____________________________________________________________________________________
First Base: The Titans are only three years into the league but have produced a ton of talent, and some of that talent belongs to Aaron Benz, who gets the nod, even though J-Rad had some sick numbers. I don't remember when The Hammer didn't make an All-Star team. He wouldn't have been a bad choice either.
AARON BENZ – Oconomowoc: .381 avg.; .433 obp; HR; 10 RBI; 3 2B
Justin Radichal – Dousman: .522 avg.; 2 HR; 2 2B; 10 RBI; 10 BB
Also nominated: Chris Harmeling (Waterford), Travis Krauss (East Troy)
_____________________________________________________________________________________
Second Base: The Express will have a starter at second base. There were only three total put up for the spot, but it was clear cut as to who the league's best second baseman is. Kinjerski, who played in the Rock River last year with Neosho, is having a nice rookie campaign and got the reserve nod.
JEFF TESS – East Troy: .426 avg.; HR (on a side note, Kurt didn't give many, if any, stats for his guys!)
Jared Kinjerski – Ixonia: .353 avg.; .476 obp
Also nominated: Ben Tejada (North Prairie)
_____________________________________________________________________________________
Shortstop: A ton of talent at this spot, which is why three guys made it. It's rare this happens for an infield spot. Tess will start alongside his older bro, but behind him Beef and Dykema tied twice in revotes, so there was nothing left to do but say they both are in.
JORY TESS – East Troy: .472 avg; "Bunch of doubles" ~Wenzel
Adam Brecthl – Waterford: .391 avg.; 2 HR; 7 RBI; 6 BB
Tyler Dykema – North Prairie: .346 avg.; 10 runs; 3 2B
Also nominated: Matt Leslie (Oconomowoc), Ben Gagnon (Wales)
_____________________________________________________________________________________
Third Base: A familiar face starts at third base in Brad Nowicki. With similar numbers, the Barons got the representative in Archambault. Both solid defensively and at the dish, third base will be an asset in the All-Star game. The other names include two really young players in Andy Brahier (17 years old) and Adan Covarrubias (19 years old). Covarrubias was close in getting the reserve spot.
BRAD NOWICKI – Waterford: .315 avg.; HR; 2 2B
Paul Archambault – Burlington: .315 avg.; 7 RBI; 6 2B
Also nominated: Andy Brahier (Rome), Adan Covarrubias (Ixonia), Brain Neuwirth (Wales)
_____________________________________________________________________________________
Outfield: If you would ask me, I'd say the Southwest outfield is stacked and super talented. Just looking at the names left out, it's a very deep position and it was a very difficult vote. In the end, three relatively young players will start in the outfield, while two even younger players in Laske and Gattis will be in a reserve role. Really, the only veteran in this group is Jeff Smith, who normally makes it as a pitcher, but his stick has been super good this year.
DYLAN FRIEND – Burlington: .356 avg.; 2B; 3B; SB
JASON JACOBSON – Waterford: .440 avg.; HR; 7 RBI; 7 BB; 2B
TANNER WENSMAN- Oconomowoc: .386 avg.; .467 obp; 6 SB
Jeff Smith – Rome: .423 avg.; .531 obp; 4 2B; 2 SB; 8 runs
Anthony Laske – Wales: .471 avg.; 5 SB
James Gattis – North Prairie: .565 avg.
Also nominated: Brian Leet (Ixonia), Sam Loppnow (Oconomowoc), Matt Lang (East Troy), Devin Kornowski (Wales), Lucas Bourassa (Wales), Tyler Sadowski (North Prairie), Jon Schoch (Burlington)
_____________________________________________________________________________________
Designated Hitter: This one really wasn't tough. Bart's having a good season in what he SAYS is his final year in the league.
BART NOWICKI – Waterford: .412 avg.; HR; 6 RBI; 2B
Josh Johns – Wales: .357 avg.; .438 obp
Also nominated: Scott Sayles (Oconomowoc)
_____________________________________________________________________________________
Utility:
Ben Korman – Waterford: .330 avg.; 7 BB; 2 2B
Nick Aplin – Rome: .345 avg.; .457 obp; 3 SB; 8 runs; 5 BB
_____________________________________________________________________________________
Pitchers: So normally there are seven pitchers selected, however, knowing there have been a number of postponements so makeup games may be scheduled around All-Star weekend, and some guys' arms may be sore at this time of year, it was decided these pitchers that were nominated made the team. This doesn't diminish anything they've done or the credibility in the voting. In fact, looking at them all, they all have solid, and unique, assets. In the end, Burlington's Brian Henschel is the starter. It was a close vote between him and the veteran Todd Nabor.
BRIAN HENSCHEL – Burlington: 2-0; Save; 0.42 ERA; 21 innings; 22 Ks; 9 hits
Karl Richter – Burlington: 3-0; 0.00 ERA; 21 innings; 8 Ks
Matt Demarais – Genesee: 3-2; 4.50 ERA
Drew Taylor – Oconomowoc: 2-0; 20 innings; 14 hits; 2 BB; 0.45 ERA
Todd Nabor – East Troy: "He's pretty good"
Keaton Wigdal – Dousman: 4-1; 41 innings; 2.56 ERA; 18 Ks
Scott Rivers – Wales: 2-1; 3.32 ERA; 23 Ks
Marcus Perleberg – Wales: 1-0; 3.86 ERA
Jordan Pasek – North Prairie: 1-1; 3.62 ERA; Save; 30 Ks; 29 innings
_____________________________________________________________________________________
So in breaking it down, here are the teams and the number of representatives they have:
Wales – 5
Waterford – 5
Burlington – 4
North Prairie – 4
Oconomowoc – 3
East Troy -3
Dousman – 2
Rome – 2
Genesee- 1
Ixonia – 1
Keep in mind a few things…there were a couple more than usual put on the All-Star team because in the past couple of years, especially last season, a number of players decided not to go and left the squad hanging. Therefore, if that were to happen this season, they'd still have plenty of guys. Also, a number of players who you might think should have been nominated weren't because it may be their only weekend of baseball off all summer, so they take advantage of it by going away on vacation or spending time with family, etc.
Either way, this year's squad is SOLID and the best news is it'll be in East Troy on Sunday, June 30th for a 1:30 p.m. start time!
---
Express outlast Frogs 8-7
June 17, 2013
The East Troy Express and Dousman Frogs tangled in LOL action and the Visitors from ET would pull out a heartstopping 8-7 victory. East Troy started fast in the top of the 1st when Jory Tess singled. After a force out , Jeff Tess would rip a 2 out Rbi double to open the scoring. Al Loth then walked and Myles Olsen laced a single to drive in Tess and make it 2-0. The Frogs would answer 2 runs of thier own with the help of a few walks off starter Matt Lang and some awful defense by East Troy. The Express would rally again in the second with one out Jory Tess doubled and Ryan Kehl followed with a base hit and then Kehl stole second. Matt Lang then singled to drive in Jory and Jeff Tess again came thru with a base hit to left to drive in Kehl.  Al Loth hit a fielders chioce to drive in a run to make it 5-2. The Frogs again would tie the score before the Express would plate 3 runs in the top of the 9th. After one out, Adam Wolter walked and Travis Krauss followed by ripping a double down the line to put runner on second and third. Jory Tess would stride to the plate and deliver a booming double to deep left center to drive in 2 runs. Kehl would follow suit and triple in Tess to complete the scoring. Matt Lang would grind thru 5 inning and Todd Nabor would wiggle out of an absolute mess by inducing a double play ground out to Jory with a great pick by Krauss to seal the "W"
---
Express bats break out in a Grand way versus Ixonia
June 10, 2013
The East Troy Express traveled to Ixonia on Sunday and the offense finally showed up in a big way helping the visitors to a 10-2 victory. The Express got on the board early when Jeff Tess and Kurt Wenzel singled and Adam "Sweats" Wolter followed with an Rbi single of his own. "Sweats" is returning from a few years off due to a job change but now that he has returned to normal hours he has rejoined the squad. Todd Nabor would get the ball for ET and was solid going 7 innings and allowing 2 runs(1earned) and seemed to be in control all day. East Troy started Al Loth at catcher but he would have to be replaced again by shortstop Jory Tess in the 2 inning due to a thumb injury. Myles Olsen moved to shortstop from leftfield and he was out in leftfield in more ways than one. Olsen - who attended the Zac Brown concert, brought back memories of his HOF father Mike, but not because of stellar play, but because he smelt of Bud Light and Makers Mark and gutted it out all game without hurling or should I saying throwing up. Way to make your dad proud Myles! Al Loth would come on to close the door for the final 2 innings. The game was tight until the 7 inning when East Troy would load the bases leading 5-2. Jory Tess singled and Olsen walked as did Loth to bring up power hitting Jeff Tess who would launch a grand slam to deep left that landed on Hwy 16 and essentially ended the game. East Troy would tack on the final run on a warning track double by Jory Tess who drove in Mike Atkinson. Jory Tess finished 2-4 with a double and stolen base. East Troy travels to Dousman I believe this Saturday for Derby Days
---
EAST TROY TO HOLD GOLF OUTING MAY 18TH AND EVERYONE IS INVITED
April 26, 2013
The East Troy Express will be holding the annual Sammy's Place sponsered golf outing on May 18th. The event with be held at Alpine Valley with registration at 8:30 am with a shotgun start at 9:30. After the golf we will head up to Sammy's for a Pig Roast meal followed by live music by Luke Schmidt and the Cold Cold ones. The Express then hope to wake up in time the following day to play a home game against the Ixonia Snappers at 1:30. Anyone interested in playing in the event can click on the link below.
---
East Troy Bats missing VS Barons
East Troy lost to Burlington and only had 4 hits, Jeff Tess, Jory Tess, Kurt Wenzel and somebody else had a hit.
---
Express rally late to up end Waterford 4-3
May 6, 2013
One week after suffering a heartbreaking late game loss, the East Troy Express reversed fortunes against the visiting Waterford Riveman and scratched out a 4-3 victory. It was a day for pitching as Todd Nabor and Waterford's Bronson Arroyo look alike dueled pitch for pitch with hits, let alone runs hard to come by. Nabor was locked in on the hill, going 7 innings, striking out 9. His only blemish was a down and in curve ball that aging slugger Bart Nowicki took out his 3 iron and golfed into the skatepark to give Waterford a 3-1 lead. In the bottom of the 8th, East Troy would mount the game winning rally in ugly fashion. Jeff Tess, Kurt Wenzel and Travis Krauss reached base via Fielders choice , Walk and infield single to load or should I say, clog up the base paths with a combined age of 109 years old and not a one with the ability to break 5.0 seconds in the forty yard dash. Tess would score via pass ball and Wenzel and Krauss would follow after a clutch 2 rbi base hit by Murphy Olsen to put the home team up 4-3. Matt Lang would come on to close the door for the save. Other highlights on the day- Al Loth caught for the second straight week before a thumb injury forced Jory Tess to wear the tools of ignorance for the final 2 innings. Tess smoked what appeared to be a solo homerun but then the ball landed 60 ft short of the fence for a double. Jory ,who said he got all it, is batting .500 with a couple doubles and is looking for a supply of HGH. Speaking of doubles, Loth had one as well as a walk before begging out of catching(smart move Al). Mike Atkinson had a base hit to extend his career long hitting streak to 2 games. Hall of Famer Mike Olsen was at the game to watch his son Myles play. The attendace was announced at 107 people.
---
EAST TROY DROPS OPENER 6-5
May 3, 2013
The East Troy Express opened the 2013 Land O' Lakes season with a loss to Genessee by a score of 6-5. The Express were highlighted by Todd Nabor and 6 strong innings leaving with a 4-1 lead. Nabor also was in the lineup as a hitter and proved Coach Wenzel correct by hammering a fastball over the trees in center field. A couple of errors late in the game cost Todd the victory and player of the week honors. The Express offense was lead by shortstop Jory Tess who finished 3-5 with a double and a couple runs scored. Matt Lang had 2 hits highlighted by a triple off the wall in center. Al Loth gets the nod for most willing to suck it up and play catcher. Loth did a nice job behind the dish with Ryan Kehl unavailable due to law school exams. Lord knows this team needs a good lawyer. East Troy has a home game against Waterford this Sunday at 1:30
---
Reality Check- Titans sweep Express
The Oconomowoc Titans beat East Troy in a battle of division leaders and gave the Express a much needed wake up call sweeping the weekend set 5-4 and 6-2. The Express have been getting by on pitching and defense and sporadic offense and it finally bit them right in the arse. The Titans had 2 good pitchers as did the Express but the difference was clutch hitting with runners in scoring position. Thankfully this was a regular season match up and not a playoff battle or the Express would be hitting the golf course. Luckily the Express have some time to get the Train back on the tracks and make a run at the Grannies. Matt Lang pitched solid in game one and Al Loth gutted out game 2 on a strained hammy but the effort of both men were wasted by an inept offense. In that same sentence, much credit must be given to the pitchers on the Titans squad. I know for a fact the ET would like to get a chance to go back to Cooney and celebrate on that field. ET travels to Dousman on Saturday for a double dip at noon. The Express must win both to secure the 1st round bye.
---
ET beats Burlington 9-2
The East Troy Express beat Burlington on Saturday afternoon to improve to 11-3 setting up a showdown with 1st place Oconomowoc Sunday July 29th. Todd Nabor was excellent in going all 9 innings to collect the win. Nabor knew going in that the Express were going to be short on pitching with 3 games in 2 days but he manned up and finished the game in style not allowing a run in the final 5 frames. The Express got in going early in the 1st inning by scoring 2 runs. Jory Tess was the leadoff hitter and lace a single to left and scored on a base hit by Andy Kiesow. Nick Douglas then followed with a base hit to drive in a run. Douglas had a huge day going 4-5 with 2 singles, a double and a triple along with 4 rbi in a breakout game. Travis Krauss had a base hit and drove in a run. Kiesow had 2 hits as did Al Loth. Loth's status for the game tomorrow is up in the air as Loth left with an undisclosed injury. The Express also lost Jeff Tess who was hit by a pitch in the foot and he was seen leaving the field on crutches. The Express also were without Mike Atkinson(wedding) and Dan Douglas(Northwoods)shortening the bench. JoJo Alvaro made a diving catch and tagged 1st base to end the game. The matchup tomorrow is a battle for the league lead and should be interesting with East Troy running low on pitchers and players for that matter. Game 1 is in Oconomowoc at noon with Game 2 to follow.
---
East Troy Tops Rome 12-7
The Express defeated the Rome Raiders 12-7. Matt Lang had the big hit with a bases clearing triple and finished 2-5 with 4 rbi. Ryan Kehl and Andy Kiesow had 2 hits apiece and Travis Krauss, Kurt Wenzel and Mike Atkinson all had hits. Atkinson also had a career high 2 rbi. Todd Nabor went 7 plus and got the win and Al Loth closed the door for the save. The Express have a huge weekend starting at home Saturday against Burlington and then travel to play league leading Oconomowoc on Sunday in a double dip.
---
Hell may have froze over, East Troy beats Waterford
July 16, 2012
Years of frustration finally ended as the East Troy Express beat the Waterford Rivermen for the 1st time in 8 years by a final score 6-2. In a battle between 2 of the LOL SW's top teams, the Express took control early when Dan Douglas singled to lead off the game. All Star Starter Ryan Kehl followed with a smash to right center that bounced on the Express' new astro turf outfield(kidding) and rolled to the wall scoring Douglas. Kehl would score on a basehit by Al Loth to make it 2-0. The Express would tack on another in the 4th but the knockout punch was provided by Andy Kiesow's booming 400ft blast into the skate park for a 3 run homer to put the home team up for good. Kiesow finished 2-4 with 3 rbi. Al Loth had 2 hits and 2 walks and threw out a Waterford player at the plate. Fading veteran Jeff Tess managed 2 hits. Jory Tess had a big hit and a SAC bunt that broke his bat. Kehl was 1 for 3 with a double and HBP to round out the offense. The true star of the game was the brillant pitching of All Star Matt Lang who pitched the complete game gem against arguably the most potent offense in the league. Matt did not give up a run until a walk and a Homerun with 2 outs in the 9th inning. I had the privilege of interviewing Lang at Sammy's bar late, late in the evening or possibly morning I can't remember and most of the conversation is not appropiate for this family friendly web site. The only quote I can share is this, when asked about the win Lang responded "stop talking to me and buy me another Beer you jackass, we got the win and that's all that matters" so apparently Lang is taking a bit of a different approach than Bryce Harper when conducting interviews. Kudos to you Matty. Other smiling faces were Coach Tim Wenzel who tried to drown olives in a manhatten glass all night until the wife the pulled plug and saved him a vacation day for sure. Andy Kiesow showed up late, slammed his boot and left, great job Kies!! Travis Krauss and Diggy Smalls shot free throws until dark. Jory Tess had to leave early- his wife called and he up and vanished like a fart in the wind!! Kurt Wenzel and JoJo Alvaro put in a great shift as well. The Express have another big game Sunday at home against Rome. Look for a few new faces in the lineup this weekend!!!
---
Errors spell doom in 7-6 loss
July 1, 2012
The East Troy Express battled the Burlington Barons in sweltering heat and suffered a disheartening 7-6 loss in 10 innings. Tough luck starter Matt Lang fought his ass off despite the temperatures and some shotty defense behind him. Burlington collected a few hits off Matty but most of them were bloopers. Lang amazingly went 9 innings and left with the game tied. East Troy showed some fight in the 9th to score a run to tie it. Al Loth doubled and Dan Douglas sinlged to put runners on the corners. Ryan Kehl hit a grounder and the SS was able to gun down Loth. Matt Lang then drove a fly ball to the wall and Douglas tagged. Jory Tess then hit a smash that was knocked down by the 3rd baseman and Danny scored to tie it. In the tenth, Burlington would rally with a walk, hit batter and then a boneheaded play to give the Barons the win. Thats all I have to say about that.
---
Express sweep Ixonia- ascend to 1st place
June 27, 2012
The Express continued the winning ways by taking 2 from a game but out gunned Ixonia Snappers by scores of 6-4 and 20-3. It was a nice weekend for all the Express regulars, but the bench players stepped up in an attempt to impress Player/Coach Kurt Wenzel. Wenzel had this to say after the games, "With the depth we have it is a great luxury to have, 3 or 4 guys would be starters in this league on other teams. The competition makes everyone stay on their toes and work hard. We have a great mix of veteran and young kids that play well together." The Express found out late Monday night that 3 members of the squad have been selected to the All Star game. Todd Nabor, Matt Lang and Ryan Kehl will represent the LOL Southwest. Good Luck boys
Game 1
The Express bats got off to an excellent start in the top of the 1st by scoring 3 runs. After an out, Ryan Kehl walked and Matt Lang crushed a double to the wall to give the home team a 1-0 lead. Jory Tess singled to drive in Lang. Al Loth singled and Nick Douglas had a sac fly to complete the inning. The Express would hand another 3 spot on the board in the 3rd. Jory Tess singled as did Al Loth. Nick Douglas was beaned to load the bases. Jory scored on a pass ball and then Jeff Tess singled to drive in Loth and Douglas to push the lead to 6-0. Todd Nabor worked 6 innings - striking out 11 batters and walked 2, allowing 4runs, 2 earned. Al Loth came in and closed the door to earn the save
Game 2
East Troy finally busted out a can of whoop ass in game 2. The offense had been steady all year but this was the break out game the team needed. In the bottom half of 1, the Express again scored 3. Kehl singled and Lang again doubled to drive in Kehl. Al Loth Nick Douglas and Kurt Wenzel singled and Jeff Tess was hit by a pitch and the blowout was on. The Express would score 8 runs in the 2nd. Dan Douglas singled, Matt Lang singled, Jory walked Loth singled and Nick walked. Wenzel then hit a sac fly. Jeff Tess doubled and drove in 2 runs. Mike Atkinson walked and Danny had his 2nd hit to make the score 11-0 and the subs were in. Austin Casper singled as did Puerto Rican JoJo Alvaro. Travis Krauss shocked the LOL league by singling up the middle and then doubling in the RIGHT centerfield gap. TTown is known for pulling the ball to left in BP, rarely keeping many balls fair down the 3rd base line, let alone going oppo!! Great job Travis! The man who really owned the day was Murphy Olsen. Murphy hit a 2 run bomb for his 1st career HR at any level. His home run trot took almost 30 seconds and was reminisant of Jeffery Leonards 1 flap down gallop. Matt Lang again pitched great for the Express - going the distance striking out 10 and allowiing 2 earned runs. The Express travel to Burlington on parade day Sunday at 1:30.
---
East Troy tops North Prairie in double dip
In a battle of playoff contenders, the East Troy Express(6-2) topped the North Prairie Dawgs(5-5)on Sunday afternoon by scores 7-4 and 4-0. The game featured two of the better pitching staffs in the LOL SW.
Game 1
Todd Nabor started game one and went the distance allowing 4 runs but only 1 earned run and stuck out 9 hitters. The most imressive stat by Nabor was the fact that he did not walk a batter. The usually solid defense had a few miscues that allowed the Dawgs to jump out to a 4-2 lead before the Express would put together a classic East Troy rally. 3 straight walks to open the inning by the NP starter loaded the bases. Jeff Tess then pulled one out of the Roger Dorn school of baseball and leaned into one and was hit by a pitch to drive in a run. A pass ball tied the score. Another walk and another pass ball and the rally was on. Matt Lang then was Hit on the foot and when the dust settled the Express led 7-4. They would hang on and take game one.
Game 2
The star of this game was starting pitcher Matt Lang. Bottom line is that Matty was dominate in going the distance allowing only 4 hits while striking out 5 and he too did not allow a walk. We think it might be a Land O Lakes record in that ET did not issue a free pass in either game. Kurt Wenzel had the big blow by hitting a triple to dead center that would have been a homer in any other park, driving in 2 runs. Jeff Tess followed with a single to drive in Wenzel. Dan Douglas had the game clinching base hit driving in 2 runs. Jory Tess had 2 hits and looks to be making a bid to return to the All Star game. Catcher Ryan Kehl had a hit and 2 more stolen bases in his bid to lead the league in swipes. Nick Douglas has been the most consistant hitter also had 2 hits.
The Express have another double dip this Sunday against Ixonia at noon
---
Express sweep Wales in weekend match up
June 11, 2012
Game 1
On a sundrenched and wind swept Sunday afternoon, the East Troy Express beat a game Wales Royals squad in the doubleheader. Wales entered the contest without a win and seemed poised to pull the upset leading 4-3 in the 5th inning when ET loaded the based. Andy Kiesow came up big with a bases clearing triple to put the home team up 6-3. East Troy starter Todd Nabor would go 6 plus for the win. Al Loth would come on for the save. 3rd baseman Kurt Wenzel stayed hot collecting 2 hits. East Troy also had the return of Dan Douglas to the top of the order. Nick Douglas had a couple hits and 2 RBI on the day.
Game 2
The tail end of the weekend series saw Matt Lang battle for 7 innings and keeping the Express on top. Matty was able to wiggle off the the hook in the top of the 7th with bases loaded and get the complete game W. The Express offense put up 9 runs and were led by Jory Tess who connected for a 2 run homer that was a jet stream special. Mike Atkinson was trying to follow suit but was robbed at the wall. Murphy Olsen played 3rd and colleted a double and let every ground ball hit him in the chest. Ryan Kehl somehow managed to steal 3 bases without a hit. He also threw out 3 runners.
---
Good Day at the park for Express! Win 6-1
On a hot and steamy Sunday, the East Troy Express traveled to Genessee for a rematch of last weekends LOL game and came away with a 6-1 victory. Todd Nabor started and was dominate going 7 innings allowing 4 hits and 1 run. Nabor was on top of his game from the start, popping the glove all day while striking out 6. Al Loth came into the game in the 7th making his 1st appearance after a sucessful college season. Loth was sharp as well allowing in notching the save. The Express D was outstanding behind the pitching staff with no errors for the second straight game. The offense struggled early against the crafty southpaw from Genessee. His vast array of junk was able to stymie the Express until the 5th frame when East Troy erupted for 5 runs. With one out, Jeff Tess started the rally with a walk, followed by a Matt Lang base hit. Andy Kiesow then laid down a bunt for a base hit and showed great speed in doing so. to load the bases. Ryan Kehl smashed a shot to the 3rd baseman who fired home in an attempt to get Tess, but Tess was going on contact and beat the throw to take a 1-0 lead. Nick Douglass drove in a run and Kurt Wenzel walked to load the bases. Joe Alvaro was hit by a pitch and Mike Atkinson ground 2 short and was able to beat out the inning ending double play. The ball got past the 1st baseman allowing another run to score with Wenzel at 3rd. Atkinson then attempted to steal 2nd but was fooled by the 3rd to 1st pick off play. He was able to stay in the rundown until Wenzel broke for home and scored before Atkinson was tagged. When the dust settled, ET was up 5-0. The Rebels aswered with a run and ET would add an insurance run to end the scoring. Matt Lang and Andy Kiesow both finished with 2 hits apeice. Jonny Rah Rah also had his 1st career LOL hit. ET is now 2-2 on the season with an early bye week coming up.
---
Big Weekend
This is a big weekend for parties and boating and cookouts and with all of that going on the East Troy Express have scheduled a game in Genesse at 1:30 on Sunday followed by a no holds barred Sunday Funday at Sammys. The Express have gotten off to a typically slow start by going 1-2. The Rebels enter the game at 3-1. Both teams know that this game is critcal for playoff positions in a few months so expect a great battle. East Troy welcomes back Al Loth from a nice college year. Al is currently nusing a hammy strain so his availability is still in question. The rest of the squad is taking shape and looking to get the sticks going. Hopefully this weekends game will produce a "W". Sammy's Sunday Funday will have local favorite band, Paulie and the Poor Boys entertaining the fans after the game. Hope that you all can attend!
---
East Troy beats Genesse 5-1
May 20, 2012
The Express defeated the Genesse Rebels 5-1 on a beatiful Sunday afternoon. The Rebels were 3-0 and ET was 0-2 so the match up seemed to favor the visitors. East Troy jumped out early when rookie Mike Atkinson smoked a clutch 2 out hit to the gap in rightcenter for a double. Nick Douglas came up huge with a base hit up the middle to drive in 2 runs. Kurt Wenzel then had a double in the gap to drive in 2 runs. Todd Nabor was sharp on the hill, going 6 innings allowing only 1 run. Matt Lang came in a closed the door and picking up the save. These teams rematch next Sunday in Genesse at 1:30.
---
Rome Tops Express 7-4
In game 2 of the season, the results were the same for the Express losing 7-4. The Express actually played a little better than game one but were again unable to provide the key hits. Matt Lang pitched for ET and went 7 innings. Todd Nabor came in a pitched the 8th. Matty was solid in the start but a few cheap runs early proved to much to overcome. East Troy started the scoring in the 1st when Jeff Tess double to left and was drove in on a pop-up that was lost in the sun. Rome answered with 2 runs in the bottom of the frame. Rome would put 2 more runs up to make it 4-2. East Troy would get another run in the 5th when JT double again to right and was drove in by Ryan Kehl. East Troy was unlucky in the 6th inning with bases loaded Jory Tess laced a shot up the middle that Rome pitched Jeff Smith was able to snag, saving 2 runs and killing the rally. Smith then went yard to the 250ft sign. Another homer by Rome put the game outta reach. East Troy struggled last season by starting 0-2. The Express have had some key players not return this year. Adam Wolter has a new job and has hung em up. Justin Keegan, a huge offensive contributor lives and plays in Madison now. Jeb Loth is expecting and has not been seen or heard from. Those are some quality shoes to fill and the new players are showing signs of life. Murphy Olson and Mike Atkinson both started and collected their 1st career LOL hits. East Troy will be having their annual golf outing this Saturday, May 19th before taking on Genesee at home on Sunday.
---
Rough Start for Express
With the Express season opening on the road in Waterford Thursday night, optimism was in the air but that was short lived as the Riverman bats woke and erased a 2 run deficit defeating East Troy 8-2. Todd Nabor started and went 5 innings allowing 4 runs. Matt Lang went 3 innings allowing 2 runs and Murphy went 1 giving up 3. The Express opened the scoring by getting 2 runs in the 3rd. Kurt Wenzel had a sac fly and Andy Kiesow had an rbi base hit. Waterford had multiple opportunities to get on the board early but Todd was able to wiggle of the hook. It was a rough start for the Express hitters. This was the 1st live pitching of the season and it showed. East Troy was led by All-Star Jory Tess who went 3-4 and Andy Kiesow who went 2-3. That was it for the offense. ET travels Rome on Sunday to play the Raiders at 1:30
---
Rained out - Make up game scheduled for Thursday at 7pm
Mother nature has a sense of humor by having her skies open up on Sunday morning and washing away any chance of playing on opening day. The make up game has been rescheduled for Thursday May 10th at 7 pm in Waterford. Players should be at the park no later than 6pm. Fans should be there around 5:30 to begin tailgating to begin the lubrication process. Should be an interesting game as East Troy seems to never be able to get over the hump in Waterford. Both teams have a number of changes but still manage to be near the top of the standings. This is the game of the week!
---
TIME FOR THE SEASON TO BEGIN
In the words of Bruce Buffer of the UFC, "IT'S TIME!!" and so begins another year of LOL baseball in East Troy. The hometown 9 have been practicing for over a month now and on Sunday May 6th the boys will begin the 2012 season at Waterford. Game time is 1:30. The Express have a number of players returning from last years team as well as some new faces joining the mix. Nick Douglas looks like he will be trying to get back in the groove after a fews years off due to back problems. Some new dude named Murphy will also be joining the team, he pitches and plays 3rd and looks like a ballplayer. Mike Atkinson also has joined the squad and appears to have the inside track to an outfield spot to open the season. A couple other guys have shown up, but I think that they will get cut before ever doning a jersey. Tim Shafer looks to return after having a baby. He is a nasty lefthander with the ability to play outfield as well. The Express have been unable to locate a few players so thier status is still up in the air. Coach Wenzel has a few tough decisions to make about the lineup and such, but we will see
---
EXPRESS TO HOLD GOLF OUTING MAY 19TH
Click Here To Download
The East Troy Express are holding a golf outing fund raiser followed by a Pig Roast on Saturday May 19th. All players, family and friends as well as LOL supports are encouraged to sign up and play!! Hopefully this attachment opens for you!!
---
TIME TO BEGIN A NEW CHAPTER
March 28, 2012
The East Troy Express are in the process of starting the 2012 season and hoping to build on the Express' 1st SW Championship in 15 years!! Still basking in the glow of a successful 2011 campaign, East Troy failed to capitalize on their appearance in the Grand Championship. The trip to the Grannies were derailed a bit by 22 year veteran Jeff Tess' decision to get married a week after the regular season ended. He apparently had no faith in his team's chances. On top of that, he had his better looking and more talented brother Jory in the wedding party, so he was unable to attend. Game 2 was no better as the entire team reeked of cigar smoke and booze from the receptions after math. East Troy looks to again be in contention as just about all the players from last years team return. The pitching staff seems set with Todd Nabor, Matt Lange and Al Loth returning to anchor the rotation. Justin Keegan, Adam Wolter and Ryan Kehl all return to the outfield. Kehl will also catch. Jeb Loth may return, but he has been AWOL. Travis Krauss and Joey Alvaro will be joined by Kurt Wenzel on the infield. Nick Douglas and Andy Kiesow have been rumored to return adding depth to an already talented squad.
It should be a good year!! Baseball is in the air.
---
Express Dream Season Continues!! Express take SW Title!!
The East Troy Express are the 2011 Southwest Division Land O Lakes champions for the 1st time in over 10 years. The Express beat a tough Rome Raiders squad 6-3 on Saturday behind a solid effort by Todd Nabor. Nabs went 6 plus innings allowing 3 runs before giving way to Al Loth who finished the game earning the save. The offense was led by Jeff Tess who hit a 3 run home run in the 5th inning to give the Express the lead. Tess is the last active player on the Express team to have played in the Grannies way back when. Kurt Wenzel was actually living in Arizona at the time. It was aluminum bats back in the day, as some folks forget that wood was only introduced a few years ago. The deceiding blow was delivered by Jeb Loth. Loth smoked a fastball to the gap in right center driving in Tess who walked and Justin Keegan who also walked to put ET up 5-3. Adam Wolter added an insurance run by driving in Loth. The win propeled the Express into the title game against Burlington.

Picture and Summary to come by Wednesday night
---
Express sweep Frogs in season finale, playoffs loom
The East Troy Express finished the regular season by sweeping the visiting Dousman Frogs in a double header. Matt Lang was a beast on the hill in game 2 going 5 innings allowing 1 earned run and Al Loth came in and closed the door collecting the save. Todd Nabor worked game on and the the Express won 12-6. Details of the game are sketchy at best as the webmaster was unable to attend as he licked his wounds from the previous days batchlor party. The beating he took from the paintball battle and the adult entertainment were to much for him to endure. Justin Keegan had a huge day(reportedly) making only one out the entire day and driving in 6. Travis Krauss had a nice day at the plate driving in both runs in game 2. The Express tied for the SW LOL division championship with Waterford and will have a home game on Sunday at 1:30 against a team to be determined. Rome plays host to Genessee and Burlington play Dousman. ET plays the highest seed and if things hold form will host Rome. All teams left have proven that on any given Sunday anything can happen. It should be an exciting weekend of baseball! Hope to see you at the park!
---
Express roll in sweep of Oconomowoc
The Express were able to take both games of the Sunday double header against the Oconomowoc Titans and remain in a tie for 1st place in the LoL Southwest division. In game 1, Al Loth got the ball for the Express and was able to battle thru 7 innings and collect the win 8-6. Al struggled in the 1st inning but was able to limit the damage to 2 runs. The story of the game was total lack of control by the Titans pitching. The knob shine who started game one had no clue as to where the ball was going. I believe he hit 5 or 6 batters before the Titans coach pulled him for his own safety, as the Express players began to fume with displeasure. The highlights for the game were Jory Tess hit a tape measure homerun and Justin Keegan followed suit with a blast of his own to propel the Express to the victory.
Game 2
The Express sent Todd Nabor to the mound in game 2 and he would get off to a rough start, allowing 3 1st inning runs. Todd would go 5 innings beforer leaving with the Express down 7-6. His replacement was a surprise to us all as Coach Wenzel would call on Jory Tess to bail the Express out. Jory came thru clutch as he wiggled out of the 5 inning mess, then set the side down in or in the 6th and 7th stiking out 4. His performance in keeping ET in the game set the stage for an Express rally to win it in the bottom of the 7th. Justin Keegan lead off with a walk. He advanced to 2nd on a steal and on to 3rd after a passed ball.Matt Lang walked and stole 2nd. Ryan Kehl then walked to load the bases and Kurt Wenzel hit a rocket over the outfielders to complete the comeback and give the Express the win 8-7.
The Express were given new pictures of this game by local newsman Eric Kramer. Thanks Eric, they look great!! The pictures are up under the Oconomowoc header! Check em out!
---
Express lay egg against Waterford
July 21, 2011
I am not sure what it is when the Express travel to Waterford but the carma is not on the East Troy side. The Express came into the game on a roll, winning 13 straight and playing great all around. Then they took the field against the Riverman and all things went haywire. Todd Nabor showed up on short notice and went 3 innings giving up 4 runs. He gave way to Matt Lang who went 4 innings. Jory Tess then took the hill in the 8th and posted a clean inning. The normally solid ET defense was nowhere to been found as the Express committed 3 errors on one damn play and 6 on the evening. When the snowball fight ended Waterford was up 9-0 after 6 innings. The Express offense was also non-existant, collecting 7 hits and mustering just one run. It seemed like Waterford had 15 guys in the field as every hard hit ball was gobbled up by a Riverman, to thier credit, they made a number of outstanding plays. In all, it was an awful night for the Express and a poor time to crap the bed! East Troy was lead by Jeff Tess who battled thru some lingering head and neck issues to finished 3-5. Jory Tess was 1-3 with a double and 2 walks. Justin Keegan had a hit. Kurt Wenzel fought thru his knee issues and had a hit. Al Loth had the other hit for East Troy. Jo-Jo Alvaro got the start at 2nd base and had a web gem and that is about it for the good guys. All is not lost as the Express still have a chance at winning the regular season title, but they must win out and get some help from Burlington. The Express have a big double header this Sunday at home against Oconomowoc at noon. A big crowd would be huge in creating a home field advantage and hopefully propel the home team to there 1st SW LOL regular season title since 1997.
---
Express close out Rome 4-3
The Express traveled to Rome in a big showdown of top LOL squads and came out on top with a 4-3 victory. East Troy was able to score 1st after Jory Tess wiffed(post birthday hangover)brother Jeff Tess walked. Justin Keegan laced a shot down the line for a double. Matt Lang then ripped a 2rbi single to center to put ET up 2-0. Rome answered in the 1st off of Todd Nabor making it 2-1. East Troy scored 2 more in the 7th inning to go up 4-2. Al Loth led off with a basehit. Jory Tess then followed with a basehit. Jeff Tess then singled to leftfield driving in Loth. After a passed ball moving up both runners 90 feet, Keegan again produced with a base hit scoring Jory but Jeff was gunned down at the plate after a collision with the Rome catcher. After that it gets a little blurry but East Troy hung on to win. Nabor was solid going 6 innings and giving up 2 runs. On a day in which the temps were near the century mark Todd's performace was clutch. Al Loth came in to relieve Nabor and keep the Raiders in check to preserve the win for ET. The Express are now 13-2 and alone in 1st place setting up a big game Wednesday night in Waterford against the 12-3 Riverman. Game time is 7pm.
News and Notes:
Jeb Loth had a couple hits for ET
Ryan Kehl had a bunt single to break a minor drought
Travis Krauss got the start at 1st base
Jory Tess didn't pass out after his birthday and had hit and a web gem!
Kurt Wenzel had another hit and appears to be coming around.
Sweats wife Crysta was sick and couldnt attend, get well soon.

---
This weekend has a golf tourney and the all star game
July 7, 2011
Sammy's Place golf outing
The East Troy Express have the weekend off from any LOL match ups, but it far from an empty slot on the calendar. The Express are having a fundrasing golf outing benefitting the team and the hopes of redoing the infield with new dirt and the mound with a clay base. The Event will be held at Alpine Valley golf course. Please follow the link provided if you are interested in playing. 10 am shotgun start! Food and fun to follow!!
EAST TROY WELL REPRESENTED IN ALL STAR GAME
The LOL all star game will be held in Genessee on July 10th at 1.30 and the Express will have a number of players on the field. Justin Keegan will start in center. Jory Tess will make his 1st appearance in the game and will play shortstop. Matt Lang and Todd Nabor will be on the hill as pitchers. Dan Douglas was too play but has since left the team to play in Springfield. His replacement has not yet been named.
---
East Troy rallies to beat Delavan 8-7
On a sun drenched July 4th, the East Troy Express did enough to slip past a vastly improve Delavan Blackhawks squad by a final 8-7. With the ETBT a not so distant memory and the bench reeking of the night before, the good guys scored 1 in the 1st. Jory Tess led off with a walk. Jory is now the lead off hitter for the Express with the departure of Dan Douglas. Double D was signed to the Springfield Sliders of the prospect league, good luck Danny, come back and visit if you can. Anyways, Jeff Tess laced a single past 3rd base and Justin Keegan followed with a base hit and Jory was hosed trying to score. Matt Lang then singled to drive in Jeff Tess. Delavan answered with a 3 run 2nd inning. Todd Nabor started and never seemed to find his groove. Nabs went 5 innings giving up all 7. Al Loth came in and pitched great, going 3 scoreless innings. Lang then replaced Loth to nail down the save in fine style. Loth had a great day, going 1-2 with a couple walks and a couple runs. Lang hit his 1st homerun in the 6th inning, a 2 run shot. Justing Keegan had 3 hits. Jeff Tess was 2-4 with a rbi. Ryan Kehl played solid d.... Travis Krauss got the start at 1st base... Jeb Loth reached base a couple times with a walk and a hit.
---
Express rally to beat Burlington 7-6
June 28, 2011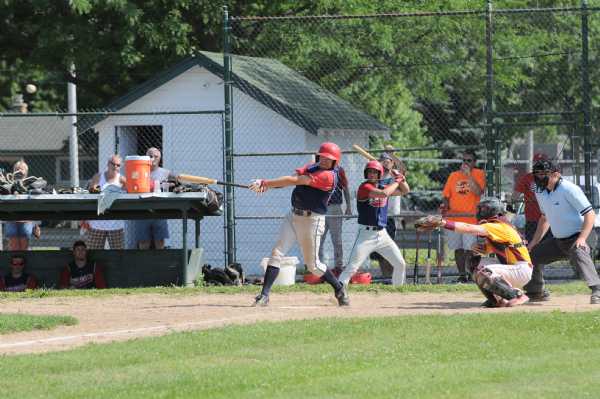 The East Troy Express battled to a 7-6 victory over Burlington on Sunday. Matt Lang took the hill and was in top form until the 8th inning when a couple walks and an error cost the Express the lead. Then Lang made a mistake and Burlington homered to take a 6-3 lead. The home team would rally in the bottom of the 8th with 2 outs Ryan Kehl homered to make it 6-4. Jeb Loth reached on a lost pop up that landed just fair. Adam Wolter pinch ran for Loth. Dan Douglas singled to left to put runners on 1st and 2nd. Jeff Tess who fell behind 0-2 battled to work the count full. The payoff pitch was roped by Tess to the gap and both Wolter and Douglas scored and Tess ended up @ 3rd base. Justin Keegan grounded out to end the inning tied 6-6. Keegan did however hit his 1st homerun of the year earlier in the contest. Todd Nabor relieved Lang and got thru the top of the 9th. Jory Tess singled to start the 9th and moved to 2nd on a balk. Kehl then bunted to move Tess to 3rd and he reached via error setting the stage for Wolter to play the role of hero. Wolter laced a shot to the gap to drive in Tess and give the Express another nice victory over a quality team and moved the Express into 1st place at 11-2. East Troy travels to Delavan Monday July 4th to battle the blackhawks.
New 2011 pictures are now up. Please take a second to check them out. They were taken and given to the Express by Eric Kramer, thank you Eric, they are appreciated!
Congrats to the Express in having a number of players named to the all star game.
Justin Keegan will start in the outfield he is the only Express starter which seems odd considering we are in 1st place but it happens to us every year
Jory Tess is making his 1st all star appearance along with Dan Douglas. The double play tamdem should be playing in a buch of these games for years to come.
Matt Lang and Todd Nabor will pitch in the game. Lang is undefeated and should have been named starter. Nabor is an all star every year and he deserves it. Good Luck to the boys!! The Game is in Genessee in 2 weeks.
---
Battle for 1st place goes to the Express
On a gloomy night in Burlington, the hardy Express fans who made the trip were treated to a nailbiting emotionally charged victory by a final of 3-2. Todd Nabor got the call and was at his best in holding the home team to just 3 hits while striking out 5 and walking 6. The Express opened the scoring in the 6th as Dan Douglas reached on an error. Justin Keegan roped a double to left to make it one nothing. Matt Lang followed with a base hit. Jory Tess then ripped a shot to left to drive in Keegan to put ET up 2-0. The home team answered with a run in the bottom half. Al Loth drove in Ryan Kehl who doubled to start the inning to make it 3-1. The Express were able to hang on in the bottom of the 9th as the key play was a relay from Al Loth to Jory Tess to Ryan Kehl to gun down the tying run. It was a great team effort but Nabor gets the nod as POTW by going all 9 in the win and then leaving right after the game and going to work. The Express have a rematch with Burlington on Sunday at East Troy. Should be another good game.
The Express website has been updated and the 2011 stats are now current and up to date as of Wednesday night 6-22. The Express hope to send a number of players to represent the SW in the all star game. The voting is Monday night. Here is a sample of the Express roster.
Justin Keegan OF .548 I checked the stats twice and they are correct!
Jory Tess SS .488 having a monster year and a web gem regular
Dan Douglas .444 mister everywhere 4Sb's tough leadoff man
Matt Lang .375 and should be pitching in game.
Jeffery Tess .340, team leading 18runs, 13RBI and 2HR's
Todd Nabor having another great year on the hill for league leading ET
Jeb Loth .333 behind the dish and DH
---
Express sweep Ixonia
The East Troy Express rolled past the Snappers of Ixonia in a double dip in style by posting wins of 6 zip and 12-0. The pitching was the key as Matt Lang went the distance in game 1 allowing only 3 hits while striking out 7 in the victory. Lang was never in any trouble and controlled the bats all day. Al Loth followed up langer with a gem of his own, going the distance allowing 5 hits while striking out 6.
Game 1
The Express were led by Matt Lang who again dominated from the hill. Lang should be a lock for the all star game on the hill. His control and velocity kept the snappers at bay all game. The offense was led by a blazing hot Justin Keegan and Jeff Tess. Keegs had another big game going 2-3 with a couple walks and 2 rbi. Tess launched a home run to put the game out of reach. Jo Jo Alvaro was 2-4 with a rbi. Al Loth chipped in with a couple hits. Jory Tess continued his all star season by making an unbelievable catch and collecting a couple hits as well. Jeb Loth drove back from Minnesota to rake all day, getting 2 hits in game one with a ringing double off the wall.
Game 2
Al Loth toed the rubber and was in top form. With Todd Nabor and a slew of other starters taking a fathers day break, Al stepped up a threw heat all game, going the full duty getting 6 k.s. Dan Douglas had 2 hits again. Jeff Tess had a double and another home run driving in 4 runs. Jeb Loth had two hits. Justin keegan had 3 more hits to make his claim on the sw all star team. JoJo had another big hit driving in 2. Travis TTown Krauss drove in a run. The Express seem to be hitting on all cylinders heading into a showdown with Burlington this Wednesday night. The Express may be thin the bullpen but the offense looks to carry the load.
---
East Troy take 2 from North Prairie
The East Troy Express had an excellent weekend against the North Prairie Dawgs, taking both games of the doubleheader. The pitching of Todd Nabor and Matt Lang was sensational. They limited the home team to 4 hits in each of the games and keep control of the strikezone all day!

Game 1
Lang had 6 strikeouts and only 2 walks in going the distance. The Dawgs had 4 hits on the day. Lang allowed 2 earned runs in the 4th inning and that was it. The Express offense was solid in game 1. Double D Dan Douglas lead off with a double, then advanced to 3rd on a passed ball. Jeff Tess had a sac fly to put ET up 1-0. ET tacked on another run in the 2nd and then one in the 3rd. Lang was able to drive in a run as was Jory Tess. Lang finished the game with 3 hits as did Douglas. Al Loth was 2-3 in the game. The Express put the game away with a few insurance runs in the 6th.

Game 2
Todd Nabor got the complete game effort in game 2 as ET took command early and never looked back. Justin Keegan doubled off the wall in center to drive in Jeff Tess who reached via single. Ryan Kehl walked Jory Tess reached on fielders choich and Kurt Wenzel had a base hit, which maybe his first legit hit of the year! Jeb Loth had a hit as did Al Loth. JoJo Alvaro came off the bench to go 2-2 with a double. The Puerto Rican sensation drove in a run. The Express are now 7-2 on the year. They travel to Ixonia for a doubleheader in Sunday. Game time is noon.
---
Express sweep Wales with Jeb Loth's walk off hit!
June 9, 2011
The Express swept Wales. I wrote a long article and was logged out so this is the cliff note version. Todd Nabor pitched great going the distance in game 1, with 13 K's and 1 earned run(3runs) as ET walked alot. Dan Douglas and Justin Keegan had a couple hits. Jeff Tess cleared the bases and collected 3 rbi. Matt Lange and Al Loth had rbi's.

Game 2 was a classice ended by Jeb Loths walk off single in extra innings. Keegan had a cluth double off the wall to drive in 2. Jory Tess had a big hit as did Kurt Wenzel. The Express travel to North Prairie on Sunday for a noon start.
---
Express sweeps Genessee
Game 1

The Express had a breakout weekend in sweeping the Genessee Rebels and improved to 3-2 on the year. In game one ET Express pounded out 14 hits in a 9-3 victory. East Troy was at full strength for this game and it showed. Dan Douglas had 3 hits in the lead off spot. Jory Tess continuned his torrid start by going 3-4 with 2 rbi. Justin Keegan had 3 hits as well. Matt Lang went the distance for the win.

Game 2

The Express offense exploded for 17 hits in game 2 for a blowout win 19-7. Ryan Kehl in his return went 3-5 with 2 homeruns and 7rbi. Justin Keegan went 4-4 and Jory Tess went 2-4 with 3 runs scored. Matt Lang had 2 hits as did Al Loth. Todd Nabor started and went 3 innings before leaving with tightness in his quad. Al Loth came in relief and was solid in collecting the win. It was a nice day to get everyone in the game and Coach Kurt Wenzel says the Express train is rolling. East Troy has a doubleheader Sunday against Dousman. The Frogs sit atop the LOL standings at 3-1. Game time is at noon.

Stars of the day-
Justing Keegan 7-8 5 runs and 3 rbi
Jory Tess 5-8, 4 runs scored double, 3 rbi's hitting .650 (13-20)
Ryan Kehl 4-6, 2 homeruns 7 rbi,
---
One for the good guys
May 16, 2011
The Express were able to get a win on Sunday against a Delavan squad that had a great run last year by a final of 20-8. East Troy was led on offense by Jory Tess who had a monster game in the leadoff spot. Tess reached base all 6 at bats going 4-4 with 2 walks 4 rbi, 3 sb's and 5 runs scored as he garners the Express player of the week award. Jeff Tess was able to contribute going 4-6 with a double and 3 rbi. Matt Lang returned from college to smoke a pair of doubles collecting 3 hits and recording the final 6 outs. Todd Nabor found his command and went 6 innings getting 6 strikeouts. Jeb Loth had a nice day at the plate getting a huge double to blow the game open. Travis "TTown" Kruase got the walk off HBP and an rbi. East Troy will take on Genesse in a double dip next Sunday at noon.
---
2011 season set to begin!
February 18, 2011
The 2011 season is quickly approaching and news has began to leak in of a few changes to the Land o Lakes southwest division. Word has it that Mukwonago is done as a memeber of the league and Genoa City is also gone. Since East Troy had built a little rivalry with Genoa City, they will be missed. It was at least fun to play them knowing that they had a good team full of d-bags and we didn't mind rising to the occasion for those games. As for Muktown, who knows why they can't get a decent squad together. Apparently a new team will be joining the league in the form of Oconomowoc. This info was given to me via the Rome webmaster and it has not yet been confirmed. With 11 teams who knows what the schedule will look like but I'm sure we will have a ton of double dips. We have a new member of the East Troy Express as Adam "Sweats" Wolter has added to his clan by having a baby boy on Feb. 10th. Seeing as that both he and his wife Crysta are left handed, look for the Express to reload with pitching talent in 2029. Congrats Sweats, way to put the stem on the apple! It appears that most of the players from last year will be returning which should keep ET around the hunt for the playoffs and possible a return or two could help them get over the hump!
---
Waterford takes two from Express
The regular season concluded on Sunday by having to travel to Waterford instead of having home games to play division champs Riverman in what amounted to a couple a meaningless games. Waterford clinched 1st place and East Troy was locked into the 4th seed. On a hot stick day the Riverman were able to win both games. Al Loth pitched game one and did a nice job until running out of gas. East Troy was lead by Jeb Loth who collected his 1st home run of the year, a 2 run shot, and Jeff Tess, who finished 3-4, with a couple rbi. Game 2 saw Express ace Todd Nabor looking to get the split and get in some work, but the Riverman were able to pull out an easy victory. East Troy Express will host Genesee in the opening round of the playoff on Saturday at 1:30 and the winner advances to play Waterford on Sunday.
---
East Troy takes out frustration on Delavan 17-3
On Saturday the Express were still trying to shake off the cobwebs from a Thursday night game, by hosting the playoff bound Delavan Blackhawks and coming out with a resounding 17-3 victory. The Express welcomed back Matt Lang and handed him the ball for the big game. Matt was able to hold down a potent line up to only 4 hits and 3 runs, 2 of them earned in going 8 innings and earning the win. Lang started slow in the 1st by giving up 2 runs, while he was trying to find his groove after a week in the northwoods partying with 12 college buddies. By the 3rd inning and the last remnants of the vacation dripping out his pores, Matt set the criuses control and struck off 9 hitters. Lang also was a force in the batters box, going 3 for 6 with 2 doubles and an rbi. The Express had a number of offensive stars on the day, led by Jeff Tess who was 3-6 with a 3 run homerun and drove in a season high 5 rbi. Kurt Wenzel stayed hot by blasting his 1st career grandslam to cap the scoring for the Express. Justing Keegan has also been getting the job done for the Express down the stretch by collecting a couple of hits. Andy Kiesow was able to also get a couple of hits to extend his hot streak. Jeb Loth, back from a honeymoon early, was able to get an rbi. Steve Senft played another sweet game at 3rd base and collected 3 hits. Jason Fidler even joined the party and had a hit. The Express will be without Jory Tess for the remainder of the year, who suffered a broken right hand. This will hurt the Express dearly, as Tess was having a gold glove year and was also a contributor on the hill.
---
Ixonia derails Express with taste of own medicine
The Ixonia Snappers were able to be the Express with a walk off basehit to dampen the East Troy playoff hopes. East Troy rec'd a solid effort on the hill by Andy Kiesow. Kiesow deserved a better fate but a make shift lineup produce a number of costly errors leading to the Snappers come back. In fact, the only hard hit ball by Ixonia was the walk off winner in the 9th. Lost in the shuffle was the return of Kurt Wenzel. Wenzel has been nursing a sore left knee, came into the game in the 6th inning as Kiesow's replacement on the hill!! East Troy was missing 5 starters pushing Wenzel up the depth chart and he was able to wiggle out of a couple jams until an error and a walk lead to the Express donwfall. Wenzel made his 1st plate appearance count by hitting a game tying 2 run homer, knotting the game at 7 and giving the Express hope before the Snappers pull the rabbit out of the hat. Justin Keegan had 2 doubles and 2rbi. Adam Wolter had 2 hits and a sb.
---
Adam "Sweats" Wolter hits 2 run walk off HR!! Matt Lang for MVP!!
August 2, 2010
Game 1
Where do you start when describing the events that took place Sunday afternoon as the Express swept a solid Genesee Rebel squad. In game one it was the Matt Lang show!! Matty took the mound and was dominating in getting both the win and the save!! Lang went 6 innings, allowing 6 hits and one run. With the Express up 8-1, coach Wenz took the liberty to put in reliever Tyler who promptly walk the lead off hitter, gave up a base hit and walked another to load the bases. After a brief chat and another runner reaching base, Matt was called into duty with the bases drunk, and nobody out. He proceeded to get a pop out, a K, and a ground out as the Express won 8-2. On top of going the distance, Lang was 4-4 at the plate, with 3 rbi. If that is not having a day, I don't know what is!! The Express opened the scoring in the 1st as Dan Douglas lead off with a base hit. Jeff Tess followed with a base knock himself. Justin Keegan walked to load the bases. Lang then crushed a triple to drive in 3 runs. Jory Tess then walked and Andy Kiesow roped and rbi single to left. When the smoke cleared it was East Troy up 5-0. Tess finished the game 2-3 with a double. Kiesow was 3-4 with a triple and a couple RBIs.
Game 2
Game 2 had a whole different feel as Genesee came out hacking! The Rebels pounded out 7 hits in the 1st inning to jump out to a 6-0 lead. After tacking on another run in the 3rd the Express began an epic come back. The Express scored 2 in the 3rd, 3 in the 5th and 2 in the 6th to tie up the game at 7-7. In the bottom of the 7th, Steve Senft reached base via error with no body out. Coach Wenzel, in a briilant move, called Adam "Sweats" Wolter not only into the game, but called him at work and told him to get his ass to the park. Sweats, who in Kirk Gibson type fashion, hobbled to the plate with a pulled groin and quad, went expecting to get the bunt sign. Tim Wenzel instead let Adam swing away and then it happened, a line drive bullet to right field, sailing far over the fence for a thrilling 2 run walk off home run as the Express prevailed 9-7. Matt Lang contined his hot streak by hitting a home run over the softball fence as many old timers think that dong may have been the longest since the wood bat era. Matty finished the day 6-8, wtih 2 triples, a home run and 5 rbi. Any Kiesow was also outstanding going 5-8 on the day. Jeff Tess went 3-6 with a double and 3 rbi. Justin Keegan had 3 hits. The Express have climbed into 2nd place and are now 14-4. This week will be a battle as the Express play Thursday night in Waterford against Ixonia. Then on Saturday, Delavan comes to East Troy. On Sunday the Express will host a double dip against Waterford.
---
East Troy downs Dousman 5-4
July 25, 2010
On a beautiful Sunday afternoon, the East Troy Express hosted the Dousman Frogs and came away with a 5-4 victory. East Troy started Todd Nabor and he was able to go 7 plus innings giving up only 2 hits but walked 8 and left the game tied at 3. Closer Matt Lang came on to try and bail Todd out, but was unable to find his command after walking 3 batters. Coach Kurt Wenzel was desperate enough to turn to Jory Tess to find the zone. Tess entered the game with bases loaded and one out and was able to induce a ground out and a pop out to keep the score knotted up. The bottom of the 8th started slowly as Travis Kruass and Adam Wolter were retired. Lead off hitter and UW Stevens Point player Dan Douglas roped a base hit to right. With #2 hitter Tess coming to bat, Douglas was able to steal 2nd base. Tess walked to put runners on 1st and 2nd, bringing Justin Keegan to the dish. Keegan, who has been hotter than the weather, continued his fine second half by smoking a triple to deep centerfield, driving in both Tess and Douglas. Keegan finished the day 2-3 with 2 base on balls. Tess was 1-3 with 2 walks as well. Jory was also able to escape a 9th inning jam after and error and a walk, he was able to strikeout the #3 hitter and then get a ground out to end the game and earn the save. The win propels East Troy into 3rd place in the Land o Lakes behind Waterford and Burlington. Other highlights were Matt Lang driving in a RBI. Coming off the bench via coaches decision, Jeff Tess stayed hot by doubling off the wall. Steve Senft was able to get a base hit and drive in a run, Snuffy played second base. Jeb Loth was solid behind the dish and was able to throw out the only base runner that attempted to steal. 3rd baseman Al Loth and Adam Wolters also contributed to the Express win as well as Andy Kiesow, who made a number of nice plays at 1st. East Troy was rained out on Saturday, with that game to be made up at a later date. Updates will follow when that information becomes available.
---
Express sweep double dip in Mukwonago
Game 1
A shorthanded East Troy Express were able to battle the heat and a limited roster to sweep the Mukwonago Laker on Sunday. The Express were without Todd Nabor and turned to closer Matt Lang to take the hill in game one. Lang who pitches and plays outfield for Wisconsin Luthern pitched a gem, going the distance while giving up only 4 hits and striking out 7. Lang also had a triple in the decisive inning when the Express scored 3 runs and went on to win 4-1.

Game 2
In the back end of the double dip ET used 3 pitchers and shotty defense by the Lakers to take a comfortable 14-6. Walks by the Muktown pitching as well as a number of pass balls help the Express offense. The bright spot was Al Loth, who logged 3 innings of scoreless relief. The wins propell ET into a virtual tie for 2nd place. East Troy travels to Ixonia on Saturday and then has a home game against Genesse on Sunday.

---
Second half begins Sunday in Mukwonago
The Express travel to Mukwonago high school this Sunday to take on a Lakers team that has lost a number of close games. ET and Mukwonago have had a number of good games in recent years, regardless of there records. The field is located behind the high school and is a launching pad for home runs if the wind is blowing out. Mukwonago is 3-8 on the year but the record does not tell the whole story. They have scored 50 runs and given up 55 on the year which tells you that they have played and lost a number of tight games. East Troy is similar in the the Express have had all close games and currently sit at 8-4. ET will be short handed with Dan Douglas heading to baseball camp in Louisiana and Kurt Wenzel out with his knee injury. The depth of the Express will be tested and the early start time of 11am will help nothing. Express shortstop Jory Tess will be celebrating his 21st birthday on Saturday which means that a number of the Express youngsters will not be on top of there games!!! Hopefully Adam Wolters, Andy Kiesow and Travis Krauss can step up and fill in for the MIA Express regulars!!
---
All Star Break Update
July 10, 2010
The Express head into the all star break after a nice win against Delavan on the 4th and currently sit in 4th place in the LOL Southwest. East Troy will only have one player representing the team in the all star game and the player is Express workhorse Todd Nabor. Nabs has had an average year by his lofty standards but once again will start the midsummer classic. East Troy has been aided by great pitching and defense but unfortunately that is not enough to get you on a stacked all star line up. The Express roster has been bolstered by a number of young faces that have cracked the starting line up. Amoung the youngsters are SS Jory Tess(4th year) and 2nd baseman Danny Douglas(rookie). The new double play tandum has sparkled in the last few weeks and with Double D hitting lead off and setting the table and Tess dropping to the run producing #6 hole the Express offense has begun to put up some decent numbers. Al Loth(2nd year) and Matt Lange(2nd), both East Troy grads and college players are contributing both on the mound and at the plate for East Troy. Lange has assumed the closers role as well as rightfield for the Express and is batting clean up, while Loth is the set up man and has also played Catcher, 2nd, SS, 3rd and Outfield. Loth will more than likely assume the full time 3rd spot as veteran Kurt Wenzel may be sidelined with a knee injury. Tests revealed that Wenzel has some bone chips in the knee and that surgery may be the only corrective measures. Ryan Kehl has returned and along will Jeb Loth, have been working behind the dish. Both catchers have been hitting the ball well of late and both have shut down opposing base stealers. 20 year veteran Jeff Tess has taken over and solidified the 1st base position. Tess has been on a tear lately raising his average to .320. Justin Keegan has shown signs of life as well by blasting his 1st jack of the year. The Express look to stay in the hunt for a home playoff game by traveling to Muktown for a double dip following the all star break.
---
Express beat Delavan on the 4th!
July 6, 2010
The East Troy Express traveled to Delavan on a steamy July 4th to battle the Blackhawks in a LOL SW battle. East Troy has been sputtering on the offensive side for a few weeks and looked to right the ship(train) against a Delavan pitching staff that has struggled. In the 1st inning after a Dan Douglass strikeout, #2 hitter Jeff Tess broke up the no-hitter with a line drive to left. Justin Keegan walked and Matt Lange delivered the opening blow by driving in Tess. On the play Keegan was hosed at 3rd base with Lange advancing to 2nd. Jeb Loth then drove in Lange with a basehit giving the Express a 2-0 lead. Delavan answered with 2 runs off thier own on a lazy fly ball that rode the jet stream over the right field wall for a HR by Todd Newinhuis. The Express scored 2 more in the 2nd. Adam Wolter's base hit and ensueing stolen base set up and rbi single by Danny Douglass that scored Wolter with a bang bang play at the plate. Wolters strained a groin on the play and would later be removed from the game. Douglass would score on Jeff Tess' 2nd hit of the day, a line drive to center giving the Express a 4-2 lead. Express starter and All-Star Todd Nabor would settle down and go 7 innings giving up 5 runs. Being that it was the 4th of July you had to expect fireworks and we recieved just that in the 8th inning when with bases loaded and 2 outs Delavan shortstop Nate Boltz tried to steal home. Pitcher Al Loth was called for a balk despite the fact he was working from the windup, which confused the umpire. Express player coach Kurt Wenzel sprinted onto the field with his badly damaged knee to confront the umps. After a brief meeting the call was reveresed and Boltz was called out! At that point Delavan went crazy in protest. After another umpire meeting the ruled that it was totally f-ed up and we should just have a re-do!!! After order was restored, Brock Belcher grouded out weekly to end the inning. Belcher and Wenzel exchanged words on his way past the Express dugout at which time Wenzel said the magical words to get ejected. In the 9th inning the Express would turn to Matt Lange to close the door. Matty was able to wiggle out of another bases loaded 1 out jam by striking out the #2 hitter and getting Boltz to pop out to end the game. The Express pounded out a season high 15 hits lead by Matt Lange 3x5 and Jeff Tess 3x5. Justin Keegan went yard for the 1st time this season. The Express have the week off for the All Star game. Action resumes against Muktown