Welcome new Beavers
Game schedule updated 3/27 on this site under schedules
all players to sign the guest book on this site!
2010 regular season AL Champions Sponsored by The Sports Shop
Beavers Baseball Club
We have to win the last 2 and we did--almost!
It started with a thrilling 7 inning walk off win vs. the #1 seed in the league tourney ( that was already guaranteed by the time we started)
Rocket started on the hill and went 3 innings 8 K, one walk and one hit allowed no runs.
The only out Rocket had that was not a K was a catch in right field by Hoss.

Rocket struck out the side in the 1st and 3rd innings "good morning, good afternoon and good night!" The offense started off slow for us as well, we got hits and no runs from Rocket,
Moose when he beats the throw with the Bandit 1st base off the bag.

and Ice. beat one out too with clear "gap" between 1st baseman and bag.

but finally the bottom of the order came on in the 4th. 1 out walks to Sabo, Hoss and Flash set up Goldie for a big hit. Scoring Sabo, then Rocket was hit with a pitch scoring Hoss.  Flash stole home and Then Goldie scored. But Rocket was Caught stealing 
and the rally died in spite of a double by Slick.  Bomber on to pitch and he did well in the first with some good plays by DC and Goldie.

Top of 5th and a couple of plays that we just missed on.  Here Slick almost makes a great catch twice!

Bermuda triangle hits off of Bomber like this one resulted in 2 runs in the 5th

Meanwhile we went back to the plate. Moose, DC Bullet and CB got hits and we scored 3 runs. 
We were up 7-2 when we had our "Beaver inning" a couple of errors, a catcher's interference and a hit by pitch. Credit them with one maybe 2 hits in their 5 run 6th to tie.
Moose came on to pitch  and we did make some good plays, Ice with the "ice cone" against the fence. Goldie tagging runners and other good plays. 
In the end it was a hard hit ground ball to lead off the bottom of 7th by Slick, Bomber walks and Moose hits into a fielder's choice leaving DC up with runners at 1st and third.  Game winning hit by DC with Slick scoring but Bandits thought it was tied .  Our chief scorekeeper, Ashley Mejia, finally convinced them "you lose, Bandits"   8-7 
A short break and we played the Volcanoes, Goldie and Rocket combined for 2 hits and run in the first but Rocket got caught stealing third with only one out.

Scoring only 1 was an issue but the real problem was we could give up only 2 runs to them, Runs against was the tie breaker if we beat the Volcanoes then had the same record as the Knights. If we allowed 3 runs The Knights go to the play offs even if we won! Slick pitched 3 innings for us and gave up nothing! 2 hits 5 strike outs and one runner to third all the time he pitched.
Meanwhile we got a second run in the 2nd with a Moose lead off hit.

DC followed with a hit, Bullet had a hit of his own that he didn't want, Hit by Pitch! Then bases loaded and Ice had an RBI ground out. One run only again!

Rocket had another hit but we could not score him in the 4th.
Moose on to pitch and he did well3 innings with one unearned run and 6 strike outs. The Brothers Cash got us the 3rd run in the 5th Bomber got a hit stole second, when to third on DC's sacrifice and scored on Bullet's hit.

Things fell apart in the bottom of the 7th with a hit by pitch that wasn't to end of the Bandit batting order. a nice catch by Ice in left for out #1 then an error on a pop up behind 2nd put runners at 1st and third.

We had 2 outs and should have had 4  Bases loaded a fly ball to right gets over our heads and throw in is delayed by in-decision so the throw to plate doesn't get there until after not only the tying run but the winning run crosses. Stuff happens. We were really close and position to take the double header allowing only the one run in the last game knocking out the Knights and Volcanoes for the #8 seed. The Volcanoes were the #8 seed and got to the semifinals where they were knocked out by the eventual champion Bandits, Hey, didn't we just beat them? 
Very Proud of the effort of the 2018 Beavers and hope to see everyone in fall ball and next year.
---
Beavers vs. Redwings- short handed Beavers lose again
We won't dwell on it .  We need to slide at 2nd base. one out didn't slide one safe didn't slide (just lucky)
There were some highlights like another DC clutch hit.

DC would score one of our 3 runs, to their 12 on a Ice 2 RBI hit. The other run Goldie  scored on a steal of home in the 7th. The loss put us in bad position for play offs but not hopeless.

---
Wasn't pretty with the 12-1 loss to 1st place Ironbirds
We borrowed Michael Ortega a 16 year old Mustang's player to make 8 players. 
Michael Nicknamed "Loaner"  hit the ball hard, but they were playing him deep! We are proud of the group effort by our 8 players. Even though the Ironbirds scored 12 runs they really only had 8 hits and some of those were hit in holes left by having only 2 outfielders.  We could have beaten this team with 2 more players. Any 2 or the 7 players who missed this game would have made the difference.   Moose, Easy and Hoss pitched their hearts out.
Our two outfielders covered as much ground as possible. Cuz and Hoss made good catches in the outfield.
Moose and Michael Ortega worked a pick off play. 
The Ironbirds' player involved was ejected for arguing with the out call. Sabo made several plays at 2nd base,
DC good catches at short and second.
 Goldie, who also caught, gave good efforts on the infield.
Easy, Hoss and Goldie rotated at 1st. Below Easy saves a base by valuing the ball.
Moose after pitching took over for Goldie behind the dish and caught 4 innings in 100 degree heat.
Moose got the only hit, a 7th inning bunt.Hoss scored our run on a bases loaded walk.
We are proud of the effort and with the Volcanoes loss and the Knights loss we are still 1/2 game out of 8th place, with 8 making the play-offs.  3 games to go!
---
Glad we finished off the knights 5-2 because we were out of Tums!
A very well pitched game by our two pitchers: Rocket went 4 innings 57 pitches, 9 strike outs 1 hit 1 walk and no runs of any kind. one runner got to third with 1 out in the 2nd but Rocket struck out the next 2 batters. Rocket earned the win.  Bomber went 3 innings 8 strike outs, 2 questionable hits. 1 walk 2 runs, neither earned, to get the Save.
We had 8 hits. Goldie 2 , Slick 1,  Rocket walked all 3 times up. Bomber 1, Bullet 1 plus he had a nice hit to center but the center fielder got it on a hop and threw him out a first. DC was 0-2 coming into his last at bat and got a 2 RBI hit in the 6th for insurance. Ice and Easy had hits as well.
It started with defense as slick throws to Bomber to get a 1st inning knight runner, You are Busted! 
They got their only hit against Rocket in the first. In our half of the first, Goldie started with a hit stealing second  and scoring on Slick's hit.
He "slud" well I'll be! Goldie Scores and then according to our camera Slick steals 2nd, not so, says the umpire. oh well.
 We restarted the offense with a walk to Rocket, and a steal of 2nd, this time the umpire agreed.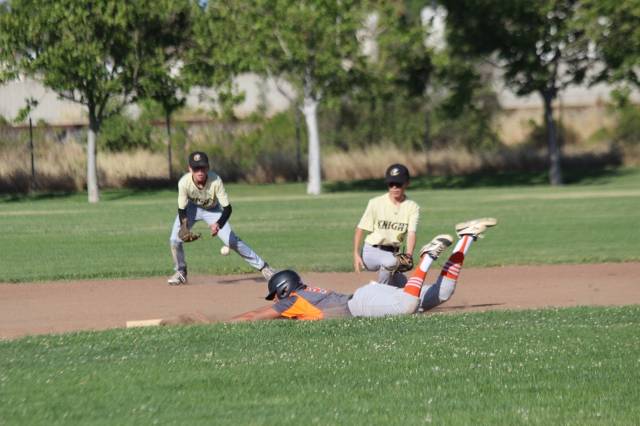 Rocket stole 3rd as well as Bomber walked and stole 2nd for Bullet.  Bullet gets an RBI knock.
 with Bomber taking third. Bullet steals 2nd. DC gets a sacrifice Fly, Bomber tags from 3rd.
so 3-0 Beavers.
Defense in the top of 2nd with a nice catch by Cuz in left. 
There were a couple of strike outs by Rocket to close out the Knights in the 2nd. Then the Tums come out, even with Rocket and the defense working, we can't mount any offense, for example in the bottom of 2nd we get a hit from Easy
and Cuz walks. A balk moves runners to 2nd and 3rd with no one out!  we don't score. In the 3rd, Rocket strikes out the Knights 1-2-3. We come up and Rocket gets a 2 out walk, steals second and moves to third on a Bomber hit. Bomber steals second. 2nd and third with a good hitter up in Bullet.  He hits to center on one hop to the centerfielder who throws Bullet out at 1st. NO runs! Rocket gets 2 more strike outs in the 1-2-3 4th and we come up. Ice gets a hit and steals to 3rd.
  1 out could not score him!  "Coach you got any more Tums" " No, I am out, I will have to go to the car for the special stash".  Bomber on to pitch now.
 First batter hits a fly ball to left and it falls for a 2 base error.  Bomber then strikes out the next 3 batters but not before a couple of steals end up with an unearned run.   Now Bomber is looking for the Tums! Still 3-1 good guys. In the bottom of the inning, we get a runner on and he gets picked off.  
Coaches are looking for Pepto-Bismol now. Top 6th Bomber strikes out the side around a ground ball we booted and a walk. Bottom 6 and  it is going as usual. Lead off hit to Goldie, walks to Slick and Rocket. then 2 quick outs so it looks like we will strand 3 runners on the bases again! DC says No!
DC singles in Goldie and Slick.
 Top of 7 leading by 4 no sweat right? Wrong! 
Oh it wasn't so bad at the start, Easy a great catch in center for the 1st out of the 7th
But then a walk, a ball we should have handled on the infield and an E-4, with one run scoring! Another ground ball to re load the bases ! tying run at first. Bomber strikes out the next batter. 2outs bases still loaded with a 3 run lead. Bomber gets the next batter on three pitches but...dropped 3rd strike!  Rocket picks up the baseball and steps on the plate to force the runner from 3rd with the final out! Whew!
---
Tale of 2 games
It was the worst of times, It was the best of times  Actually, for you literary types Old Chuck Dickens said it the other way around in A tale of two cities . Our worst was the game vs the Mustangs Maybe not our best but at least better was the game vs the Mud Cats. Game blogs are below.  Here are the team pictures!

The straight picture then the crazy one below To borrow from another media for the below picture
"It's my kind of team, Charlie, my kind of team!" Lou Brown, Major League (1989)

In the Mustangs game we jumped out ahead 3 -0 after 2 & 1/2 innings on a Moose one out hit and a steal of second base.
Slick singled Moose to third and then Bomber and Rocket walked with Rocket getting the RBI on Moose crossing the plate. Slick scored on the Bullet ground out. Then, in the 3rd, Goldie got hit with a pitch, got mad and stole to third. Moose got the RBI hit.
Meanwhile defense and pitching was outstanding On defense, Sabo and Slick (from the mound) with nice flips to first.
Then, as they say, the wheels came off. First batter of the inning reaches on an error, followed by a flare to right that  gets 2 runners on and then we get a pop up for what should have been the second out.  Slick actually hits the next 2 batters to force in a run and then he strikes out the #3 batter for 2nd, should have been 3rd out. A bases clearing single follows with a little help from our defense.  Eventually 6 runs score; 5 unearned. Some problems developed in our offense as well, Cuz got a hit and got thrown out at 2nd trying to steal, might have been safe but he did not slide! Rocket had a double to lead off the 4th and could not score. Easy got a lead off hit in the 5th, Flash got him to 2nd with a nice hit. Then he took third on CB's walk but got picked off 3rd going back after a lead because ...wait for it...he did not slide!
Bomber pitched a scoreless 4th and should have gotten out of the 5th with no damage as well, but 3 errors allowed 3 unearned runs. 9-3 bad guys! We made some decent defensive plays with a nice catch in the outfield by CB
Rocket threw out a runner stealing second and Goldie made a diving tag
We made an attempt to come back late in the game with a 2 out rally by Slick walking then Bomber and Rocket got hits, Slick and Bomber scored on Rocket's hit. Then Rocket stole to third and scored on Bullet's hit for his 2nd RBI of the day!
Rocket pitched a scoreless bottom of the 6th
but top of the 7th with Ice on third and one out we could not score again.
The next game as Home team against the Mud Cats was a totally different story.
It started with Rocket pitching 4 very good innings. Even though the lead off runner for them reached on a error and scored the rest of the pitching was super! Rocket had 6 strike outs,
With Moose catching the first 5 he threw out Panda (Tyler Nakagaki) twice!
On Offense, Moose and Rocket got one out hits Moose scoring on a balk and then the Family Cash got Rocket home, Bomber moved him to third with a ground out and Bullet drove him in with a base knock! In the bottom of the 4th Bomber led off with hit, stole to third then DC drove him home with a one out ground out.
Defense continued with strong pitching and some good throws. Bomber struck out 5 in two innings and the other out was the walk to Panda then when Moose was looking for the ball that got by him at the catching position Panda tries to advance and is caught stealing pictured just above. Moose says it was all a decoy move! It was all about defense from there on out. Moose on to pitch and the first batter #13 reaches on an error. Moose gets the next batter to hit a high pop up to Right. Oh no! We have seen this before with a 3 run lead but....Hoss makes a good catch and almost doubles #13 off at first!
Whew, one out runner at first. Big Panda up for the Mud Cats and hits a looping liner over 2nd but wait, DC gets there with a reach and snags it for the second out.  
2 outs and Rocket catching for Moose. He decoys the runner at first into trying to steal. Rocket hits Slick who is just into the game after a school meeting and he puts the easy tag on #13 to end the game!
---
Still on a roll, Beavers sneak by Thunder in game of week 10-7
a lot of great performances and some not so good stuff as well.  but we did manage to battle back from an early 1 run down situation, to lead by 5, they tied us at 7 then we pulled ahead and held them for the win!
Game story started with Goldie leading off the game with a great At bat working a walk. He would steal to 3rd 

Goldie would score on a hard hit ball the third with Rocket stretching to beat the throw at first by but tripping and going down hard at first. Out by and eyelash. we held our breath but he was okay. We followed with a hit by Slick, Slick steals second 
and walks to Bomber and Moose
to load the bases but we could not get more runs. Bottom of the first and Slick on to pitch.
Great job with a walk and 3 straight strike outs. In the second we left the bases loaded on a hit by Bullet and walks to CB and Sabo. No joy, we couldn't cash in. In the bottom of the inning; They started off with a tough ground ball to third but Moose was there and hit Easy with the throw, note, Rocket at catcher beat the runner to first.
They got one unearned run on a dropped third strike that we could not get the throw to first on, plus a 2 out hit,
Easy, pulled off of the bag here with CB and Hoss moving to back up.

Slick got 3 strike outs in that inning as well. Goldie got a hit to lead off our 1/2 of the third, stole 2nd and then got back picked by catcher, CJ Otter Bravo.   We did not score, 

Meanwhile Thunder put together a rally with a double, a sacrifice and a wild pitch. Once again Slick had 2 strikeouts.
Finally, we got the offense going. Bomber gets a hit and steals to third with Moose up.
Moose hits the world's shortest Sac Fly to first base in foul territory and Bomber scores. tie ball game. Note the throw to a good catcher CJ but Bomber beats the throw and the quick tag.

 Ice gets hit by a pitch and DC gets a knock to move Ice to 2nd. Then Bullet gets a double. 2 RBI Great job Bullet! DC alertly scores from first

Bottom 4 Slick has 2 more "K's" the last one to CJ, the high school player, and that was "looking"
10 strike outs in 4 innings. last out is a "come-backer" Slick to Moose at first with a nice Flip like we have been teaching.

We come up looking to add on to our 4-2 lead and we do with a 3 run 5th. CB starts it off with solid hit to center. After one out Hoss walks, Goldie singles and we have bases loaded. CB alertly scores on a ball that gets away from pitcher on throw back from catcher. Hoss moves up to third with no one covering. Giving him a base on defensive indifference.  That sets up the slowest developing Sac fly I have ever seen. Rocket hits a deep fly ball to center, Hoss tags and look at the speed across the plate, Coach Brent's camera couldn't focus it was so fast! If the relay isn't dropped Hoss is out by 6 feet. But he scores.

Then Goldie at third and a Balk brings him home. 7-2 good guys we can breathe, put away the Tums, Right? Wrong!

It gets weird with Easy on to pitch and he strikes out the first batter,
A hit and a couple of walks to load the bases. Hey no sweat but the next batter Easy strikes out, Dropped third but runner on first so batter is out 2 down. we can get out of this, right, Wrong ! break out the Tums again. 2 run single by the #2 batter. Then 2 straight hits and 2 walks. We are tied at 7. we had a little bit of snow ball fight throwing the ball around. We should have had the third out long before we got it after Bomber came in to get the strike out on the same batter Easy struck out to start the inning. 
We are running out of time and Tums!

6th inning may be the last.
Bomber gets hit with the first pitch right in the back and Coach Brent tells him, steal 2nd to show them, he does! Up steps moose with a key hit and Bomber scores from second. Moose steals second. Signature Moose belly slide, Safe!

A one out hit from DC moves Moose to third and DC gets to second. Bullet gets an RBI fielder's choice to the right side to score Moose and bring DC to third. DC steals home to cap our scoring at 10 giving us a 3 run lead going to the bottom of 6.

Bomber continues on the hill and gets a strike out, But the next batter gets a hit and the last batter in the Thunder order is up with the top of the order looming! No worries, Slick at catcher now and DC at short take care of the problem with a caught stealing 
Look at DC show the ball and CB in perfect back up position. Bomber gets the next batter on a strike out. Whew!

---
Build a Dam Beavers! A one hit Shut out Beavers-12 RiverCats-0
Pitching and Defense stopped the powerful RiverCats, Defense featured Sabo with a key catch of a high pop up to him at second base, hit by 16 year-old super star Blaze Thompson. 2 outs with a runner on via a walk. If Sabo doesn't make this play, we lose the shut out.
Pitching: Rocket starts and goes three good innings giving up a meaningless hit on "a ground ball with eyes" and striking out 6 including Matt Gomez, Tony Sole' and high school player, Greg Allen.

Bomber comes in next for 2 innings: 0 Hits, 1 walk and 5 strike outs ( a very determined effort, just look at his face of determination)
Bullet comes in after his Brother for one 10 pitch shut down inning with 1 K. He is just as determined as Bomber.

Moose closes with a walk to lead it off; then three straight strike outs, looking by RiverCat batters.
Our pitchers struck out 15 Rivercats, most on called third strikes (looking), We struck out 5 times most on swinging strike threes. The defense helped out in addition to the Sabo Catch, with one out in the 1st we walked Blaze Thompson but he was caught stealing, Moose to Slick.

Then the same thing happened again after Chase Nordlund's hit when he was caught stealing even worse than Blaze. Nice two hand tag, Slick!
The offense was there too! Everyone except Sabo scored at least one run. (Sabo's contribution was that defensive catch to preserve the shut out!)  Slick scores here on a Moose Double in the first Inning ( a 7 run first for the Beavers)
Goldie, Bullet and Bomber also Doubled. Bomber's lead off double in the 4th set up another run
  We had 9 hits for the team and a bundle of walks, hit by pitches, as well as a reached on errors and Easy reached on a catcher's interference. All leading to 12 runs, including a single and an error on ball hit by Flash over the bag at first.  The first baseman doesn't seem to interested in the getting the ball here as Flash takes second. Meanwhile Bullet and Easy score without a throw!
We had some laughs too. Twice our catcher (two different catchers) tossed the ball out and started into the dugout with 2 outs instead of 3.
We exhibited some nice sportsmanship as well. Below Goldie score while the pitcher was blocking the plate without the ball. Goldie avoided hard contact but it didn't do the pitcher any good he got drilled in the chest seconds later with hard throw from the catcher.
Our one umpire missed 2 no tags on the bases, (Bomber & Rocket) and at least one call at first where Moose was safe. DC says he was safe on this play as well where the umpire called a tag by Big Tony but DC says, I think he would know, No tag. 
The some of the RiverCats players were taunting and "vocal" on the field, we just ignored it. We were enjoying the game and most of the 'Cats, like Matt Gomez were enjoying it too!

---
Hey this is starting to get to be fun. Beavers claw Rattlers 9-4
One of the top teams in the American league falls to the Beavers.  The Boys had a blast playing in top form.  The Rattlers had the second most wins on the AL side before our game. We started out hitting right away. Goldie beat out a ground ball and Rocket walked. A ground ball by Slick brought Goldie home and Bomber had an RBI hit to plate Rocket. Both Rocket and Goldie were stealing bases at will.


That is all we got in the first. The top of their line up was pretty good and they got the 2 runs right back. It might have been more had Goldie (catching)not gunned out the lead off Snake with a good throw to Slick who used his athletic ability and dramatic talents to sell the caught stealing.
He shows the ball real well, like Coach Brent has been preaching for years. Nice Job Slick!
Rocket was pitching pretty well with 3 K's in 2 innings.

Tie ball game at bottom of the second but top of our line up coming up. Rocket draws a one out walk and steals to third.
Slick knocks Rocket in and Bomber's hit puts Runners at 1st and third. Bomber steals second, safe rather easily!

After two outs with Slick still at third and Bomber at second ( the one run lead is feeling really uncomfortable) Up steps DC , he rips a double to left and both runners score standing up.

DC looks justifiably proud of his 2 run double! That 5-2 lead we never gave up!
Bomber on to pitch. a great 2 innings with 0 runs and 4 K's.
We caught another Snake trying to steal.

Other nice contributions included good defensive plays by Easy (Ice backing up)

A CB hit.

Nice Slick Shortstop play
There was our other scoring too.  Rocket gets hit by a pitch and steals to third for Bomber's third hit Bomber gets to third and his brother Bullet hits him in.

Easy pitches and does pretty well pitching through one of few defensive lapses on the night.

Our last 2 runs scored with 2 outs in the 6th with Goldie getting another infield hit, Rocket walks and with Second and third when Slick walks, Goldie steals home with the runners moving up. Then Bomber gets another RBI hit. 9-4 good guys.   Slick ends up closing it up on the hill with 2 good innings 0 hits, 3 K's and a little help from Easy who after a walk to Rattlers lead off guy, snags an liner and steps on the bag at first for the out!  Very fun and satisfying win. 

---
Brace yourself, we not only beat the Red Sox we clobbered them 15 -3!
15 to 3 good guys and it wasn't as close as that score made it sound.  We have some great pictures coming demonstrating Rocket's mastery of the mound 4 innings 2 hits and 1 earned run. Kekoa ( now Bomber) followed with a no hit, no run inning striking out 2 and walking 2.  Many great performances! 
Take it from the Top as we say!  Everyone was up early at Jones before 8am for pictures. That got us to Galt about 8:40 as we beat the Red Sox there!  We warmed up and Rocket started on the hill as we were the home team.
A  two out walk then and error but Rocket struck out the 5th batter in the order and we were up to bat. Goldie and Bomber walked so Slick just steps up and gets a nice RBI single
with Bomber taking 3rd. Bomber scores when Rocket hits to right side for an RBI. Moose gets drilled by a pitch to load them up for DC and he gets a RBI . After a walk or 2 DC steals home
more walks, then Goldie gets a base and an RBI for a bruise as he is hit by a pitch. Bomber Hits
 then Slick and Rocket gets infield hits and we end up plating 11 out of 18 batters who come to the plate in the 1st, That is what they call a good start. 12 runs on 5 hits, 2 Hit by pitch and 8 walks.
Rocket back to the hill for a 14 pitch inning with 2 strike outs and a come backer which he flipped to Easy for the "Easy" out
In the 2nd Bullet walks and Ice gets a nice hit.
then Easy walks and finally Cuz draws a 2 out walk for an RBI. After that Rocket goes back to the bump for the 3rd with an 8 pitch inning! A lead off walk to set up the Red Sox, that is what we are saying, then a looping liner to Easy who extends at first to catch it take 2 steps to the bag and Double Play! then the boring old 3 pitch "see ya" to the 3rd batter of the inning.
A lead off hit by Goldie but we did not score.
Somewhere in the middle of the game the centerfielder for the Red Sox dove for a ball and lost one of his tiny hearing aids The Search was on!
Eventually, we all joined the search and Goldie found the hearing aid, several times a hero in this game Goldie!
Then top of the Red Sox order faced Rocket in the 4th. A single, a walk and a couple of errors on pick off attempts plus an RBI ground out plated 3 runs only one earned for the Red Sox  Oh no our lead is down to 10!
In the Fourth Rocket leads off with a walk, steals 2nd then Moose drives him in with a hit see the RBI antlers at first.
Bullet drives in Moose  for run # 15 for us. Bomber on to pitch.
Great job see above.  In our 1/2 of the 5th Cuz had a nice lead off hit
He stole to 3rd while CB and Sabo walked to load them up for Goldie, Goldie hits a ball deep enough for the Sac fly to left but the hearing aid kid from before guns out Cuz for the Double play.
Great game 15-3 Good Guys
---
A blow out win by Knights over Beavers then good game vs 1st place I-Birds
There are some things to take away from the Knights game, 16-9 loss.Pictures will be inserted below. Then we have some good things that happened in our 10-7 loss to the first place IronBirds. We gave them everything they could handle.  More later on that too.
---
Beavers lead Red Sox early fall late 6-4
Some of the same story some different.  We really put it on them in the first inning with 2 runs
Goldie leading off with a hit stealing second and third, DC with a walk and steal of second then Slick hits a deep Sac fly with Moose following with an RBI hit as shown below2 runs.
Moose made it to third on his belly as usual but we stranded him there. Then we had some defense with Slick some nice pitching 3 innings 0 earned runs.  See pictures below Nice pants Slick, Bleach really did a number on those gray pants, eh? CB a couple of nice catches but the painful error off of DC's knee contributed to the unearned Sox run.

Beavers get 2 more runs in the 3rd Slick gets a 2 RBI knock scoring Cuz (Walk) and Goldie, what else, hit by pitch!

but they fought back with 2 more unearned and as Slick exited the game on the hill it was 4-3 Good guys.  One reason was a good catch in center by Flash and quick throw in that prevented a run on that would be sacrifice fly.  
and ended up They ended up pulling a head in the 4th & 5th. More pictures and game story follows. They did so on us, this was a key run down play that we didn't execute like we should have
then we get one one runner with a good play to Goldie but the throw to first goes too late an allows the runner from second to score
That is the two run difference right there and that doesn't count when we did not tag up on deep fly ball hit to left by Moose that should have resulted in a Sacrifice fly. We continue to learn from mistakes but at some point we hope to start applying that knowledge to wins!

---
Beavers jump out to early lead on Mud Cats then fall to late due to miscues 9-5
We started this game well, led 4-1 and then 5-3.  Some late timely hitting by the Mud Cats and some mental and physical errors by the Beavers yielded a loss in a situation we where we should have dominated.  We had good hitting with multiple hits from DC, Slick and CB. Bullet and Goldie contributed hits with Easy scoring 2 of our 5 runs. There was some good defense and pitching. Also there were some nice hits as shown below.
Goldie on in 1st steals second, moved to third on this ball, a DC hit to left then Goldie scores on Slick hit.

Easy up walks to load the bases and Bullet walks to score DC then CB has a ground ball to score both Slick and Easy.

4 runs in first pretty good eh?  Defense gets going a bit.

kind of rough tag there Bullet. 

back to offense and Easy scored once more on a one out walk, a steal and Bullet hit.
 After that Slick, Flash,Sabo and Hoss got on base but we were shut out
Defense followed with Easy making some nice scoops at first, DC at short, and a little rundown featuring goldie at catcher, Flash at 3rd among others. 
---
Voclanoes Erupt early but hang on as Beavers Claw back 11-9 V's
It was a good game in the end but the comeback by the Beavers fell short. 
It was looking pretty good when we started out even without Goldie for this game as Flash started with a hit he got moved to third by DC and Slick knocked Flash in with hit.  Then Slick ends up stealing home for a 2-zip lead.
Slick ended up scoring 3 of our 9 runs.
We were making some plays and booting others. Our early 2 -zip lead did not last long They got 4 runs in the 2nd and only 2 were earned on Santino Barajas double Moose struck out 5 in his 2 innings of work.
Sabo gets his hits with "grim determination"
 Sabo drove in a run with his last hit.
Our defense failed a couple of times good throws got away from us but when we were positioned correctly we did not give up the extra base and most times got them out the difference of letting the runner get between the fielder and thrower is seen below
Key hits by Sabo (2), CB (2) Slick (3) Easy (2) Cuz (2) and Bullet (2) with single hits by Moose; Flash and DC, as well as Hoss almost beating out a ground ball in the last inning. The tying run was on base when a great play by old friend Shark Barajas ended the game. Cuz had a couple of hits but we are still working o his swing!
Hoss pitched well but didn't get much to show for it.
Easy had a great outing of less than 15 pitches on unearned  run and a strike out But Bullet went Easy one better with no runs no hits, one walk (caught stealing by Moose) and the strike out.  Slick was out hard luck closer  so when we came up in the 7th we were down 11-5
We closed to 11-9 with the tying runs on base and Coach Larry Stone very nervous.
Slick scoring one of his 3 runs.
---
Beavers gnaw on Thunder 14-8
More later on this but some great pictures depicting the focus of the team and the quality of our pitching ad defense. Shown here Slick, Easy, Bullet and Moose on the hill combined on a 4 hit and one run allowed blow out win. Easy pitched 2 good innings 1 hit 1 walk and no runs
Focus is evident just look at our dugout in the bottom of the first inning
Every player on the fence!  to go play by play by play would take too much time, there was great defense, a lot of offense for us  and no drama ( no Rolaids needed) that is not to say there weren't any funny moments. 
Using the Force, eh Slick? You can't hit what you don't see!
Right after this he got an RBI single.
Sabo trying a new approach, Stick you tongue out at it Joe!
Right after this at Bat Sabo walked and scored on a Goldie's Fielders choice. 

This hitting and fielding form from Flash looks very similar with the leg kick, both worked though!
the next shots of Goldie to Easy and DC to Goldie they just show these 3 Beavers making some nice plays. 

The glove work by DC on that hot grounder was particularly impressive. 
More defense soon.  Hoss scored a run and had an RBI ground out. Sabo scored 2 runs on 3 walks.  1 RBI. Flash had 3 hits and run. Easy 2 walks and run. Bullet a hit and an RBI, Ice 3 hits and one run. Moose 2 runs 2 RBI, Slick 2 hits, RBI 2 runs, DC 1 for 2 with RBI and 3 runs and Goldie one hit but 2 runs scored.
A little more defense, The Thunder did score one run but were going to score another until Goldie got a ball in shallow right field from his 1st base position and rifled a throw to our #5, Slick who did a little #5 on # 5beat down at the plate. Nice throw Goldie, nice "sunset" at the plate Slick, don't tag so high next time though. But good 2 hands on the ball so it doesn't get knocked out!
 there were also some nice plays by Ice and Moose at 3rd base
Speaking of defense and Moose, he back picked a Thunder runner at second base from the catching position that surprised everyone on the field except the Moose and the umpire.  Finally, here is DC going to the opposite field (right field for right hander) or "oppo Taco" nice lead off single on which he latter scored on an Moose RBI fielder's choice followed by Ice and Bullet RBI knocks. 
---
Proud of the effort of our 8 players vs the Storm
We lost 16-8 in the end but we had an 8-8 tie at one point in the 4th. Too many balls fell in the outfield gaps between our 2 outfielders. Early on we gave up 6 runs in the first and few were earned. Some of "earnies" were on  balls hit that a normal outfield defense would have caught. We have some very good pictures that Coach Brent they are in the photo album 18 Beavers v. Storm Top menu "about" then Photo Albums and it is first that comes up. all 8 players are depicted at least once.  stats for batting are in game results.
---
Beavers get Clawed by 'Cats 16-3
We got behind so far so fast that even great pitching from Slick and Moose, 4 innings 1 hit 1 run couldn't save us. Throwing and fielding errors were mainly responsible.  Because of early errors only one of the 12 runs scored in the first would be considered earned, 1  run in the 3 run second was earned and the last run on a bases loaded walk was earned. It is nice for the pitchers to talk about earned runs only but the errors are a part of the team game, Beavers have to get better about errors.  A few pictures from the game against the River Cats are posted below. Our hits were limited to three, Goldie, Bullet and Hoss. DC had a solid knock to left but Hoss got called out on questionable call of a force out at third. A number of hard hit line drives were hit right to their outfielders by Slick and Moose.  Easy pitched well enough but could not pitch through some errors.

Hoss came in with runners on in the first and got us out for that inning giving up just one earned run in the 2nd inning.
This tag out at the plate is the result of a nice throw from Ice to Moose
Slick had probably the best outing on the hill of this game 2 innings 35 pitches 1 hit and no runs allowed. Then Moose had his two innings with 4 K and no hits but 6 walks leading to 1 earned run given up.
We practice and preach the overhand flip for the short throw and here is CB and Easy using that for a put out. Hey, some are listening and learning!
The Slick tag below is alright but CB is too close for good back up. Edge of the grass CB
DC with a nice catch above in Center. Below is a sequence where Goldie was called out on a late tag
Like they say in golf after a bad shot  you get in the Cart and FIDO (forget it drive on!)
---
Well, Shoot, Basically we beat ourselves, dropping one 14-8 to Yanks
We thought it was  going to be difficult giving up at least 2 unearned and 3 total runs after the top of the 1st inning. 2 walks and hit by pitch didn't help either but the ground ball to third, fielded well, but then thrown 4 feet over Easy's head at first turned a 2 run error that really cost us.
Things looked a little better with our 5 run bottom of first.  Flash with a hit and steal of 2nd taking third on the Slick grounder that he beat out. Moose singled in Flash and then Slick stole home and so did Moose.
We were not done as Ice and Easy walked, then DC with a nice piece of hitting to the right side to score Ice. Easy scores on a Cuz hit. 
Moose gets tough in the 2nd strikes out 2 and this third to first ground out ends the top of 2nd. But, we can't get anything going in our half of the inning. Top of the third Moose gets 2 quick outs but then 2 fly balls to the outfield that could have been caught, were not. 2 more runs for the Yanks to tie the game. We had more opportunities in the 3rd we had Ice at 2nd base with one out and he tries go to third on the grounder to third that was thrown to first, he beat the throw back to third but was called out.
In the 4th we got Cuz to second with no one out and Bullet had a hit to right  but Cuz was thrown out with a good throw 9-3-2.
 We had some good plays on defense with DC and Goldie shortstop to 1st.
But it all came apart for us in the 4th inning with Easy on the hill. A couple of walks, a couple of errors, including a throw from Ice to 2nd base where we might have gotten the runner but did not get the call and then 2 hits by the Yanks. We were down by 5 runs.
Easy got out of the inning with a comebacker that he got to Moose at 1st.
Slick to the hill for us and he shuts the door on the Yanks with a couple of strikeouts and a ground out. Slick is ready; is Hoss in right?
We had some more chances to score with Flash on but he got caught stealing second. He might not have been tagged but when the throw beats the runner and the runner doesn't slide the call is going to go against us every time.
Then we had a few more errors like this throw from Moose pulling Ice off the bag at third.
they go up 14 to 5 with 3 unearned runs in the top of the 7th. We did come back and scored 3 runs on hits by Ice,
and Bullet;  plus walks by Easy, DC and an RBI walk by CB, DC stole home.
Hoss also walked with 2 outs but Sabo went down swinging after a determined at bat.
Game over 14-8   If only earned runs counted we win 7 to 5 but unearned runs are going to happen we just have to limit them.  Nobody seemed quite on their game including the coaches. However, we were proud of the team with everybody up on the fence in the bottom of the last encouraging their teammates. That is what a team is! Hey that is the great thing about baseball, there is another game coming up soon and we have a chance to improve!
---
opening day results in a 10-10 log jam for Beavers and Mustangs
We were home team at Nottoli and ended up with just 10 Beavers vs. 13 Mustangs. But we battled them from the start. the game went back and forth with the Mustangs getting 4 runs on us in the first inning.  We had a lot of throwing errors and too many walks.
Slick threw 25 pitches in the first but settled in after the first for a 1-2-3  2nd inning.
meanwhile we got the offense to bat around in each of the first 2 innings matching the Mustangs 4 in the first then going a head by 4 after 2 full innings.
Goldie started us off drawing the walk and then stealing to third, Ice had an RBI ground out to the right side. 4-1 bad guys. Then Slick comes up with a hit to right that they tried to throw him out at first on. "Blazing speed" and the fact that the right fielder couldn't pick up the ball saved us there.
Moose then singles to right and  Slick takes third, by inches!
Note the third baseman out of position as ball goes by, Coach says this type of defensive positioning may earn you an quick trip to the ER!   DC and Flash walk, sending Slick home and Moose to third. Then a little daring Do in the base running department by Moose and then DC with both stealing home.
No this is not a camera man mistake cutting off DC's head but to emphasize that we need to make sure on  that play where we don't even need to slide that we TOUCH HOME Plate! The appeal the umpires in New York might look at this and say he didn't touch the plate! 
On to the bottom of 2nd, after one out Ice walks and steals to third as Slick walks. But hold the presses Slick steals 2nd. He has gotten faster!  Moose provides his second hit of the night and Ice scores Slick to third.
Moose has the straight steal sign and DC misses the take sign so he hits away. Turns into a perfect hit and run play and Slick scores. DC note Slick stepping in the middle of plate, a no doubter for the Umpire!
Flash grounds out to the right side as Slick scores. CB walks and then Bullet gets an RBI hit . We get another walk out of Hoss but only score the 4 in the second. In the middle innings we had hits from Goldie and Bullet as well as some walks but not more scoring until the 5th for us.  They got some off of us.  We could not make accurate throws and had trouble picking up the ball cleanly. We did make some nice plays including catches by Hoss and Flash in the outfield as well as a first and third play with Hoss on the mound in relief of Slick. The good pitch from Hoss and the direct throw to Goldie at third by Moose ending a tag by Hoss in the run down. 
 That was the third out of the inning but they scored 4 to tie it in that third inning.  They had 1 hit in that inning and 3 walks (who all scored).  Errors by our catcher, shortstop and third baseman made all runs unearned.  Hoss pitched the 4th and gave up 2 runs both unearned  so we were down 2 going to the bottom of the 4th.
We had to go to work but walks to CB and Hoss with a hit from Bullet didn't lead to a run. 
We brought the Moose in to close out the ball game and try to limit the damage . I would say he did that striking out 3 of the 6 Mustangs he faced and getting pop ups from the other 3: Ice in Left,
Slick at Catcher and CB at 2nd.
Speaking of defense Sabo looks ready at second base below but Hoss in right? What flavor was the glove Hoss?
 Goldie got a hit stole some bases and Slick drove him in. We are one down going to the last inning.  Flash leads off and reaches on Catcher's interference. No time at bat charged to Flash. He steals second and then with 2 outs he steals 3rd and they throw the ball away and he comes home to tie the game.
Then we ran out of time, daylight and outs.  So officially a tie !
---
Beavers rattle Shaky Snakes 10-5 in walkfest!
April 4, 2018
Just a little note on the last practice game this Spring. Season starts for real either Saturday or next Tuesday, depending on weather. We fell behind early on some hits and defensive mistakes. Our offense put runners on in the first  inning, some on part of the 17 walks/HBP, free passes the Rattlers gave us. Bases loaded and no one out but we could not score. In the 2nd, DC got us started with a bunt single taking second on a throwing error.
then the walks started with Flash getting the RBI walk to score DC, Sabo then got drilled on the wrist with a pitch driving in Hoss who had walked,
A 2 out walk to Easy scored CB who had... you guessed it..walked!  3-2 good guys They went a head again on a lead off walk with Cuz on the hill.
Notice the grimace on Cuz' face, we decided the title of this picture should be "Cuz, lay off the gas station Sushi on the days you pitch!" Then a couple of grounders where we did not get the lead runner setting up the top of their order for hits scoring 2. This included Yeti, the big Rattler 1st baseman getting a hit then stealing second. Slick made a good throw but DC was a little off to the side and behind the bag not in front of it.  The sequence shows the catch and then the lunge to the bag followed by a collision where DC was out of his weight class!
 The tag attempt in pic. three above is too high, a lower tag and we get the call!  Note the good back up position from Sabo. (4-3 black hats.)  We did have some good defense along the way. Bullet at first, Easy at first, DC at short,
 Bottom of 4th and DC started it with a walk!.(DC finished with a bunt hit, a walk and another hit), Then Hoss and CB  got...wait for it...walked, with Flash getting another RBI walk, Bullet gets an RBI walk and finally a 2 out RBI hit by pitch for Moose. 7- 4 good guys  Slick pitched 2 good innings, giving up one earned run and striking out 4. 
We got three more runs. Mostly on walks but DC with a hit plus Bullet and Goldie had RBI hits to  drive in DC, Hoss and CB.  . Offense gets a C-, defense a B and pitching a B+.  Goldie, DC and Bullet were our hitting offense with DC, Goldie 2 hits each and Bullet one hit.
We did learn some things on defense, Goldie at third this tag sequence comes from the wrong side of the bag, if he is in front of the bag towards Home and makes the low tag we get the runner out.
  Flash was our closer as we were running out of time. He walked a couple. But good plays by Cuz, Slick and first and 3rd play by Flash throwing a good pitch, Moose with the direct throw to Goldie at third and we ended the game.
Now that the pre season is complete. The statistics have been reset to .000 for everyone. Coach Doug has the stats saved. The game stories for pre season will stay up on the main page until the end of April and then moved to the bulletin board to make room for games that count.
---
Practice game vs. rival Rivercats is Nail bite game turned in to a blow out
March 31, 2018
This was our second Spring Training game.  We had 8 and borrowed a left fielder from the 'Cats.   We went down early 3-0 without the 'Cats recording an earned run off of Easy, Cats only had one hit but score 3 runs on 3 errors ( one by our left fielder borrowed from the 'Cats.)
Moose caught Easy, Cuz and one inning of Slick with Ice and then Slick finishing the game behind the dish, All the catchers did well.
Cuz pitched a scoreless 2nd inning and they got one run off of Slick in his 2 innings of work (also unearned). Ice made plays at 3rd and catcher that saved Slick runs. After 3 innings we were down 4-Zip. Errors and positioning were a problem  as shown with Ice out of position on the pick off attempt at third.  It is not a force play square up to the throw Ice!
Then the offense came alive with Flash walking and stealing second
then scoring on a Cuz hit (Cuz 3-4 with 2 RBI), Hoss walked. Pretty pleased about that we think.
 Easy moved the runners then CB walked Slick had an RBI knock, Stole 2nd (see the 'Cats fielder way out of position)
 and Moose had an RBI fielder's choice and we were down one run 4-3. In the 5th we batted around our 8 man line up and then some. Cuz had another knock, Hoss again walked, Easy was hit by a pitch and CB walked, RBI(3 walks and RBI hit by pitch). Slick had an RBI hit then Moose a 2 RBI double. Flash walked and Cuz had another RBI knock. .  9-4 Good guys.  Our last inning turned into a walk fest. With everyone but Moose and CB walking or getting out. Moose had another RBI hit and stole second (we only gave him a 7 on the dive into 2nd "too much splash on the entry") . CB had the RBI hit by pitch.
12-4 We were running out of time and the Cats' batted once more. Moose on the hill to start and he got a nice catch in center by Flash and a few walks loaded the bases with one out, Then Moose struck out the #9 batter.
  2 outs, time for the Closer, Hoss, who stuck out the #10 batter in their 11 batter line up.
Our defense stepped up after a shaky start, as shown below with Flash and Easy making plays and Hoss backing up:
 our pitching was outstanding. Finally our bats woke up. 8 hits 15 walks plus CB-hit by pitch, only 6 strike outs of those, only 1 looking.  Not too high after the win not to low after a loss.  After the game both teams helped with the field. See Picture below.  Ice and Rivercats player dragging the field with Easy Mugging for the camera!
---
Beavers still trying to get ready for the season opener 4/7-update
March 24, 2018
Pre-season action continues.  Here Ice slides safe into second vs. the Redwings after a double!  The schedule is now up on the website and times for games, even the potential practice game on  3/31 (10 am at Jones South) are 1st pitch times!  Show up is always an hour before 1st pitch.(9am on 3/31)  You can see we need all that time for bands, heavy bats, stretching, throwing and infield/outfield. We use the times that the other team is doing infield outfield to prep, go over signs and discuss the "game plan" Please note that for the first week the weekday game starts at 5:15 due to darkness. That means show up for that game is 4:15.  We know that is tough for everyone. We can try to arrange for rides, and of course allow for late show up but we have to know as soon as possible on problems for these early show up games during the week.  The weekend games may have their own set of problems so let us know as soon as possible. 
---
Cactus League opening day 9-5 Redwings
March 11, 2018
Some technical difficulties delayed the pictures that Coach Brent took, but it was worth the wait. It does make it difficult to weave the pictures into the Story so I am making an album on this website.  Top of the welcome page just above the logo there are some menu items, "About" click on that and then "Photo Albums" I will try to make it default album for now.  click on "1-Beavers pre 18 v Redwings".  Have fun with these! Some Highlights from our practice game vs. the Redwings, Saturday 3/10  Note that I will be using nicknames, if you go to the top menu and click on Teams&Rosters it will bring up the actual names.  Some of these names were established last year and are not changing, new nicknames are subject to change, for things that happen during the season.  For example, CB could have become "Sniper" or "Trip" after the game yesterday when "the sniper got him" on the field and he went down for no apparent reason.  
We are proud of the effort from our guys. 
 Offense, Goldie beat out 3 ground balls for base hits and stole 3 bases.  Moose was 3 for 3 with 2 RBI, and 2 steals.  Ice was 2 for 3 with a double and 2 RBI, Slick had a nice hit, 1 for 2 and scored one run, he should have scored one on potential Sac Fly by DC, but didn't tag up as Coach Brent was telling him to do. Slick's blazing speed got him one steal! Flash had a couple of walks and stolen base. CB, Cuz  and DC had walks. Each team had 7 strike outs which is too many but most of ours were swinging. Still we need to stay aggressive. 
On defense errors are part of the game. We had some sweet plays with Slick throwing out a runner at third, Moose got a runner going to second. DC had a good game in several defensive positions. Sabo filled in at 2nd, Bullet pitched (got us out of 2 on and 1 out situation) and played 1st. CB played 5 different positions including short and pitcher. Good effort by CB. Cuz played several positions and was set to pitch next but we never got the chance to play the bottom of the 6th. Hoss came in late and got to pitch us out of a jam. Flash played all over the place too. He made some plays at third base. Goldie was great on defense as was Slick.  Ice contributed including playing 1st, 3rd and catcher!   For 2 practices we did an outstanding job!  
---
First week of practices and first practice game in books- New nicknames
March 7, 2018
 Baseball Pants/orange socks can be picked up at the Sports Shop 9675 Elk Grove Florin Road Elk Grove 95624  open Tuesday - Saturday 10-6  (916) 685-9850,  We use black belts but you either supply the belt yourself or get one from the Sports Shop.    I will have Laguna Lamppost Pizza cards for $10 you buy one pizza get one free each month for the next 12 months. a great deal! 
We put some new nicknames we are "trying out" on the roster on this site. These may change by opening day. Aidan's handle is a puzzle for the group.  Have fun with these we did 
---
14 Beaver Players start the 2018 Spring Season-updated
February 25, 2018
it is very unusual in EGBR to have more than 4 or 5 returning players from year to year, this year the Beavers have 8!
Returning, four year player, Jesse "Goldie" Mejia;  high School player (Sheldon HS) and 3 year returning player, Teo "Rocket" Turner; two year Players, Joey "Moose" Avila; Brennen "Slick" de Santiago; Daniel "DC" Corona; Adrian "Ice" Besabe returning Fall ball players : Ethan "Easy" Ceccarelli and Shailen "Hoss" Kapoor.  
 New players include the Cash Brothers Kekoa ( Franklin HS Baseball) and Kalani, Joseph Doerflein, Vincent Keaton, Isaac Amaro and Aidan O'Callaghan. 
Our first meeting is also our first practice too! Saturday March 3, 11 am at Jones South followed by a practice plan on practice until 1:30 and field clean up 1:30 until done.  Wear baseball pants, cap and cleats or tennis shoes 
THE SPRING Training  PRACTICE SCHEDULE IS NOW POSTED ON THIS SITE.  CLICK ON THE SCHEDULES LINK AT TOP OF THIS PAGE.  THERE ARE 4 MEETINGS PER WEEK.  THAT MAYBE A LITTLE TOO MANY, WE MAY ELIMINATE SOME BUT FOR NOW PLAN ON THEM ALL  THE FIRST PRACTICE GAME IS SATURDAY MARCH 10, 11am show up noon game.  WE WILL HAVE AN UMPIRE AND UNLIKE THE REGULAR SEASON, WE HAVE TO PAY HIM, WE ARE ASKING EACH PLAYER TO BRING $3 FOR THE UMPIRE.  THERE WILL BE OTHER PRACTICE GAMES, SATURDAYS AND UNDER THE LIGHTS. AS THESE ARE SET WE WILL LET YOU KNOW.
Prepare for Fun! 
---
Discount Cards are Back!
February 26, 2018
When our card provider retired we thought we could no longer offer our Pizza discount cards at Lamppost Laguna, but a little fast work by the Redwings and now we have the cards to sell again.  With this card you buy for $10 you get a buy one get one free Pizza Pair per month starting in March. Your average Medium or Large Pizza is going to be $14 or more.  Buy one and get one of equal or lesser value for Free!  The card pays for itself and more in the first visit. We have several people buy 2 or more cards and enjoy for the whole year while supporting a local business and the League. We make over $9 on each card sold. 
Also, Save the date for our Golf Tourney Friday, May 4 At Dry Creek Golf Ranch in Galt. It is a lot of fun! details to follow soon. 
---
Beavers earn season sweep of the Rattlers with 17-6 triumph.
May 14, 2017
Coach Brent suggests the title of this article should be "no Rolaids needed" He said that in spite of the fact that in the third inning the Shaky Snakes gained a brief tie in the game at 5.  But Coach Fox and I totally agree. Something had changed with this team! We are starting to gel as team. We are very proud of the way the good team chemistry is creating good results on the field.
Frankly, it is going to be tough to hit all the highlights with 16 hits, great base-running, super pitching and some sterling defense. But the game story is fun.  We started with offense in the first. Rocket gets hit with a pitch and moves up to 2nd on a steal but with 2 down he is stranded there. The Moose comes through with a hit though
A little two out Rally gets a little bigger when Moose steals home on an errant throw back to the pitcher, Way to be a-lert, the world needs more Lerts!

2-zip good guys before the Snakes get to bat. Meanwhile on the Bump we have Slick, Defensively we are playing behind Slick plus Rocket guns out a runner who reaches on an error. 

Interesting Lotus position here Moose but had time to read the signature on the baseball and throw to Magnet for out #1 Then Rocket guns the runner at second with Goldie on the tag.
runner slide was too early but probably out anyway with a better slide as the throw was there in plenty of time! Slick struck out the #3 batter on 4 pitches. Back to work at the plate. Animal starts the inning with a double and moves to third on a DC bunt base hit. Then Arrow plates Animal with a solid hit( first of 2 on the day) 

See the ball down the third base line!

now that is the famous Arrow victory pose!  3-0 Beavs!  Slick had a little more stress in the 2nd but put them away with some help from the defense and another strike out.

DC at short gets the force to Magnet at 2nd. Then we go back to work in the top of the second with Goldie getting a hit and they walked Rocket after Goldie steals second for Belt to come through with a big hit that scores 2 runs. Moose gets a hit steals and moves to third on a Slick ground out but is caught stealing home this time. Anyway 5-0 us. 
 This is where it got a little weird. Slick gets an out and then hits the last batter in the Rattler order. Gives up a bloop hit to the lead off guy, then an error on what could have been a double play loads the bases.  Another flair falls in and they score. Then 2 more score on a walk and hit. We should have had the third out long before we got the second out on a fly out to Land in left and a grounder to Magnet whose speed allowed him to beat the runner to the bag. Tie Score. 
this was a play with Slick covering third where the snake is out but called safe during the bad inning we had. No worries the way our team was playing, we bounced right back with the middle of the order. Magnet walked and Animal was hit by a pitch. With one out Arrow had a hit to load the bases. Then Land gets an RBI for a bruise as he is hit by a pitch. Up Steps Ice, who Tomahawks a 2 RBI single into right center.  Then Land scores when Goldie beats out a grounder to second. We are back up by 4 runs and never looked back.

Moose on to pitch and protect Slick's lead. A walk and strike out then a hit, so it is starting to get interesting, but another K and high pop up to Animal at first and we are out of the 4th.

notice the Edge back up on this catch by Animal! Nice! 
We were not done scoring! Moose walks and then Slick Doubles for the RBI (check the Slick Smile at the 2 bag!) Edge gets a knock for an RBI  and he steals and scores on a Magnet hit! 

Moose finishes the 5th with one meaningless run allowed on one questionable hit. In the top of what would be the last inning, we pour it on. Land get a nice hit to left, Ice and Jano get walks, Jano ran the bases really well, he is improving every day!  Goldie gets an RBI single and Rocket a fielders choice but an RBI. Belt and Slick walk so an RBI for Slick. Edge punches one to right to score Belt. 17-6 Can Rocket hold 'em in the last inning? Sure thing!
2 K's and come backer around one "tiny zone" walk. We are very proud of the way this team has come together. 

---
Saturday night Game of the Week Thank you's
April 24, 2017
Big Thank you's to Lynn Tetlow, our announcer, Julia Avila, the Anthem singer and Ashley Mejia as our score keeper. A success all around with our 17-4 win! Thanks also to Larry Stone for making sure the snack bar was there in spite of teams not picking up their responsibilities.  A reminder our snack bar is picture day 5/13 and we have the first shift.  We will find out when that starts but our pictures at Jones start at 9:30 and our game at BSP is 1pm.
---
Why do we sponsor, play and coach youth baseball?
April 5, 2009
Simple, look at Moose crack up T-Dub and get Cy's and Trac's attention. We can never forget that this introduction to the great sport of baseball has to be fun for us all. It obviously is to this group of Beavers. That was a picture from several years ago and we still keep in touch with these players. Dirt Track, Taylor Johnson, was a Tyler Routt player then a post season all star.  Most of whom were playing high school Baseball when this picture was posted in 2009, but now most are in College and #55, Matthew "Cy" Dunbar, is an umpire, "Moose" Jemes (#3 far left) is at Cal Poly but stops by and helps us Coach once in a while. Each year brings new excitement and new laughs.
---
So Why Beavers Coach?
February 25, 2008
The Oregon State Beavers Baseball team was the Division 1-- 2006 and 2007 NCAA College World Series Champion. Also Coach Doug's Alma Mater. So. "why not?" to quote Bluto on Animal House