2018 Fall Ball Muskrats! Welcome!
Saturday 9/22/18 game at Jones North 9am show up
note schedule change to Jones North for 9/22/18 NOT Nottoli
Coach Brent says "See ya at the yard Meat!"
Welcome to the home of the
Elk Grove Babe Ruth Muskrats
Muskrats drop a heart breaker on late rally by Hot Rods 11-12
Okay fans this one hurts a bit. We were in command most of the game. All 8 players on our squad were playing their hearts out. Nice pitching by all three of our hurlers, Hoss(3), Woody (2) and Zeke (1) inning.  We supplied some offense, some nifty baserunning and a double play on defense in the first inning. Sounds good so far right?  Well, it was!  Here is the Hoss to Zeke to Lurch double play.
 We did not score in the first 3 innings.  Some pictures below of the first three innings.
Lurch working a run down play  Below Bandaid is safe but he has got to slide!
Bandaid beats out a throw to first for hit.
But then we plated 5 runs in the 4th.  Zeke walked as did Bandaid, and Astro then a solid hit by Hoss scored Zeke and a ground out to first by Cars scored Bandaid. Woody's single scored Hoss and Astro. Nice base running by Astro! After Squeak sacrificed Woody to third, Woody ended up stealing home.  Lurch almost started another rally with a base for a bruise but Zeke could not advance him.  We were not done as in the 5th we scored 3 more runs. The Hot Rods walked Bandaid and Astro as well as Hoss. A sacrifice fly to short left by Cars scored Bandid. Then both Astro and Hoss stole home.
"it's a miracle," He gets under the tag!
Woody was hit by a pitch and stole to third but we could not get him home. Bottom of the 5th we fell apart defensively. They shored 6 to go ahead by one run, on 3 hits a walk and couple off errors.  We didn't quit!  Zeke had to pitch to close out the game because Woody was at 62 pitches. with the extended 5th inning. So with Zeke leading us off we told him "get on, then get to third and score the tying run. so you can go to the mound and close out the ballgame. 
What happens? He beats out a single, the blur running to first is #15 on the hit through the left side which actually scored the third run of the inning 
Zeke steals second and Bandaid, singles him to third. Bandaid steals second and Astro hits a nice sacrifice to first scoring Zeke. Hoss singles scoring Bandaid and chalking up his third hit and second RBI of the night. Cars  walks and Woody advances both runners with a ground out.  Squeak drives in the third run of the inning with a single ( see picture above) so we are up by 2. That is where things started to go sour. A walk to lead off the inning and a couple of "Ground balls with eyes" put one run across then a  steal of home tied the game. A walk reloaded the bases. Zeke got tough and struck out the next batter. Bases loaded and it was tough to find the plate so they get a walk off walk!  Proud of the effort of all 8 of our players who were present. It was a fun ball game even with the disappointment at the end.   
---
Game 2 vs Honey Badgers we play better but lose
The final here was 13-3 Badgers but good pitching by Woody and Hoss limited the number of hits. The Honey Badgers had 7 hits. There were at least 9 Muskrat errors.   Woody only walked 3 in his 3 innings.  Hoss walked only one.
Not all the defense was lacking.  There were a couple of good plays by Lurch on pop ups. including this snow cone catch with a borrowed outfield from the Honey Badgers backing up.
and this grab on the infield
Astro and the gamer had one get by them down the line but note the effort to go after it by both players.
Both players had individual good defensive plays. Astro with a tag and 3rd and Gamer at first, catching a good throw for an out by an eyelash!
We had some good offense but could only make 3 runs out of it. Only 7 players present for most of the game with Squeak giving us must needed help in the last 3 innings after a band event. Offense including this text book swing by Hoss, note the weight on the back leg, good eyes on bat/ball and solid contact. It got us a single and an RBI for Hoss in the third.
Here is a nice flat swing by Cars with good results
Gamer beat out a play at first above by not giving up. 
Justin (now Bandaid  because he sticks so close to the bag as a runner) had a hit, a run scored and a stolen base. Lurch, Woody, Hoss and Cars also had hits with Astro, Hoss and Bandaid scoring.
I have no clue why Astro is taking a knee at the plate above.
---
Honey Badgers with comeback win over Muskrats
It started with 3 good innings pitched by Hoss, we had the lead 2-1 going to the 4th. Bottom of 4 Badgers broke through with 6 runs mostly on dropped fly balls and ground balls that were miss-handled. That included a dropped pop up by Hoss, so no one was immune!  We went down 7-2 and it got a little worse.  But there were bright spots! Hoss on the bump
Coach Dan of the Hot Rods says he looks like Warren Spahn.  Hoss pitched well, no walks, 3 strike outs, maybe 4 hits total and no earned runs. On our offensive side Woody had a reasonable day with 1 hit, a steal and a walk.

Lurch had a good day at the plate with a hit and a run scored.

Cars followed with a hit

Zeke walked after taking over DynoMax's at bat when he left after taking one off the forearm.
Gamer walked for an RBI that scored Lurch and and then Cars stole home. 
After that we could not mount any offense with walks to Justin, Squeak, Woody, Twig and Hoss plus a hit by Nellie. We just could not score.  Tri Ha made it to second on a steal- it was close due to no slide!

The defense wasn't all bad. Nellie had some good catches in Center field

Zeke at catcher and Woody at shortstop combined to throw out #17 who wanted to steal second.
Squeak and Astro combined on a put out on HB # 20 trying to steal home. 
Astro did try to finish the game but once again we did not support him on the hill as we should have. Much like Hoss, Astro could have fielded his position better as well. Can anyone guess why Astro may find himself in the Kangaroo Kourt book? Anyway, it was, in spite of the score-12-2, a fun day at the yard! We learned a lot and "We can beat these guys!"

---
Loss to Hot Rods at Nottoli hurts due to missed opportunities and errors.
Hoss pitched 3 good innings with no walks only 3 hits but surrendered 4 runs only one earned.
Zeke followed on the hill. with only one hit given up and one earned run but 2 scored.
Woody and Nellie pitched okay but each gave up 4 runs. Woody with only 1 hit but some walks and at least one error that led to an  extra run. 
A couple of missed fly balls and some good contact by the Hot Rods hurt Nellie in his outing but he did throw strikes!
In the end we lost 14-3, We had hits by Hoss, Nellie,
Hits also by Woody, Cars (2),and Astro.
Justin Scored, so did Squeak and Lurch. Squeak and Justin reached due to "hit by pitch" Lurch walked and scored.  RBI's were Nellie, Astro and Dynomax. 
Some good plays by Cars, Justin, Squeak, Max, Gamer and Woody as shown below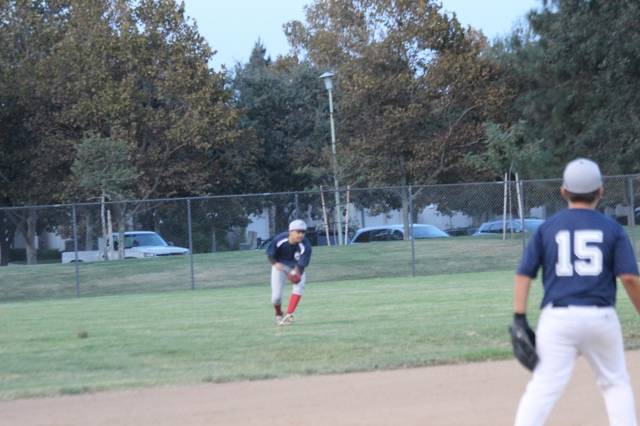 ---
close game and then it happenned- A win!
Our Wednesday game featured a great pitching performance by Hoss! 4 innings, 6 strikeouts, no walks and one hit by pitch, with 1 earned run. We had a double and 2 RBI by Squeak, Other hits by Lurch, Astro, and Cars.  We did not field as well as we should have and that hurt us in the final inning as we lost the 4 run lead and had a walk off single to lose by one. That is the way it goes!
Our Saturday game featured great pitching by Woody, who got the win on hill going 2 innings with 2 earned runs, on 2 hits and a couple strike outs. NO Walks!
Hoss ended up with the biggest hit of the game, a two run double that he "legged" into a single. Shown below a pitch before his hit fouling one straight back ( a sign that timing was good and he just missed solid contact by a fraction of an inch)

Zeke followed Woody on the mound and got a hold by not allowing a run. Zeke shown below in the dugout, happy about his pitching.

Nellie contributed a hit and 2 runs scored in addition to pitching an inning after Zeke and earning a
"Hold" too.

Squeak caught a few innings and got some relief "behind the dish" from Zeke. Squeak also contributed 2 hits and 2 RBI!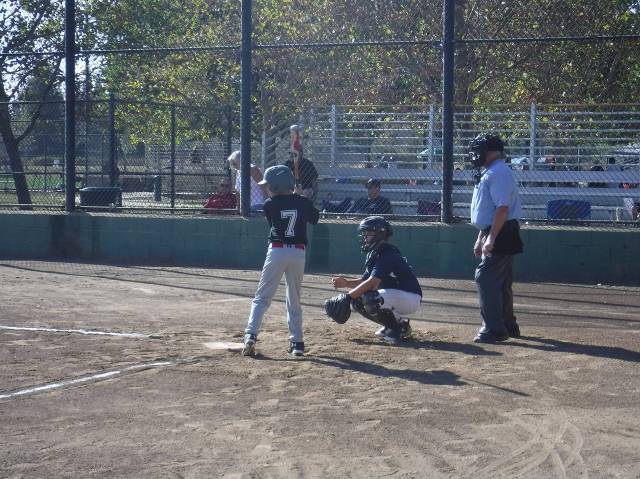 Other nice contributions were Woody with 2 hits and an RBI, Astro with a hit and run scored, Gamer with a run scored on a walk and a couple of steals, including home! Also Tri "Twig" Ha had a walk and steals ending in a run scored. Cars had a couple of walks. Both Justin  and Dynomax had some key defensive plays.  Here are some of the pictures.  Apologies as Coach Doug on the Camera not Coach Brent who returns this week!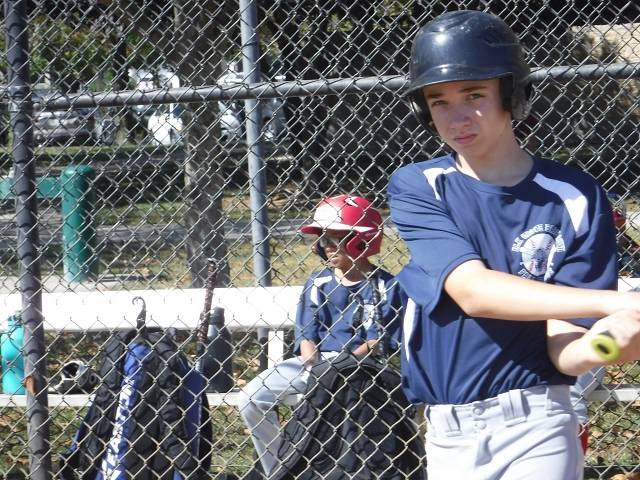 Cars Ab here with Nellie at third and bases loaded, which resulted in Nellie scoring on the RBI walk by Cars.

---
Muskrats battle but lose to the Hot Rods
With Coach Brent gone there will be no pictures for our Twi-night Doubleheader vs. the Hot Rods on Saturday 9/15/18. 
The first game was exciting with some hitting and base running plating 12 runs for the good guys. We actually came from behind (15-2) with a 10 run rally and had the tying run at the plate but could no score in the last inning.
In the second game we had good pitching from Hoss (3 innings- 4 strike outs) but we gave up a bunch of unearned runs. Then Woody (Luke Wood nickname changed from "Craw" to Woody by popular demand) had 2 good innings on the hill and we turned a double play on a super play by Tri "Twig" Ha at second base with a catch and a throw to Gamer at first.  Lurch came in for the bottom of the 6th and we were down 10 to 2, Within 3 pitches he had 2 outs but then an error would have had us out of the inning with a chance to come back in the 7th.  Time limit got us but Lurch showed potential for the future on the hill.  Since we did not get to complete that inning, the game goes in the books as 10-2 loss.
Here are some highlights. For the 2 games our big contributors on offense were: Woody 3 for 4 with 3 Runs Scored and RBI and 3 steals. Squeak was 3 out of 5 with a double, an RBI and ....Wait For it, 1 Stolen base! Other Runs Batted In (RBI) included: Hoss and Astro with 2 each, Cars, Lurch, Zeke and Dyn-0-Max.  Tri "Twig" Ha had 4 walks and run scored on Saturday and his On Base % is .714 second on the team to Gamer at .727 (she also scored a run Saturday) Third on the team in On Base % is Dyno at .700
Our defense needs work but there were several outstanding plays to save runs, Squeak a nice play at third base, Lurch a save at first on a low throw and Tri a double play to end a threat with a catch at second and throw to Gamer at first. 
Our record is not too good and that might seem frustrating. But we are improving every game/practice.  We have not lost Team spirit!
We get Nellie and Dub back next week and we add a new player, Justin Duran. (nickname pending!)  We have practice on Tuesday at 5:30 (Jones North) and a game at BSP 6:30 on Wednesday. (5:30 show up) 
In Other news the rest of our schedule is out and is posted on this website. We will have printed copies at practice on Tuesday. The new team we will be playing twice is Elite Baseball Travel team, the 13 and under Honey Badgers.
---
Game Results and Nick Name update for Saturday 9/8
Normally we do a game story in this spot but we are treating these 2 games as a practice. (our third of the season). Our players did learn a lot about the game on the big field, and the coaches learned a lot about our players. Overall, we were pleased with the effort. No one gave up on their team! The first game we could not get our offense going until late in the game. The Hot Rods chipped away at our defense and took advantage of some mistakes in a 10 -2 final in favor of the Hot Rods. Austin "Squeak" Vue was our player of the game in the first game. Playing catcher in the heat
As well as driving in our two runs with a nice double in the 4th inning 
Our other offense consisted of a hit from Hoss Kapoor and Luke "Craw" Wood (looks like all star Brandon Crawford of the Giants), walks to Tri "Twig" Ha, Lucas "Nellie" Nelson, 2 walks to Lukas
Dub" Walker (last name starts with "W" or Dub), a Walk to Audrey "Gamer" Peterson ( she earned her nickname later by hanging in the game after being drilled hard by pitches twice) There was also a walk to Gamer's Brother, Max Peterson who was full of energy and so we thought of a Dynamo. "DynoMax" or "Dyno" for short.
Pictures from the first game show some of this action.
DynoMax at bat
Tri "Twig" Ha on base.
Dub on third base
Then the Hoss comic relief in base running.  Picture one note the slide maybe a little early
Then picture 2-the roll to try to get to the base
Then, picture three, the final dive for the base. Coach gave him only a 3 1/2 on the dive because there was too much splash on the entry!
We were somewhat lucky that the Hot Rods kicked the ball around before throwing it to second base! Our Hoss is something less than a "speed burner"! Hoss pitched in both games for us and did fairly well on the hill.
Eziekel "Zeke" Carter followed Hoss on the hill but his pictures are offense and defense later.
Gamer Peterson was our closer who got the final out for us. We are working to fix the "short arm" delivery but she is deceptive with her speed and movement on the pitches.
There were a few defensive errors but we focus on the positive, like Nellie with a Pop up at short to end an inning.
Zeke caught a pop up as well.
Twig made a smooth put out from 2nd base.
Here is some interesting play around second base.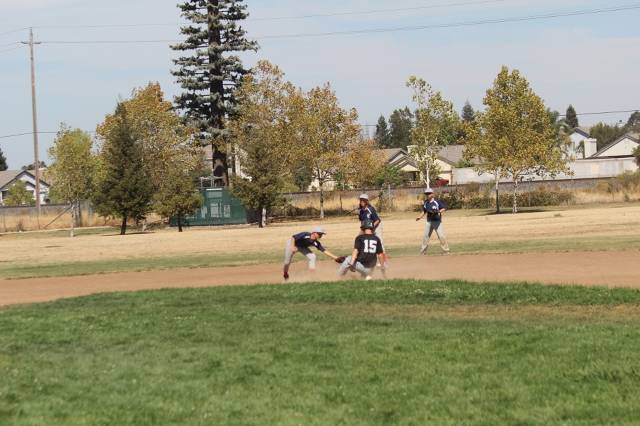 Zeke making the play with Craw backing up.  
The second game we started with Nellie on the Hill.
Then we went to Colter Gray on the Bump.  We worked hard on this nick name. Colt reminded us of the Colt 45's The Houston team before the current World Champs, the Astros.  Astro was also the dog character in the Jetsons who was smarter than the humans. So long story short, Colter is now Astro. Anyway Astro pitched okay but needs a little work which he will get through the season. 
Luke "Craw" Wood followed and maybe had the best outing of all our pitchers.
Dub got an inning as well as Hoss pitching 2 more frames.
In the second game we had some more good defense with Dyno making a play on a pop up.
Craw with a play from Short stop

We also had more offense in game 2. We had an RBI hit from Donavan "Lurch" Sams (lurch after the Big Tall Butler on the Adams Family-intimidating a but gentle giant) he scored Hoss.
Carson "Carsland" Carpo (Hey don't blame us, Coach Brent and I just got back from Disney's California Adventure) That is "Cars" for short and he got a nice double in the second game to lead off our last inning. 
Cars also safe on this play at first.

Other hits in the second game were: Squeak with 2 singles, Nellie with a nice hit, a couple of steals and run scored. Dyno with a single to left, Lurch and Zeke also scored.
It was a hot but fun day at the Yard!
---
A task for all Muskrats before practice 9/7/18
August 30, 2018
Each player should navigate his or her way to this site and sign the Guestbook
A message of encouragement to your team mates for the season would be great.  Because of the security, you will submit your guestbook entry and you may get an error message. Don't try to redo it right away. Instead, wait 5 minutes then go to the welcome page and see if your guestbook post is there.
Once you know how to get to the site, this space can become your portal to the team.  If there is a cancelation or change in field then it will be posted here.  News and Game summaries will be here too.  This is your web page, have fun with it!
---
Welcome new Muskrats
Here we go again! A new season starts. We have two practices scheduled plus our first double header.
First practice is very important. Thursday August 30, 2018 5:30 show up time at Bartholomew Sports Park Babe Ruth Diamond on the Southwest corner of Whitelock Parkway and Franklin High School Road.  East of Franklin High School and just east of the BSP football field.  We will practice and hand out uniforms as well as signing forms. Practice will last until 7:30 Field clean up will be over by 7:45.  Second practice is set for Friday, September 7, @ 5 pm at Jones North (see directions on this website) fields  menu above .

Our first Double Header is the next day Saturday at 10 am Jones North Show up is one hour before game time or 9am. This is a double header so plan for light lunch in between games. We play the Hot Rods. The complete schedule should be available by 9/7. 
Uniforms will be supplied on Thursday August 30 except for baseball pants, each player needs to supply their own belted gray pants. the belt should be black or navy blue.
Team so far (we need to recruit 2 more players at least) In no particular order: Austin "Squeak" Vue; Shalien "Hoss" Kapoor; Luke Wood; Lukas Nelson; Lucas Walter ( we have a bunch of Lukes' but we will sort it out in the traditional Muskrat way! Stay tuned!) Donavan Sams; Tri Ha; Colter Gray; Audrey Peterson; Ezekiel Carter and Carson Crapo.  Coach Brent Tetlow, Coach Doug Penney and Youth Coach Jesse "Goldie " Mejia look forward to the fun of Fall Baseball.

---
Almost time to Play Ball in Fall Again!
August 18, 2018
Both divisions of Elk Grove Fall Ball start soon with first games September 8.  The Muskrats division 12 and 13 Year-olds (based on age as of 4/30/19) and the upper division, ages 14-16 both are still taking sign ups. www.eghardball.com to sign up, don't miss out.
Have some fun.
---
PARTY TIME!
We are planning a party, Hot Dog BBQ pot luck after the All In game to start 3:45 pm at BSP on Saturday 10/21   Details in email Monday night!
---
2nd game provides a little less drama but a nice win!
September 10, 2017
Coming off the major high of our comeback win this contest was a little less intense. We had a lead during a game for the first time this season when Pog gets a 2 out hit! Then steals second and third.
Eazy (Ethan) who arrived just in time for the 2nd game goes to full count and gets a nice base hit to score Pog. He steals second but it stranded there. 
We have Hoss on the hill in the 1st. He gives up three runs, only one earned but there we go down 2 runs, already, in the second inning. We bounce back as Ice man singles and steals 2nd, then Hoss walks when the Admiral singles to load the bases.
Ice then steals home, this is significant because of what happens later in the game.  Simba gets hit by a pitch to reload the bases and with one out J-Dub gets an RBI on a fielder's choice and then Pog singles to score 2 more. Pog went home on a overthrow. Suddenly we are up 6-3 and we never looked back. 
Eazy pitched for us for 2 innings.  Even though Hoss was pitcher of record when we went ahead he can not be the winning pitcher if he only pitches one inning. Eazy shut the Dragons out in the second and gave up 2 meaningless runs in the third inning, three total hits and a strike out. He pitched really well and earned the win on the hill.
We scored 2 more runs in the third A hit by Ice, Walk to Hoss, and Admiral was hit by a pitch. Guess who stole home again? Ice! this one was strange as the catcher looks like he had a chance to beat Ice to the plate but instead flips it to number 6, the pitcher. Ice scores again.
After the steal of home Hoss alertly takes third. He is able to score on Simba's fielder's choice. 
Then we go to the top of the 4th and we start off with J-Dub walk, Pog gets hit by a pitch, EZ walks for an RBI Then Squeak gets a an RBI knock. Cuff and Link get RBI walks. Hoss gets another RBI on a gound ball. Admiral comes through with the last RBI hit of the day.
Score is 14-5, good guys!
It is time for Pog to pitch on the big field for the first time.  He gives up a hit to the biggest guy on the Dragons  (maybe 5'11" and 200 lbs.) but then strikes out the next batter and Squeak back picks the big guy at first.  We bring in Cuff to insure that this will be the last inning
 But he gives up a little "ground ball with eyes" hit.  Never fear, he strikes out the number 2 batter in their order for the capper on the day.  2 wins!
---
First game of the season is thrilling comeback Win for Muskrats!
September 10, 2017
That was a wild Game!  We started slow on defense and did not pick it up until the 2nd inning.  Cuff (Gabe) started pitching.  He had some trouble with the zone and we didn't field well behind him but he got through it. 5 runs 1 earned.
Who else would catch Cuff but Link (Eli) He impressed Mike the umpire with his ability at this age.

 Then we got Simba (Leo) up on the hill.  He pitched 2 innings giving up one earned run striking out 2 on the "bugs Bunny" pitch.  That is a pitch so slow it almost stops. 
We are down 7-0 before our bats wake up. Rowdy (Rohan) gets a one out hit and steals to third. J-Dub (Jacob) then singles in Rowdy (Coach Brent captured our first run of the season perfectly!)
Wait! we are not done. Our first extra base hit is a Pog (Luis) double, shown below sliding into 2nd! 
We got another run back in the third. As Squeak (Austin-"toughest mouse in the house") singled followed by hits from Cuff and Link. Squeak was able to score. We had a caught stealing then a single by Hoss (Shailen) but didn't get another run across. We gave up 2 more runs before our defense started to shore up a bit but we were down 9-2 going into the bottom of the 4th. Rowdy walked a stole second. Pog reached on fielder's choice and was singled to third by Eli. Then he stole home for our third run.
We couldn't score any more in spite of a nice single by Iceman (Jonas).
J-Dub on to pitch and he had a scoreless inning. A little defense by Squeak at third.
Then Link pitches, in two innings of work he gives up 2 hits and walks 2 but strikes out 4 and doesn't give up a run.
 But down 6 runs what chance have we got? Hey now, this is the never quit Muskrats.  Simba starts us with ground ball and reaches, he steals 2nd and third, Rowdy walks and with one out Pog gets hit by a pitch. Bases loaded for Link.  He gets a hit and Simba scores, Squeak then gets an RBI walk. Cuff has a solid base knock and RBI. After 2 outs Iceman comes up with his 4th hit of the day to score 2 more. We are tied. Hoss comes up and walks. The Admiral (Diego) to the plate and he...wait for it
Walks to load the bases with Iceman as the winning run.  Simba up and he is down in the count no balls two strikes...Yikes! But he gets the tough game winning hit...by pitch! A bruise for base and GWRBI!  What a comeback. 
---
Another win in Galt (13-15 team)
We won with Pitching and spectacular defensive plays. Rocket started on the Bump but with three games this week we had to go only 2 innings with him.  He did well allowing one unearned run.  Before that 
Sparky worked a walk and stole 2nd.
Sparky makes to third, Hey quit Jimmy Jacking around with the Galt 3rd baseman!
 Then Slick gets a hit and an RBI. 
Rocket and Magic work Slick around the bases 2 runs for the good guys.  A couple of strike outs for Rocket and a would be base stealer cancelled by a throw from Sparky. The Galt Giants did score the one unearned run. 
Sparky did not get a hit in this game but spectacular defense, double plays and he scored three runs.  One in the third inning where Moose reached on a strange strike out throwing error with Sparky starting on second after a walk and ending up scoring.  Speaking of the Moose he came on in the third and pitched 2 shutout innings earning the Win on the hill.  The game went 7 and Rocket would have had to pitch 3 to qualify for the win.  Moose was on it in Galt striking out 4 and giving up only one hit. 
He had some good defense behind him. Gamer and DC with good plays. 
Mean while we came up with another run to help out.  Gamer scored in the 4th after a walk  on hits by Cargo and Knuckles.
Then Magic came on to pitch.  He did a good job through 3 innings allowing only 2 hits and 2 unearned runs with 2 strike outs to earn the three inning Save. 
Magic also contributed on offense with a walk, an RBI and some good situational at bats. 
Some of the routine plays we didn't make but challenge the players and they stepped up.   On the other hand we had 4 hits and moved runners as well as stole bases (10). The big factor in this games was control pitching. We had it they did not! 15 walks or hit by pitch that we benefitted from.  When I say spectacular defense, I think of a good stop by Moose at third and Sunset at the plate with Slick tagging the runner out by 5 feet.
Look at the sequence below starting with a before picture of Moose at third who started the play and then the throw gets to Slick in plenty of time.  Notice him using the bare hand to keep the ball from popping out of the glove and low tag . Great form by Moose and Slick, the baseball phrase is "a beautiful Sunset"
Slick gets knocked on his backside but hangs on to the ball. 
We scored 8 runs all together with DC getting a walk, a steal and a run. 
MC had an RBI in this one and Knuckles scored. Rocket and Sparky combined for another late run as well.
  Rocket had a fabulous catch from his shortstop position which took him to Left center field. I will sharpen up this picture some 
---
Here Comes the Fudge, I mean, the Judge! Kangaroo Kourt 2016
September 9, 2016
Kangaroo Kourt is something we do to build team unity and fun!  At 5:15pm Friday 10/14/16  we have Zehnder Park field for a brief warm up then Kourt.  Coach Doug is the Judge with Coach Wally, Coach Rocky and Coach Fox as the Appeals panel.  Each player will be brought up on charges by the coaching staff. Sometimes it is going up to bat without a helmet, sometimes it is bad positioning on a base on a steal attempt or like below in a prior season swinging with your eyes closed or looking at the sky, not the ball, like Fox and Bonanza below:
Also note the uniform violation, one sock up one down. Fox ended up as one of our best hitters once he got brought up in Court and opened his eyes!
You can't see Bonanza's eyes but he certainly is not looking toward where the ball was!
These cases usually have a teaching point to them. Anyway, the player pleads guilty or not guilty. If guilty, the player is given a physical challenge.  If not guilty, the player explains to the appeals panel the case. If they rule in his favor the player avoids the physical challenge. If the appeal is denied the physical challenge is doubled. 15 push ups becomes 30. 
We hope it leads to smiles like the Hydrant a couple of years ago.
or learning like the Fox!
Who ended up with the Silver Slugger award with the best batting average for a Muskrat in his Fall Season.