2019 FLOWER CITY INVITATIONAL IS A NORTHEAST CHAMPIONSHIP
WORLD SERIES QUALIFIER
DO YOU HAVE WHAT IT TAKES TO WIN??
ONE OF NYS LARGEST TOURNAMENTS (MULTIPLE LOCATIONS THROUGHOUT THE ROCHESTER AREA)
DON'T BE LEFT OUT!!!
---
2018 16U CHAMPIONS CAPITAL DISTRICT FUSION

2018 14U CHAMPIONS SMASH IT SPORTS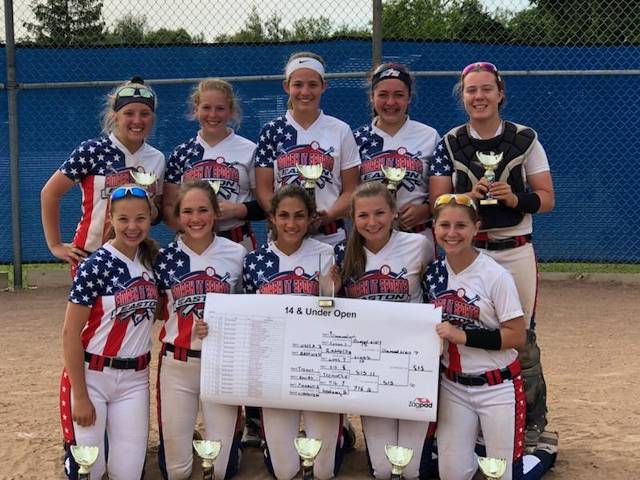 2018 12U CHAMPIONS AMHERST LIGHTING
---
7 skinned diamonds, 3 sites, full Concession stands, t-shirt and photo vendors.Located in a central part of Rochester NY AT MUTIPLE LOCATIONS. Trophies will be awarded for first and second place teams. MVP awards on Sat during pool play. USSSA rules will apply.

Registration Cancellation/Refund Policy - Teams that cancel after being accepted in the tournament will be charged a 50% cancellation fee. After May 1st, teams that cancel will be charged a 100% cancellation fee. There will be no refund of entry fees due to uncontrollable circumstances.
* Weather Permitting - In case of uncontrollable circumstances or interruptions due to weather, the Tournament Director reserves the right to alter the tournament format in any way necessary to reach a conclusion. This can include, but may not be limited to, shortened game times, fewer games guaranteed, or playing rule changes. Games interrupted might not be resumed. Everything possible will be done to get the players on the field as soon as possible.
Cost: $575.00
---
Hotels
12u/14u
Courtyard Penfield (888)236-2427 contact Tia Wright 
1000 Linden Pk Roch NY 14625
Fairfield Inn & Suites (888)236-2427 contact Tia Wright
915 Hard rd Webster NY 14580
Holiday Inn & Suites 585-872-0900 contact Deborah Lindenau
860 Holt rd Webster NY 14580
16u
Rochester Marriott Airport (888)236-2427 contact Tia Wright
1890 W Ridge rd Roch NY 14615
---
---
---
---
---
---
---
USSSA TODAY MAGAZINE (WINTER EDITION 2011)
---
---
---