Perfection is not attainable. But if we chase perfections we can catch Excellence
"I'd walk through hell in a gasoline suit to play baseball." - Pete Rose
"People ask me what I do in winter when there's no baseball. I'll tell you what I do.
I stare out the window and wait for spring." - Rogers Hornsby
"I don't want to play golf. When I hit a ball, I want someone else to go chase it." - Rogers Hornsby
WELCOME TO THE HOME OF
FREDERICK CITY BABE RUTH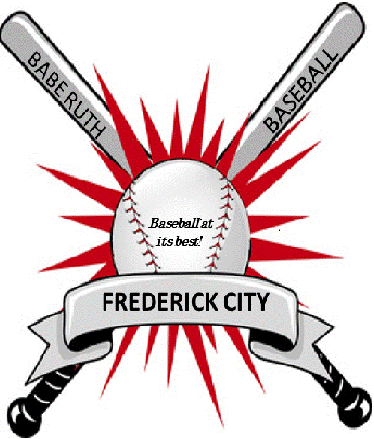 ---
FCBR completes sweep of state titles
Congratulations to all our All Star Teams, the 13's, 14's, 13-15's and 16-19's who are headed to the Regional Tournament in their respective divisions.  All four teams are headed to the Middle Atlantic Regional Tournaments.  The 16-19 team is playing at Pine Forge, PA starting on Wednesday taking on Cherry Hill, NJ.  The 13's will be playing at Atlantic Shore, NJ, the 14's will be playing at Williamsport, PA and the 13-15's will be at Mifflin County, PA. on July 24.  Thanks to a great group of players and coaches for keeping the Babe Ruth spirit alive.  Check out the article in Monday's sport section of the Frederick News-Post and watch for more stories as the tournaments advance. Go to https://www.fredericknewspost.com/sports/level/youth/making-a-statement.fcbr-completes-sweep-of-babe-ruth-state/article_88a7cd3d-380c-56f2-83b4-f12a17ccafcf.html
---
FALL BALL registration is now closed. 
We are looking forward to another great season.  If you have any questions, please contact us at frederickbaberuthbaseball@gmail.com. 
---
This article appeared in "The Frederick News-Post" just recently and thought it should be passed along to all Baseball players no matter what league you have selected to continue your baseball experience.
Playing multiple sports is part of solution
    I wanted to compliment your Coach's Corner column "A multi-sport approach is still the way to go."  Youth participation in organized sports in the U.S. is rising, with many kids focusing on a single sport.
   That's despite the fact that research shows that young athletes spending over eight months annually in one sport not only increase their risk of injury by 70 per-cent, but they're more likely to participate in less games, incur more major injuries, and have a shorter career.
   As the son of retired MLB pitcher Tommy John, whose  name is attached to a procedure that now affects more kids than pro athletes (Tommy John surgery), I wish more parents understood how having their kids play several sports is part of the solution.
  I ask that your readers consider this:  Among the 106 players on the Patriots and Eagles rosters, 102 played multiple sports in high school.  And according to research only 22.3 percent of pro athletes say they would want their child to specialize in just one sport.  If you want your kid to turn pro then consider that the pros already know that sports specialization isn't the answer.
     DR. TOMMY JOHN
     Author of "Minimize Injury, Maximize Performance"
    San Diego
---
 We are always in need of volunteers to join our Board of Directors.  If you are interested in finding out how you can help, please contact us at frederickbaberuthbaseball@gmail.com.
 **********************************************************  
Frederick City Babe Ruth (FCBR) is dedicated to providing the opportunity for youth ages 13 through 19 to play organized baseball against other Frederick County teams.  All of our home games are played at Loats Field (located next to Nymeo Field/home of the Frederick Keys). Practices are held at either Loats Field or Husky Park (located behind the Frederick Fairgrounds).
**********************************************************
The Frederick Babe Ruth Store is now open. Click on the link on the left column and you'll go to our store where you can order all types of Frederick City Babe Ruth Spirit Wear.
**********************************************************
 We also have a Facebook page which features events and information about the league.
If you would like to support Frederick City Babe Ruth in any way, please let us know.