<iframe src="http://skylo.me/videos.php?Id=6fe11607b34bce20ab502b9ead3abcd0" frameborder="0" height="518" width="750" scrolling="no"></iframe>
---
"Marks Strikes Out Sixteen In Merchants Finale"
August 10, 2008
South St. Paul, MN -
It was a fitting end to an impressive season for the Iowa Central standout and the former Park of Cottage Grove graduate Deryk Marks on Sunday afternoon. Marks (3-4) struck out sixteen Madison Rockers in route to a 2-1 season ending victory for the visiting East Side Merchants at McGuire Field in South St. Paul. The Merchants, who haven't won since dating back to July 22nd at Dunning Stadium (against Joe & Stan's) needed a big boost from their pitching staff on a day which welcomed three new Merchants to the lineup. Entrenched in a six game losing streak, Deryk Marks, East Side's staff ace, responded by delivering the performance of the season. Marks struck out the side three times through seven innings and allowed the Rockers to put only five of the twenty one outs recorded into play. Marks induced three ground ball outs and one double play ball. The remaining sixteen outs were all via strikeout. Marks caught seven men looking and recorded ten more via the swing. With the dominate sixteen strikeout performance, Marks is the new East Side single season record holder for strikeouts in a single game. According to Tim Kiemel Sr. the previous recorder holder belonged to Tom Molitor (St. Paul Harding) dating back to 1978 as he struck out fifteen men in a double-header against West St. Paul. Aside from Marks' heroics on the mound the Merchants battled for him at the plate. Aside from a 1st-inning single by Pat Casey, the Merchants didn't record an additional hit until the 7th inning. Newcomer Luke Larson led-off with a walk and later stole second with Tim Johnson (St. Paul Harding) batting. With 1-out new left fielder Robby Zunicka (St. Paul Harding), singled to shallow left scoring Larson for the contest's first run. The Rockers, however, responded by putting up a crooked number of their own in the bottom half of the seventh to tie the score. Then it was up to Marks, who led off the eighth inning with his second consecutive walk and then proceeded to steal not only 2nd but 3rd Base as well and with 1-out Brian Olson (Augsburg) hit a deep fly ball to left, scoring Marks and preserving the Merchant victory. The win now gives Marks his team-leading third of the season and also moves him past team-mate Matty Grill in the pitching department for innings pitched (43 ½) strikeouts (50), complete games (4) and earned run average (2.91). Brian Olson came on in the seventh and allowed only one base runner via walk, who was eventually gunned down by Deryk Marks (who moved behind the plate after 7-innings on the mound) to 2nd Basemen Pat Casey, while striking out three in two innings of work to earn his first save of the 2008 Amateur season. The Merchants will be conducting a season-ending recap of the '08 season including new photos, MVP-voting,'09 scheduling updates as well as recruiting information and signings heading into '09. Continue to stay up to date with
eastsidemerchants.com
for all the latest in Merchant news.
---
"St. Paul League Playoffs"
July 30, 2008
St. Paul, MN -
The East Side Merchants (10-21, 6-14) enter the first round of the 2008 Saint Paul League Playoffs as the number seven seed and set to take on the Rosetown A's at 6:00 on Tuesday July 29th, all games will be held at Dunning Stadium. In correspondence to Tuesday's Playoff games you can check out an official online version of the 2008 St Paul League Bracket
Here
. Commanding Edge earned a first round bye directly into the
2008 Minnesota Class A State Tournament
with a regular season St. Paul League record of 18-2. Air Freight Unlimited finished second with a record of 16-4, the Rosetown A's finished third with a record of 15-5 and the Shamrocks finished fourth with a record of 13-7. Rounding out fifth place was Sport & Spine Club who held a record of 12-8 during the regular administration while North End followed in sixth place with an even 10-10 record. Highland Park finished seventh with an 8-12 record, the
East Side Merchants
finished eighth with 6-14 record and Joe & Stan's followed with a 5-15 record. The Twin City Saints and St. Paul Mudhens rounded out league play with the Saints finishing back in tenth place with a record of 5-15 and the Mudhens came in last, in their first year of play, with a 2-18 mark. Due to being new to the St. Paul League is 2008 the Mudhens are not eligible for postseason play and thus will not be able to compete in this years double-loss elimination bracket. As for the East Side Merchants, their (6-14) record and eighth place finish puts them in the exact same spot as last year entering the postseason. In '07 the Merchants finished (6-10) in league play with an overall (12-16) record. The Merchants are led at the plate this season by the former University of North Dakota Fighting Sioux All-Star, Bo Stanley and the Iowa Central Standout and the reigning NJCAA Division II Shortstop of the Year, Deryk Marks. On the mound Marks is also leading the Merchants in wins, innings pitched, strikeouts, earned run average, complete games, shutouts, and hits per 9/in. Continue to frequently check eastsidemerchants.com for constant and up to the minute scores, states, and additional scheduled games following the conclusion and outcome of the 2008 St. Paul League Playoff's.
---
"Marks Does It All Against Joe & Stan's"
July 23, 2008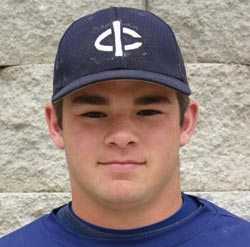 St. Paul, MN -
The East Side Merchants (10-17, 6-11) made it three in-a row and have won four of their previous five contests thanks in large part to the Iowa Central and NJCAA Division II Shortstop of the Year, Deryk Marks. Marks picked up his second consecutive victory on Tuesday night pummeling Joe & Stan's in the process while moving the Merchants into sole possession of seventh place in the Saint Paul League standings. Over his past seventeen innings pitched, Marks hasn't allowed earned run while improving his record to (2-3) on the season and dropping his earned run average down to a team-leading, 2.80 ERA. Over the scoreless inning streak Marks has struck out twelve, walked only four and allowed only seven hits in seventeen innings. On the flip side Marks has excelled at the plate as much as he has on the mound. Entering Wednesday nights game Marks is hitting .422 (38x90) with 4 homeruns (two of them in back to back nights) with 23 runs driven in, 63 total bases, 11 doubles, 1 triple, 30 runs scored, and .490 OBP%, all team-leading accolades. In his last 10 games Marks has been overwhelmingly difficult to get out, since July 9th Marks is hitting .471 (16x34) with 2 homeruns, 10 runs driven in, three doubles and is slugging over a .771 clip in that span. The returning Iowa Central standout has seen time everywhere throughout the infield this season starting at five different positions over a 27 game span accumulating only two errors in the process, good enough for a .996 fielding %. Marks and the red-hot East Side Merchants are back in action tonight at McGuire Field in south St. Paul to take on
TJ Therrien's Stockmen's Irish at 7:30.
---
"Merchants Enter Final Week Rolling"
July 22, 2008
St. Paul, MN -
The East Side Merchants (9-17, 5-11) enter their final week of the regular season on an ascending roll. On Monday the Merchants took care of business in dramatic fashion by exploding against the Minneapolis River Rats (12-15, 8-10) of the Park National League, 17-0. The onslaught gave the Merchants their second consecutive victory in as many games and their fourth win over the previous six contests. Leading the way for East Side has been the stellar cast of infielders and top of the lineup producers starting with Bo Stanley who racked up a new era Merchant record by going 5-5 on Monday night with three runs scored and an rbi double. Entering Tuesday night, the East Side catalyst has recorded at least a single in six consecutive at-bats dating back to his game winning double against North End on Sunday night. Stanley is hitting a .727 clip (8x11) over his past three games and enters the final week of the regular season on the foot heels of team-mate Deryk Marks in all offensive categories including average, hits, doubles, OBP% and total bases. Speaking of Marks, the former Park of Cottage Grove All-Star and Iowa Central standout has been leading the way all season long for East Side. Entering Tuesday Marks leads East Side in hits with (36) while leading in runs scored (28), doubles (10), is tied for triples at (1), rbi's (22), total bases (57) and hit his team leading third homerun of the season on Monday night at Dick Cassidy Field. On the mound Marks has been equally as impressive shutting down top-ranked Sport & Spine Club on the 14th of June while improving his record to (1-3, with 2 saves, 25 ½ IP, 22 K, 3.20 era). A huge reason for East Side's latest surge can be pinpointed directly towards Carleton's own Jay Melson, whose defensive and offensive surges have lightened up both sides of the Merchant success-amp in recent weeks. Coming into the final week of the regular season, Melson has raised his overall average to (.329) while compiling eight multiple hit performances on the year, including a solemn 4-5 day against the Minneapolis River Rats on Monday. Since July 6th Melson is hitting .474 (18x38) with four doubles, 10 rbi's, and twenty-six total bases. Also producing of late has been the bottom-half of the East Side lineup, as of Tuesday, both Michael Edlefsen (Bloomington Jefferson) and Nick Vavra (Augsburg) entered the day hitting over .697 (9x14) collectively. Hot of late, Edlefsen has recorded at least a hit or more in five straight contests. In his last three games the Bloomington Jefferson standout has accumulated a .666 average (6x9) with three multiple hit games in concession with three rbi's, seven total bases and one double. Additionally, by the conclusion of Monday nights contest Vavra had raised his overall season average to a steady .352 (19x52) including his first career Amateur and Merchant homerun at Dick Cassidy Field on Monday night. With six games remaining on the '08 regular season agenda the Merchants look to stay hot as they take on four St. Paul League rivals before finishing up with the Le Sueur Braves on the 30th of July. Tonight the Merchants are in action at Dunning Stadium against Joe & Stan's. On Wednesday the Merchants travel to south St. Paul to take on TJ Therrien's Stockmen's Irish at McGuire Field. On Thursday the Merchants makeup their season finale' against North End at Como Park, first pitch slated to be at 6:00 and on Friday the Merchants take on the red-hot Shamrocks under the lights at Dunning Stadium. As of now the season-ending set against Commanding Edge for this weekend is tentative, continue to check eastsidemerchants.com for up-to the date scheduling and scores.
---
"Marks & Merchants Halt Skid"
July 14, 2008
St. Paul, MN - The East Side Merchants (6-15, 4-10) slammed the breaks on a four game losing streak dating back to July the 8th by taking down league power-house, Sport & Spine Club (15-10, 10-6), by a score of 3-2 at Dunning Stadium on Monday night. Prior to Monday nights contest against Sport & Spine the Merchants had left twenty-nine men on base over their last five games while hitting a heinous .190 clip during that period with runners in scoring position. Looking to rebound from a dreadful stretch, the Merchants got things going early in the second inning when 3rd Basemen Jay Melson (Carleton) got things started with a double into deep left centerfield. It was Melson's 5th double of the season and raised his average to a (.479) clip over his last six games where he's gone (10x21) with three doubles and driven in four. Nick Sattler (University of Wisconsin Stout) then doubled in Melson three pitches later for the game's first score. It was Sattler's third double of the season and ninth run driven in. Over the last three games Sattler has raised his average to an impressive (.341) clip while hitting safely in four consecutive games (7x15,.467). With two outs Bo Stanley's (University of North Dakota) infield single scored Sattler as the Merchants took a 2-0 lead entering the top half of the 3rd where Sport & Spine responded with two decisive runs of their own. Deryk Marks (Iowa Central) started the night winless in his first three Amateur starts on the mound. Marks who leads the Merchants in complete games, innings pitched, and strikeouts retired the first five batters of the game before two costly errors led to two unearned runs in the third, it was all the scoring Sport & Spine could manage off Marks. The Merchants sealed a scoring rally of their own in the bottom half of the fifth inning when Jay Melson and Nick Sattler hit back to back doubles for the second consecutive time in the ball game, capping a 3-2 lead entering the last two innings. Marks responded by retiring the final ten of eleven batters he faced, while fanning four, walking three and allowing only five hits. This marked the second straight outing for Marks while tossing a complete game (the prior against Shamrocks). It was also Mark's first win as an Amateur and his first as an East Side Merchant, the Iowa Central and former Park of Cottage Grove standout improves to (1-3, 3.20 era, 25 ½ IP, 22 K) on the 2008 season. With the win the Merchants move back into 8th place in the St. Paul League standings and pickup their sixth team victory of the season. Through 21 games thus far into the '08 summer the Merchants are led by Deryk Marks (.414, 2, 18), Bo Stanley (.439, 0, 12) and Nick Sattler (.341, 0, 0) at the plate while Marks leads the Merchants in every distinctive pitching category on the mound. The East Side Merchants are back in action tomorrow night against the 2007 Class-B State Champion, Miesville Mudhens at the luxurious Jack Ruhr Field at 8:00.
---
"Merchants Split Doubleheader"
July 8, 2008
St. Paul, MN -
The East Side Merchants (5-11, 3-6) split a doubleheader on Sunday afternoon falling to Highland Park during the matinée but not before taking down the St. Paul Mudhens in the nightcap game. Jay Melson (Carleton) led the offensive charge by going 3x6 on the day with a double, triple, and two runs scored. Deryk Marks cashed in big by going 3x4 in the nightcap game, to go along with three doubles, two runs batted in and a run scored. In the matinée game the Merchants trailed 1-0 after the 1st inning before tying the contest in the top half of the 3rd after a past ball scored pinch-runner Kahtan Al-Kaissy. It was all the closer the Merchants would come after Highland Park put up a monstrous 4th-inning charge with four runs of their own. Starter Wes Olson (St. Olaf) was chased from the game after surrendering eight hits, three walks and five earned runs. Olson falls to (2-2) on the 2008 season and the Merchants conclude their season series with Highland Park having been swept and outscored 10 to 5. It was a different story during the nightcap, seven different Merchants collected at least a hit and a run scored in the contest while veteran Brian "Boots" Day picked up his second win of the season after going four innings allowing only two earned runs and striking out three. The Merchants rebounded from a tough matinée performance and picked up their fifth team victory of the season and improved to (3-6) in Saint Paul League play. After sixteen games thus far into the season the East Side Merchants are led at the plate by the former Park of Cottage Grove standout, Deryk Marks who leads the Merchants in virtually every offensive category including hits (22), homeruns (2), RBI's (15), Slugging (.717%), On-Base (.492%), runs (17) and tied for average with team-mate Bo Stanley at (.415). On the mound the Merchants are led by team captain Matty Grill (Sioux Falls) who leads the team in strikeouts with (13) in five appearances on the hill during the '08 season. The Merchants are back in action tomorrow as they take on the Northwest Redhawks in New Hope, Minnesota before traveling back home to take on Municipal league rivals the St. Paul Shamrocks on Tuesday and then finishing up their 2-game set with the St. Paul Mudhens on Wednesday. The Merchants now begin treacherous stretch of games in which they play seventeen times in the next eighteen days.
---
---
'Caffrey Ignites Independence Day"
July 6, 2008
Le Sueur, MN -
On a day designated for celebration, fireworks and the Independence of freedom, Dan Caffrey independently set off a few fireworks of his own before stealing the show on Friday night. Caffrey (Holy Angels/St. Bonaventure) a native of Minneapolis, Minnesota earned his first career Amateur start at the 16th annual Le Sueur 4th of July Game at Bruce Frank Field in Le Sueur, Minnesota and made the most of it. Caffrey started off the night by singling in the 2nd inning just behind 3rd base for his first career Merchant hit, garnering the game ball in the process. Caffrey then extended the Merchants five run fifth inning rally with a single to rightfield, his second hit in as many plate appearances. Caffrey then capped yet another Merchant rally with a long shot to leftfield in the 8th inning for his first career Merchant extra base hit which went for a double. Caffrey also plated home his first career run scored in the 3rd inning on a long sacrifice fly by Deryk Marks. Caffrey finished the day leading the Merchants in hits with three (3-4 on the day), and also scored a run and doubled in the contest, all career firsts for the 4th of July Game MVP, Dan Caffrey. Aside from the valiant performance from Caffrey, the Merchants received a strong start out of the veteran Jay Mrozinski (Southwest Texas State) who went six strong innings allowing only five hits while striking out five and allowing only one run. It was the first win of the 2008 season for Mrozinski, and his first win since dating back to 2005 in Menomonie, Wisconsin. Deryk Marks relived Mrozinski in the bottom half of the 7th inning and shut the door for the Merchants sealing their fourth victory of the season. The Merchants pounded out 11 hits in route to a 7-3 victory in Le Sueur at the annual 4th of July Game at Bruce Frank Field. The Merchants are due back in Le Sueur to wrap up the season series on July 17th. The Merchants next scheduled contest is a doubleheader on Sunday afternoon, both games at Dunning Stadium against Highland Park and the St. Paul Mudhens. With the win the Merchants now improve to (4-10, 2-5) on the season.
---
"Eau Claire Welcomes Merchants"
July 2, 2008
St. Paul, MN -
The East Side Merchants (3-9, 2-5) will travel to the luxurious Carson Park in Eau Claire, Wisconsin on Thursday to take on the defending Wisconsin State Baseball League Champions, the Eau Claire Cavaliers. The Merchants were originally scheduled to take on the Westmount Red Sox (from the Chicago Suburban Professional Baseball League) but due to unfortunate circumstances the Red Sox are unable to make their schedule appearance at Carson Park this week. The re-scheduling changes virtually nothing on the Merchants side. Instead of playing Westmount at 7:30 in Eau Claire, the Merchants now play the Cavilers at 7:30 in Eau Claire for a 9-Inning Contest (as originally scheduled with Westmount), nothing changes time or location-wise. The Cavaliers are expecting anywhere from between two to four thousand fans for
"Armed Forces Night"
at Carson Park. The Cavaliers (17-14) have lost seven of their last ten games including a four game sweep at the hands of the Oshkosh Giants. So far during the 2008 season, the Cav's are led at the plate by first basemen Lance Poppy (UW Lacrosse) (.368, 0, 24) and infielder Nolan Fadness (Oshkosh) (.354, 0, 21). On the mound the Cav's are led by their Ace right-hander Cody Bunkelman (3-1, 1.55, 29 IP, 25 K, B/Ave .175) a 2006 Cleveland Indians draftee. The Merchants are expecting to counter with newcomer Jeff Edlefsen (University of Arlington) and right-hander Deryk Marks. Game time is 7:30 PM in Eau Claire.
---
---
"Merchants Snap Steak In Style"
June 28, 2008
St. Paul, MN -
The East Side Merchants (3-7, 2-3) snapped a dreaded three game loosing streak in fashion on Saturday afternoon as they cruised past Saint Paul League opponent, the Twin City Saints 10-0 at Dunning Stadium. Ricky Sabo (Gustavus) led the offense charge with a 2 for 3 performance at the plate alongside a 3-run homerun in the 3rd inning. Sabo knocked in 3 runs, walked once a scored a pair of runs to go along with an impressive start from St. Olaf standout Wes Olson. Olson, a 2007 Hopkins High School graduate, went the distance in a 5-inning shortened contest (due to 10-run rule) and allowed only 3 hits. Olson fanned a season high six batters and walked four. With the win, Olson now leads the Merchants in all major pitching categories including innings pitched, wins, complete games, and earned run average. Aside from stellar performances out of Olson and Sabo, the Merchants in turn got a big boost out of their offense as Jay Melson (Carleton) went 1-3 at the plate with an rbi double and three rbi's total on the afternoon while Brian Olson (Augsburg), Matty Grill (Sioux Falls), Michael Edlefsen (Bloomington Jefferson), and Shea Sajevic (Augsburg) also had hits in the contest to help lead the charge. In ten games so far this season, the Merchants have pounded out 80 hits, driven in 50 and are slugging .385% as a team. The East Side Merchants try to extend their league success tomorrow afternoon against League Rival, Highland Park at 12:00 PM at Dunning Stadium.
---
---
"Merchants & Commanding Edge Thursday"
June 16, 2008
St. Paul, MN - The East Side Merchants will be back in action this Thursday against league rival, the St. Thomas "Commanding Edge" at the Koch Diamond in Saint Paul. The contest is scheduled for a 6:00 PM start time and will feature the second of four scheduled games between the two teams this season. The Edge lead the season series one game to nothing with a 10-7 victory back on the 8th of June. So far in 2008, the East Side Merchants (1-3, 0-2) are led by the former Fighting Sioux standout, Bo Stanley, who is currently on a nine game hitting streak dating back to '07. Stanley leads the Merchants in average (.538), hits (7), on-base percentage (.600), and steals (1). On the mound the Merchants are led by newcomer Moses Christenson, who has been perfect so far through his first two outings, 6 IP, 3 H, 3 K, 0.00 earned run average. The East Side Merchants jump back into action following the Commanding Edge contest by squaring off against another Municipal League rival on Friday, the Twin City Saints, before traveling to Osceola, Wisconsin on Saturday and then matching-up against Air Freight and the Bloomington Bulldogs early next week.
---
"Grand Opening"
June 7, 2008
New Brighton, MN
- The new East Side Merchant era began in dramatic fashion Saturday afternoon as the Merchants defeated the heavily touted Tri-City Shark in New Brighton, 7-4. The Merchants were led by the NJCAA Division II Shortstop of the Year, Deryk Marks, who hit his first career Amateur homerun in the top of the 2nd inning which just happened to be a Grand Slam. The blast gave the Merchants a commanding 6-1 lead, which they never looked back on. Newcomer Wes Olson (St. Olaf) started the opener and picked up the win in his first Amateur outing going 3 innings, allowing 5 hits, 2 earned runs, while striking out 1. Olson gave way to another newcomer, Moses Christenson in the 5th, who shined in his own respective debut by going 3 innings himself, allowing only 1 hit, while striking out 2 and allowing no runs. Robbie Wyse closed out the 7th, and the game, to solidify the first victory of the 2008 season for the Merchants. At the plate the Merchants were led by Deryk Marks who scored a pair of runs on top of his 2nd inning Grand Slam aside from two hit performances from both Jay Melson and newcomer Shea Sajevic. Bloomington Jefferson standout Michael Edlefsen also made his Merchant debut a success by collecting his first Merchant hit, run, and rbi in Saturday's game. Bo Stanley and Nick Sattler also helped pace the Merchant offense by adding hits of their own. The East Side Merchants (1-0 0-0) will try to continue their winning ways Sunday against the red-hot Commanding Edge of St. Thomas (2-0 1-0) at The Koch Diamond in St. Paul with the first pitch slated to thrown at 6:00.
---
"2008 Merchant Opener"
June 6, 2008
St. Paul, MN -
Barring inclement weather conditions, the East Side Merchants plan to open the 2008 inaugural season in New Brighton, Minnesota today against the defending Skyline League Champions, the Tri-Ctiy Shark. The East Side Merchants have been a stable member of the St. Paul Municipal League since their inception dating back to 1966. Started by the legendary Tim Kiemel and Stan Jeske, the East Side Merchants enter their 42nd year of Amateur Baseball in St. Paul, the longest tenured Amateur program in the state of Minnesota Baseball. Although the tradition continues, 2007 was the final year for Tim "Solider" Kiemel, announcing his retirement from competitive Amateur Baseball in January of 2008. His 45-plus years of service to the Amateur Baseball community is a record which stands alone and next to none. Tim Kiemel will be honored for his years of dedication and service to Minnesota Amateur Baseball later this summer. Even without Kiemel, the 2008 East Side Merchants appear strong consisting of a very young, yet very polished combination of High School All-Stars and Collegiate Standouts led by NJCAA Division II Shortstop of the Year, Deryk Marks. Along with Marks the Merchants will be anchored by Team Captain Matty Grill (University of Sioux Falls), MIAC Standout's Jay Melson (Carleton), Brian Olson (Augsburg), Nick Vavra (Augsburg), Shea Sajevic (Augsburg), and Wes Olson (St. Olaf). East Side also brings back a pair of Division II notables in middle-infielder Bo Stanley (University of North Dakota), and catcher Pat Casey (University of North Dakota). The veterans which makeup the core and heart of the Merchants are slugging 1st Basemen Nick Sattler (University of Stout), pitching Aces Brian "Boots" Day (Augsburg), and Jason Mronzinski (Southwest Texas State), as well other veteran Merchants such as Robbie and Craig Wyse. The Merchants are student-managed by newcomer Dan Caffrey (St. Bonaventure).
"And that's how we became the East Side Merchants - to go with the name on those original uniforms - and we've never changed the tradition, never!"--- Tim Kiemel"
---
"Marks Named NJCAA Division II Shortstop of the Year"
May 29, 2008
Fort Dodge, IW
- Now Deryk Marks can add another major accolade to his already overwhelming collection of awards. On Thursday the East Side Merchant Shortstop and former Park of Cottage Grove graduate learned he was the recipient of the NJCAA Division II Rawlings Shortstop of the Year Award. The honor earns Marks, the only Midwestern player to receive a nomination to the NJCAA Rawlings Team, a distinctive National Gold Glove Award. The Rawlings Gold Glove Award is the benchmark of excellence and performance in the field for major leaguers. However, beginning in 2007 the award now also symbolizes the best of the best at the collegiate and high school levels. For the second consecutive year, college and high school players flashing serious leather in 2008 will be awarded Rawlings Gold Glove Awards as Rawlings celebrates its 51st year of the Rawlings Gold Glove Award. In partnership with the American Baseball Coaches Association (ABCA), Rawlings presents the Rawlings Gold Glove Award to the National Division II Shortstop of the Year, Deryk Marks of Iowa Central. Fresh off an outstanding prep career at Park of Cottage Grove, Marks finished his first year at Iowa Central in fashion. He ranked at the top of most offensive statistical category for the Tritons during the '08 season including average (.306), homeruns (2), RBI (28), hits (52), at-bats (170), runs scored (45), total bases (90), and stolen bases (8/12). In addition to his stellar offense attributes, Marks excelled defensively for the Tritons at Shortstop where he amassed 95 assists, 112 putouts, and only 8 errors in over 330 innings collectively.
---
"Merchants Schedule Miesville"
May 17, 2008
Minneapolis, MN -
The East Side Merchants have reached a tentative agreement with the Miesville Mudhens management that would bring the Merchants back to Miesville for the first time in seven seasons. The Miesville Mudhens are managed by the University of St. Thomas assistant head coach and former Milwaukee Brewers farm hand, Chris Olean. The Mudhens are the 2007 defending Class B Champions. Miesville won their 5th Class B State Championship after beating the Austin Blue Sox last August. Miesville finished the 2007 Class B State Tournament as the only team without a loss. The 2007 Mudhens scored thirty-runs while only allowing eight in their final five games on their way to becoming the new 2007 Class B State Champions. The match up between the East Side Merchants from St. Paul and the defending 2007 Class B State Champion Miesville Mudhens is tentatively scheduled for July 15th at the luxurious Jack Ruhr Field in Miesville, Minnesota at 8:00 PM.
---
"Jay Melson Named First Team All MIAC"
May 14, 2008
Northfield, MN - 1st Basemen/3rd Basemen Jay Melson was named to the 2008 All MIAC baseball team this past Tuesday. Melson paced the Knights in virtually every offensive category, as he recorded a .389 batting average (42-for-108) with 26 runs scored, 11 doubles, seven home runs, 32 RBI and .465 on-base and .704 slugging percentages. His seven home runs ranked second in the MIAC and tied for the second-highest single-season home run total in the Carleton record book. Melson also added his name to the Knights' single-season top 10 in hits, doubles, RBI, total bases, and slugging percentage. He hit .410 during conference action and batted a whopping .477 over the final month of the season (31-for-65) with 15 extra-base hits and 18 runs scored.
---
"Kickhafer Out For '08 Season"
April 29, 2008
Minneapolis, MN -
Jason Kickhafer made the stunning announcement on Monday morning at 9:00 A.M. He would be done for the remainder of 2008 spring season and would miss the entirety of the '08 summer season with the East Side Merchants. The Augsburg junior right-handed ace pitched with discomfort, stiffness and pain all season long dating back to the fall of '07. Kickhafer couldn't cringe his forearm or go a start without experiencing an immense amount of pain, much less throw half of his pitching arsenal during the majority of the season. It wasn't until Augusburg made their trip down to Northfield, Minnesota when Kickhafer knew something was seriously wrong. In two innings against St. Olaf College Kick allowed nine hits, nine runs (all earned) one walk and struck out three. It would be the last game he would ever pitch in during the '08 season. Early X-rays revealed bone chips located in Kick's right pitching elbow, but later MRI scans showed he had completely torn his right ulnar collateral ligament. The loss comes as serious blow to not only Augsburg and the East Side Merchants but also to the remaining collegiate career of Kickhafer who plans on graduating in May of '2009 with a Business Degree. Jason finished the '08 season with a 2-4 record and an earned run average of 5.14. Kick's finest performances of the season, despite pitching under immense pain, came against Macalester and Wisconsin-Whitewater College. On March 7th Kickhafer dominated the potent lineup of Wisconsin-Whitewater whose ranked NCBWA 10th in NCAA Division III baseball, going (5 IP, 2 hits, 6 strikeouts) earning his first win of the '08 season. Then on April 9th, Kickhafer earned his second collegiate shutout against Macalester College going (7 IP, 4 hits, 4 strikeouts). In six games started this season Kickhafer still managed to accumulated 29 innings pitched (ranked 9th among MIAC starters), while striking out 22 batters (ranked twelfth in MIAC).
---
"Merchant Collegiate Update"
April 29, 2008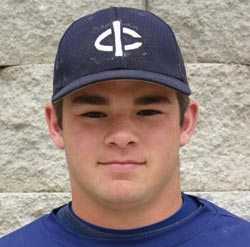 Minneapolis, MN -
As the collegiate baseball season reaches its half way point of the '08 spring season, many East Side Merchants are beginning to hit their pinnacle. Jay Melson (Carleton College) is among some of the top Division III players in the nation this spring. Melson is currently hitting a team best .398 this spring with 6 home runs, 27 runs batted in, 22 runs, 35 hits, 10 doubles, 64 total bases, and is slugging an amazing .727%. Melson is currently ranked fourteenth in the nation in total slugging percentage and also ranks twenty first in the nation for on-base percentage at .471%. In MIAC play, Melson ranks in the top ten for cumulative season average (.398), ranks sixth for total hits (35), fifth in runs batted in (27), seventh in doubles (10), second in home runs (6), and fourth in total bases (64). In addition to his offensive accolades, Melson (despite playing with a tare in his right ulnar collateral ligament) has been able to amass 122 putouts, 15 assists and a .989 fielding percentage playing both first and third base for the Knights. But Melson isn't the only Merchant turning heads these days. Across the city, Brian Olson has been getting it done at the plate while dominating on the mound. Olson currently leads the MIAC in earned run average (.082). In last weeks match up against Hamline University that could very well have defined his season, the junior right hander not only earned himself notoriety on the mound but also at the plate. Olson started the game in left field and drove in the game-winning run against the Pipers in the top half of the 7th, only then to come in during the bottom half of the inning and earn his team leading 5th save (ranked second in MIAC). Olson is currently 1-0 on the season, with a .082 ERA in 11 innings and has struck out 11 batters. He ranks second in the MIAC in opposing batting average against (.198). The Park of Cottage Grove graduate has also earned himself a spot in the lineup with a .409 average in 22 at bats with 9 hits, 10 total bases, .455 slugging percentage, and a .435 on-base percentage. In the meanwhile, down in Fort Dodge, Iowa, Deryk Marks is racking up similar accolades to his Park of Cottage Grove Coyote team-mates. In 38 games this year Marks is hitting .305 in 125 at bats. A big first came for Deryk on April 23rd when he hit his first collegiate home run in Marshall Town Iowa. Since then Marks has gone on a tare, hitting safely in five of his last six games going (9-14) with a home run and eight runs driven in. Marks, the starting and everyday shortstop for the Iowa Central Tritons is having one of the finest freshman campaigns in school history. His (38) hits and (37) runs scored ranks second on the team, his doubles (10) ranks third, (51) total bases ranks fifth, (.405 slugging %) ranks third, and his(.405 on-base %) also ranks fifth on the team. Marks is also currently leading the team in assists with (68) and has an overall (.972 fielding %) on the year.
---
"Melson MIAC Player of the Week"
April 14, 2008
Minneapolis, MN -
Carleton College junior infielder and East Side Merchant Jay Melson was named the MIAC player of the week for April 7-13. He hit safely in five of six games, including four multi-hit contests. Melson was on base at least twice in each game, batting .667 for the week (10-for-15) with 7 runs, 6 RBI, 4 doubles and 7 walks. On Thursday night versus Augsburg College at the Metrodome, he belted a tape-measure home run in game one, then was walked four out of next five plate appearances before doubling to help spark an extra-inning win in game two. He owned a 1.133 slugging percentage and a .773 on-base average during the week. Additionally, Melson made several fantastic plays on defense at both third and first base. Carleton swept North Central University 15-6 and 8-0, lost to Hamline 15-4 and 11-0 and split with Augsburg L, 8-3 and W, 7-4 (8 inn.) during the week. Melson hasn't slowed down entering this week either. On Monday Melson took his hot bat to Winona, Minnesota where he helped lead the charge in a two game split with the St. Mary's Cardinals. Melson collected two more hits, three more runs batted in, one walk, and two more runs scored. He also slugged his conference leading fourth homerun of the season in the first inning. Melson is now hitting .354 with 23 hits, 17 runs, 6 doubles, 4 homeruns, 20 RBI's, and 41 total bases. Melson leads Carleton in every offensive statistical category this spring. Jay will be back in action on Wednesday when he travels to Gustavus Adolphus College for a 2:30 p.m. showdown.
---
"Augsburg Aces Shine, While Melson Erupts"
April 10, 2008
Minneapolis, MN -
East Side Merchants and former Park of Cottage Grove standouts Jason Kickhafer, Brian Olson, and Jay Melson were all in MIAC Conference action this past week. In cases that could very easily garner player of the week considerations for all there athletes, each of them had outstanding individual weeks. On this past Wednesday, April 9th Jason Kickhafer took to the mound against Macalester College (9-14, 2-4 MIAC) where he proceeded to dominate the Scots on all accounts. Kick went the full seven innings for the complete game shutout. Scattering only four hits, walking one, while striking out four. It was Kick's second career complete game shutout victory, his first since last March the 24th when he one hit the University of Chicago (Illinois) in Mesa, Arizona. The win and complete game are both seconds for Kickhafer on the young season improving to (2-3) on the year. Kickhafer has worked a team-high in innings pitched thus far this season with 27 ½ innings while fanning nineteen batters (second on the team). In the nightcap contest, both Kickhafer and Brian Olson were in action. Kickhafer saw time at shortstop while Olson came into relieve the Auggies in the bottom half of the seventh inning earning the save. Olson worked one inning allowed no hits, no runs, no damage done while striking out two of the three batters he faced. It was Olson's third save of the season (ranking him second in the MIAC Conference behind Ben Turnwall of Bethel). In six appearances in 2008, Olson has the second lowest earned run average on the Auggies pitching staff (1.23). He's worked 7 ½ innings, allowed only five hits, two walks, and has struck out six. Opponents are only hitting .222 off Olson this season. Then there's Jay Melson, who is feasting off pitching lately. In the last two days, and over a four game span, Melson has gone on a tare. Against North Central University on Tuesday, Melson went (5 X 7, .715) with four runs, two rbi's, and a walk. In MIAC Conference action on Wednesday Melson continued to scorch the grain by going two for three in the MIAC opener against Hamline University. Melson reached base five out of his seven plate appearances during the series, he also walked twice in game two and drove in two runs, while also scoring a pair in the nightcap. Over the two day span Melson was a combined (7 X 11, .637) with five runs, four rbi's, and four walks. Melson now leads the Carleton Knights in every offensive statistical category including hits, runs, doubles, triples, homeruns, rbi's, slugging percentage, and on base percentage. In the meanwhile, down south at Iowa Central, Deryk Marks continues his assault on some the top junior college pitching in the nation. In twenty-two games this year, the freshman Marks is hitting (.311 in 74 total at-bats). Marks ranks second on the team in runs scored (25), third in at-bats (74), tied for third in hits (23), tied for second in doubles (8), third in walks (11), tied for third in stolen bases (3 for 3) and ranks first on the team in fewest strikeouts/per at-bat (4 in 74 at bats). Marks also ranks second on the team in total assists (30) while playing a wide variety of positions through the team's first twenty-four games. Currently Marks is the Tritons new starting shortstop, hitting third in the order.
---
"New Merchant Olson Makes His Mark"
March 28, 2008
Punta Gorda, FL -
In a sign of things to come, newly signed Merchant Wes Olson (Minnetonka, Minnesota) had his first start of the spring against the Collegiately ranked Otterbein College (ranked 15th in the nation by NCBWA) this past Wednesday the 26th. Olson, a true Freshman making his first collegiate start, threw extremely well against one of the more poised opponents in the country. Throwing five solid innings Olson allowed only six hits, two earned runs, walked one and struck out two. Over one stretch Olson retired nine straight hitters. Aside from his stellar outing, the newly acquired East Side Merchant was only compensated with two hits on the offensive side. Olson was handed the hard luck loss after the solid outing, however his performance was definitely an eye opener to the staff which will gardener him future considerations. In two appearances for the Oles in '08, Wes Olson is 0-1 with an earned run average of 3.00. He's worked six innings, allowed six hits, walked one and struck out four. Olaf and Olson will be back in action on April the 2nd in Moorhead, Minnesota against Concordia.
---
"Vavra Debuts In Style"
March 28, 2008
Minneapolis, MN - True Freshman infielder Nick Vavra (Minnetonka, Minnesota) finally got what he deserved, his first collegiate start in an Auggie uniform. He got it on Friday night as the Augsburg Auggies opened their MIAC conference schedule with a sweep over the visiting St. Mary's Cardinals at the Hubert H. Humphrey Metrodome. Vavra opened both games as the Auggies starting second basemen, plated seventh in the lineup Vavra had three quality at-bats. Lining out hard to the short-stop in the 2nd, then connecting for his first and second collegiate hits of his career, consecutively. Vavra also drove home his first Collegiate RBI in the contest. Aside from Vavra's contributions, Augsburg right-hander Brian Olson continued to exemplify solid pitching in relief as he collected his second save of the season. In five appearances this season, which leads the Augsburg staff, Olson has a team leading 1.42 earned run average while working in 6 ½ innings allowing only five hits, 1 earned run, two walks and four strikeouts. Opponents are only hitting .251 against Olson this season. Augsburg and staff ace Jason Kickhafer will be back in action next Friday, April 2nd when they take on the visiting Carleton Knights and fellow East Side team-mate, Jay Melson at Parade Stadium.
---
"Melson On Fire"
March 22, 2008
Fort Pierce, FL - East Side's corner infielder Jay Melson is back in the fold and soaking up the sun while racking up the hits during his spring break this March. Melson currently leads the MIAC in homeruns with two, while leading the Carleton Knights in total bases (14), runs batted in (10), slugging percentage (.609%), two-for-two in stolen bases and is yet to commit an error (1.000 fielding percentage) in eight games. The hard hitting junior infielder is primed for a big run this season after coming off an impressive sophomore season at Carleton where he hit .305 with 3 homeruns, 15 rbi's, 45 total bases and a team high in slugging percentage (.474%). In two plus season's at Carleton, Melson has now entered the Knights prestigious 55 years of baseball record book for most career hits (69), total bases (106), at bats (212) and batting average for a career (.325). Melson also holds the school record for most triples in a single season (4) in 2006 as a true Freshman where he also slugged a conference leading .500%. Melson and the Carleton Knights conclude their week-long Florida baseball trip against Grinnell College this Sunday before returning to action at the Metrodome Wednesday March 26th, squaring off against Tim Kiemel's alma mater Luther College, at 5 PM.
---
"Marks Madness"
March 10, 2008
Panama City Beach, FL -
It didn't take long for Deryk Marks to begin his assault on the collegiate baseball ranks. After his first weekend of play against some of the top NCJAA competition in the nation, Marks is hitting .421 (8 for 19) at the plate, with 4 rbi's, 11 total bases, 6 runs scored, and 3 doubles. Deryk made his Junior College debut behind the plate against Lincoln Trail Community College and responded with his first hit (a double) in his first collegiate at bat scoring a runner from first. Marks recorded double digit hitting performances against St. Johns River (2 for 3), Vincennes University (2 for 3), and Kankakee Community College (2 for 2). The only game Deryk didn't start in the field he saw action on the mound, where he also made his Junior College debut against Vincennes University. Deryk relieved Triton starter Josh Smith and pitched 2 ½ innings of relief, allowing 4 hits, 1 run, 2 walks, and 4 strikeouts while also picking up the win. In his first weekend Deryk started where he usually does, just about everywhere. He started three games behind the plate, two at third, and one at second. Deryk will be back in action this Saturday when he travels to Edna, Oklahoma for a weekend series.