Interlake Minor Ball - AAA Fall Camp
September 23, 2018 – 04:00 PM
Interlake Minor Ball - AAA Fall Camp. Players born from 2004 to 2007 (13U and 15U) are invited to attend. Date: Sunday Sept 23, 4pm - 7pm at Balmoral Rec Complex. $5/person. Email Dave Meyers to confirm your attendance. smeyers@highspeedcrow.ca
---
Stony Mountain U10 Provincial B Champions!
Congratulations to the Stony Mountain U10 softball team who won the 2018 Provincial B Championship on Sunday, June 24, 2018!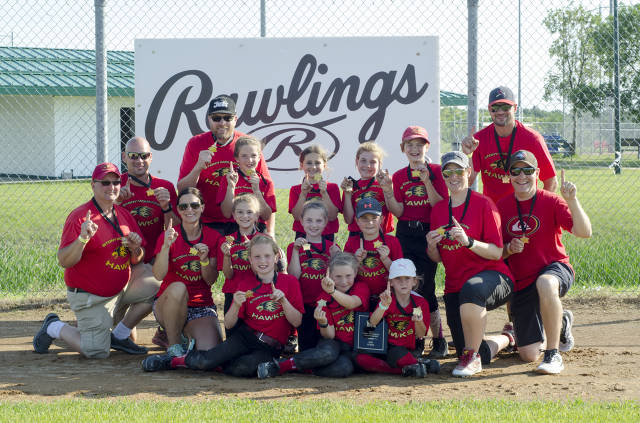 ---
11U Mosquito Monster Mania
May 12, 2018
Please submit the following information as soon as possible to Ian Proven: (ian.proven@gmail.com)
1. Number of 11U teams attending from your community
2. Team name for each team
3. Contact person for each team
4. Cell phone for contact person
 5. Email for contact person
---
16U Development Team
Baseball Manitoba's 16U Development Team is chosen from players in associations all over the Province and is chosen in late May. This team trains and competes in conjunction with club teams and ultimately strives to prepare to compete at the following year's 17U Baseball Canada Cup
Try out dates and registration link found here:
http://www.baseballmanitoba.ca/16u-development-team
---
17U Youth Team Try-outs
Baseball Manitoba's 17U Provincial Team (Youth Team) is the flagship program in our High Performance department. The team is chosen from players from associations in Manitoba, plays a schedule around club team conflicts and ultimately competes at the Baseball Canada Cup in August
Try-out dates and registration link found here:
http://www.baseballmanitoba.ca/17u-youth-team
---
Level 1 - Baseball Umpire Clinics - Interlake
April 28, 2018
---
Level I/II Softball Umpire Clinic
April 29, 2018
Warren Collegiate (119 MacDonald Ave, Warren)
9am - 5pm
Register with Softball Manitoba:  http://www.softball.mb.ca/english/programs/umpiring/umpiring.html
---
Coaches Clinics
April 13 - 15 - Winnipeg
April 20 - 22 - Brandon
April 27 - 29 - Morden
May 4 - 6 Portage la Prairie
register at nccp.baseball.ca
2018 Baseball Manitoba Coaches Convention - April 6-8 in Portage la Prairie.  NCCP component on April 8.  Cost $120 for all day Friday and Saturday clinic sessions, with early bird rate of $90 up to April 1.  The Sunday NCCP sessions are $30 - $50 depending on the modules taken.  More details on the Baseball Manitoba website.  
---
Baseball Manitoba - Coach and Player Ejection Tracker
This year Baseball Manitoba is asking all umpires to report all ejections (minor or major) via an on-line form on the Baseball Manitoba website. Here is the link to use for the form: https://permission.click/6aVv#/information. It can also be found by going to the Baseball Manitoba website, clicking "Umpires", then "Resources". The link is the first resource that comes up.
Please share this with all of your umpires so that they are aware.
Tracking the ejections will provide Baseball Manitoba with information on coaches or players that may be repeat offenders, while at the same time informing us of any umpire that may "over-eject" during the year. Leagues will still be responsible for any discipline related to ejections, unless it involves a physical contact altercation with an umpire, in which case Baseball Manitoba would be involved.  
Thank you,
---
12U Girls Baseball Development Program - Team Manitoba - Registration Now Open!
Hello Parents,
Do you have a girl who plays ball? If so, check out this opportunity.
The 2018 12U Girls Baseball Development Program registration is now open. The registration form is online (hosted by Baseball Manitoba and PermissionClick). 
The mandate is to provide a place for young ladies to play baseball in an all-girls team. The goal is to develop and improve a baseball skill-set and give these fledgling players an opportunity to grow and develop as baseball players in a fun girls setting. The 12U program is designed as a supportive development opportunity for players to get a chance to learn all positions. We encourage all players to play community ball (baseball or softball) in addition to this program. 
The eligible ages for the 2018 season are those with birth years of 2008 (10), 2007 (11), and 2006 (12). We are planning the following events:
·  Practice - Saturday, May 12, 2018
·  Altona 11U Tourney - Saturday, June 9, 2018
·  Practice - Saturday, June 30, 2018
·  Clearwater Tournament - Sunday, July 1, 2018
·  Summer Classic - Exhibition Game - Saturday, July 14, 2018
The online registration program fee is $53.16.
Feel free to share this information with other parents.
If you have questions, please contact:
Jordan Janisse
12U Girls Baseball Coordinator
Mobile: +1-204-291-6101
---
Baseball Coaching Clinics - Stonewall, April 21/22
April 21  9:00 am - 1 pm Rally Cap Clinic
April 22  9:00 am - 1 pm  Initiation Clinic / My First pitch Clinic 2pm - 3:30 ($10 per participant)
Location: Ice Palace Arena (old Arena)
Register on Baseball Manitoba Website:  http://www.baseballmanitoba.ca/clinics
---
IMB AGM
March 19, 2018 – 07:00 PM
Interlake Minor Ball AGM will be held Monday, March 19th, 2018 at the Stonewall Arena starting at 7:00 pm.  All communities should have at least one representative in attendance.  
---
2018 Coaches Convention
Attention baseball coaches!  Please consider attending the 2018 Coaches Convention, April 6-8 in Portage.  
---
Bantam and Midget AAA Try-outs
The first try-out will be Saturday, March 17 at 9:30pm-11:30pm in the Winnipeg Soccer Federation complex at  770 Leila Ave, Winnipeg. Cost is $20/player.  No steel cleats allowed.
All players that intend to try-out for AAA must register by emailing Dave Meyers (smeyers@highspeedcrow.ca) by Saturday, March 17 at noon.  If you are unable to make this try-out due to other commitments, you still must register with Dave.
A second try-out will be arranged at Home Run Sports, hopefully before Spring Break, after which we will determine if the AAA team is viable or not.  If we have an adequate number of qualified players, the program will move ahead.  If not, releases will be provided for players to explore other AAA options.  
Midget and Bantam Try-outs will occur at the same time.  Independent evaluators will be on-site to conduct the try-outs.
Email Dave Meyers with any further questions.
---
Interlake Orioles 13U AAA - Tryout April 14, 2018
We have booked the next tryout for this 
Saturday April 14th, 1:00-2:30 PM
 at the SEVEN OAKS SoccerPlex again, 
725 Kingsbury Ave
 in Winnipeg.
The cost will be $15/player to cover the cost of the SoccerPlex. Please arrive 30 minutes early to register, and we hope to have a Parent meeting after the tryout is over to go over some information. Same as last time,
Thanks, Todd Faragher
Additional Information
Registration will be approximately $400/player, to cover season costs. 
Players play on this team as well as their Community team.
Our season consists of 6 doubleheaders (usually on Sundays) against Winnipeg and rural teams. Our home diamond is Stonewall Quarry Park for games and usually practice in Stonewall and Balmoral.
We are on a waiting list for the Winnipeg St. James AAA tourney on 
June 8-10
 weekend.
We have entered into the Triple Crown tournament in Portage on Canada Day Long weekend.
We will also play in the AAA Rural Provincial Qualifier tournament in Minnedosa 
July 20-22
, and hopefully qualify for AAA Provincials in Winnipeg 
August 3-5th
. 
---
Interlake Orioles 13U AAA - 3rd Try-out - Sunday April 22
***Note time/date/location change*** Tryout is NOT on Friday, April 19.
Our 3rd and final AAA tryout will be Sunday April 22th, 3:30-6:00 PM (3 groups of 6 players- 30 minutes each group) at the Balmoral Diamond 1. This session will mainly consist of live Batting Practice followed by a practice.  Please ensure you bring your cleats and water bottle
See you
Sunday
, and please let us know if you can't make it.