LOMA BASEBALL - PENDEL CHAMPS 1995, 1999, 2002, 2007, 2016, 2018
LOMA WINS 2018 PENDEL CHAMPIONSHIP
LOMA WINS 2018 PENDEL LEAGUE CHAMPIONSHIP!
August 20, 2018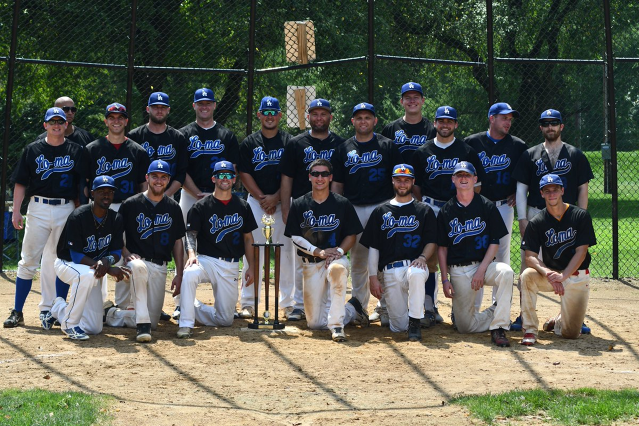 LOMA won their 2nd championship in the last 3 years and 7th overall with a 7-3 win over Horsham, Saturday at Alverthorpe Park. LOMA took the series 3-1.  The big blow for LOMA came in the 5th inning. After Bob Drozdowski broke a scoreless tie with an rbi single, John Drozdowski broke the game open, crushing a grandslam to give LOMA a commanding 5-0 lead.  LOMA tacked on another run later in the inning.
Trailing 6-0, Horsham answered back with 3 runs of their own, to cut the lead in half at 6-3.
LOMA took the momentum right back in the top of the 6th after a leadoff base hit by Dustin Kology and a 2 base error by the right fielder, gave LOMA a runner on third with no outs. Tim Lecompte followed with an RBI single, to add an insurance run at 7-3
That would be the eventual final score at Pat Woltemate, who came in relief of Matt McDonough in the 5th, hurled 2.1 scoreless inning to earn the save. McDonough went 3-0 in the playoffs allowing only 5 runs 19.1 innings of work.  Woltemate was 1-0 with a save in the championship, as he allowed 0 runs in 7.1 innings.
PLAYOFFS
CHAMPIONSHIP vs. HORSHAM
GAME ONE -  LOMA 3 HORSHAM 1
GAME TWO - LOMA 9 HORSHAM 0
GAME THREE - HORSHAM 9 LOMA 3
GAME FOUR - LOMA 7 HORSHAM 3
SEMIFINALS vs NORTHAMPTON
GAME ONE - LOMA 5 NORTHAMPTON 2
GAME TWO - LOMA 8 NORTHAMPTON 2
GAME THREE - NORTHAMPTON 14 LOMA 9
GAME FOUR - NORTHAMPTON 6 LOMA 4
GAME FIVE - LOMA 5 NORTHAMPTON 3