4 Time Central Jersey Group One Team Championships
2 Individual State Champions; 6 State Place Winners; 7 Region Champions
Manville Wrestling Wants State Champions!!!
Manville Wrestling Wants Honor Students!!!
Are You Next???
#BadCompany #HorsePower #KeepersOfTheFlame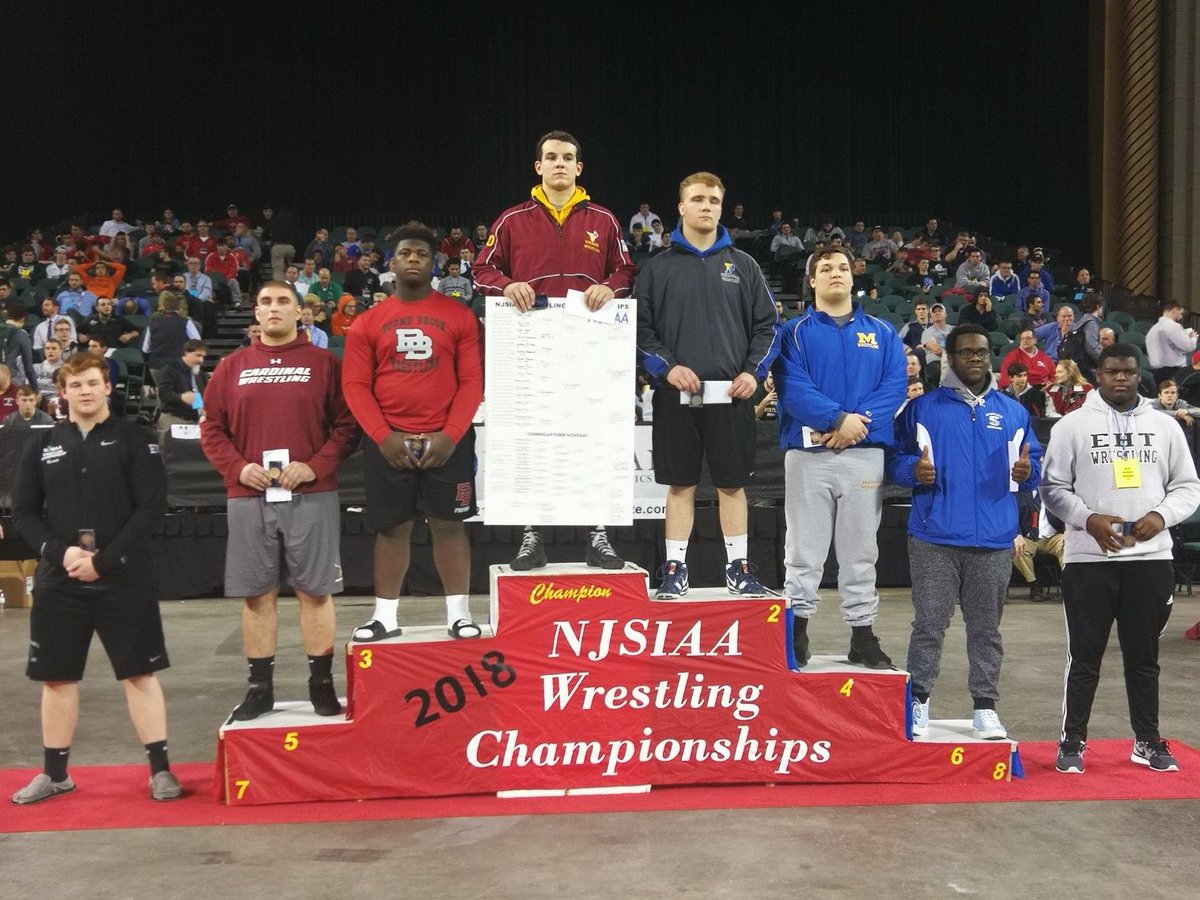 Picture: MHS Senior Hwt Michael Tyle finished fourth in the NJSIAA Tournament in AC.
Michael becomes Manville's sixth state place winner and the second in the last three years. 

---
<CLICK HERE FOR HORSEPOWER WRESTLING CAMP REGISTRATION>
---
The 12th Annual Horsepower/Rutgers University Wrestling Camp
 
Camp will conclude with live wrestling each day and advice from current Rutgers Wrestlers and Coaches!

Camp Information
Date: July 16th to July 18th
Grades: 1st – 12
Times: 10:00 AM – 12:30 PM
Camp Fee: $100.00
---
Tyle Takes Fourth in Atlantic City/NJSIAA State Tournament

---
Region 5 Tournament: Micheal Tyle and Matthew Rogaski earn trips to AC
MHS represented themselves well at the Region 5 Tournament. Alex Abarca wrestled very tough in his loss while Shane Demeter claimed a big win on Wednesday night before being eliminated in a deep 138 bracket. Congrats to Michael for his second trip to AC and to Matt for his first. Good luck boys!

2nd Place
Michael Tyle

4th Place
Matthew Rogalski
---
District 18 Tournament
The Mustangs wrestled in Red Bank once again for a chance to wrestle at the Region 5 Tournament i at Hunterdon Central High School. The Mustangs wrestled very well despite only advancing 4 wrestlers. On the Day, Michael Tyle and Matthew Rogalski won their first District titles while Shane Demeter was runner-up to a tough Hopewell Valley wrestler.

1st Place
Hwt- Michael Tyle
220- Matthew Rogalski 

2nd Place
138- Shane Demeter

3rd Place
182- Alex Abarca

4th Place
106- Ethan Burlew
132- RJ Thompson
152- Gavin Potts
160- Steven Garcia

---
 MHS wins Opening Round of State Tournament
Manville wrestled very short handed in the quarter finals of the Sectional Tournament but wrestled very well in their lopsided win. However, the Mustangs didn't get healthy in time and suffered a disappointing loss to the Crusaders from Bound Brook. On Saturday, the Mustangs traveled to West Windsor South and went 2-1 on the day.

Mustangs finish season with 15 wins and 6 losses. Time for Districts............

Manville 49     Secaucus 25
Manville 21     Bound Brook 49
Manville 58     Old Bridge 12
Manville 66     WWPS 18
Manville 58     Manchester 15
---
 Mustangs Suffer Tough Loss; Settle for Share of Valley Division
Manville 25     Bernards 35
---
MHS has Huge Week: Defeats Belvidere on the Road
Manville 36     Belvidere 33
Manville 36     Ewing 29
Manville 64     Rutgers Prep 3
Manville 38     Governor Livingston 34
Manville 27     Hillsborough 44
---
Mustangs Improve to 8-2
Manville 42     South River 27
Manville 30     Allentown 38
Manville 49     Notre Dame 19
Manville 55     Montgomery 16
---
Mustangs Roughed up by Somerset County Tournament 
The MHS wrestling team traveled to Hillsborough on January 15th and came away with a disappointing 8th place team finish. However, the Mustangs had a few strong individual performances and placed 4 wrestlers in the top 4.

Congrats Michael Tyle on winning your first Somerset County Title.  

1st Place
Hwt- Michael Tyle

3rd Place
220- Matthew Rogalski

4th Place
138- Shane Demeter
182- Alex Abarca
---
Manville Holds on to Defeat Pingry
Manville 40     Pingry 30
---
MHS Wins Two during Stormy Week 
Manville 58     North Plainfield 12 
Manville 50     Carteret 15

---
 Shorthanded Manville Grinds to Third Place finish at BEAR Invitational
Manville battled to a third place finish inspite of having only filled 11 of the 14 weights. On the day the Mustangs got strong efforts from their upper-classmen and won 18 of the 28 matches that were contested on the long day.

Champions on the day were 220 lb. Matt Rogalski who upped his season record to 8-0; while Hwt. Mikey Tyle once again wrestled Jervy Sistrunk in the finals and won by a score of 5-1 to up his record to 6-1.


Team Scores
1. Hopewell Valley 213.5, 2. Somerville 155, 3. Manville 147, 4. Sayreville 120, 5. Spotswood 108, 6. South River 104, 7. Montgomery 90, 8. North Brunswick 86, 9. Matawan 80, 10. Bound Brook 77, 11. East Brunswick 73, 12. Perth Amboy 64, 13. West Windsor-Plainsboro North 24, 14. Highland Park 14

1st Place
220- Matt Rogalski
285- Michael Tyle

2nd Place
145- Shane Demeter
152- Gavin Potts
170- Steven Garcia

3rd Place
106- Ethan Burlew

6th Place
132- RJ Thompson   
---
 Mustangs Fall Short against Voorhees; Rebound against Boonton
MHS struggled to find wins late in matches going 1-3 in overtime matches which lead to a 40-27 loss against Voorhees on Wednesday, December 20th. However, Manville bounced back quickly with a 57-13 win against Boonton.

The Mustangs record stands at 2-1 entering the new year.  Next up: Bear Invitational on Wednesday, December 27th.
---
Manville Dominate Edison Classic to Earn Title
The Mustangs headed to Edison High School on Saturday, December 16th to compete in the Edison Classic. A strong effort and many come from behind wins allowed MHS place 11 wrestlers including 5 champions to lead MHS over host Edison and South River.  

Team Scores
1. Manville 96 2. Edison 72 3. South River 57 4. Carteret 50 5. J.P. Stevens 45 6. A.L. Johnson 33 7. Red Bank Regional 28 8. Millburn 24 9. Metuchen 12

1st Place
106- Ethan Burlew
126- Shane Lallkissoon
145- Shane Demeter
220- Matt Rogalski
285- Michael Tyle

2nd Place
120- Andrew Nash
170- Steven Garcia

3rd Place
132- RJ Thompson
152- Gavin Potts
160- Jack Lombardino

4th Place
182- Giuseppe Abarca  
---
Mustangs Defeat Franklin
On Friday, December 15th the MHS defeated Franklin 60-6 as freshman 106 lb. Ethan Burlew, 113 lb. Nick Colombaroni, and 160 lb. Jack Lombardino earned their first career high school varsity wins. Congrats guys! 
---
MHS, ABIS, REC Wrestling Schedules
If you need a 2017-18 wrestling schedule for any of the three teams please go to the menu on the top and select "Handouts."  
---