Spring Season Tryout Information
Dates are as follows:
When: Wednesday January 9th
Location: Margate Sports Complex
Divisions: A (Tee Ball) and AA (Coach Pitch)
Time: 6:00pm check in 
MUST BRING BIRTH CERTIFICATE
When: Thursday January 10th
Location: Margate Sports Complex
Divisions: AAA and Majors
Time: 6:00pm check in 
MUST BRING BIRTH CERTIFICATE
Seniors: TBD
Draft Day: TBD (We need coaches and will not draft until all spots filled) we have at least two spots in each division. 
---
Congrats to Margate Legacy 11U on winning the Cobras Strike Back Tournament this weekend!! 
---
Margate Legacy 8U Baseball Tryout
We are looking for dedicated, skilled athletes who want to take their game to the next level! If you are motivated, disciplined, competitive, enjoy the camaraderie of a team environment then this is the team for you! Don't miss the opportunity to tryout for our Margate Legacy 8U Travel (we will be moving up to 9U in the fall).

When: December 16th, 2018 @ 10AM – 12PM
Where: Banks Field 2  located at 1695 Banks Rd, Margate, FL 33063
Details: Player must be 9 or younger on the date of May 1st 2019.


Contact head coach – Bill Schwartz for additional information or questions @ margatelegacybaseball@gmail.com
Thank you!
---
Margate Baseball Day at Diamond Club Academy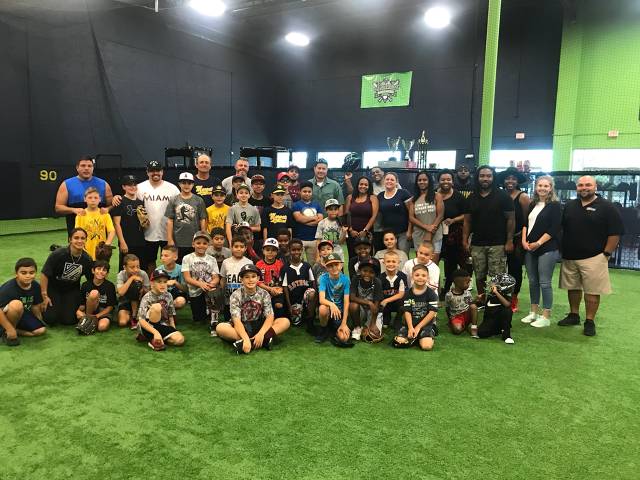 ---
Letter from League President
Dated: 11/1/2018


Hello Margate Baseball & Softball Family,
                I wanted to take the time to update everyone on the status of the league and our current plans as well as future plans. First of all I wanted to take the time to thank everyone for their patience during the renovations of the Sports Complex. As we know it was not easy to juggle scrimmages during the week and games on Saturdays but we all worked together to make it happen for the kids. As the field construction continues to be complete we are excited about how things will look during the upcoming Spring Season.
                As always, the board is continuing their efforts to make our league better each year and have thins be not only the league, but the city, where everyone wants to play. The batting cages have come together and we have a facility that far exceeds other parks ion our local area. The exercise equipment that the city has installed behind the fields is a nice touch for everyone to enjoy during games and/or practices. The city is also working to create a wall ball area behind field 2 so the children can have a place to play and not affect the baseball spectators. As this project continues you can expect or great facility to get even better as time goes on.  
                As a thank you to everyone that participates in the Margate Baseball & Softball league we are offering a few things coming up. We will be doing an appreciation day for the league. We have partnered with Diamond Club to offer free batting cages, baseball training, games and food on November 18th, 2018 from 10am-2pm for all participants of our league both in the spring and fall. Also, to say thank you to those that participated in this Fall season will be offering a $25 discount in the Spring to say thank you for staying with us during the construction period. More info to come on the appreciation day and discount. The information will be posted on our website the first week of November. 
League rules have been and will continue to be top of mind. The integrity and reputation of the league and the City of Margate is a major focus for the board and the only way we can do this is to offer a great community baseball program while protecting each and every child that is part of our league. Safety has and always will be our top priority as should be by any youth organization. We will continue to revamp our rules and policies to make sure we are current with anything and everything that may put a child at risk.
                On a final note I want to THANK EVERYONE for their participation and being part of our great baseball program. We would not be able to get this done without people volunteering, giving feedback and doing what is right by our league. As a board, we are here to answer any questions you may have and are always open to suggestions on how we can make things better. If you have any questions, comments or suggestions please email info@margatebaseball.com. Thank you again and we look forward to a great Fall season!
Sincerely,

Bill Sweeney-DeLalla
Bill Sweeney-DeLalla
President
Margate Baseball & Softball
954-775-6324
---
Congratulations to our Margate Legacy 8U travel team for winning the Summer Slugfest. Way to represent our great league. 
---
Congratulations to our Margate Legacy 7U travel team for winning the championship at the Lake Worth Summer Bash tournament. Awesome job boys!  
---
Congratulations to our Margate All-Stars 6U team on the Phipps tournament win! Awesome job boys!  
---
Congratulations to our Margate Legacy 10U travel team for wining the Premier League championship. Awesome job boys! 
---
Legacy Teams BBQ Party




Margate Legacy 7U, 8U and 10U continuing to build a lasting LEGACY!
---
Congratulations to the 13U Margate Lady Legacy
They played in the USSSA PBC Santa Slam tournament in West Palm Beach over the weekend and went 5-1 overall to
win the 13U division championship. They won the championship game with a one-hit shutout, 6-0 over the Coral Springs Panthers.
---
Home of the Travel
This is open to all age divisions and Softball.
Please contact us via e-mail. Home of:
Margate Legacy (7U - 10U)
Power Black Softball (14U)
Power Black Softball (16U)
Lady Legacy (13U)
---
Meeting
The next Board of Directors meeting is:

Sunday, August 4th, 2018 at Banks Field (upstairs) 10AM

If you would like to address the board, please contact us at info@margatebaseball.com
at least 48 hours prior to the meeting to be added to the open business portion of the meeting.
---
 Margate Baseball & Softball League, Inc.
PO Box 934294
Margate, FL 33093
contact us at: info@margatebaseball.com
Don't miss out on all the fun- subscribe to our mailing list and receive updates on upcoming events.