Welcome to the home of the
May Mashers
CONGRATULATIONS TO ALL THE TOURNAMENT CHAMPIONS AND FINALISTS!! 
12U DIVISION:
SANDY SPRING FALCONS 12U - CHAMPIONS
CANES BASEBALL SERRANO - FINALIST
11U DIVISION:
SEVERNA PARK GREEN HORNETS - CHAMPIONS
STARS BASEBALL NEWELL - FINALIST
10U DIVISION:
SOMD BULLDOGS - CHAMPIONS
TITANS BASEBALL CLUB - FINALIST
9U DIVISION
HICKORY HORNETS - CHAMPIONS
SANDY SPRING FALCONS - FINALIST
8U DIVISION:
DELMARVA ACES - CHAMPIONS
DIG IN BASEBALL - FINALIST
---
THANK YOU TO EVERYONE THAT PARTICIPATED, VOLUNTEERED, OR SPECTATED THIS YEARS MAY MASHERS BASEBALL TOURNAMENT!  WE LOOK FORWARD TO SEEING YOU NEXT YEAR!!
---
The store will be reopened until Thursday, May 23rd at midnight. Please visit https://maymashers20192.itemorder.com/sale for more information!
FREE SHIPPING ON ALL ORDERS!
AND - take an additional 20% on orders of 10+ t-shirts.  Just use coupon code "maymash19" when you place your order.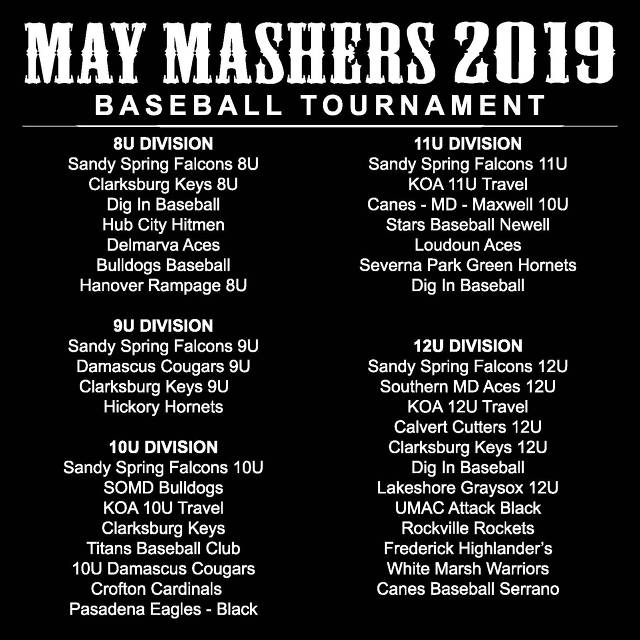 ---
May Mashers Baseball Tournament
May 18 and 19, 2019 - Baseball Tournament for ages: 8U, 9U, 10U, 11U, & 12U
LOCATION: Montgomery County, MD
2 games of pool play on Saturday and a single elimination tournament on Sunday.
Sundays brackets determined by pool play results. 
3 games minimum (weather permitting).
REGISTRATION COST PER TEAM:
$550 (8U thru 10U)
$600 (11U and 12U)
We will provide 1 umpire for all 8U thru 10U pool play and elimination round games and 2 umpires for the 8U thru 10U Championship game.  For 11U and 12U, we will provide 2 umpires for ALL games including pool play, elimination rounds, and the Championship game.
Team trophies will be given to the 1st place winner and medals to the runner-up. 
AGE DETERMINATION: Age groups will be determined by an April 30th cutoff date.  Therefore, the age of your player on April 30, 2019 is the youngest age group he or she can play in. 
FIELD SIZES:
8U (Kid Pitch Only) - Teams will play on 40/60 fields
9U - Teams will play on 46/60 fields
10U - Teams will play on 46/65 fields
11U/12U - Teams will play on 50/70 fields
SO REGISTER YOUR TEAM TODAY!!! 

Registration link is on the upper right-hand side of webpage.
PAYMENT CONFIRMS YOUR SPOT IN THE TOURNAMENT.
All others wait listed until paid.

Contact me with any questions.

Terrance Leary
May Mashers Tournament Director
terrance@sandyspringfalcons.org 
CELL: 240-447-2428