Follow Us on Facebook Menifee Wildcats JAAF and Cheer
Join our texting list to get the latest updates! Text EZWildcats to 797979
Questions? Email us at menifeejaaf@gmail.com
Home of the Menifee Wildcats
Football & Cheer
Welcome to the Official Menifee Wildcats Southern California Jr All American
Football & Cheer page. Thank you for taking the time to visit our site. 

We are a non-profit football and cheer program for youth children of ages 4 - 14. 

Our boundaries are the Menifee Valley area, which also includes Romoland,
Take a look around, we hope you find our website helpful and easy to use!
Please follow us on Facebook @MenifeeWildcatsJuniorAllAmericanFootball for live updates
---
UPCOMING EVENTS
Our 2019 season will start on July 22nd, you still have time to sign up on line!!
All paperwork can be obtained here on our website, you can fill it out and turn it in or complete on line.  Payments can be made via paypal as well.
---
WELCOME CHALLENGERS!
The Menifee Wildcats JAAF are excited to announce The Challengers have joined our league! The Challengers are a non profit program where children with special needs can play Flag Football & Cheer. A big heartfelt WELCOME to the family! Below is a direct link to register for the 2019 Season! 
---
TACKLE DIVISIONS
Divisions are determined by Age & Weight and are as follows:
2019 SCJAAF Weight and Age Chart


DIVISION:

JR MICRO

MICRO

JR PEE WEE

PEE WEE

MIDGET

AGE AS OF 
07-31-19:

6

7

8

8 & 9

10

9,10,11

12

10,11,12

13

11,12,13

14

5% MAX WEIGHT ON PHYSICAL FOR DIVISION PLACEMENT: (5% RULE)


unlimited

110

100

121

105

142

126

163

147

Unlimited 

Unlimited

MAX WEIGHT ON CERTIFICATION DAY:

unlimited

105

95

115

100

135

120

155

140

Unlimited

Unlimited
---
 BIG 5 SPORTING GOODS DISCOUNT

Big 5 Sporting Goods is offering the Menifee Wildcats Family special value discounts on gear for the upcoming 2019 Season. Please visit them at 25274 Madison Ave in the City of Murrieta. Our season begins Monday July 22nd, 2019 but this is a perfect opportunity to be prepared for the upcoming camps and season. 
Below you will find a link to our "What to Expect - Tackle" page. We have listed items that are needed for games / practice. Although Flag athletes do not need girdles, they do need cleats and mouth guards.
Must print out and present coupon to receive discount. Coupons expire August 31st, 2018.
BIG 5 SPORTING GOODS - MURRIETA
---
---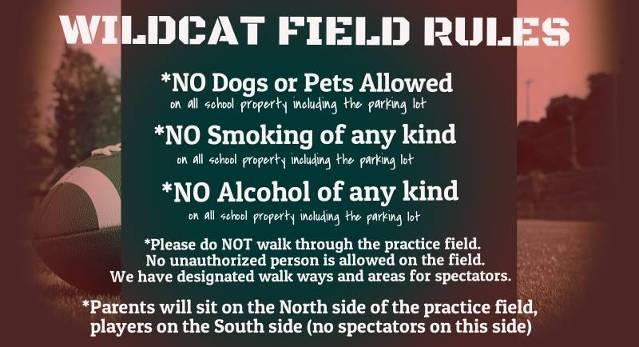 ---
WANT TO MAKE A DIFFERENCE?
SPONSOR A PLAYER, TEAM, OR THE LEAGUE FOR ANY AMOUNT!
(CLICK HERE FOR SPONSORSHIP FORM)
Click wildcat for Sponsorship form
Menifee Wildcats JAAF and Cheer