Follow Us on Facebook Menifee Wildcats JAAF and Cheer
Join our texting list to get the latest updates! Text EZWildcats to 797979
Questions? Email us at menifeejaaf@gmail.com
Home of the Menifee Wildcats
Football & Cheer
Welcome to the Official Menifee Wildcats Southern California Jr All American
Football & Cheer page. Thank you for taking the time to visit our site. 

We are a non-profit football and cheer program for youth children of ages 4 - 14. 

Our boundaries are the Menifee Valley area, which also includes Romoland,
Homeland,  

Sun City & Winchester.
Take a look around, we hope you find our website helpful and easy to use!
Please follow us on Facebook @MenifeeWildcatsJuniorAllAmericanFootball for live updates
---
2020 SEASON
CANCELED 
It is with great disappointment that the JAAFSC Conference announces that the 2020 Fall Football and Cheer season 

is canceled due to the COVID-19 situation, and the impact it has made on the health and safety of the citizens of the 

state of California, including Riverside and San Bernardino Counties. At no point was the JAAFSC going to put the safety 

of our 4,500 participates, their parents, their families, and our many volunteers at risk over youth sports. However, we 

remained poised to offer a 2020 Fall season if the opportunity to do so safely could be realized and facility use for all 29 

Chapters could be attained.
---
 TACKLE DIVISIONS
Divisions are determined by Age & Weight and are as follows:
2020 SCJAAF Weight and Age Chart
---
 BIG 5 SPORTING GOODS DISCOUNT

2020 Season 
Will POST DISCOUNTS SOON
Big 5 Sporting Goods is offering the Menifee Wildcats Family special value discounts on gear for the upcoming 2019 Season. Please visit them at 25274 Madison Ave in the City of Murrieta. Our season begins Monday July 22nd, 2019 but this is a perfect opportunity to be prepared for the upcoming camps and season. 
Below you will find a link to our "What to Expect - Tackle" page. We have listed items that are needed for games / practice. Although Flag athletes do not need girdles, they do need cleats and mouth guards.
Must print out and present coupon to receive discount. Coupons expire August 31st, 2020
BIG 5 SPORTING GOODS - MURRIETA
---
2020 Season
Will POST DISCOUNTS SOON
DICK'S SPORTING GOODS DISCOUNT 
Proud Sponsor of JAAF Menifee Wildcats is offering a 20% Discount 
7/27/2019-7/28/2019
Take Advantage During These Two Days 
---
---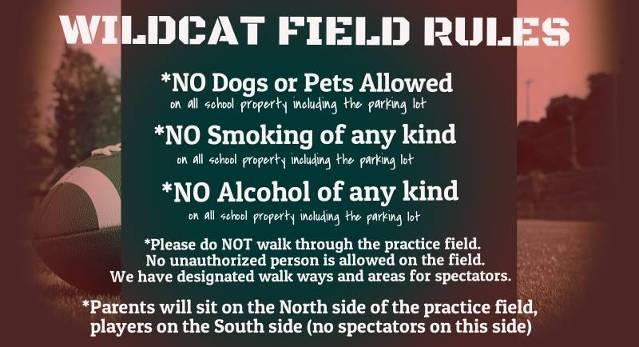 ---
WANT TO MAKE A DIFFERENCE?
SPONSOR A PLAYER, TEAM, OR THE LEAGUE FOR ANY AMOUNT!
(CLICK HERE FOR SPONSORSHIP FORM)
Click wildcat for Sponsorship form