debbiemetz23@gmail.com
Visit the New MSC Kyle Sports Adaptive Playground at the Moriches Athletic Complex
interested in becoming a volunteer e-mail djmetz@optonline.net
Registrations available for the Kyle Sports Saturday Program
---
Kyle Sports for Special Needs Program Registration
Inclusion Sports Program For Children with Special Needs & Disabilities ages 3 and up.

MASTIC SPORTS CLUB KYLE SPORTS FOR SPECIAL NEEDS SATURDAY PROGRAM

REGISTRATIONS AND WAIVER FORMS MUST BE FILLED OUT TO PARTICIPATE

e-mail debbiemetz23@gmail.com
Bi- Weekly Saturday Program 12:00-2:00 pm


William Floyd Middle School
630 Moriches Middle Island Road
Moriches, NY 11955
AGES 3 AND UP
Bi- Weekly Saturday Program is offered November through June
See Calendar for dates
MSC Kyle Sports Adaptive Playground 
Moriches Middle island Road
Moriches Athletic Complex, Moriches 11955
 
Registration is FREE
Debbie Metz, Commissioner Of Special Needs, MSC 631-767-4354 
  ********************************************************************************************
---
Come and participate in our Kyle Sports For Special Needs Sports Program.
 Enjoy the Milestones Your Child will make in Socialization, Interaction and sports training in a team sport at their own individual level of participation. Routine Training of Sports will build their Confidence, Self Esteem and Share in Peer Unity. Inclusion Sports will teach sports by following directions, and learning by example and acceptance with group support and encouragement.

Our Special Needs Sports Program Will Promote Interaction with Team Players in a Inclusion Sport and Social Environment.
Inclusion in Our Special Needs Sports Programs Promotes Acceptance and Compassion and Unites All Our Special Needs Children Together.

Come and Share in the Fun the children will have bi-weekly on Saturdays with the Friends they make & Milestones they will accomplish.
Be involved in Your Childs progress, it will make ALL the Difference in Their Life!
Empower, Enjoy & Embrace. Inclusion Sports Is For Every Child.

Anyone interested in becoming a volunteer please contact me directly for all the information and forms. All students 14 years or older can also join and participate in becoming a volunteer. We are offering opportunities for journalist, photographers, and students interested in special education or teaching careers can become involved in our program.

The MSC Kyle Sports For Special Needs Program is a Community Program of support and we extend the opportunity to open doors for every child.
********************************************************************************************
---
---
---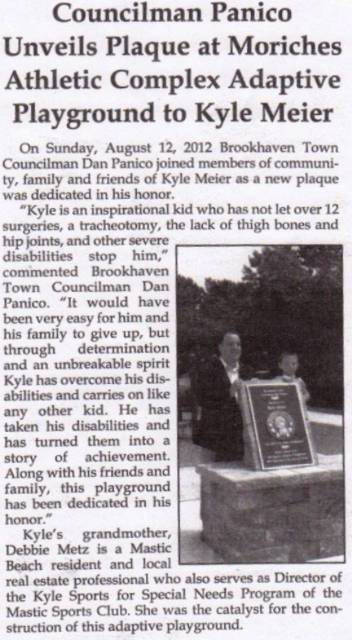 ---
MSC KYLE SPORTS DEDICATION DAY PICNIC
WAS AUGUST 12, 2012
COUNCILMAN DAN PANICO DEDICATED THE ADAPTIVE PLAYGROUND
TO KYLE MEIER "ONE CHILD CAN MAKE A DIFFERENCE"

COME AND PLAY ON THE NEW MSC KYLE SPORTS ADAPTIVE PLAYGROUND AT THE MORICHES ATHLETIC COMPLEX ON MORICHES MIDDLE ISLAND ROAD IN MORICHES. THE ADAPTIVE PLAYGROUND OFFERS ALL CHILDREN THE OPPORTUNITY TO PLAY AND PARTICIPATE TOGETHER ON A COMMON PLAYGROUND. COME & ENJOY THE NEW SUN SHELTER AND SWINGS.

INCLUSION SPORTS IS FOR EVERY CHILD WITH SPECIAL NEEDS AND DISABILITIES. OPEN THE DOOR TO THE POSSIBILITIES INCLUSION SPORTS OFFERS. SOCIAL INTERACTION IS KEY IN OUR MISSION IN WORKING WITH ALL CHILDREN AND EMBRACING SPORTS .

I AM PROUD TO BE A MEMBER OF THE ATLANTIC COMMUNITY ACTIVITY CENTER (ACAC) BOARD OF DIRECTORS. THE GOAL OF THE ACAC IS TO BRIDGE THE GAP TO CREATE A SAFE HAVEN WHERE EDUCATION AND DIVERSITY THRIVE FOR ALL PARTICIPANTS IN REACHING OUR GOAL TO HAVE THE FIRST COMMUNITY CENTER BUILT IN OUR COMMUNITY.

OUR MISSION OF THE ACAC IS COMMITTED TO ENRICHING THE LIVES OF INDIVIDUALS WHO LIVE WITHIN THE LOCAL COMMUNITIES BY PROVIDING A SENSE OF BELONGING AND VALUE THAT PROMOTES TEAM WORK ALONG WITH ENRICHING PHYSICAL, CULTURAL AND SOCIAL ACTIVITIES.



IF THEIR ARE ANY FAMILIES WITH A
*FINANCIAL HARDSHIP WITH DOCUMENTATION*
PLEASE CONTACT MY E-MAIL debbiemetz23@gmail.com
PLEASE E-MAIL ANY QUESTIONS TO debbiemetz23@gmail.com
DEBBIE METZ, MSC COMMISSIONER OF SPECIAL NEEDS 
---
MSC Kyle Sports Adaptive Playground Family Picnic Day
MSC Kyle Sports Picnic will was held at Adaptive Playground at the Moriches Athletic Complex. Kyle Sports Adaptive Playground at the Moriches Athletic Complex 630 Moriches Middle Island Road, across the street from the Wm Floyd Middle School in Moriches. 
DJ Host Keith Ray of Stingray Entertainment was on hand to ejoy and celebrate with everyone !!
Call Debbie Metz, Commissioner of Special Needs for any information on registering for MSC Kyle Sports Programs,Cell 631- 767-4354.
---
Mastic Sports Club
Kyle Sports For Special Needs Program
PO BOX 225
MASTIC, NY 11950
Debbie Metz
Commissioner of Special Needs

A Non Profit 501(c)3 Organization
Cell 631-767-4354
debbiemetz23@gmail.com
FOR MORE KYLE SPORTS INFORMATION GO TO MY FACEBOOK PAGE SEARCH Debbie Metz, program pictures, video's and you tube links.