Serving the towns of North Canaan, Canaan, Norfolk, Salisbury, Sharon, Cornwall, & Kent
Thank you to all our sponsors!
Opening Day, Saturday April 27th
Welcome to the 2019 Little League Season
NWCTSBLL Opening Day

Saturday, May 11
1:00 p.m.
Free Hot Dogs donated by Dan Odell
Free Water for All Players donated by Berkshire Water
Pirates vs Red Sox
Postponed Opening Day Game
---
The NWCTSBLL Housy Juniors Black take on the NWCTSBLL Housy Juniors White
Opening Day is ...... 
Thursday, April 25
5:45 p.m.
Sam Eddy Field
---
The Robert Rosenheim Foundation will match 100% of all donations made to the NWCTSBLL bleachers up to $4,500. Essentially, this means they will donate for 50% of the price as long as there are $4,500 of other donations. We are looking to replace all 3 bleachers, at an approx cost of $9100.00
We currently have $570.00 donated. That's now $1140.00 towards our goal.
We need your pledge ... many of you have once played on this field. Many of you have had kids play on this field, some have grandchildren playing now ... so WHAT WILL YOU PLEDGE!
---
Have you seen the great field, the great banners.  Thanks to Ed Schopp for leading this amazing fundraiser each year.  Want to be part of the action, the history and the future of Little League.  Here are some opportunities to display your business, message or players name -
Northwest Connecticut Steve Blass Little League (NWCTSBLL), Northwest Connecticut's only official Little League sanctioned baseball league is seeking your support.
The league is open to boys and girls age 5 to 15 from seven towns: Falls Village, No. Canaan, Cornwall, Norfolk, Salisbury, Lakeville, Sharon and Kent. We currently serve over 120 area kids.
The fence banner program is a key component of our annual fundraising. We also include internet exposure and publicity in the printed game program. The following options are how your company can get involved, and support Little League.
LEVEL 1) GRAND SLAM CLUB:……………                                                   $1,000.00
Fence Banner/Full page printed program advertisement / Banner placed on main backstop / banner marched in Memorial Day Parade  / Website ad/ Throw opening day first pitch /Option #1 Regular season champion trophy sponsor.   Option #2 Sponsorship of Juniors Travel Team.(13-15 year old travel team.)
LEVEL 2) TRIPLE PLAY CLUB:     ……………………………………………………$500.00                                                                   
Fence Banner/Program 1/3 rd page ad / Banner placed on main backstop/ Banner marched in Memorial Day Parade / Website ad / Choice of 4 special sponsorships: Choose one of the four below!
                     # 1) Playoff Champion Trophy.
                     # 2) Steve Blass pitching award.
                     # 3) Minor league travel team sponsor.
                      #4) T-Ball jersey sponsor…company name on back of all jerseys.
LEVEL 3) NO HITTER CLUB:..    ……………………………….………………  $350.00                                                                 
Fence banner/Program ad 1/5 th page / Website ad / Sponsorship of one of the following team awards. Choose one: #1)Bob Blass Award. # 2) Tom Bunce Award. #3) Most Improved Player. #4) Gold Glove Award. #5) Home Run Award.#6)Johnny Bench Award. #7) Team Pitcher Award.#8) MVP. #9) Rookie of the Year.
LEVEL 4) HOME RUN CLUB…………………………………………………… ……$250.00
             Fence Banner/program ad/ Website ad.
LEVEL 5) DOUBLE PLAY CLUB: ……………………………………………………$150.00                                                                                                     
             Website ad / listing in program.
LEVEL 6) STOLEN BASE CLUB: Program listing………..………… ………$75.00                                              
1) Ed Schopp… edschopp@mac.com     Fund raising manager. 860-490-7169
Thank you for considering supporting Little League baseball!!
                     Please respond ASAP
---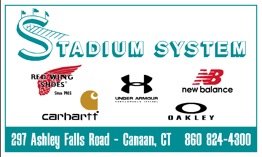 ---
---
Our Little League is dependent on the generous sponsorship of all the companies that annually give to Little League. It is imperative that our organization and its members not only recognize, but also support, those very businesses!!!..
PLEASE TAKE NOTICE WHO SUPPORTS OUR LEAGUE!