Serving the towns of North Canaan, Canaan, Norfolk, Salisbury, Sharon, Cornwall, & Kent
Thank you to all our sponsors!
Baseball is Underway! WE hope you enjoy the season!
2018 Juniors team has advanced to the playoffs and had its' first game  against Watertown Conn.end in a tie due to darkness. Play will resume tonight at 6:30 PM at Sam Eddy Field. Come on down and cheer the Juniors on to their run to the Championship. Juniors division finals are being hosted at Fussenich Park in Torrington Conn
Saturday and Sunday June 9th and 10th.
---
Regular Season and Play Offs Begin
June 6, 2018
The Following Regular Season Remains
Thursday 6/7 - A's vs Pirates
Friday 6/8 Sox vs Pirates
Saturday 6/9 A's vs Sox 
Playoffs begin June 10 - June 15th
Championship Game is June 16th at 12:30
Everyone should attend the Championship Game as awards and uniform collection will take place at the end of the game
Best of Luck to all 3 Teams!
Many thanks to all the local donors for supporting our advertisement fundraiser. 
Be sure to check out the banners around the field and thank a donor!  
http://northwest-ct-steve-blass-little-league.siplay.com/site/
---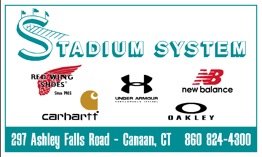 ---
---
Our Little League is dependent on the generous sponsorship of all the companies that annually give to Little League. It is imperative that our organization and its members not only recognize, but also support, those very businesses!!!..
PLEASE TAKE NOTICE WHO SUPPORTS OUR LEAGUE!