Tenative Schedule - Keep an eye of the schedule
World Baseball Australia wants a "Rematch 2020 Series."
Looking for SPONSORS & support as we come out of COVID19 restrictions
Roster Complete! CONGRATS PACIFIC STARS
As iron sharpens iron, so does one person sharpen another Proverbs 27:17
Welcome to the home of the
Pacific Stars Baseball Developmental Scout Team
WELCOME
Welcome to the Pacific Stars Baseball Developmental Scout Team, one of the best baseball programs in California.  Pacific Stars Baseball is an affiliate program of Coastal Pro Sports, and the Pro Player Academy of Baseball. We are a professionally run organization dedicated to the advancement of players from all walks of life, with emphasis on player development, success on the field, in the classroom, and in the community.  Teams will participate in Scout League, Collegiate League, and Connie Mack League programs.   Bill Gentry, Pacific Stars General Manager, has over 20 years of scouting experience, as well as being a former Division-1 college coach, junior college coach, high school head coach,  head coach for the Cardinals and Giants Scout Teams in the Southern California Scout League, and as the Senior Director of Baseball Operations/Assistant General Manager for the Texas Rangers in the Cal League.  
"As iron sharpens iron, so one person sharpens another"
- Proverbs 27:17
COVID19 
Losing an opportunity to play high school baseball for a season is one thing, but losing an opportunity to play baseball in the future is a different subject.  Many high school baseball players are facing this issue right now as these athletes have been unable to showcase their talent and recruitment has changed dramatically.  Since college coaches and scouts cant come out to games or showcases right now during the pandemic, they are trusting more than ever the opinions and feedback from scouts and coaches like @BillGentryMLB in programs like the Pacific Stars Scout Team, and the Pro Player Academy of Baseball for their feedback, observations, statistics from previous seasons, and what they see in player development, work ethic, and makeup.
---
Message from Dana Cavalea to Pacific Stars Scout Team
June 7, 2019
Dana Cavalea is the former Head of Strength and Conditioning for the New York Yankees, Owner of Major League Strength, author of the book "Habits of a Champion," and a sought after keynote Speaker.
Click to play Dana Cavalea video
---
Messsge From Gene Watson, Pro Scouting Director/Asst to GM KC Royals
Click on the link below for a message to the Pacific Stars Scout Team from Gene Watson.  Gene Watson is the Senior Director of Professional Scouting/Assistant to the General Manager for the Kansas City Royals Baseball Club.  
---
Press Release: Pacific Stars 2020 Scout Team Roster
June 23, 2020
Grad Yr. 2020                                                                           Grad Yr. 2023
Isiah Halton, IF (Garces HS)                                                    Tate Trovato, RHP/IF (Liberty HS)
Kurt Gustafson, LHP/OF (LaVerne Univ)                                 Isaac Polm,  RHP/IF (Centennial HS)
Gavyn Siefert, RHP/OF (Taft College)                                      
Grad Yr. 2021                                                                            Benjamin Ullyott, C/IF (Frontier HS)
Frankie Ruiz, C/IF (Kennedy HS)                                             John Webb, IF/UTL (Bakersfield Christian HS)
Skyler Self, IF (Taft HS)                                                            PJ Morales, RHP/OF (Norwich Univ)
Derek Garza, C/IF (Highland HS)                                              Rhys Hastings, C (Centennial HS)
Kalob Hay, RHP/OF (Liberty HS)                                              Grad Yr. 2024
Joseph Castruita, RHP/IF (Ridgeview HS)                               Mason Montana, C/RHP (Frontier HS)                                                         
Joseph Alatorre, IF  (Ridgeview HS)                                         Tyler Shelton, RHP/1B (Liberty HS)
Austin Miller, RHP/IF  (Bakersfield Christian HS)                      Traiton Kelly, IF (Boise Idaho)
Kyle Morales, RHP/IF (Centennial HS)
Kyle Guinn, RHP/IF (Bakersfield Christian HS)
Manny Guzman, RHP (Grambling Univ)                                    Grad Yr. 2026
Grad Yr. 2022                                                                              Diego Ruiz, Bat Boy Pioneer)
Nick Saso, RHP/IF (Garces HS)
Trevor Spainhoward, IF (Liberty HS)
Isiah Borskey, C/IF (Independence HS)
Jacob Minnear, IF (Bakersfield Christian HS)
---
Pacific Stars Split Two Game Series With Australia National Team
The Pacific Stars split a two game series with the Australian National Team on July 19-20, 2019 in Bakersfield, CA.
California State Assemblyman Vince Fong threw out the First Pitch
The Pacific Stars Scout Team and the Australian National Team combined team photo after Pacific Stars 10-5 win in game #1
---
Pacific Stars 2019 Opening Day
---
PACIFIC STARS 6/23/2018 @ VENTURA, CA
---
PACIFIC STARS 2018 @ MOORPARK COLLEGE
---
PACIFIC STARS FATHER'S DAY 2018
---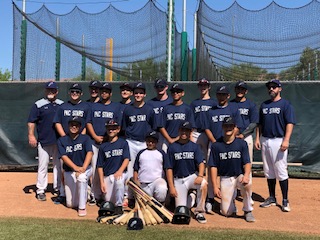 Pacific Stars at AZ Classic
---
AZ Classic 2018 - Cubs Spring Training Complex, Mesa AZ.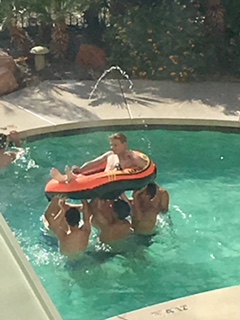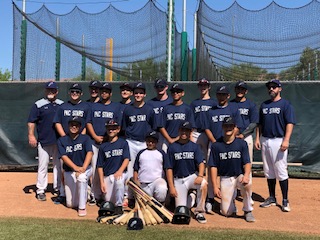 ---
Glendale 2018
---
Former Japanese Pro Catcher Hajime Nishimura, and Pacific Stars GM Bill Gentry pre game vs. SoCal Thunder on 7/14.
Nishimura came out to visit with Coach Gentry, and to meet the players, parents, and other coaches in our program.
---
Even Hollywood Comes Out To The Pacific Stars Games
June 16, 2018
Bill Gentry with Jimmy Ortega, Actor, Stuntman, and Friend!
---
Bill Gentry, GM Pacific Stars & Don Moriarty, GM SoCal Cubs
Long time friends in the game.
---
Pac Star Coaches at Press Time
---
A few photos of our former teams in the Collegiate League and Scout League as the SoCal Giants under coach Gentry's direction.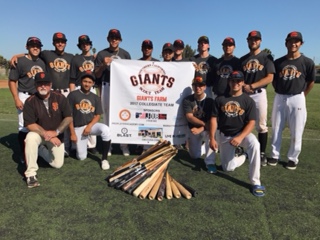 ---
"RYAN TEIXEIRA"
October 13, 1996 - March 4, 2017
Ryan played scout ball for Coach Bill Gentry and was diagnosed with Ewing's Sarcoma at the age of 18, five months after signing a baseball scholarship contract to play for Colorado Mesa University.  During Ryan's battle with cancer, he founded a non-profit organization to provide encouragement and inspiration to others battling life threatening diseases.  In Ryan's short time on this earth, he touched so many lives the numbers are uncountable, but even more importantly, Ryan continues to bless young and old alike everyday through his foundation, his vision, his faith, and his love.
Learn  more about Ryan and his foundation "17 STRONG" and get involved.
www.seventeenstrong.org